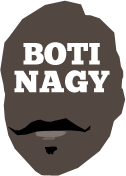 ---
Advertising opportunities available.
Please contact me.
---
Bob's Corner: Lauren inducted and Kareem's new record
Tweet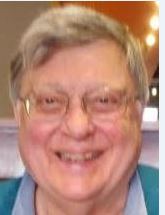 BOB'S CORNER: Our U.S. correspondent BOB CRAVEN, a former import who starred in ACT and NSW during the Sixties, has more to add to Lauren Jackson's recent Hall of Fame induction and am on-court record Kareem Abdul-Jabbar helped end, six years after he retired as a player.
LAUREN Jackson stands alone on the podium as Australian basketball's G.O.A.T., last week officially inducted into the Naismith Basketball Hall Of Fame.
She is the first player drafted by the Seattle Storm and the first Aussie to be so honored. She was unable to attend the induction ceremony in person due to Covid-19 restrictions and the Australian Government's non-essential travel ban, so she watched her induction from home in Albury.
She recorded a video acceptance speech for the ceremony and was presented by former WNBA great Sheryl Swoopes.
We love her a lot over this way, and I can personally vouch that she pours a great beer. There was a pub here in Seattle that had one Aussie owner and one Kiwi owner, and in a fit or originality they named it The Kangaroo and Kiwi.
LJ used to frequent the place and occasionally would help serve or get behind the bar. Met her there once—forced me to stand up straight!
I also just came across an item that amazed me and that I'd not known before (or had forgotten).
On September 12, in 1995, the Harlem Globetrotters' 24-year, 8,829-game "winning" streak came to an end.
It ended with a 91-85 loss to a team led by Kareem Abdul-Jabbar, who scored 34 points in a competitive, unscripted game in Vienna, Austria.
Abdul-Jabbar had retired six years before this and was 48 years old at the time. Amazing.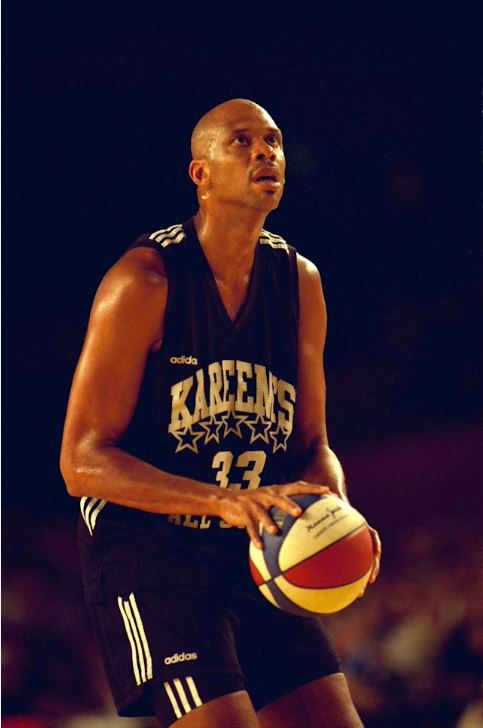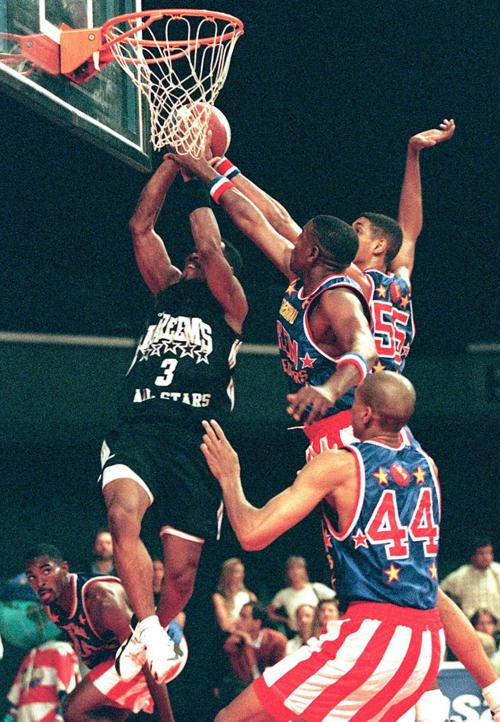 AFTER giving our Seattle Storm's three US Olympians a break after the Games, they are back playing now in the WNBA, but it hasn't stopped the two Aussies on the team from stepping up and continuing to play well in support.
In the first game back for "the big 3", the Storm defeated the NY Liberty in NY, 99-83. Steph Talbot contributed 6 points (two 3-pointers) and 3 assists, while Ezi Magbegor had 10 points, three rebounds, two assists and two blocks in only 15 minutes.
Then on Sunday, they travelled to Washington, DC, where they dispatched the Washington Mystic 85-78 in a game that marked the first game in almost two years by the Mystic's do everything superstar, 196cm Elena Della Donne.
A number of years ago, she was infected with Lyme Disease, a nasty tick-born bacterial disease that can have serious side effects that last many years. Because of that and her resulting somewhat compromised immune system, she has not played since the 2019 season to try to avoid the Covid-19 pandemic. She did well, under the circumstances, scoring 16 points in 22+ minutes.
The Storm's big 3 showed the effects of some rust. Breanna Steward led them with 20 points, 12 rebounds, two assists and five blocks, but she was only 6-19 from the field.
Sue Bird had 8 points on 3-8 shooting and Jewell Lloyd, who had averaged 30 points per game over her last three games, scored only eight points on 2-12 shooting. The Storm won the game thanks to others on the squad, especially the second unit with its two Aussies.
Seattle's reserves outscored Washington's backups, 25-12. Steph Talbot had 8 points, 4 boards, two assists and a block, while Magbegor scored 14 points (on 7-8 from the field), had an assist and added three blocks in only 15 minutes.
The dessert on this trip occurred when the Storm met President Joe Biden in the Oval Office in celebration of Seattle's league championship last season. An unscheduled surprise occurred after that ceremony when the President and wife Jill gave the team a personal tour of the White House.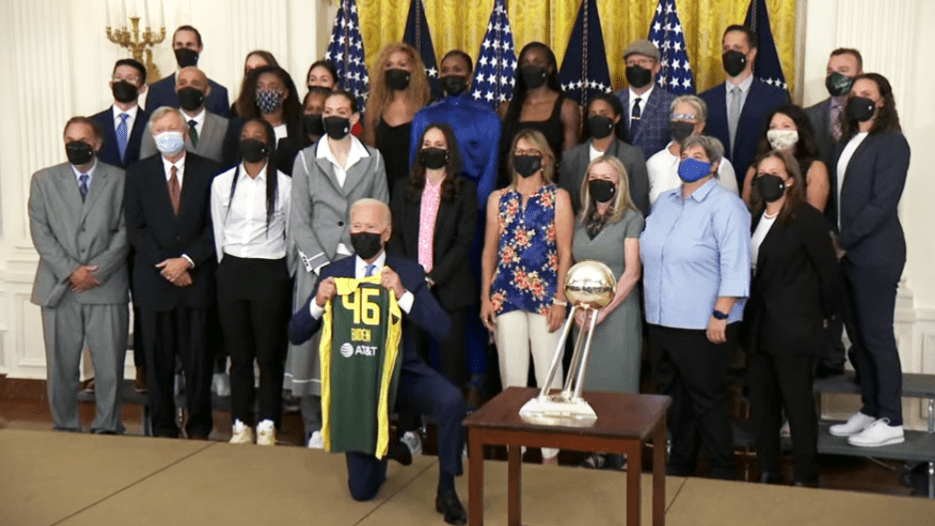 BY pure chance, I recently discovered that my high school, North Eugene High School in Eugene, Oregon, has had two basketball players who have played professionally, either in the US or overseas.
(I don't count or I'd have been the first one—technically, I was an amateur when I played in Australia, Peru, New Zealand and Chile.)
In any event, anybody who knows basketball in the US has to have heard of Danny Ainge. His North Eugene teams won two consecutive state high school championships in '76 and '77, his teams those two years going 53-1. A tremendous all around athlete, while in high school, he was an All-American in football, basketball, and baseball.
While still in college, he was drafted by the Toronto Blue Jays in Major League Baseball and played in the Major Leagues for them for 3 years, starting while he was still in college. He's one of a very few people ever who have played in both the NBA and in Major League Baseball.
He was a basketball All-American at Brigham Young U. in college and played for a number of teams in the NBA, most notably the Boston Celtics. He won two NBA titles with them and was an All-Star. Later, he was their GM and President for many years, and only retired relatively recently.
The second North Eugene basketball player who played the sport professionally was one I'm sure Australians will remember: Brian Conklin.
He played in the NBL in both Australia and New Zealand for several seasons, and well as having played in France. He is currently playing professionally (and has been for a few years) in Puerto Rico.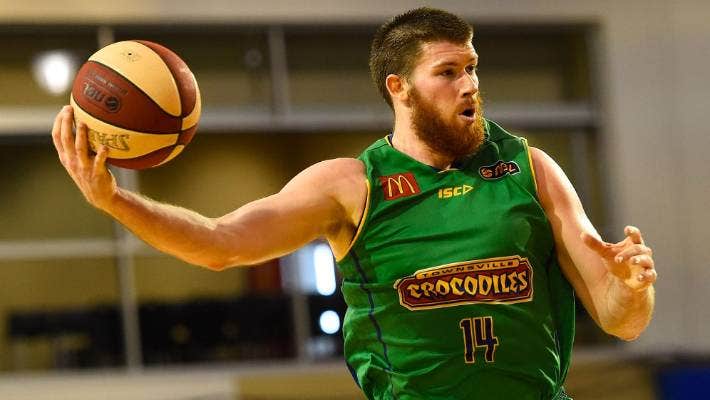 I NOTED (with some surprise) a recent blog here on the 36ers hiring of CJ Bruton, and that Don Monson coached the Sixers for a year in the early-1990's, after he'd finished up coaching at the U. of Oregon.
After that year in Adelaide, he retired back to this part of the world, specifically to Spokane in eastern Washington near where he grew up and where he started his coaching career, initially for 18 years as a high school coach. He's 88 now and seems to be doing well.
He was good friends with Jud Heathcote, who also coached high school in that area, and who then became an assistant coach for a number of years at Washington State U.
When Heathcote eventually took the head coaching job at Michigan State U., he hired Monson as an assistant. Monson was a major player in the recruitment to MSU of Magic Johnson, and we all know how that ended up.
After two years with Heathcote at MSU, he took the head coaching job at the U. of Idaho where he had played his college ball. They were a horrible team, 4-22 the year prior to Monson's hiring.
He replaced Jim Jarvis, fired not only for poor performance, but also for being involved in a number of NCAA coaching violations (Interestingly, Jarvis was a high school star in Oregon and a major cog for Oregon State U., who made the Final Four one year he was there - I played against him in high school and college).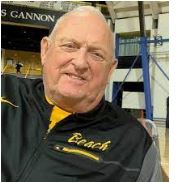 Monson immediately turned the moribund Idaho program around during his five years there. In the '81-'82 season, Idaho went 27-3 and made it into the 2nd round of the Big Dance—amazing for a small school in an out of the way place that had never been dancing before—or since. He was voted the College Coach of the Year that year. After those five years, he took the job at Oregon, which was not a good program at the time. He made it better, but only brought it up to mediocre in his nine years there.
His son Dan is also a college head coach and has been for 23 years. He is best known, especially in this part of the world, as the guy who initially brought little Gonzaga U. to national prominence. He was an assistant there for nine years and was a masterful recruiter. The two years he was the head man there, they went 24-10 and 28-7, and became the darlings of the national media when they made it to the Elite 8 before falling to the eventual national champions, the U. of Connecticut, in the final minute.
Dan had an assistant there named Mark Few that he made associate head coach. When Dan left to go to Minnesota, Few took over. Those two great years under Dan Monson now happen every year under Few, the head coach since 1999. As a head coach, his record is 630-124, and that 83.6 winning percentage is the highest in NCAA history (minimum 600 games).