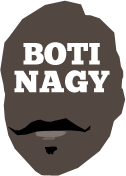 ---
Advertising opportunities available.
Please contact me.
---
Book review: LJ tells it straight
Tweet
LONG ago, tiring of the endless debate over who was Australia's greatest player – Andrew Gaze, Luc Longley, David Andersen, Patty Mills, Andrew Bogut et al – it struck me it was none of the above.
In our typical sexist fashion, we were restricting the discussion to men, overlooking the contributions of pioneering players such as FIBA Hall of Famer Michele Timms and a raft of others who became significant WNBA players.
In a sport played by men and women – which had a women's equivalent of the NBA, unquestionably the No.1 league in the world – one player has stood head-and-shoulders above every other as our greatest player, Albury-born and bred Lauren Jackson.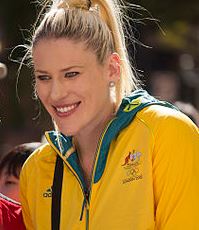 To list her accomplishments is to shade all others. Not since the recent arrival of Ben Simmons in the NBA have we ever had a male basketball player to name among the best in the world.
But Lauren Jackson, at the peak of her powers, was unquestionably the best player in the world. And she held that mantle for the better part of a decade.
Think about that. If you're a male reading this, don't try to diminish Jackson's achievements.
She is a three-time WNBA Most Valuable Player. That is, she has been the best player in the best competition, not just once either. Or even twice.
Jackson led Seattle Storm to two WNBA Championships and was an All Star eight times. She led the league in scoring three times and rebounding once, and won its Best Defensive Player award in 2007. Rightly, Seattle retired her No.15 uniform.
Wherever she travelled until the demands of an annual 12-month playing schedule led to her body breaking down, Jackson was a winner. She claimed three Euroleague Championships, one Euroleague Final Four MVP and twice was a Euroleague All Star.
She won two Russian Championships, one Spanish Championship and was the Korean Basketball League MVP, scoring a career-high 56 points in one outing.
In her own backyard in Australia, she won six WNBL Championships with four Grand Final MVP awards, four league MVP awards and is a six-time WNBL All Star.
LJ won Silver Medals with Opals teams at Olympics in Sydney, Athens and Beijing, plus a Bronze in London where she was the flag bearer for the Australian team.
She debuted for the Opals at the 1998 FIBA World Championship as a 17-year-old phenomenon and they won Bronze. It was Bronze again at the 2002 Worlds.
In 2006, Jackson led Australia to Commonwealth Games Gold, a precursor for what was to come when the Opals won the Gold Medal as World Champions at the FIBA World Championship.
This is who Lauren Jackson, basketball player, is and was.
But finally, in her recently-released autobiography, we also find out what she endured to become the world's best woman basketball player and it is not a comfortable journey by any stretch.
From relentless bullying as a child to self-doubt and depression, this look behind the mask of a thoroughbred champion is eye-opening, to say the least.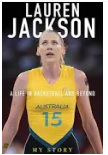 Identified early as a potential superstar – an understatement if ever there was one – basketball also became Jackson's sanctuary, the place where she was most accepted and subsequently, most comfortable.
But her rapid rise to the top did not come without cost, her willingness to play through pain and acutely aware the earning window for an elite athlete, particularly a woman, was finite, did not always lead to the right choices. As the injury toll on her body grows, so too does her battle with painkilling drugs, a battle she ultimately wins.
Her love of family and reliance on the ever-reliable shoulder of her mother Maree, further reflect the mindset of a shy person thrust into a spotlight because of her imposing physical gifts and skills.
Jackson's time in Russia also travels unexpected roads as we learn about her sponsor, friend and "owner", the eventually assassinated former KGB spy, successful businessman, concert and basketball promoter (and reputed mobster) Shabtai Kalmanovich.
Written in a simple, very readable style, this look behind the public persona of Australian basketball's greatest player chronicles her successes and failures slightly disproportionately.
But the joy at the birth of her son Harry, her growth in awareness of issues confronting women worldwide and her new lease on life in the Melbourne Boomers' front office leave the Jackson roller-coaster on an upward swing.
Who knew there were so many troughs?
LAUREN JACKSON – MY STORY. $32.99 and available now at all good book stores.