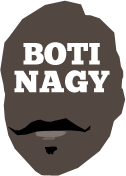 ---
Advertising opportunities available.
Please contact me.
---
Boomers: No tears for Argentina, now for USA
Tweet
A STAGGERING 37-11 last-quarter Boomers' blitz in a 58-26 second half extravaganza tonight saw Australia storm into the semi finals of the Tokyo Olympics with an emphatic 97-59 rout of world #4 ranked Argentina.
Gold Medallists at the Athens Olympics - the first time Brian Goorjian coached the Aussies at an Olympic Games - tonight the Argentines were no match for the relentless defensive pressure and hustling rotations he drew from his totally focused and committed outfit.
After a tight opening period, Australia stormed into its semi final match on Thursday against the Gold Medal-defending USA with three quarters of copybook Boomers basketball - ball pressure, doubles on the onball screens, swift rotations, great ball movement and superlative unselfish offence.
The Boomers produced 33 assists on 35 made field goals, all 11 players scoring and by the end, having fun doing it, the pressure of qualifying having abated.
Australia contained Argentina to 11 second-quarter points, 15 in the third and 11 in the last which it opened by peeling off 19 unanswered points to lead 79-48.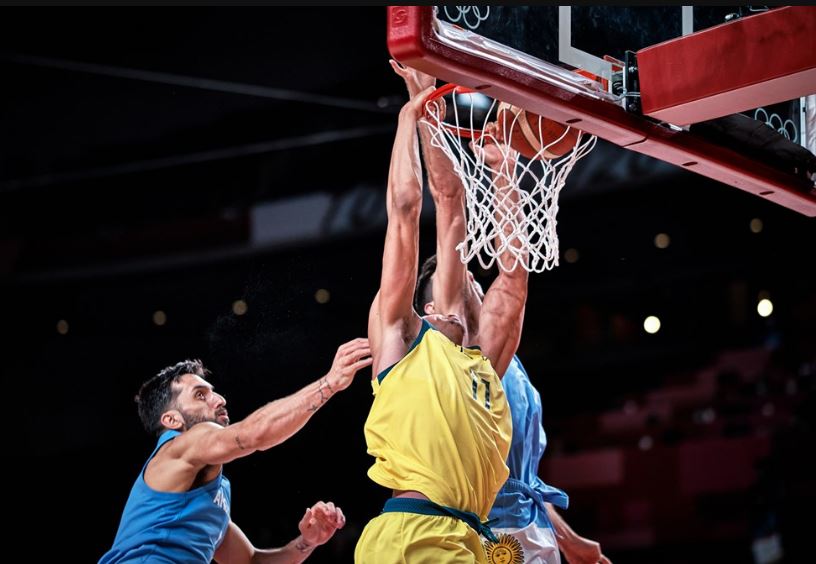 Dante Exum's steal and coast-to-coast drive gave Australia a 60-48 buffer with a quarter remaining before he opened the last with a driving dunk, leaving Argentina in no doubt of the mountain it would need to climb to stay with the Aussies.
Frankly, Argentina never made it out of base camp as Matisse Thybulle swished a 3-pointer, Joe Ingles followed a layup with a triple and Chris Goulding iced a three for 73-48.
Argentina's timeout did nothing to stem the tide, Nick Kay (10 points, 10 rebounds) making it 75-48 before Jock Landale pushed the lead out to 29 and Patty Mills to 31 at 79-48.
Argentina made its basket breakthrough with 4:38 left in the contest, the game truly completely on the Boomers' terms straight after halftime.
Landale opened the third with a three, and his second soon after gave Australia its first double-digit lead at 47-37.
Gabriel Deck offered some token Argentinian resistance before he quickly leapt to four fouls after Mills and Kay took charges from him on consecutive plays.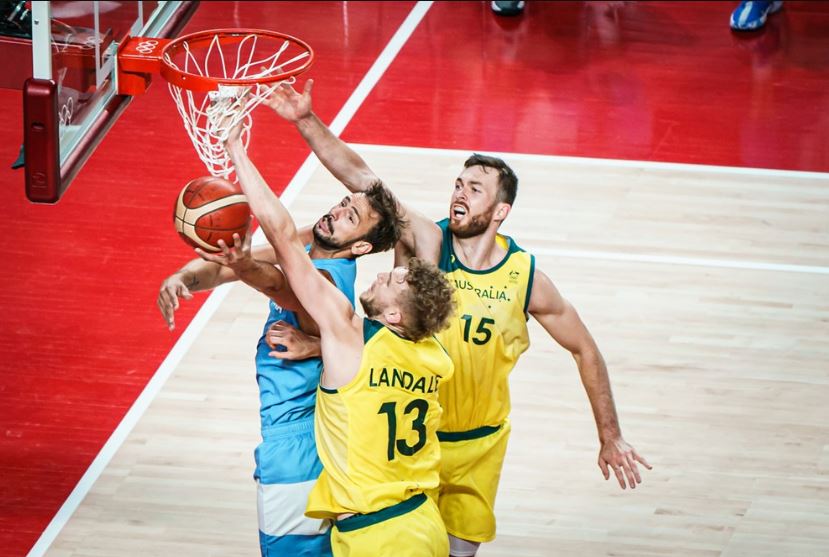 Australia went into the halftime break nursing a 39-33 lead built on a terrific 21-11 defensive quarter.
Argentina controlled much of the first period to lead 22-18 but with Thybulle setting an example defensively, the Boomers grew in stature.
He had three steals and a block before the main interval and was active at both ends of the floor.
His 3-pointer to start the second quarter was a positive sign as the Boomers' early shooting from range was haphazard at best, after Matthew Dellavedova opened the quarter-final scoring with a three bomb.
Working the ball around, Argentina had its lead out to 18-10 at one stage while the Aussies still were finding their groove at both ends.
Goulding's 3-pointer tied the game at 24-24 with 8:01 to go in the second quarter, Mills' layup for the lead forcing an Argentine timeout.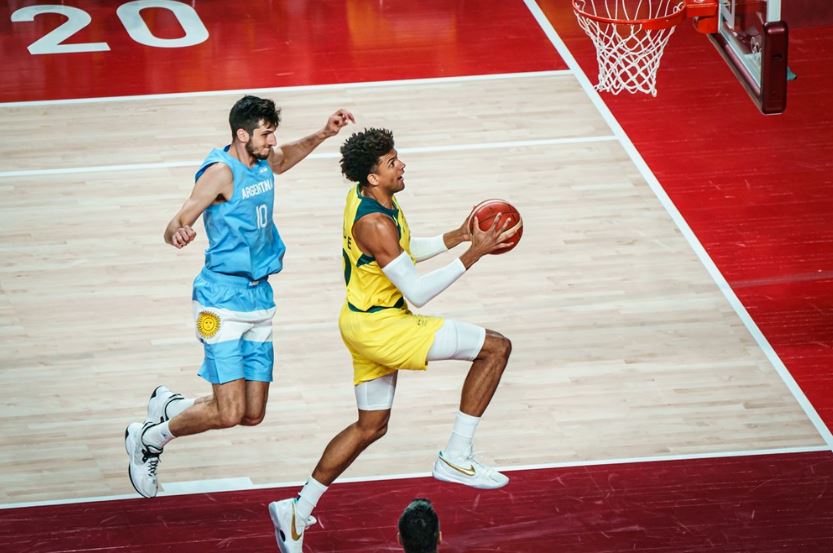 Thybulle with another sharp steal saw Ingles open on a wing and he drilled a three for 29-24.
A Mills triple meant the lead was out to 32-26, the Boomers on a 14-4 run from the first break.
Landale stretched the lead to eight and Mills to nine, the only downer Exum collecting his third foul ahead of halftime.
But even that was compensated somewhat when veteran Olympic superstar Luis Scola collected his third foul 42 seconds out from halftime.
The 41-year-old international champion was subbed out with 51.4 seconds left in the game and received a standing ovation from the players on the court, the Australian bench and the spectators permitted to be in attendance as Argentina's last active contributor to its Athens Gold Medal left the hardwood for the final time.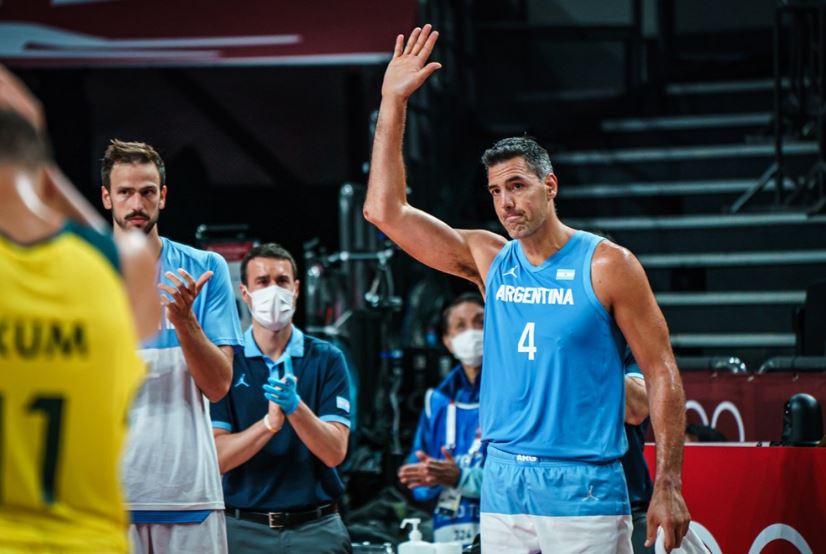 The Aussies? They will be back and are now playing some of the best basketball seen from teams wearing the green-and-gold.
QUARTER FINALS
AUSTRALIA BOOMERS 97 (Mills 18, Thybulle, Landale 12, Ingles 11, Kay 10; Kay 10 rebs; Ingles 7 assts) d ARGENTINA 59 (Laprovittola 16, Deck 12, Campazza 9; Deck 10 rebs; Campazza 5 assts).
SLOVENIA 94 (Dragic 27, Doncic 20, Tobey 13; Tobey 11 rebs; Doncic 11 assts) d GERMANY 70 (Lo 11, Giffey 10, Bonga 9; Bonga 7 rebs; Bonga 3 assts).
USA 95 (Durant 29, Tatum 13, Holiday 12, Lillard 11, Lavine 10; Booker 9 rebs; Holiday, Booker 5 assts) d SPAIN 81 (Rubio 38, Rodriguez 16, Hernangomez 10; Hernangomez 10 rebs; Hernangomez 3 assts).
FRANCE 84 (Gobert 22, Fournier 21, Batum 15, Heurtel 10; Batum 14 rebs; De Colo 7 assts) d ITALY 75 (Fontecchio 23, Gallinari 21, Polonara 15; Gallinari 10 rebs; Pajola 6 assts).