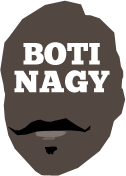 ---
Advertising opportunities available.
Please contact me.
---
Boomers, Opals off to flyers
Tweet
AUSTRALIA's men's and women's basketball teams at the Commonwealth Games tonight showed their white-hot favouritism was justified with impressive opening victories in Cairns and Townsville respectively.
The Boomers thumped Canada 95-55 before the Opals, with Sandy Brondello making her official coaching debut, swatted Mozambique 113-53.
The move by the Comm Games to make its basketball component more interesting by having a Pool A for higher-ranked FIBA nations and a Pool B for the battlers, still left little doubt in the men that Australia and New Zealand are heading for another Gold Medal showdown, the Tall Blacks beating Nigeria 110-65.
The cross-Tasman rivalry ignites still further tomorrow when the two teams loaded with NBL talent go to war in their intrapool game.
And the folly of the decision to rank New Zealand's Tall Ferns in Pool B of the women brutally was exposed when they belted Malaysia 86-44.
The top two teams in Pool B at the end of intrapool play have the chance to reach the Games' semi finals by facing the third and fourth-placed teams in Pool A. All things being equal, New Zealand under Guy Molloy should get there and make a mockery of its Pool B status.
But that is still to come.
Today the Boomers weathered an early assault as Canada, led by Conor Morgan, headed out to an 11-7 lead.
With 6:01 left in the first, the plucky Canucks were ahead 13-10 … and that was all she wrote.
Australia peeled off 15 unanswered points with Nathan Sobey active and Brad Newley scoring seven of his 12 points during that run.
At 25-13 ahead going into the second quarter, Jean Pierre-Charles finally escaped the Boomers' defence to break a seven-minute Canadian scoring drought before Jesse Wagstaff enjoyed a purple patch and Perth Wildcats teammate Angus Brandt rattled off eight consecutive points.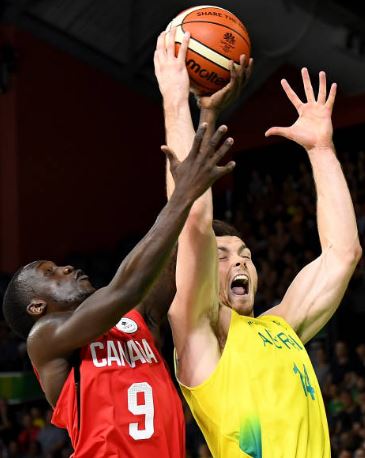 A-GAME: Angus Brandt was back to his best. Pic courtesy of GETTY IMAGES.
Cam Gliddon's monster 3-pointer to beat the shot-clock ensured the Boomers comfortably would lead 47-29 at halftime but Canadian playmaker Munis Tutu was creating shots and the deficit was back to 14 in the third before Daniel Kickert said "enough".
Kickert's 3-pointer was followed by four more points for the period, Chris Goulding in between throwing himself a pass off the backboard for an audacious basket.
Eight Aussies stuck 3-pointers, 11 of the rotation scored, Brandt and Sobey with 10-point, 11-rebound double-doubles.
The ability of multiple Australian players to sweep the ball off the defensive boards and push it down Canada's throat made for some attractive basketball, the Boomers with a 54-30 boards edge.
In routing Mozambique, the Opals went one better, all 12 players on Brondello's roster scoring and Australia enjoying a similar 48-29 rebounding edge.
The Opals also whipped the ball around exceptionally, decision-making precise as Australia enjoyed the benefit of 36 assists.
Belinda Snell and Jenna O'Hea, two more terrible omissions from the ill-fated Rio Olympics campaign, were welcome sights back in the green-and-gold and went 7-of-7 between them from beyond the arc.
Both also had three assists and Snell closed the first quarter with a long-bomb 3-pointer which, while not as far as the triple she hit at the London Olympics to force overtime against France, nonetheless evoked comparisons as Australia led 25-9 after one.
Debutantes Ezi Magbegor and Nicole Seekamp scored their first international points as senior Opals and Liz Cambage was a keyway rock for 24 points on 10-of-12 shooting.
Kelsey Griffin and Steph Talbot had memorable moments and the Opals' defensive rotations and offensive execution at times looked way beyond where the team should be, so early in the tournament.
The smiles and joy across the team also augured well for what is yet to come.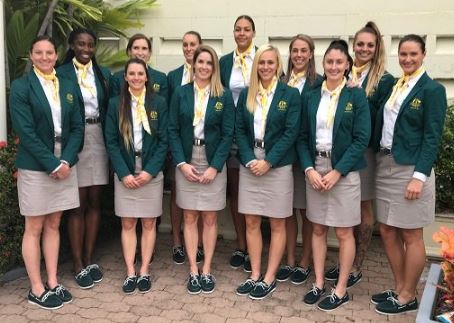 POOL A
MEN: BOOMERS 95 (Kickert 14, Newley 12, Brandt, Sobey, Goulding 10; Sobey, Brandt 11 rebs; Goulding 6 assts) d CANADA 55 (Diawara 10, Morgan 9; Morgan 6 rebs; Tutu 6 assts) at Cairns Convention Centre.
WOMEN: OPALS 113 (Cambage 24, Snell 15, O'Hea 14, Talbot 11, Magbegor 10; George 11 rebs, Griffin 9; George, Griffin 5 assts) d MOZAMBIQUE 53 (Gimo 18, Mucauro 10; Mucauro 9 rebs; Zita 3 assts) at Townsville Entertainment Centre.
MEN: TALL BLACKS 110 (Abercrombie 21, Ngatai 16, Delany 14, Loe, Rusbatch 12; Pledger 10 rebs; Kenny, Ili 6 assts) d NIGERIA 65 (Dike 15, Diogu 12, Istifanus 10; Achiuwa 8 rebs; Ofoegbu, Achiuwa 2 assts) at Cairns Convention Centre.
WOMEN: CANADA 80 (Colley, Provo 14, Kiss-Rusk 10; Kiss-Rusk 9 rebs; Nofuente 5 assts) d ENGLAND 54 (Jones 11; Stewart 8 rebs; Jones 4 assts) at Townsville Entertainment Centre.
POOL B
MEN: Scotland 78 d England 65; Cameroon 96 d India 87
WOMEN: Jamaica 66 d India 57; TALL FERNS 86 (Cocks 15, Stockill 13, Edmondson 11; Purcell 12 rebs; Hunter 6 assts) d MALAYSIA 44.