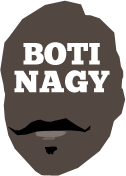 ---
Advertising opportunities available.
Please contact me.
---
FFT 4/5: Get on board the coaches
Tweet
FOOD FOR THOUGHT (Main course): How great was Round 5 of the NBL in terms of watching our elite coaches coaching, as opposed to prowling sidelines and referee sniping?
It first stood out in Round 4 to be honest, with United's Dean Vickerman sending David Barlow to defend Sydney's Andrew Bogut in a "small ball" experiment which paid handsome dividends.
Then Brisbane's Andrej Lemanis strategically chose to take an inbounds from the baseline, rather than advance the ball with his last time-out at 19 seconds to play in the win over Adelaide.
Smart.
But then inside a week, the Bullets DON'T double Bryce Cotton?
Meanwhile Rob Beveridge makes some lineup adjustments and throws in a few defensive surprises and his Illawarra Hawks get the W from Melbourne.
And what about Trevor Gleeson? Down Damo, Terrico and Angus and he STILL engineers twin wins over Brisbane and Illawarra.
Cairns' Mike Kelly made some nice tweaks ahead of the Taipans' visit to Melbourne, they just could not sustain the heat for the duration.
And how about fellow NBL coaching rookie Kevin Braswell? Those were a couple of important wins over Cairns and Brisbane, achieved without injured Armani Moore but with the Breakers playing some absolute champagne basketball in patches.
It is fun to watch.
* * *
ENTREES
THE NBL ladder positions are determined by win-loss ratio as a percentage. For example, 4-0 is 100% and better than, say, 6-1 which is 86 percent.
When two teams are tied on win-loss records, e.g. both have say 3-2 records or 60%, then they are separated by their overall points percentage.
You probably already know that.
But newcomers to our game - and our game is so good at present that newcomers are jumping aboard at a rate of knots - may not.
And that means the NBL's website ladder (pictured) is a source of confusion because it does not show the Win-Loss Percentage but does show the Points Percentage.
Therefore to the casual observer - and I wouldn't be mentioning this if I hadn't received a few emails and texts from confused new NBL fans - the table is difficult to understand.
For example, why is Melbourne above Sydney when United has 102.38 percent and the Kings 104.46?
Why is Illawarra above Adelaide when it has 94.94 percent and the 36ers have 96.23?
I know you know the answer but it just would make so much more sense if the ladder positions accurately reflected teams' win-loss status. So it correctly would read:
2018-19 SEASON LADDER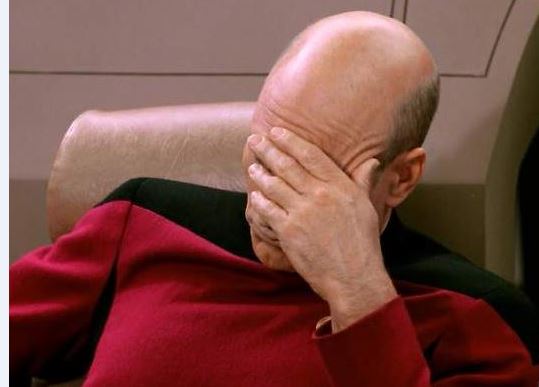 Team P W L W/L%
Perth 8 7 1 87.5
Melbourne 9 6 3 66.6
*Sydney 7 4 3 57.1
*New Zealand 7 4 3 57.1
Brisbane 9 4 5 44.4
Illawarra 8 3 5 37.5
Adelaide 9 3 6 33.3
Cairns 7 1 6 14.3
Positions then make perfect sense. And in the case of *Sydney and *NZ, both on 4-3 ratios, that's where the Kings' 104.46 points percentage gives it the edge over the Breakers' 100.16.
The NBL has a growing legion of new fans. Let's keep it simple for all.
* * *
MEATBALLS (Formerly "Yeah, No Kidding")
YOU have to admire Seb Costello's enthusiasm on the NBL's TV coverage but it really would pay for him to think before he talks sometimes.
This week's halftime question to Cairns' Devon Hall in the match against Melbourne was a gobsmacker.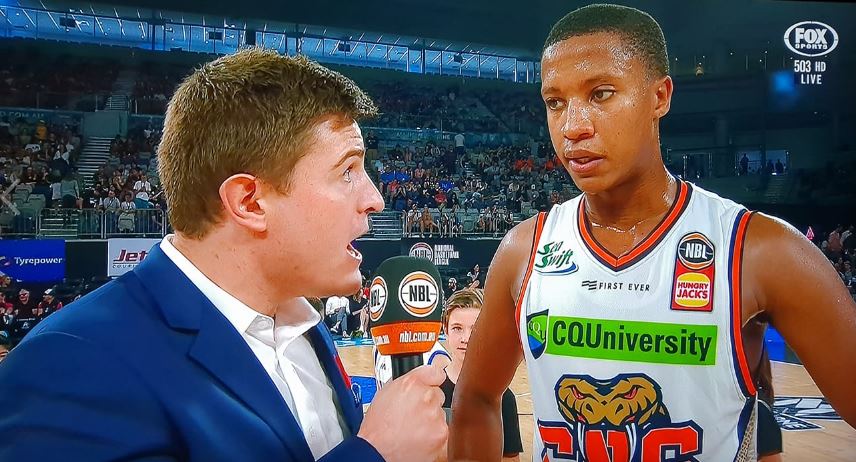 "You've lost the last seven to Melbourne here in Melbourne. Are you looking to snap that streak today?"
Hall's expression says it all but he gave a straight answer instead of the one I may have gone with.
"Nah. Let's make it eight. We'll try get 'em next time."
Holey moley Seb. And last week in Perth as he goaded Shawn Redhage to respond to Corey Williams' comments, he described Redhage as the "greatest Wildcat of all time"!
Ever heard of these guys Seb?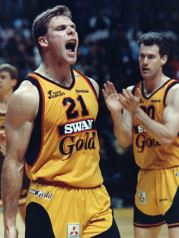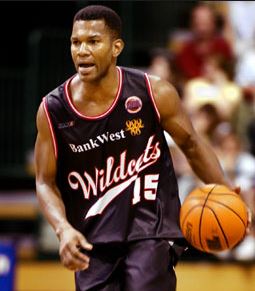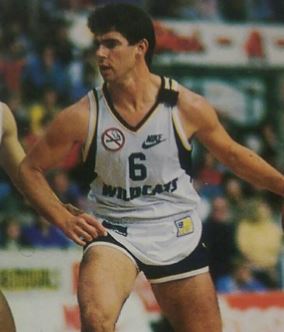 Wildcats fans will know them without any captions. Perhaps Seb should too.
TUNED in for some of the Bendigo-Adelaide WNBL game but didn't catch it all due to NBN issues in my area last week.
So apologies for not knowing who the main male caller was on Fox's internet coverage. But can someone please inform him that Lightning forward Colleen Planeta is pronounced Planeta and not Pia-Neta as he re-christened her for the broadcast's duration.
A little research can go a long way.
Hats off to some of the recent work by John Casey, Matt Russell, Simon Kerle, Cam Tragardh, Mark Worthington, Liam Santamaria, Shane Heal, Shawn Redhage, Brad Rosen, Lachy Reid (Yay! He's back!), Nathan Strempel and yes, Corey Williams.
Some of their work of late has been informative and entertaining.
Sure, I think Case may have fallen in love with "it's a see-sawing affair" a little lately and you could get paralytic drunk if you played a drinking game waiting for Dwayne Russell to talk about a player or team losing its "mojo" or declaring someone to be the "hottest of the hot".
But otherwise it's been a good few weeks. Helps when the contests are so compelling.
(If we don't count Louise Ransome quoting the halftime score in Wollongong between the Hawks and United as 51-39 only minutes after Casper Ware sank a dramatic last-second 3-pointer for 42-51, then doing it again after the break, talking to Shane Heal. It pays to pay attention.)
NOT quite as slick with the WNBL production in Round 4 where every pre-recorded segment the broadcast cut to had the vision and audio out of sync. Took me back to the days of watching Bruce Lee's early martial arts flicks.
HOW some of us long for the days when journalists read their stories before submitting them, had editors who read them and proof readers as the final check before articles went to print.
Sadly those days are gone with the staff cuts throughout the print media industry.
* * *
BEEF of the WEEK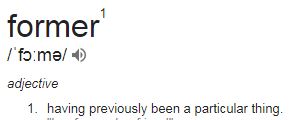 FOR many, this will be such a minor beef but, in the words of Family Guy's Peter Griffin, it really grinds my gears.
You cannot be a "former" Olympian. If you were at an Olympic Games as a competitor, you are and always will be an Olympian. There's nothing "former" about it.
You also cannot be a "former" MVP. Once you have reached that accolade, you are and always will be an MVP. There's nothing "former" about it, unless you were stripped of it at some later date. (As in, Jobe Watson is technically a former Brownlow Medallist but James Hird is not. Hird still is the 1996 Brownlow Medallist, and always will be. Hence, Hird is NOT a former Brownlow Medallist, he is a Brownlow Medallist.)
This distinction (and complete inaccuracy), appears to be lost on the overwhelming bulk of our TV sports anchors and I know a few of them try to be meticulous in their preparation - unlike some of their side men, but that's a different issue - so it amazes they still get this so wrong.
So no, Shane Heal is NOT a former Olympian and Corey Williams is NOT a former MVP. Heal is a multiple Olympian and Williams is - and remains for all time - the NBL's 2010 MVP. Nothing "former" about it.
* * *
DESSERT (BIGGEST WINNERS/LOSERS)
PERTH Wildcats unquestionably were the biggest winners of NBL Round 5. Down injured pair of captain Damian Martin and import Terrico White, then losing Angus Brandt in-game, Perth still found a way to beat Brisbane before also beating Illawarra at The Gong. Win-win.
SADLY, our biggest losers again are the Cairns Taipans. Those nominating Brisbane Bullets should bear in mind they lost both of their games on buzzer-beaters which qualifies them as the round's unluckiest outfit. But two straight road losses, especially with Melbourne at their mercy, really has put the squeeze on the Orange's season.
BEATING Sydney at home, then travelling north to Queensland and beating defending champion Townsville means Melbourne Boomers easily rate as the WNBL's biggest winners. Knocking off two 2017-18 finalists in the same round, while down injured Ezi Magbegor, has the Boomers rolling.
SYDNEY Uni Flames are off to the worst start in their long and storied WNBL history, losing on the road to Melbourne, then pipped at the post in Bendigo. That now takes the Flames to 0-8 and keeps them firmly locked as the round's biggest losers.
* * *
NIBBLES
FORMER Adelaide 36ers captain and "face of the franchise", Mitch Creek, continues to kill for Long Island Nets in the NBA G-League.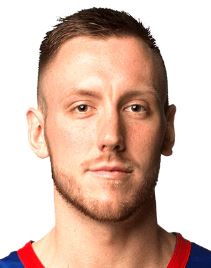 Coming off consecutive double-double games, Creeky had 17 points on 7-of-9 shooting, six rebounds, two assists and a steal as the Nets saw off Delaware Blue Coats 128-115, taking their record to 4-0 atop the G-League's Eastern Conference.
He's averaging 13 points at 53 percent, 8.8 rebounds, 3.5 assists and 1.5 steals in a shade over 30 minutes per game.
Meanwhile everyone is now aware released Adelaide import Adris DeLeon has been replaced by exciting small forward Demitrius Conger, as readers here knew first on Saturday.
My (e)mail is DeLeon was playing for about $5,000 a month, which is extraordinary and means that yes, he was every cent value-for-money. I'm also hearing Conger will cost more than five times that amount. Does leave you wondering about the club's present player policies.
* * *
CHEESE AND CRACKERS
LAMAR Patterson's introduction in Adelaide was greeted by "Who Let the Dogs Out" and when he subbed out on four fouls, his trip to the Bullets bench was serenaded with a chorus of dogs barking. If only the 36ers had been as entertaining on the court.
* * *
QUOTE of the WEEK
SYDNEY Kings "big" Dane Pineau about their win over Adelaide on Saturday.
"No-one beats the Kings 13 times in a row!"