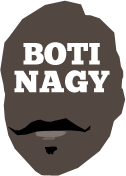 ---
Advertising opportunities available.
Please contact me.
---
I go to Rio? No, says LBJ while Ben goes at #1
Tweet
ON a day Australia's stocks for the Tokyo Olympics in 2020 rose appreciably, LeBron James' decision to withdraw from the US team for Rio helped our current Boomers, too.
It was a massive day today for Australian basketball with Ben Simmons the nation's second genuine No.1 NBA draft pick and Thon Maker's selection at #10 stunning the world.
Throw in Dante Exum and the Boomers' FIBA 2019 World Cup and 2020 Tokyo Olympics campaigns look very appetising indeed.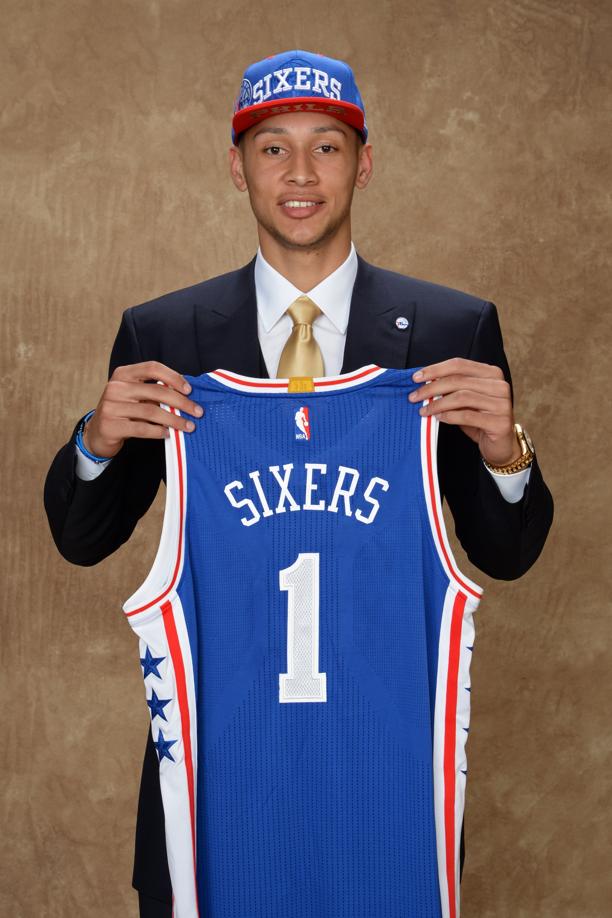 NO.1: Ben Simmons went at #1 to Philadelphia, as expected.
There is no shortage of information today to read about Big Ben and the "History-Maker" so let me instead focus on the fact the USA's stocks are thinning somewhat ahead of Rio.
The Boomers have been telling us they are heading to Brazil on "Mission Goldrush" and while that has appeared a lofty goal, daily it appears to become more feasible.
Sure, the cloud hanging over centre Andrew Bogut (left knee bone-bruising) takes an edge off the campaign but until he definitively is ruled out, you have to think he could still have an impact.
With LeBron James taking a pass – and not a Matthew Dellavedova lob for a dunk - Carmelo Anthony alone will have a chance to become the most-decorated Olympian in USA men's basketball history.
He and James own two gold medals (London and Beijing) and a bronze (Athens) but now only the New York Knicks forward can add to his collection.
James' decision to rest after achieving his greatest basketball goal and fulfilling his lifelong promise to bring an NBA championship to the city of Cleveland and the state of Ohio, is the biggest loss yet for a US team that has suffered numerous big name withdrawals.
Dual and current MVP Stephen Curry (Golden State), Russell Westbrook of Oklahoma City, Chris Paul of the Los Angeles Clippers and James Harden of Houston all have withdrawn already, as have San Antonio swingman Kawhi Leonard and forward LaMarcus Aldridge, Washington guard John Wall, Clippers forward Blake Griffin and Anthony Davis of New Orleans.
Portland's Damian Lillard and Utah forward Gordon Hayward – probably anxious to avoid a matchup with Joe Ingles – also are out.
There's some mighty good talent there that won't be in Rio.
The Americans will announce their 12-man roster on Tuesday, Toronto Raptors Kyle Lowry and DeMar DeRozan likely to be on it.
Oklahoma City's Kevin Durant, Indiana's Paul George, Golden State's Draymond Green and Klay Thompson, Sacramento's DeMarcus Cousins, Chicago's Jimmy Butler and the Clippers' DeAndre Jordan are also committed to play for the two-time defending champion, which also is holding a spot open for Kyrie Irving.
Leonard passed, claiming it was a tough call.
"This was a very difficult decision," he said.
"It's an honour to have been considered for the team and I hope that in the future I will have the chance to represent my country by playing for USA Basketball."
Anthony, James and Hall of Famer David Robinson, currently in Melbourne for the Basketball Without Borders Asia camp, are the only Americans to play in three Olympics. The US originally sent its college elite to the Olympics until the world caught up and relegated it to the bronze medal playoff against the Boomers in Seoul in 1988.
Robinson was on that US team, and back four years later in Barcelona with the original (and to my mind, ONLY) "Dream Team", as NBA players were allowed into the Games for the first time.
Anthony previously said he planned to play in Rio.
"Listen, I've been with USA Basketball since I was 16-17 years old. Can't stop now," he said.
DeRozan played for the Americans when they won the gold medal at the FIBA World Cup in 2014, but Lowry's inclusion on the roster was a surprise, since he wasn't even in the Americans' roster pool of 31 players.
If Irving – Melbourne-born and a No.1 NBA draft pick – who was MVP at the FIBA World Cup in 2014 – declines his Rio invitation, there could be a further roster surprise.
George, Green, Thompson, Cousins, Butler and Jordan all would be making their Olympic debuts.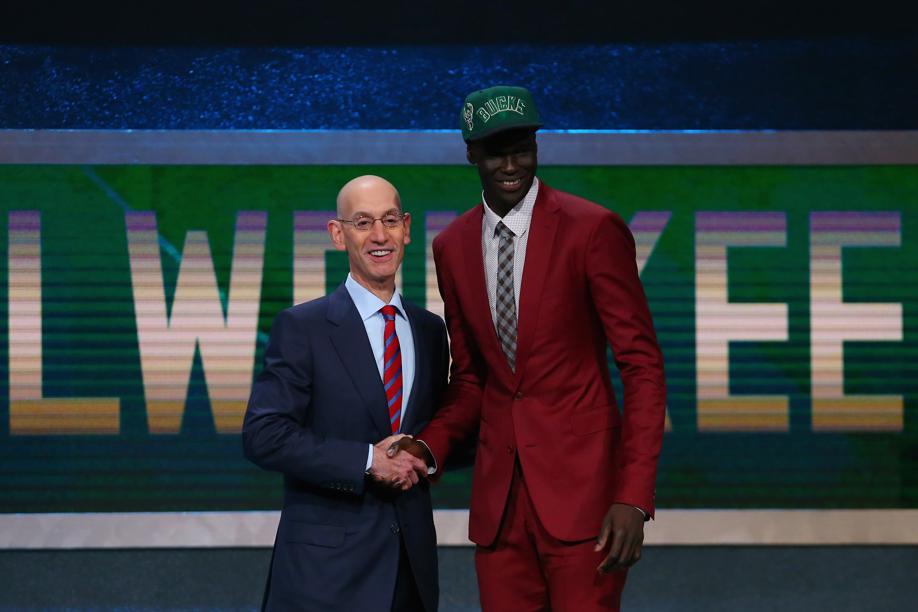 SILVER AND GOLD: NBA Commissioner Adam Silver, with Aussie 7-footer Thon Maker.
Beating the USA is never any sort of certainty because it remains a measure of who is attending and not who is missing.
But the door is ajar for Andrej Lemanis' team. Of that, there is no doubt.