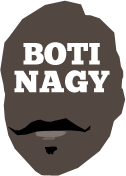 ---
Advertising opportunities available.
Please contact me.
---
Just Wrapping #6: Sixers or bunnies?
Tweet
EVERYTHING that could possibly go wrong, went wrong for Adelaide 36ers? Cut it out. Illawarra (again) systematically dismantled the Sixers' offence to reinforce that yes, Adelaide is the Hawks' bunny.
The Hawks own Adelaide, and anyone who thinks differently either doesn't know that last season they beat them in 5-of-7 meetings, set records in the first meeting and came from 0-1 down to erase them 2-1 in the semis, with the decider at a slightly leaky Fortress.
What does Season 2016-17 have to do with anything, I hear you cry! It's Season 2017-18, after all.
Anyone looking at the Hawks huddle at three quarter-time had to recognise the absolute confidence rippling through that team and in its coach.
Down 63-72 at the break after dragging it back from a 15-point deficit at 41-56, Illawarra's players rushed to coach Rob Beveridge's cluster to hear, reinforced, they had weathered the worst and now – as always – was the time to strike.
The Hawks having surrendered 30 first-quarter points and 50 in the first half, from midway through the third period, the signs turned ominous for the 36ers as Illawarra's variety of so-called "junk" defences continued to puzzle and slow the host's much-vaunted offence.
If the 36ers are running – they are unstoppable. But if you can take them out of it, slow them down, reduce them to a halfcourt game and challenge them with zone alignments, they clearly have no Plan B.
Beveridge had Illawarra do just that, steadily slowing the Sixers' pace with a three-quarter court zone that had Adelaide's guards often tentative and passing crosscourt to players like Daniel Johnson to advance the ball.
Running game? Out the window and now solely reliant on breaks off the defensive boards or steals.
With Illawarra working the ball in offence and crashing the boards, then hitting Adelaide with a 2-3 zone at times, then what looked like 1-3-1 alignments featuring the length of Demitrius Conger at the top – even AJ Ogilvy was at the top of the zone at times early – Adelaide's attack ground to a halt.
So often exposed by zone defences over the years, Adelaide again had no idea. When it did pass the ball to players on the elbow for passes on to cutters, or attack the zone's seams, it usually paid off.
But those were the anomalies. For most of the last quarter, they passed the ball around the perimeter, rarely challenging or penetrating the zone, instead settling for ill-conceived mid-to-long range chucks.
Ramone Moore, en route to a career-high 24 points, hit 2-of-3 threes in the final period and scored all 12 of the 36ers' total before Anthony Drmic stuck a halfcourt three at the buzzer.
But this was over inside the first minute of the final period when Rotnei Clarke nailed a 3-pointer and the Hawks were gifted an additional possession for an off-the-ball foul.
Clarke then hit another triple and at 69-72, the Hawks bench was already full of bounce celebrating a troubling truth – Illawarra has Adelaide's number right now.
A three from Rhys Martin, then a go-ahead layup opened the floodgates as the 36ers showed again that talent is not enough.
Toupees doffed to Bevo and his boys, again.
Contrary to superficial and emotive opinion, Adelaide didn't "choke". It just had no answers on court or from the sideline for a superior strategy executed to perfection by a team which has the full "buy in" and never loses self-belief.
*Free *Cody *Ellis
WATCHING that game again on FOX, got to say the commentary was excellent. Brad Rosen and Cam Tragardh have a comfortable and enjoyable rapport going and John Casey has for years been a stand-out.
Then again, is it just me or has anyone else noticed that when he is on camera and explaining anything, Tragardh does appear to have an imaginary stress ball in his left hand?
And speaking of television coverage, here's another excellent reason to tune in for the WNBL's Match of the Week: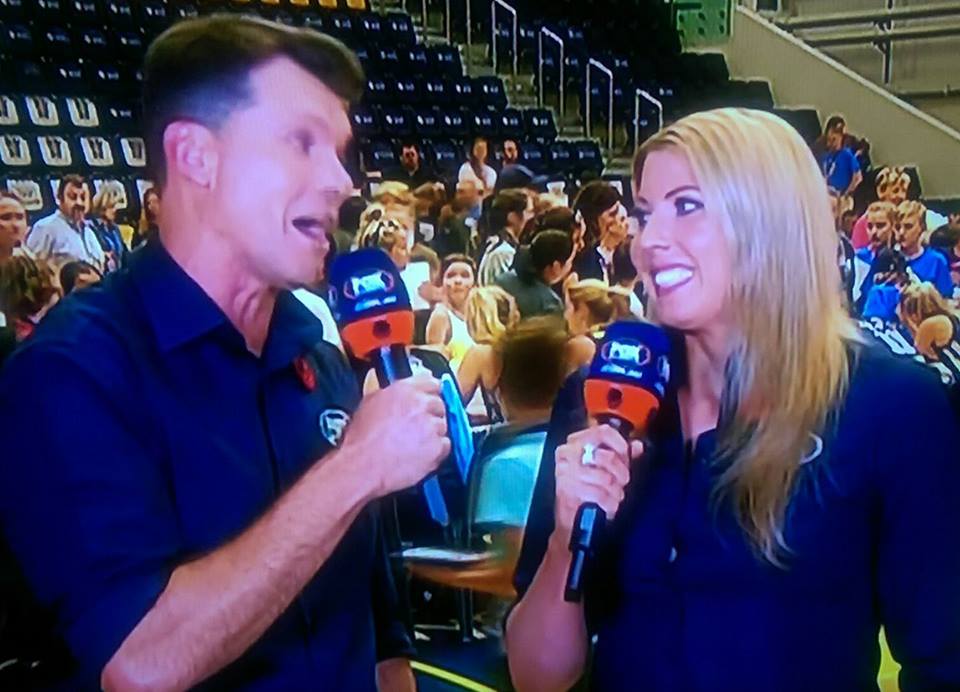 Carly Wilson has joined the team.
*Free *Cody *Ellis
NO, the weekly Basketball On The Internet Player of the Week award for the WNBL is not descriminatory against guards or small forwards.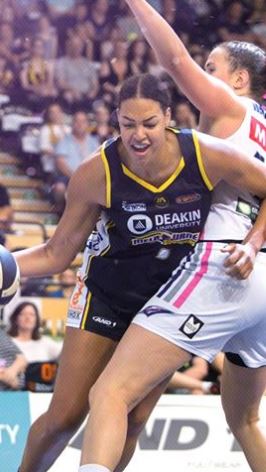 Just ask Sami Whitcomb or Leilani Mitchell who have been regular winners in the past.
We love guards and small forwards here. Truly.
It's just that 4-5s have been dominating so far this season and Round 6 was no exception.
While Liz Cambage deferred to Jenna O'Hea as Melbourne smacked defending champion Sydney Uni, she still had 16 points at 50 per cent, with eight rebounds, five assists and two blocks in the 88-65 rout.
That alone wasn't enough to get Liz the choccies but today she scored a WNBL career and season-high 44 points on 18-of-23 shooting, with 12 boards, three assists a steal and two blocks to secure a tight win over Adelaide.
Asked what the strategy was today, O'Hea said: "Get the ball to Liz."
For the round, Liz averaged 30ppg at 69 per cent, 10rpg, 4.0apg and 2.0bpg.
So yes that's right, Cambage is this round's winner of the Player of the Week award, making her the first multiple winner after also starring in Round 3.
Come on now playmakers, shooting guards, small forwards - let's up our games!
B.O.T.I. WNBL Player of the Week
Rd1 Cayla Francis
Rd2 Abby Bishop
Rd3 Liz Cambage
Rd4 Suzy Batkovic
Rd5 Asia Taylor
Rd6 Liz Cambage
*Free *Cody *Ellis
THE Basketball On The Internet's NBL Player of the Week rapidly is becoming almost the exclusive domain of the NZ Breakers.
Edgar Sosa is a two-time winner, Shea Ili has taken the prize - and he was magnificent again today, especially in the end-game against Perth - and now DJ Newbill joins the list after two quality efforts against the Wildcats.
Newbill led the Breakers' scorers in both games, averaging 18.5ppg at a wicked 61 per cent, 3.5rpg, 3.5apg and 1.5spg to comfortably collect Round 6's PotW honours.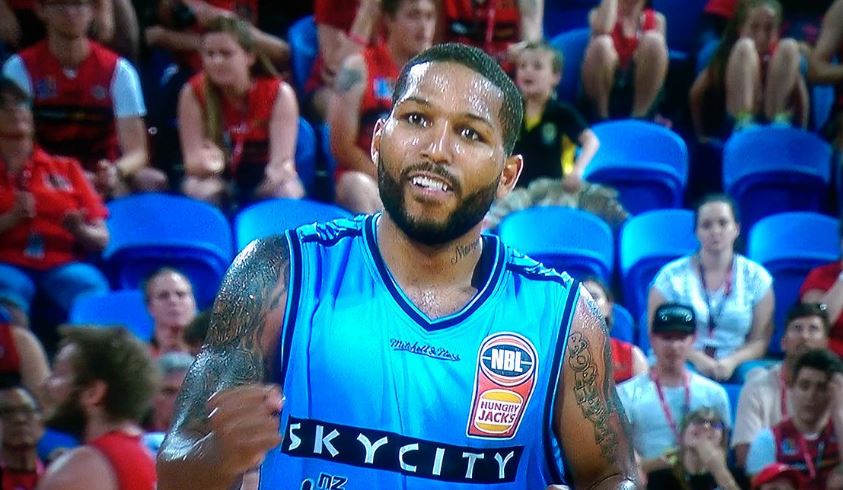 B.O.T.I. NBL Player of the Week
Rd1 Casper Ware
Rd2 Perry Ellis
Rd3 Edgar Sosa
Rd4 Shea Ili
Rd5 Edgar Sosa
Rd6 DJ Newbill
*Free *Cody *Ellis
FINGERS crossed this week the WNBL gets its own championship table correct.
Last week it was showing Adelaide Lightning in second place on a 5-3 record (63% win-loss mark) and Townsville Fire third on 5-3.
Kiddies, that's why you now do points percentage - to accurately split tied teams. So if two teams are tied on win-loss at 63 per cent, but Adelaide's points percentage is 98 and Townsville's 109, what order do you think they should have been?
*Free *Cody *Ellis
NOT sure if you've noticed but Basketball On The Internet is wondering about a certain player not hitting the court, whose name ISN'T Tommy Garlepp.

We now know why Illawarra Hawks aren't giving Cody Ellis court-time and that it's a management decision.
And there folks, you see quite clearly what some of the dangers and/or pitfalls of private ownership can be.
His demeanour and support for his team and teammates has been professional, exemplary and a glowing example of how to carry yourself under duress. Hats off to the young man.
*Free *Cody *Ellis
CHRIS Reid, come on down!
The seasoned NBL ref this round called the most ridiculous Unsportsmanlike Foul in the history of the USF when he pinned one on Mika Vukona against Wildcats captain Damian Martin in their two-game Round 6 series-opener in Auckland.
Vukona had a collision with Lucas Walker which sent the Breakers champion sprawling to the floor, Martin accidentally tripping over him. And that, um, was that. Nothing untoward or sinister.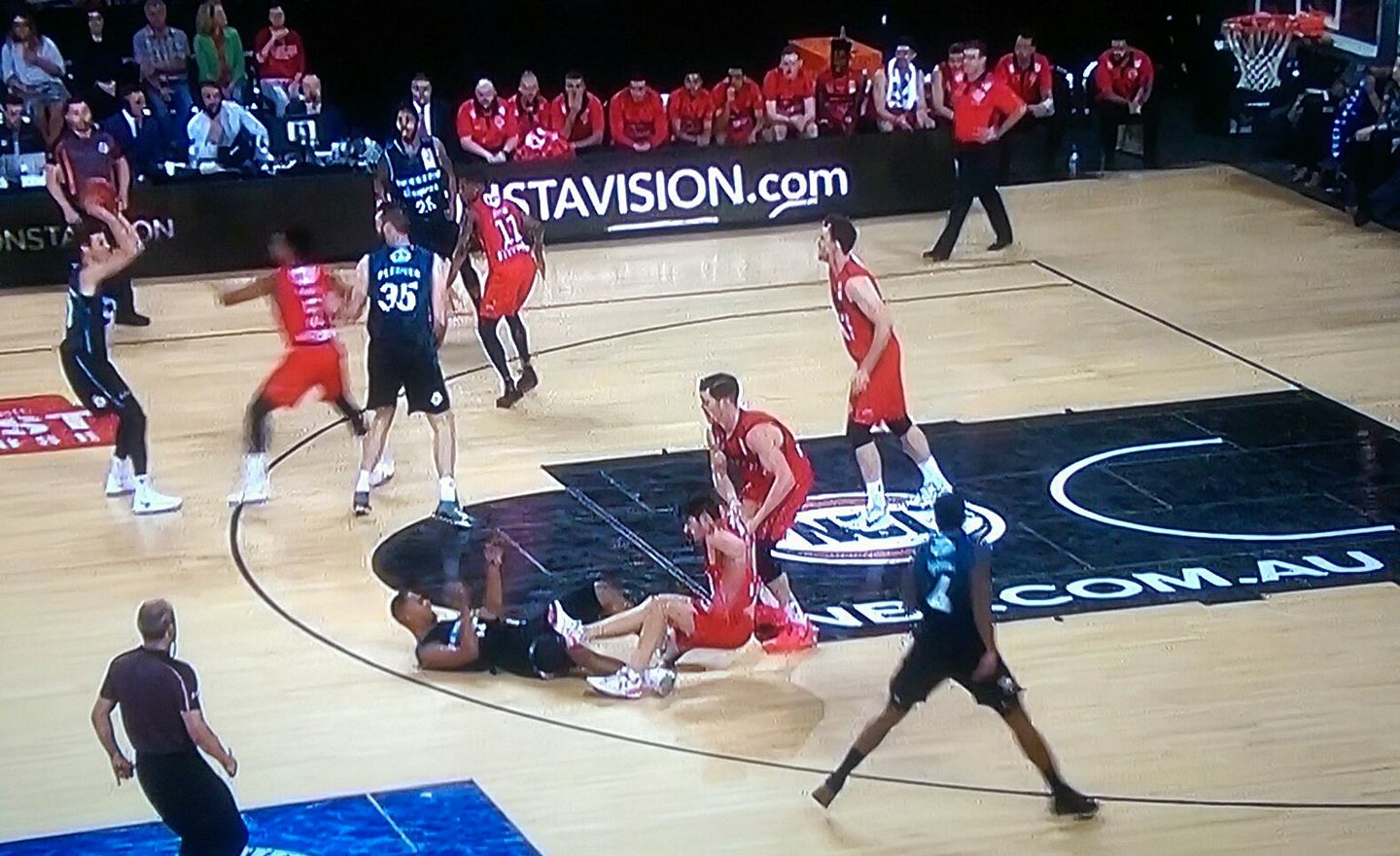 Except in the eyes of Mr Reid who called the USF on Vukona, apparently for not seeing Martin was about to fall over him!
I would have fallen off my couch when I saw it, but stopped myself for fear of a flopping technical.
*Free *Cody *Ellis
THE NZ Breakers-Perth Wildcats showdowns were absolute crackers this NBL round, Paul Henare's men again proving they hold no fears for Perth Arena.
The stalwart and legend of the club, Mika Vukona at The Jungle today played his 400th NBL game and reinforced he remains one of the true greats.
His teammates didn't let him down either, inflicting a loss on the Wildcats, Vukona just for good measure leading his team in rebounding (8) and assists (5) in 22 minutes, his 6 points on a tidy 3-of-4 shooting.
*Free *Cody *Ellis
HEARTFELT condolences to Kelsey Griffin, Bendigo superstar, naturalised Opal and FIBA Asia Cup MVP, who had hip surgery this past week and is out for the rest of the WNBL season.
She is a huge loss for the Spirit and the WNBL and may soon be joined on the sidelines by a teammate on the Opals' Asia Cup silver medallists, Sara Blicavs waiting on the result of knee scans tomorrow.
*Free *Cody *Ellis
BIGGEST WINNERS/LOSERS
NEW Zealand took its NBL winning streak to eight with twin wins, home and away, over defending champion Perth, leaving little doubt it is the pacesetter of the season's first third and easily Round 6's biggest winner.
FOR the second week in a row, Adelaide was the biggest loser, unable to shake its Illawarra monkey, despite leading by 15 during the third period, it resoundingly was beaten at home, and now is looking very much an outfit which has "zoned" out.
MELBOURNE Boomers were the biggest winners in the WNBL this round, flying into the nest of defending champion Sydney, putting out the Flames, flying back to Melbourne to front a quality Adelaide team within 24 hours, and managing to get that win as well.
THE biggest losers may turn out to be Dandenong Rangers who at home not only could not repeat their road win over Adelaide from a week prior, but also lost Opals forward Sara Blicavs to a knee injury in the process, the early prognosis anything but promising.
*Free *Cody *Ellis
NBL Rd.6
NZ BREAKERS 88 (Newbill 17, Penney 14, Ili 13, Sosa 12; Pledger 7 rebs; Newbill 6 assts) d PERTH WILDCATS 84 (Cotton 26, Tokoto 15, Wagstaff 11; Martin 7 rebs; Tokoto 4 asst) at Spark Arena.
CAIRNS TAIPANS 92 (Gliddon 20, Smith 17, Weigh, McCarron 14, Loughton 12; McCarron 12 rebs; McCarron 4 assts) d MELBOURNE UNITED 69 (Wesley, Ware 12, Boone 11, Prather 10; Prather 6 rebs; Prather 5 assts) at The Orange Grove, Cairns Convention Centre.
MELBOURNE UNITED 108 (Prather 22, Wesley 21, Boone 19, Ware 14, Majok 12, Goulding 11; Boone 13 rebs; Ware 9 assts) d SYDNEY KINGS 90 (Cadee, Newley 17, Blanchfield, Ellis 12; Blanchfield 8 rebs; Cadee 5 assts) at The UN, Hisense Arena.
ILLAWARRA HAWKS 96 (Conger 26, Clarke 24, Ogilvy 13, Norton 11; Conger, Kay 10 rebs; Conger 5 assts) d ADELAIDE 36ERS 87 (Moore 24, Creek 14, Shorter 13, Sobey 11; Creek 9 rebs; Childress, Sobey, Shorter 3 assts) at The Fortress, Titanium Security Arena.
BRISBANE BULLETS 82 (Trice 17, Jervis 14, Buford 11; Buford 8 rebs; Trice 8 assts) d CAIRNS TAIPANS 74 (Gliddon 15, Weeks 14, McCarron, Weigh 12, Loughton 11; McCarron, Weigh 6 rebs; Loughton, Gliddon 4 assts) at The Armoury, Brisbane Convention Centre.
NEW ZEALAND BREAKERS 88 (Newbill 20, Penney 17, Pledger 15, Ili 11; Pledger, Vukona 8 rebs; Vukona, Sosa 5 assts) d PERTH WILDCATS 82 (Tokoto 30, Cotton 19; Walker, Tokoto 7 rebs; Martin 7 assts) at The Jungle, Perth Arena.
*Free *Cody *Ellis
WNBL Rd.6
SYDNEY UNI FLAMES 105 (Ebzery 26, Snell 20, Boag 18, Taylor, Hamson 14; Hamson 11 rebs; Wilson 7 assts) d BENDIGO SPIRIT 75 (Banham 21, Payne 14, Laney 13; Oliver 7 rebs; Laney 8 assts) at The Spirit Level, Bendigo Stadium.
MAC ADELAIDE LIGHTNING 69 (Bishop 15, Seekamp 14, Clydesdale, Planeta 12; Bishop 12 rebs; Novosel 4 assts) d JAYCO DANDENONG RANGERS 63 (Mijovic 17, St Blicavs 14, Pedersen 13; Pedersen 12 rebs; Pedersen 6 assts) at The Ranger Station, Dandenong Stadium.
DEAKIN MELBOURNE BOOMERS 88 (O'Hea 22, Smart 19, Cambage 16, Garrick 14; Purcell 10 rebs; Purcell 6 assts) d SYDNEY UNI FLAMES 65 (Taylor 23, Hamson, Ebzery, Snell 11; Taylor 8 rebs; Ebzery 5 assts) at Study Hall, Brydens Stadium.
TOWNSVILLE FIRE 94 (Batkovic 18, Cocks 16, Mincy 10; George 11 rebs; Wilson 7 assts) d BENDIGO SPIRIT 59 (Laney 17, Payne 11, Oliver 10; Laney 10 rebs; Spencer, Laney 2 assts) at The Fire Station, Townsville Stadium.
PERTH LYNX 85 (Williams 26, Kunek 16, Whitcomb 12; Williams 9 rebs; Whitcomb 5 assts) d UNI of CANBERRA CAPITALS 67 (Hooper 13, Magbegor 12, Scherf, Gaze 11; Scherf 10 rebs; Hurst 5 assts) at The Zoo, Bendat Stadium.
DEAKIN MELBOURNE BOOMERS 77 (Cambage 44, O'Hea 12; Cambage 12 rebs; Cole, Smart 4 assts) d MAC ADELAIDE LIGHTING 74 (Novosel 19, Bishop 13, Hamblin 11, Planeta, Seekamp 10; Bishop 9 rebs; Seekamp 6 assts) at The Kangaroo Courts, State Basketball Centre.
THIS round's predictions were solid on the WNBL side, with 4-of-6, the only setbacks Melbourne beating Sydney (which was fair enough with Jenna O'Hea back) and Adelaide reversing its home loss to Dandenong. Let's not talk about my NBL tips.