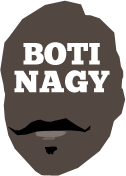 ---
Advertising opportunities available.
Please contact me.
---
NBL21 Rd 10: Now coaching under the microscope
Tweet
COACHING is often up for scrutiny when a team is travelling poorly and that's why Cairns' Mike Kelly and Adelaide's Conner Henry are under the microscope this week.
Can't be sure what's happened between Kelly and stalwart big man Nathan Jawai but it is costing the Taipans dearly.
Jawai may no longer be the force he once was but when Kelly was exhorting his listless crew to show some heart against Perth, it was Jawai who took it on board and worked his butt off.
Maybe as one of the few players on the Taipans' roster with genuine and rich ties to the north Queensland region, he felt the humiliation his team was suffering more acutely. Maybe it was his past history as a championship-winner at Perth. But he sure tried to respond.
Fast forward to the Sydney game where Cairns has the Kings on the ropes and Kelly subs Jawai out of the game at its most crucial point. Big Nate sure had reason to stew as he sat and watched his teammates blow the win after running one of the worst last plays in recent memory.
One of the definitions of insanity is repeatedly doing the same thing while expecting a different result. Guess what? Now Cairns' sanity also is under question!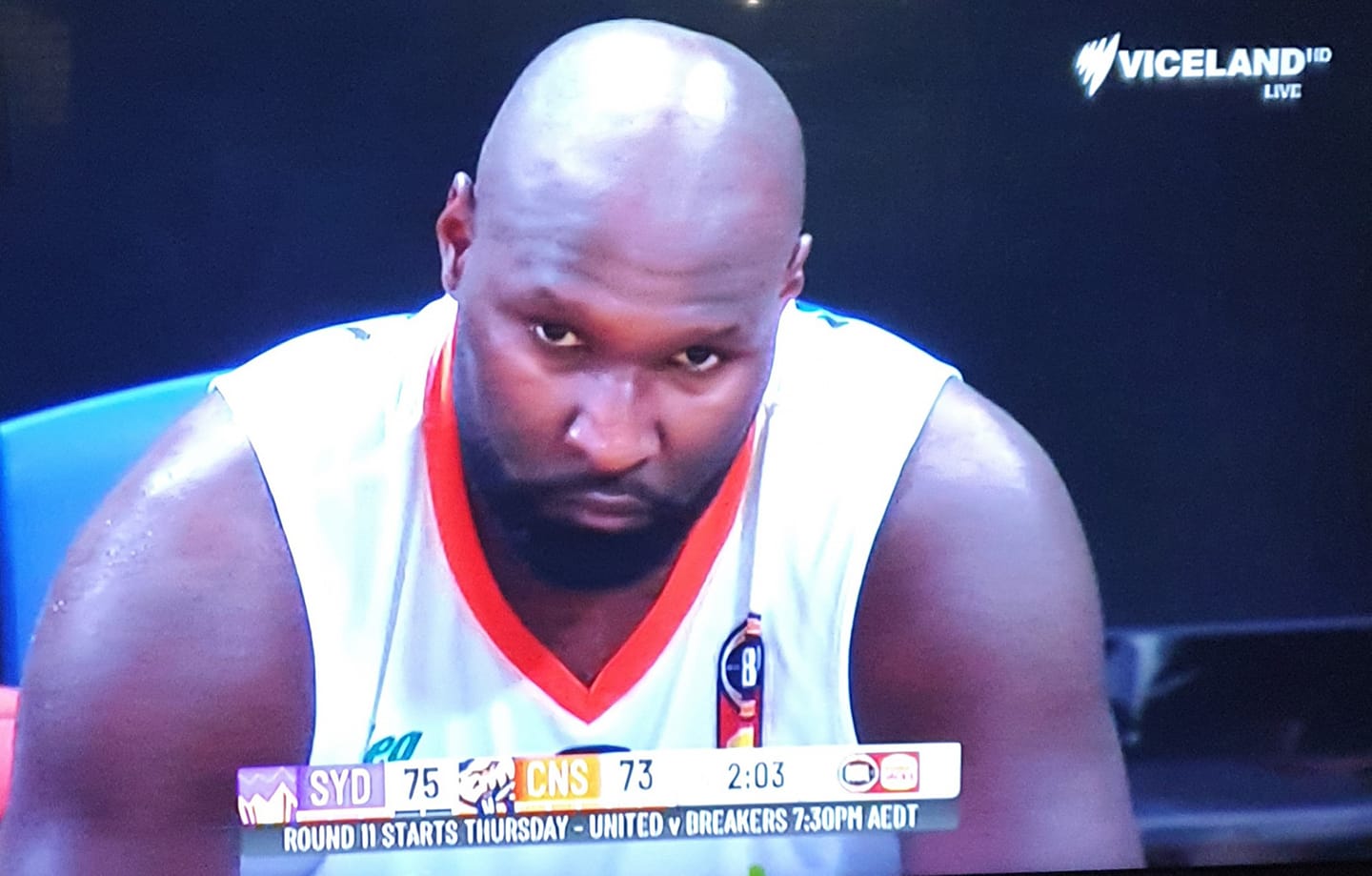 Meanwhile Henry continues to persist with out-of-his-depth Keanu Pinder and not only persist, but start him. Effectively, Adelaide is a man down from the tip.
How he fails to recognise that in Brandon Paul he may have lucked into one of the NBL's top three imports is beyond the pale.
Paul had 25 in his first game and 20 in his second. Yet facing Perth in the cauldron that is The Jungle, Henry again anchored him to the bench come tip-off. What, he needs to acclimatise, know the system, understand the plays?
WTH? Bobby Locke got off a plane in Melbourne from the US, was driven to Geelong, given his uniform and scored 50 points in his immediate NBL debut. He met his teammates, learnt the system and understood the plays later. That was 30 years ago and Bobby didn't play for the San Antonio Spurs. Crazy.
In the absence of Josh Giddey, Henry started seldom-used rookie PG Alex Mudronja, throwing this kid he barely uses to the wolves, or in this case, the Wildcats, in front of a roaring Red Army.
Sitting on Henry's bench is Dan Dillon who a decade ago was starting for a Cairns team which went to the Grand Final! Surely starting Dillon was the obvious move.
I realise we're all just novices out here and not clever enough to comprehend these grand masterplans, but wow have we seen some incredible decision-making from our coaching grand masters this past round.
It makes the mind boggle. But their results? They make perfect sense.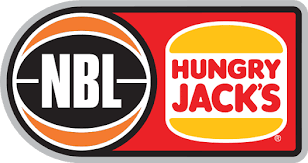 ROUND 10 GAME BY GAME
AN upset win by the Kings was always a possibility, but by 28 points? Against the (once) unbackable championship favourite United?
Sydney sizzled, executed on point, drew great performances from players such as Jordy Hunter and Didi Louzada, while the usual suspects were there when needed.
Melbourne grew frustated and agitated, eventually imploding in extraordinary fashion.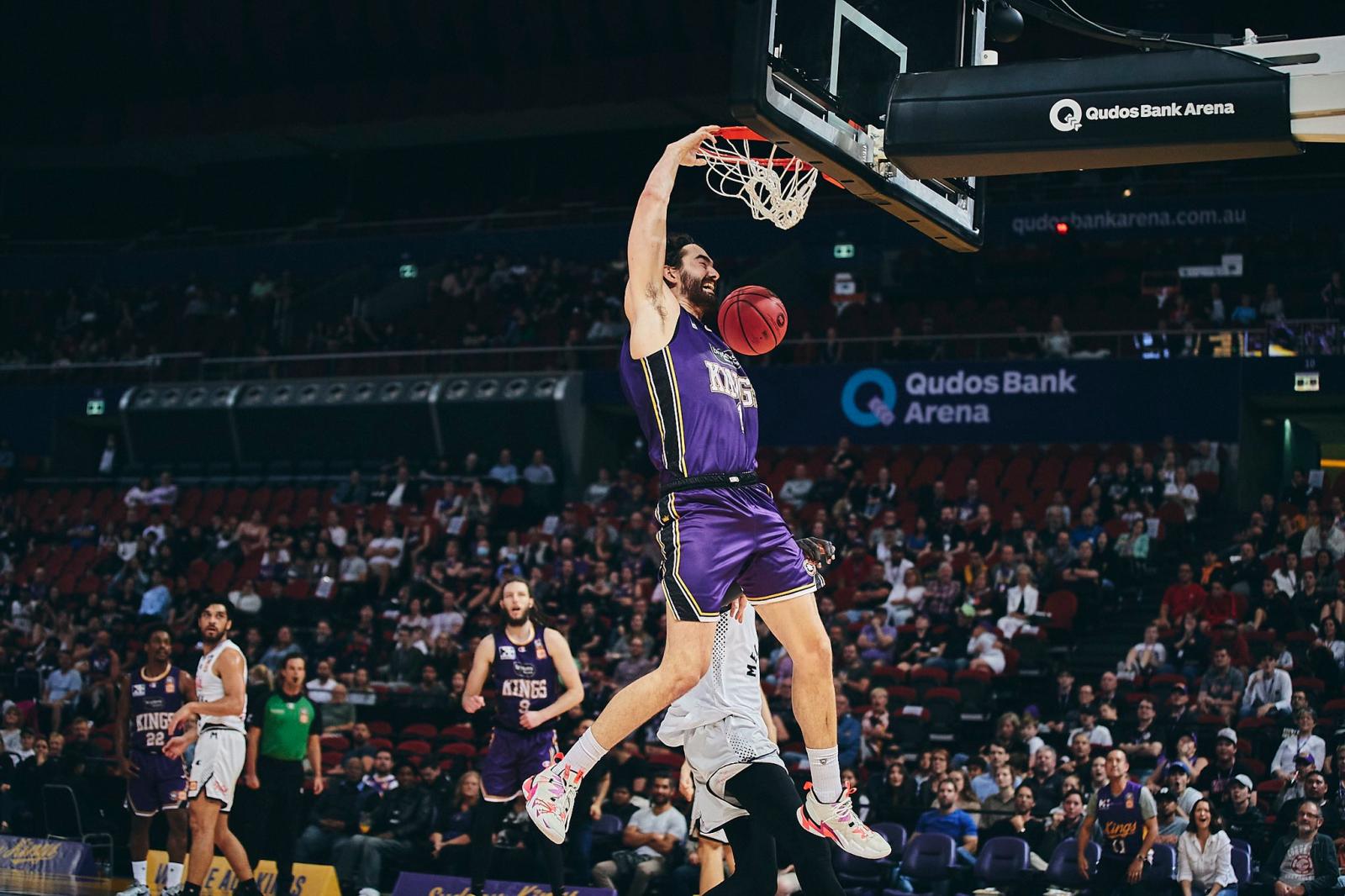 SYDNEY KINGS 103 (Hunter 18, Martin 15, Louzada 14, Ware 13, Vasiljevic 11; Moller, Martin, Ware 6 rebs; Moller, Ware 6 assts) d MELBOURNE UNITED 75 (Landale 18, McCarron 17, Ili 12, Peatling 10; Ili, Landale 7 rebs; Goulding 6 assts) at The Kingdome, Qudos Bank Arena. Crowd: 5,089
* * *
PERTH followed the old adage of "never give a sucker an even break" and quickly broke Cairns in this one.
The Taipans lacked heart and endeavour for much of this as Bryce Cotton, John Mooney and Todd Blanchfield had their way with the Orangemen, leading from the outset and by as many as 24 before Trevor Gleeson eased his foot off the accelerator.
Cairns coach Mike Kelly even lost it at his players for their lack of energy and intensity, for what good it did him. His is a team in transition, going from promising and exciting last year to pretentious and excrement this season.
PERTH WILDCATS 93 (Cotton 28, Mooney 21, Blanchfield 17; Mooney 8 rebs; Wagstaff, Cotton 4 assts) d CAIRNS TAIPANS 75 (Machado 16, Noi 14, Jawai 13, Ngatai 10; Noi 9 rebs; Noi 3 assts) at The Jungle, RAC Arena. Crowd: 9,997
* * *
WITH the shock of losing heart-and-soul swingman Mitch Creek still ringing in their ears, the Phoenix were vulnerable and Adelaide had its chances.
But promoted to a starting role, Ben Moore had a career-game with 23 points, 10 boards and five assists to be instrumental in South East over-turning a 14-point 36ers lead.
The Sixers just do not know how to correctly use Daniel Johnson or exciting new import Brandon Paul, with Sunday Dech and Jack McVeigh often the keys to them staying in games. Just don't tell the coach.
Yanni Wetzell tied the game at 82-82 to force overtime where the Phoenix went on a 10-2 tear to leave the 36ers again lamenting where it all went awry.
SOUTH EAST MELBOURNE PHOENIX 96 (Moore 23, Wetzell 22, Adnam, Gliddon 13, Mauriohooho-Le Afa 10; Moore 10 rebs; Moore 5 assts) d ADELAIDE 36ERS 89 (Paul 20, Giddey, Johnson 15, Dech 13, Crocker, McVeigh 10; Giddey 10 rebs; Giddey 8 assts) in overtime (82-82) at The Phoenix Phallanx, John Cain Arena. Crowd: 1,682.
* * *
SAM Froling earning a lot of ink at Illawarra this season most likely had zero to do with it but it's been a long time since Harry Froling stood up and made an on-court statement.
He maybe has been largely insighted since winning Rookie of the Year honours a couple of seasons back but he certainly made an on-court statement as the Bullets convincingly reversed their previous loss to New Zealand.
Froling's game-high 20 points came on 9-of-14 shooting as Brisbane terrorised the Breakers defensively, holding them to a 9-point third quarter in a 28-point second half.
Matt Hodgson (16 points, 10 rebounds, two blocks) was a keyway menace and Anthony Drmic again value-for-minutes. NZ struggled to score, Tom Abercrombie going 1-of-9. "Hey, don't knock that," someone resembling Deng Adel said.
BRISBANE BULLETS 88 (Froling 20, Hodgson, Drmic 16, Sobey 12; Hodgson 10 rebs; Cadee 4 assts) d NEW ZEALAND BREAKERS 67 (T.Webster 19, Delany 12, Iverson 9; Delany 10 rebs; T.Webster 5 assts) at The Armoury, Nissan Arena. Crowd: 3,386
* * *
CHRIS Goulding led the way for United but not with his slick shooting or quick release.
In the third quarter when this game still was up for grabs, Goulding worked legitimately hard at the defensive end - something he is less noted for due to his penchant for falling over if someone sneezes and the sheer attractiveness of his offensive game when he is rolling.
But Goulding made repeated stellar efforts on D to lead his team out of its recent doldrum before also knocking down a couple of those shots that can break an opponent's confidence, if not his heart and morale.
In the end, the Hawks did well to keep the margin to 10, unable to repeat last week's upset or to find a way to fill the breach left by Cam Bairstow's absence.
MELBOURNE UNITED 75 (Landale 19, Goulding 16, 3 with 7; McCarron 11 rebs; Goulding, McCarron 5 assts) d ILLAWARRA HAWKS 65 (Jessup 13, Froling, Harvey 11; Froling 11 rebs; Naar, Adel, Harvey 2 assts) at the UN, John Cain Arena. Crowd: 2,552
* * *
IT was unbelievably frustrating to watch how Cairns managed to turn a really quality shot at a road upset over Sydney into another disaster.
After crushing United, Sydney was due to suffer something of a letdown and the Taipans looked as if they could deliver the knock-out blow when they pulled away in the second half.
They even had the buffer out to eight, Nate Jawai filling in for another poor shooting game by Cam Oliver (3-of-11) and Scott Machado on his way to 21 points and nine assists.
The Kings came rallying back and the lead see-sawed before Shaun Bruce's 3-pointer made it 75-73 to the home team.
Cairns had 20 seconds to execute a final play as drawn up in the timeout. But Casper Ware managed an early deflection to send Machado chasing after the ball in the backcourt, then driving and turning it over. That's right. Cairns did not even manage to get a shot off. Terrible.
SYDNEY KINGS 75 (Ware, Martin 16, Kickert, Vasiljevic 11; Moller 8 rebs; Martin 3 assts) d CAIRNS TAIPANS 73 (Machado 21, Krslovic 13, Jawai 12, Djeric 11; Oliver 7 rebs; Machado 9 assts) at The Kingdome, Qudos Bank Arena. Crowd: 5,187
* * *
DON'T be deceived by the final scoreline here as Perth was ahead by 17 inside the last three minutes after Bryce Cotton turned in a first-half show for the ages.
That's not to say the 36ers weren't in this, because they succeeded in hanging around, despite some truly head-scratching coaching decisions from Adelaide boss Conner Henry.
The absence of Josh Giddey (ankle) did not prove the disaster some predicted as the focus shifted toward a team effort and for some portions of the contest, it was there and Adelaide looked good.
The way Cotton tore apart the Sixers though, commentators had a rabid bout of premature evaluation tipping a 50-point game for the superstar. Cotton is about winning, not stats. That's what the 36ers need to get right with Giddey.
PERTH WILDCATS 92 (Cotton 36, Norton 13, Mooney 11; Mooney 14 rebs; Cotton 6 assts) d ADELAIDE 36ERS 82 (Johnson 19, Crocker 13, McVeigh 12, Dillon 11; Johnson 8 rebs; Paul 4 assts) at The Jungle, RAC Arena. Crowd: 9,550
* * *
ROUND 10 (What We Learnt)
*It doesn't matter which city they play in, the Taipans are at odds anywhere;
*Craig Moller has been practising his 3-point shooting;
*The Phoenix can win without Mitch Creek (and without Keifer Sykes);
*The Bullets can win without Nathan Sobey and Vic Law scoring heavily;
*Fast food franchises in Brisbane are preparing for an upsurge in takings;
*Jeremy Kendle is always near his phone;
*No TV commentary team can get through a game without using the phrase "land of plenty";
*Sydney is better than expected;
*So is Brisbane.
QUOTE of the WEEK
"If Mooney goes to the basket, you've got to f-----g hit him. All right? One possession at a time. Stop throwing our hands in the air and saying: 'F--k this.' I don't care if we lose by 50, make them go through your bodies. Take a stand. If we don't take a stand now, when will we?"
- Frustrated Cairns coach Mike Kelly telling his charges as it is after watching them give up another unmolested basket in the Perth rout.