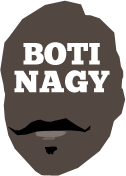 ---
Advertising opportunities available.
Please contact me.
---
Opals' Cup silver lining
Tweet
TOO good, too professional, too deep and too efficient – that was the USA today as it won the FIBA Women's World Cup for the 10th time and third in a row since Australia took the Gold in 2006.
But the silver lining for the Opals today in Tenerife, Spain, as they went down 56-73 to the Americans, was that Sandy Brondello's remake of this iconic Australian sporting team is only in its infancy.
Few expected Australia to be leaving Spain with a podium finish, let alone a Silver Medal.
And it was achieved under true adversity, with first-choice point guards Leilani Mitchell and Lauren Mansfield injured and replaced on the eve of the tournament, while captain Jenna O'Hea (calf) missed the entire group stage.
To come together as well as they did and as quickly, to play some truly inspired and inspiring basketball and to do it in the shadow of the Rio Olympics demise was a credit to Brondello, her staff and the 12 players who so proudly wore the green-and-gold in Spain.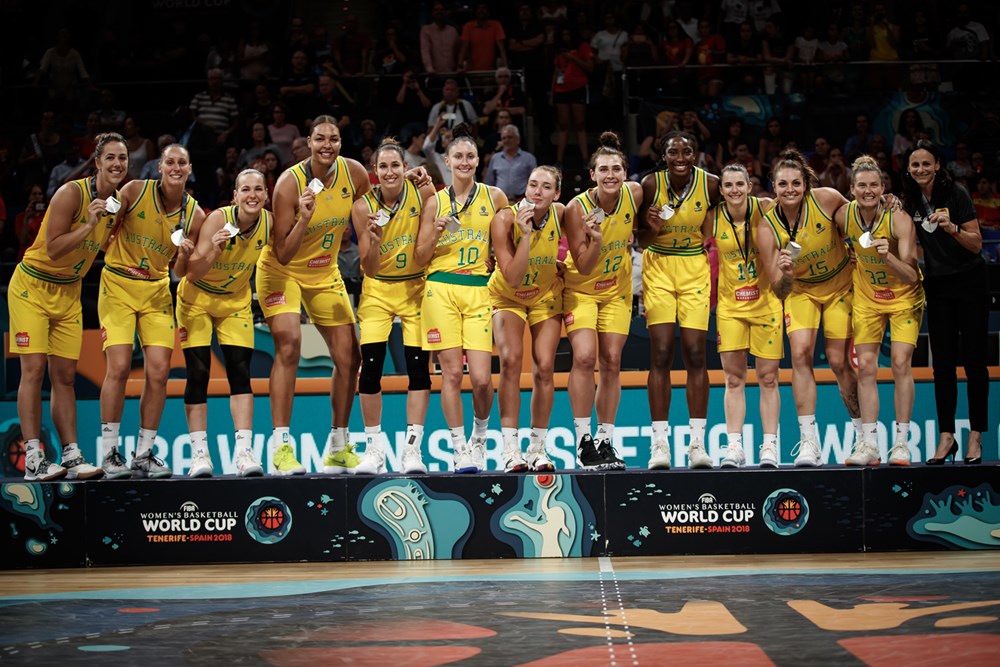 Liz Cambage was the star of the championship – how she did not win the World Cup MVP award is another of those charming FIBA mysteries – but burgeoning talents such as Alanna Smith and Ezi Magbegor did enough in the Final to leave fans salivating of the potential excitement of the 2020 Tokyo Olympics.
Today, it was the old pros of the USA who came out making a statement, despite Cambage blocking the first shot attempt by American All Star Diana Taurasi just 11 seconds after tip-off of the Gold Medal game.
It didn't phase the defending champs, Brianna Stewart opening with a 3-pointer, Taurasi adding another, Tina Charles a jumpshot, then two free throws for a potentially demoralising 10-0 start.
It took until 6:08 for Katie-Rae Ebzery to stick a jumper and get the Opals on the board, US centre Brittney Griner with an immediate three-point play to blow it out to 13-2.
Cambage, averaging a championship-high 27.2 points per game at 68 per cent, could not buy a basket and far too often, no-one could step up in the absence of her scoring output.
Until Alanna Smith (below) subbed in.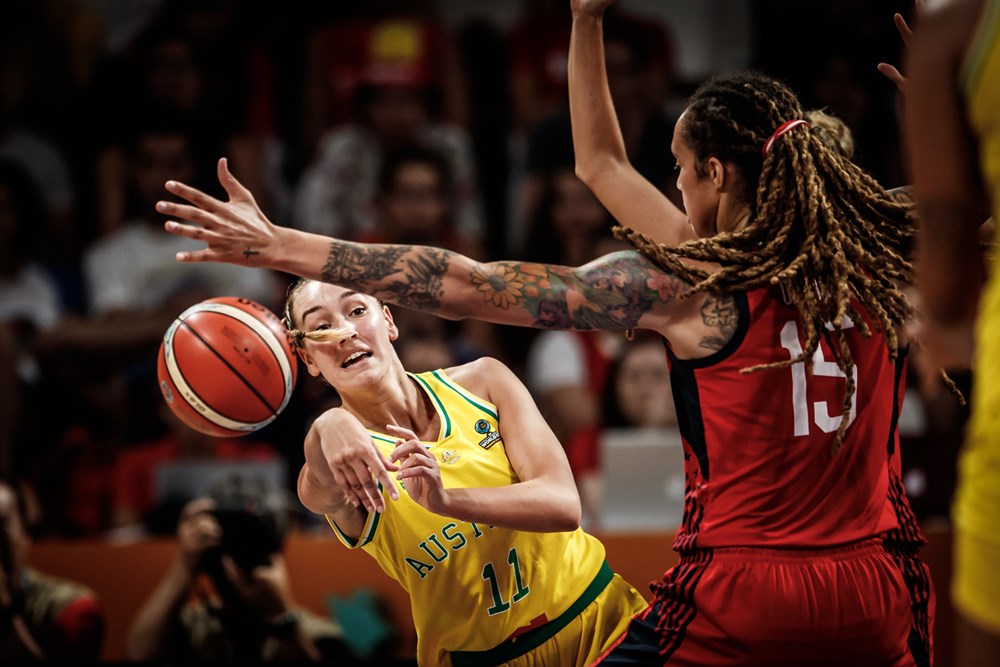 The 22-year-old forward who took the baton from Laura Hodges at last year's FIBA Asia Cup, came off the bench for back-to-back baskets off Sami Whitcomb feeds.
When Cambage hit a jumpshot at 3:18 for her first basket, it was 8-16 and not looking quite as grim.
A Whitcomb 3-pointer for 11-18 before Tess Madgen swooped onto an offensive rebound cut the deficit to five.
Then Alex Bunton rolled a shot in with 31 seconds to the break and Australia was a long bomb away at 15-18.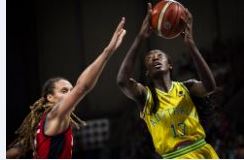 The USA's lead back out to 26-17, it was "enter Ezi" as Magbegor (right) took the ball coast-to-coast to trim the deficit again.
Steph Talbot's free throws cut it to 21-26 and after a USA free throw make, Magbegor sliced the margin to 23-27.
The next two minutes were telling though, Sue Bird with a 3-pointer, Bec Allen blocking a Taurasi 3-point attempt but hit with the wellknown "sorry, but she's a star" foul to give the American three freebies.
With the opposition on an 8-0 run for 35-23, Brondello took timeout, Allen sticking a jumper and Ebzery beating the shot-clock for a manageable 27-35 halftime deficit.
The first five minutes after the interval always were going to be key though and Bird's three and Griner's bucket were not the start the Opals wanted.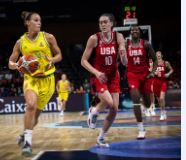 Some of the officiating also favoured the champs, the Opals with three fouls within 90 seconds of the restart as Stewart, then Griner pushed the lead to 44-27, a 9-0 opening which was a disaster for Australia.
It was Bunton off a putback who opened Australia's scoring more than halfway through the third quarter as the Opals struggled to find anyone capable of scoring.
Smith drew a charge at one end, then swished a three at the other and the Opals had a sniff at 32-44.
But the sniff quickly was snuffed by a Griner three-point play.
Smith drained a second confident triple, Taurasi matched it, then O'Hea added a three after the Opals' best ball movement of the game.
Griner again went to work in what became a match-winning 26-11 period that had Australia staring up from a 23-point ditch from which they were never going to emerge.
Despite winning the boards 49-46, 19 turnovers including some of the most wayward passing of their tournament – two just thrown straight out of court – and 32.8 per cent shooting never was going to get it done.
Cambage was a huge defensive presence with game highs in rebounds (14) and blocks (5). But her 2-of-10 shooting deprived the Opals of their focus, her immediate opponent, Griner (below), claiming match MVP honours.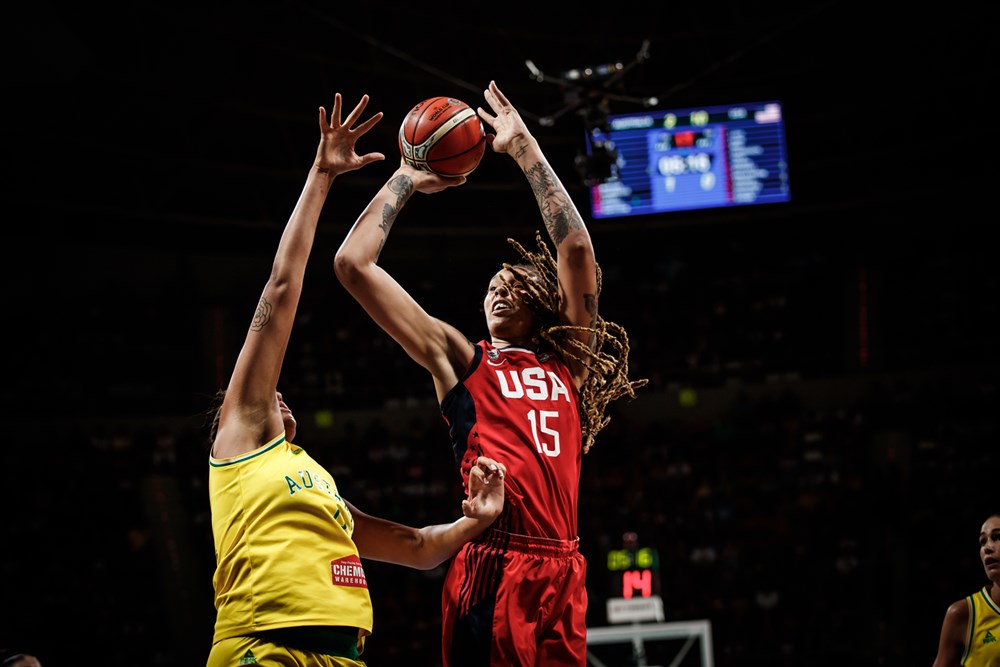 Talbot went 0-of-7, George 0-of-2, Allen 1-of-6, Ebzery 3-of-11 making it a combined 6-of-36 from the floor for Australia's starters. Not much more needs to be said.
There is time now for Talbot to develop a mid-range, the youngsters to mature even more, for a player such as Marianna Tolo to return from injury and Australia's depth now is extraordinary.
Ebzery, Smith and Tessa Lavey were the only members of this Opals team which took Silver at last year's FIBA Asia Cup. Only seven members of this team were in Brondello's Commonwealth Games Gold Medallist.
The battle for spots on any final Opals roster has not been this hot since the days of Jackson, Taylor, Batkovic and Snell.
The Opals fell short today but there definitely appears to be Gold in their future.
GOLD MEDAL FINAL:
USA 73 (Griner 15, Taurasi 13, Stewart 10; Stewart 8 rebs; Bird 5 assts) d AUSTRALIA OPALS 56 (Smith 10, Cambage 7; Cambage 14 rebs; O'Hea 4 assts).
BRONZE MEDAL PLAYOFF
SPAIN 67 (Xargay 17, Torrens 15, Ndour 13; Nicholls 10 rebs; Palau 5 assts) d BELGIUM 60 (Meeseman 24, K Mestdagh 15, Allemand 8; Meeseman 9 rebs; Allemand 8 assts).
TOURNAMENT MVP: Breanna Stewart (USA)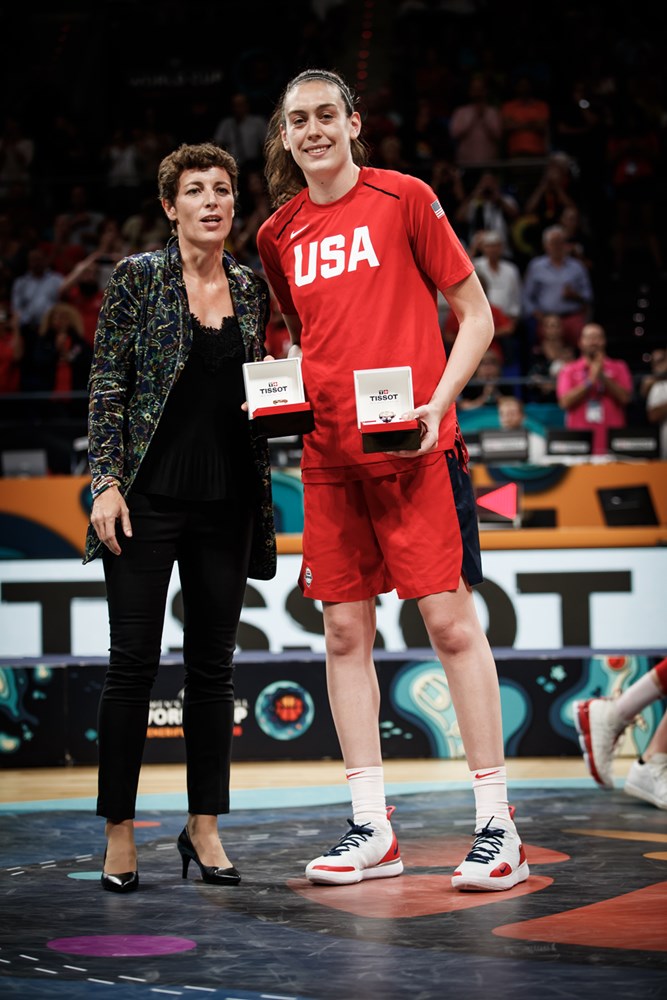 ALL STAR FIVE: Diana Taurasi (USA), Breanna Stewart (USA), Astou Ndour (Spain), Emma Meesseman (Belgium), Liz Cambage (Australia).