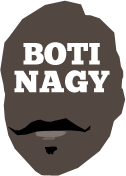 ---
Advertising opportunities available.
Please contact me.
---
Sixers all at sea, again
Tweet
ADELAIDE today blew a golden opportunity to close the door on the NBL Final Four when it failed to execute under pressure, reigning champion Melbourne producing a master class in exactly how to do just that, winning 89-87.
The championship backcourt of Casper Ware and Chris Goulding slashed the Sixers to the sword in the end-game after Adelaide led 84-81 going into the last two minutes.
But Ware creating and Goulding with several drives and baseline jumpshots, produced an 8-0 run to which the 36ers replied with a familiar pattern of Nathan Sobey hero shots and turnovers.
Goulding (below) tied the game, then gave Melbourne the lead, Ware extended it and Josh Boone concluded it from the stripe, bringing his tallies to 10 points and 15 rebounds.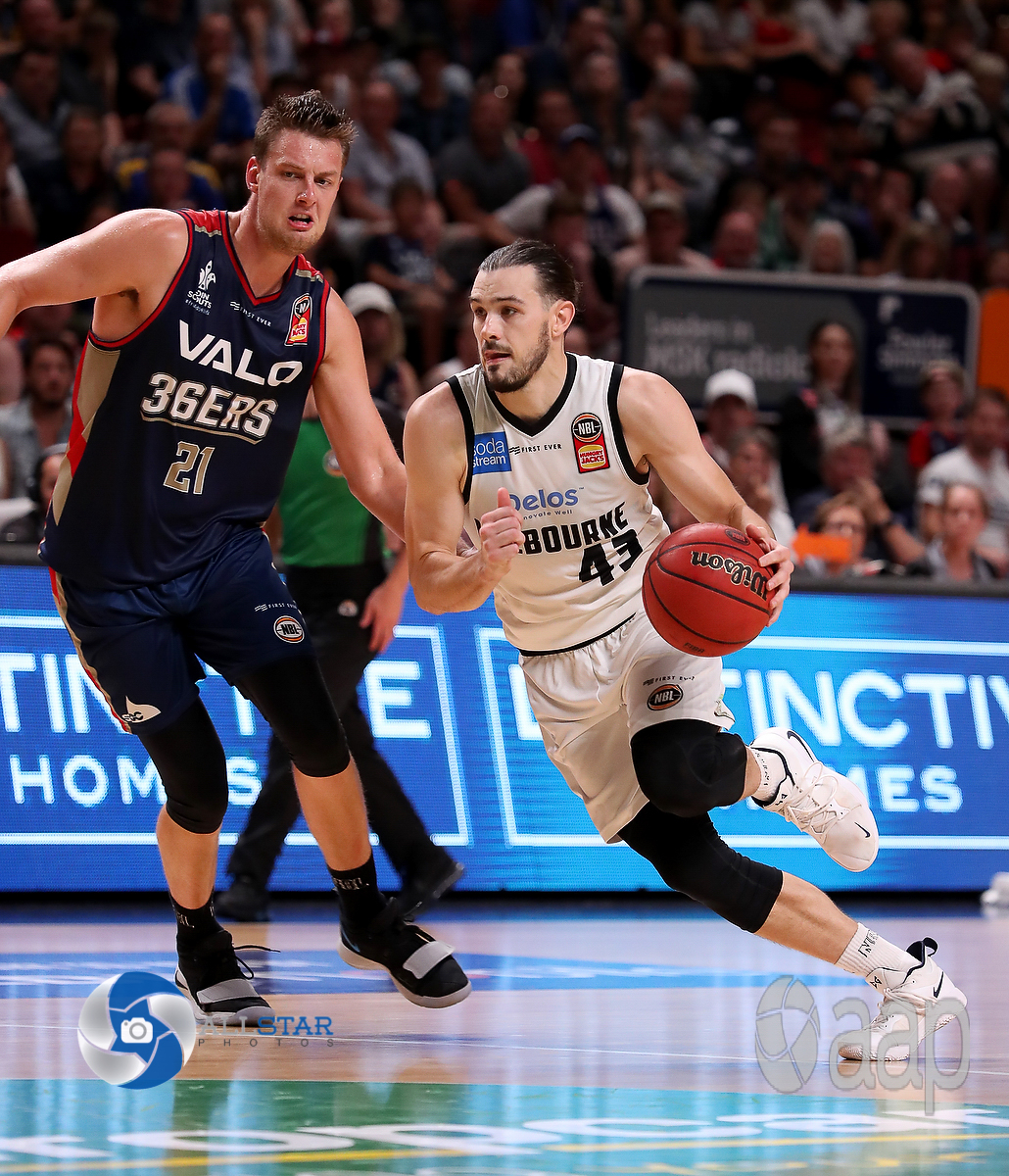 The trouble with Sobey is he can be a match-winner on any given night. But by the very nature of that tag, he also can be a match-loser, especially when he dominates the ball as he did throughout a diabolical final quarter.
In complete contrast, United worked tirelessly to limit Adelaide's second-shot options and executed cleverly, Ware (below) driving and dishing, and DJ Kennedy also astute with his ball use. The pair had six assists apiece.
By winning this game, the Sixers would have assured themselves of activity in the post-season but instead kept Brisbane's hopes alive, the 36ers 14-13, the Bullets 13-14.
Should the 36ers lose to their arch enemy and league leader Perth, and Brisbane, at home, beats New Zealand, both would be 14-14 with percentage to determine the issue.
Currently Adelaide's is 100.5 and Brisbane's 100.7 but a Bullets win and Sixers loss would assure Brisbane of a better percentage and a return to the playoffs.
And if Perth does beat Adelaide, Brisbane sure will have incentive against the Breakers.
Of course, it never should have happened, especially after the way Anthony Drmic opened the contest.
The 36ers swingman had told the story of his niece Bella Zois, 16, and her battles with a rare genetic condition known as Von Hippel-Lindau syndrome.
Preparing for further brain surgery next month to remove a tumour caused by VHL, Bella was flown to Adelaide by Drmic to watch the 36ers' final home game of the season and to raise awareness of this condition.
Distinctive Homes' Harry Florentzou immediately offered to donate $100 for every 3-point basket made in today's game and Mitch Creek (below), for the better part of the past decade, the face of the Adelaide 36ers, jumped aboard, donating $50 per triple.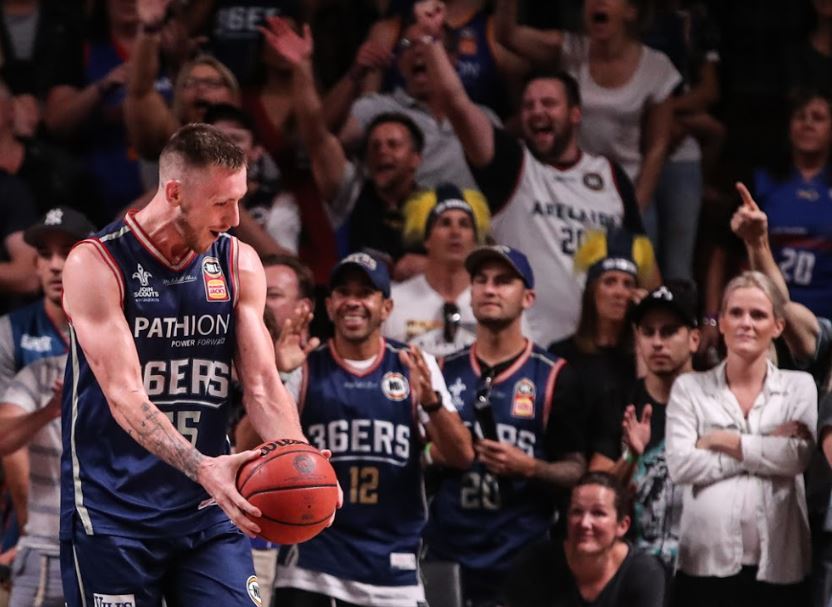 Inspired, Drmic opened the first quarter with 3-of-3 threes in a 13-point personal period, then continued with a further 1-of-2 in the second quarter en route to an 18-point first half and 52-48 Adelaide lead.
The 36ers led 45-35 at one point and when Shaun Bruce knocked down 2-of-2 triples in the third quarter, Adelaide was out 70-64 and looking bound for the post-season.
Instead, it required a post-mortem. Melbourne hung around, then knew when to step on the pedal as the 36ers fell into all-too-familiar last quarter patterns, Sobey over-dribbling and Drmic the biggest offensive casualty, hardly receiving a decent pass in the second half despite regularly being open.
Drmic still finished with a career-best 20-point game but after 18 in the first half, he was more starved of opportunities by his team than any brilliant United defence. He stayed on 4-of-5 threes for the duration.
Daniel Johnson worked hard at the basket for his 15-point, 11-rebound double-double but Majok Deng's minutes were expensive as Adelaide lost its way, and possibly lost its ticket to the playoffs in the process.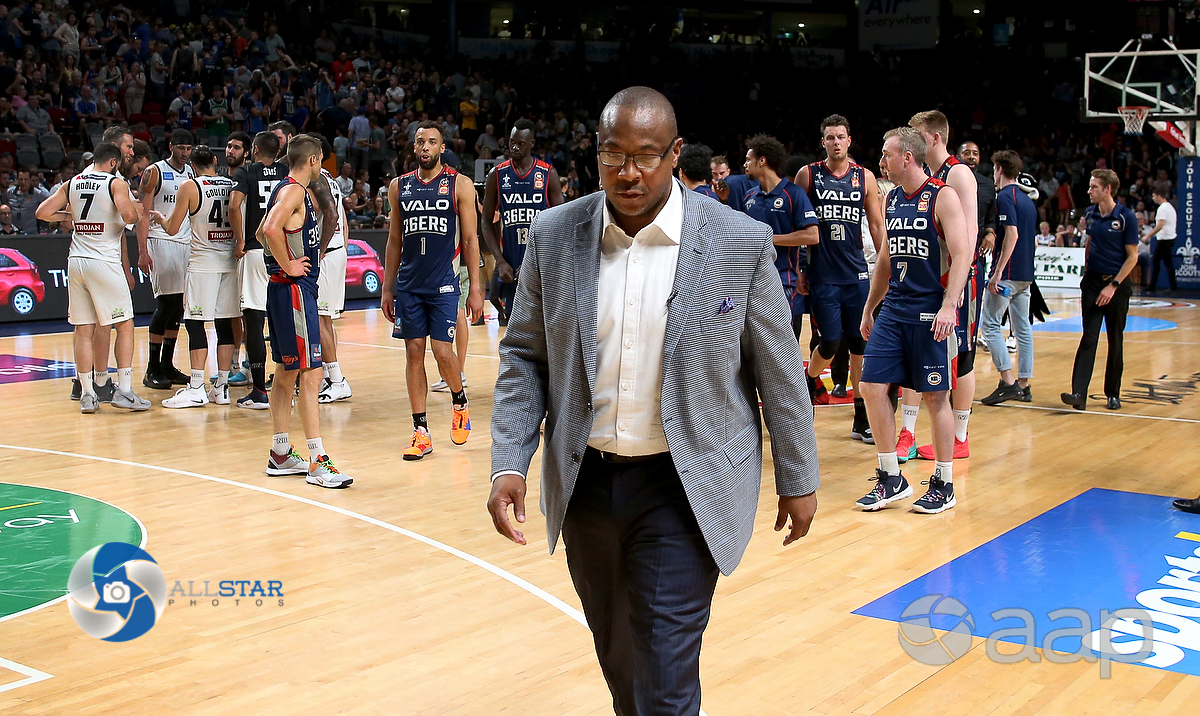 * * *
In PERTH, league leadership changed for the third time in four hours when Perth dug back from a 14-point deficit to beat Sydney 95-86 in overtime, Bryce Cotton in superlative form.
The reigning league MVP struggled as Jerome Randle produced a seven-assist first half for a dominant Sydney, Cotton hitting his first basket with 1:20 left of the third quarter.
But from there to the final siren, he delivered a match-high 27 points to devastate the Kings hopes' of a second win at The Jungle this season.

Sydney started the day as league leader, was displaced when Melbourne outlasted Adelaide, but it was Perth which concluded Round 17 back at its familiar pinnacle.
Angus Brandt enjoyed a 13-point third quarter to reduce Sydney's 38-28 halftime lead and turn the match back into a contest.
But as Perth threatened to steal the win, Randle hit a pair of big baskets, and Kevin Lisch worked well twice with Andrew Bogut to keep the Kings in the box seat.
It was an unlikely hero who sent the match beyond regulation. Wildcats captain Damian Martin tying it up 77-77 with a contested 3-pointer after Bogut twice scored left hooks to keep Sydney ahead.
Randle drove to try for the game-winner, missed and Perth's Terrico White missed a long bomb for the win in regulation, Nick Kay's tip-in too late.
But after Randle gave Sydney an immediate lead in the overtime, Cotton completed a three-point play and the Wildcats would not be caught again.
Cotton scored a Wildcats' record 14 points in overtime, completely dominating the five-minute extension, taking his team back to the top.
In WOLLONGONG, the Breakers won every quarter over the host Hawks to move within a win of leapfrogging Illawarra into sixth place.
Shawn Long (24 points on 10-of-15 shooting) and Tai Wesley (23 on 10-of-14) dominated the paint, Long also pairing a game-high 11 boards with five blocks, Wesley additionally with seven rebounds, two assists and two steals.
The "dynamite duo" exploded any chance Illawarra had of finishing its season with a home win, Brian Conklin working hard for his 20 points and Jordair Jett with 14 and six rebounds.
ROUND 17 (Cont.)
NEW ZEALAND BREAKERS 96 (Long 24, Wesley 23, Ili 12; Long 11 rebs; Ili, Webster 3 assts) d ILLAWARRA HAWKS 81 (Conklin 20, Jett 14, Blanchfield, Coenraad 10; Jett 6 rebs; Ogilvy 5 assts) at The Sandpit, WIN Entertainment Centre.
MELBOURNE UNITED 89 (Ware 20, Goulding 16, Barlow 13, Boone, McCarron, Kennedy 10; Boone 15 rebs; Kennedy, Ware 6 assts) d ADELAIDE 36ERS 87 (Drmic 20, Johnson 15, Sobey 11, Moore 10; Johnson 11 rebs; Sobey 5 assts) at The Fortress, Titanium Security Arena.
PERTH WILDCATS 95 (Cotton 27, Brandt 19, Martin 15; Brandt 9 rebs; Steindl, Martin 4 assts) d SYDNEY KINGS 86 (Randle 25, Bogut 16, Lisch 14, Newley 10; Bogut 15 rebs; Randle 9 assts) in overtime at The Jungle, RAC Arena.