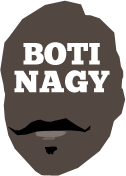 ---
Advertising opportunities available.
Please contact me.
---
Sixers break NZ spirit, Hawks plucked
Tweet
THE dream is over for New Zealand and Illawarra, put out of their finals misery respectively by Adelaide and Brisbane, the two teams genuinely competing for fourth spot in the NBL playoffs.
Refusing to go quietly, the Hawks went down in overtime in Brisbane, Jordair Jett aborting two free throws inside the final half-minute of regulation with the Hawks up 84-82.
Berated by teammate AJ Ogilvy for some perceived mistake as he was fouled at the sideline, Jett went to the stripe obviously distracted and even though he took it on the chin post-game for failing to wrap up a win, Ogilvy sure didn't do him any favours.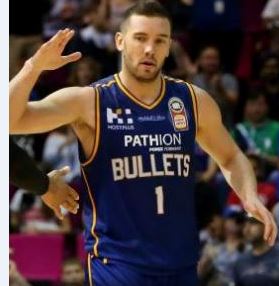 Adam Gibson knocked down two high-pressure free throws to tie the game, Illawarra going to Todd Blanchfield for its last play. But Blanchfield, who was pointless, stayed that way.
Cam Gliddon's corner shot for the win also didn't get it done, but two 3-pointers from Lamar Patterson to start the overtime sure did.
Trailing 84-90, Blanchfield made his long overdue only shot of the game and Illawarra's only score in the extension as Brisbane KO'd the Hawks and kept within a win of Adelaide.
"We can't make the finals, that's the reality of it," Hawks coach Rob Beveridge said. "I thought it was an incredible game. Both teams executed really, really well.
"Obviously it's very disappointing we lost in overtime (but) we had our opportunities to win the game."
The 36ers were off to the worse possible start in Auckland when captain Daniel Johnson was called for a foul within seconds of tip-off, the clock showing 9:56!
Shawn Long (28 points at 84 percent, 12 rebounds) went straight after Johnson for the game's opening score but Nathan Sobey's quick reply 3-pointer made Adelaide's intentions clear.
Sobey (27 points at 64 percent, 9 assists, 5 rebounds) had arguably his best game of the season, the burdens on him eased by Ramone Moore's exceptional return game from a calf injury.
Moore's 18 points came at 70 percent, with four assists, but New Zealand shared the lead throughout a gripping first quarter, Tom Abercrombie in his 300th game doing some early damage.
The Sixers bounded away in the second, Jacob Wiley (10 points, 7 rebounds, 2 blocks) throwing down a dunk for a double-digit lead at 41-31.
Jack McVeigh's three at 6:55 in the second bulged the lead to 46-33, it still was 57-45 on Majok Deng's slam at 3:19 before Demitrius Conger's free throws pushed it to 59-45.
The match was allowed to be overly and overtly physical, Sobey's three ahead of halftime giving Adelaide a 62-50 buffer. It also was the most points scored against New Zealand in a half from a 40-minute game.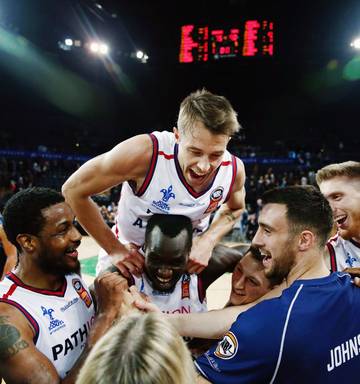 "I thought we did a pretty good job of executing on offence," 36ers coach Joey Wright said. "We made some big plays, Ramone, Sobes in the backcourt went to work for us, we had DJ playing off that.
"Meech (Conger) and Jacob (Wiley) played with some amazing energy and did some great things defensively for us and our bench just came in and supported us winning. So I thought it was a pretty complete game for us."
Another Sobey triple in the third (he had 4-of-7) took the lead to 16 at 73-57 and with Tai Wesley in foul trouble, New Zealand was in deep doggie-doo.
Patrick Richard hit 6-of-11 threes in his 24 points to bring the Breakers back into the contest in the final quarter before a Johnson tip-in with 2:34 left forced a Breakers timeout, Adelaide up 107-100.
Long pulled it back to 102-107 but with Moore and Conger grabbing some big defensive rebounds – none bigger than Conger's on an Abercrombie 3-point miss with Adelaide leading 105-100 – the 36ers maintained the edge for their 14th win of the season.
NBL ROUND 17
ADELAIDE 36ERS 114 (Sobey 27, Johnson 19, Moore 18, Conger 15, Wiley, Froling 10; Wiley 7 rebs; Sobey 9 assts) d NEW ZEALAND BREAKERS 107 (Long 28, Richards 24, Delany 16, Weeks 12, Abercrombie 11; Long 12 rebs; Delany 5 assts) at the Breakwater, Spark Arena.
BRISBANE BULLETS 98 (Patterson 24, Hodgson, Gibson 14, Gliddon 13, Vukona, Bairstow 10; Bairstow 9 rebs; Cadee 5 assts) d ILLAWARRA HAWKS 87 (Jett 16, Grida 13, Naar, Jackson 11, Ogilvy, Conklin 10; Ogilvy 9 rebs; Jett 4 assts) in overtime at The Armoury, Brisbane Convention Centre.