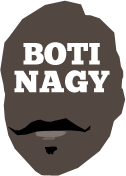 ---
Advertising opportunities available.
Please contact me.
---
WC: French resistance wins Bronze battle
Tweet
FRANCE tonight produced a 46-29 second half to claim its second FIBA World Cup Bronze Medal while denying Australia its first 67-59 in a sad end to what was an absorbing and exciting Boomers campaign in China.
Turnovers, shooting options drying up and its discredited persistence in how it played the pick-and-roll all came back to haunt Australia as it not only ran out of gas the further the game went, but was surviving on the smell of an oily rag by the siren.
In the end, Australia had nothing in the tank to curb a French advance led by Nando De Colo, Nicolas Batum, Evan Fournier and Andrew Albicy, even though the Boomers came out firing and keen to put a match-winning buffer between the two teams.
Joe Ingles (below) rediscovered his shooting touch with 17 points on 7-of-11, plus five rebounds, three assists and a steal in 34:15.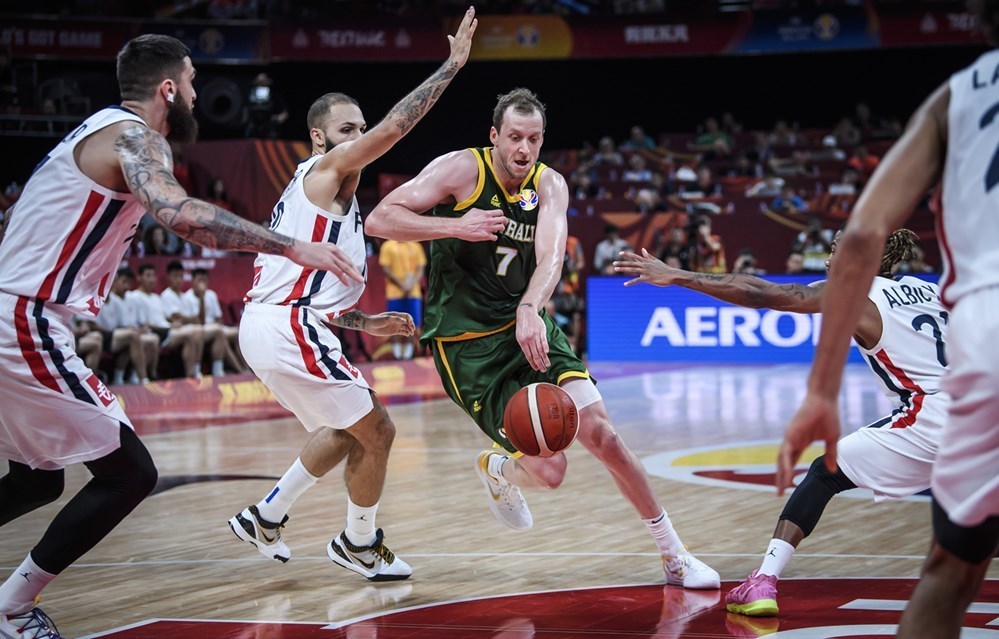 Asked to do so much for so long, Mills was off to a flyer, faded, but still finished with 15 points at 50 percent. But the man with the lion's heart was running on empty long before the siren sent France to the medal podium.
There was no lack of effort or intensity from the Boomers, but they did hit the wall, despite taking great momentum into the early stages of the third quarter.
A Nick Kay three-point play and a rare Dellavedova make on a drive had the Boomers leading 35-23 in the third. Kay then was hit with an offensive foul for a screen which was nothing more than a fancy French flop.
Undeterred, the Boomers pushed on, Ingles driving the baseline for a basket and an additional free throw, drawing a third foul on Utah Jazz teammate Rudy Gobert.
When Ingles knocked down the bonus, Australia was 38-23 ahead with 7:00 to play in the third.
But Ingles hit the floor on his next drive, a huge bloody scratch across his back, the referees though assessing it as "France ball".
Bogut flipped a nifty behind-the-back pass to Mills who - clearly tired - missed his second layup for the contest. Mitch Creek blocked De Colo on a fast break before Aron Baynes picked up his third foul for absolutely nothing.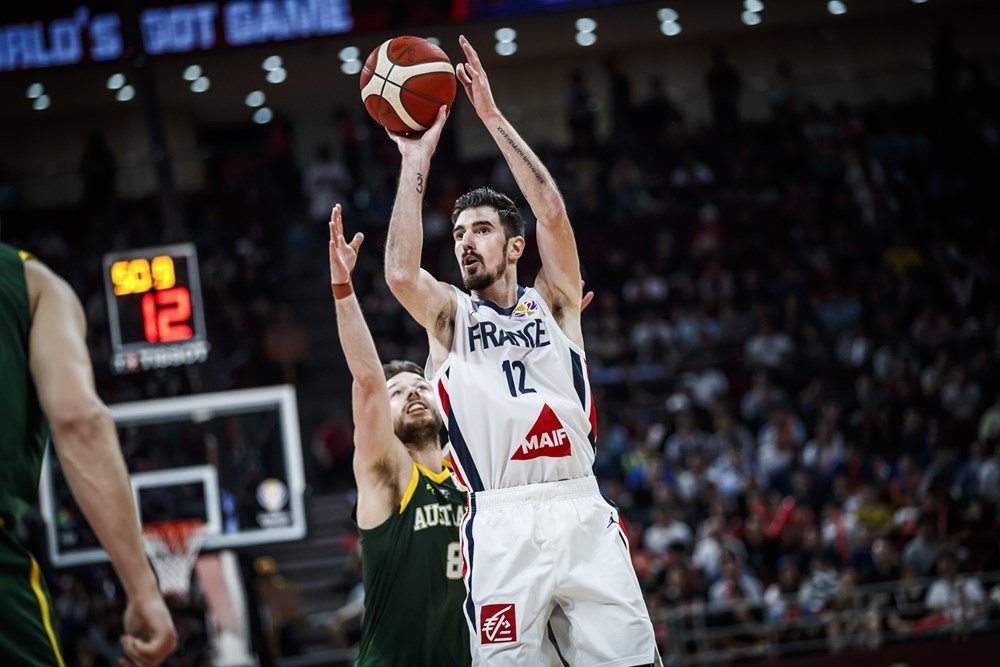 At 4:55, Chris Goulding was assessed an unsportsmanlike foul when Fournier bounced off his back at the sideline.
After Fournier's made free throw, Batum knocked in a 3-pointer and France was coming.
Goulding got to the hoop with a great move, but missed, Vincent Poirier with a dunk at the other end for 34-42.
Ingles' layup pushed the lead back to double digits but consecutive De Colo (above) baskets had Australia breathing hard, its lead now 44-38.
Baynes threw a poor pass to Jock Landale which Batum leapt to save at the sideline, throwing it out off the Aussie forward and France was feeling the momentum.
Goulding drew a French charge but within five seconds, Ingles was called for a midcourt offensive foul on another fancy French flop.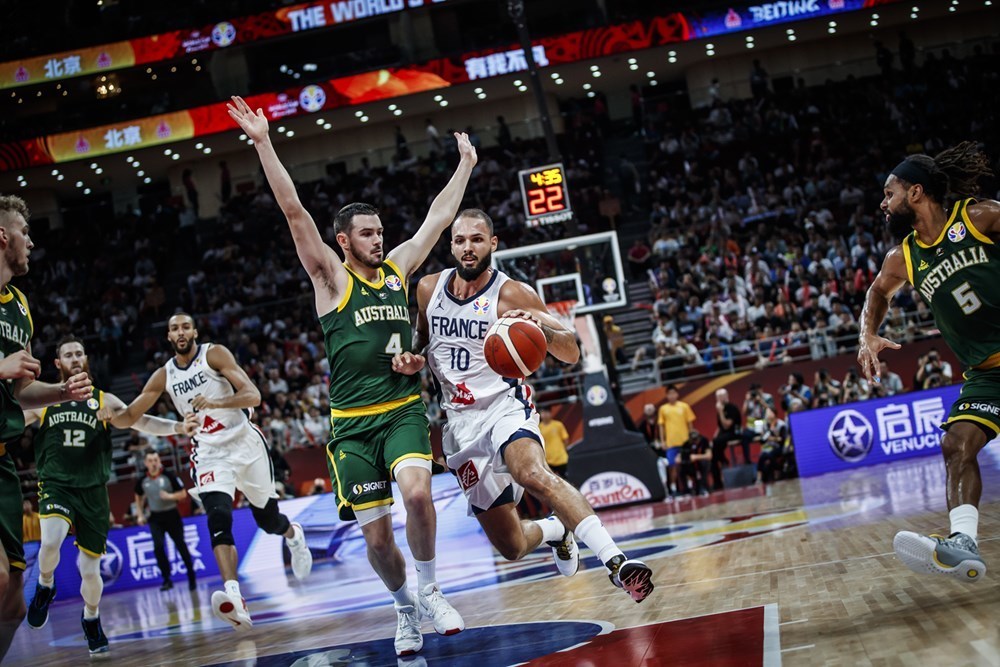 Fournier's floater trimmed it to 40-44 before Creek copped a phantom foul as Batum did a quality tumble and half pike.
Another Poirier dunk and it was 42-44, France on a morale-boosting 14-2 run since trailing 28-42.
Dellavedova hit a runner and Mills blocked De Colo's shot to send the Boomers into the last quarter ahead 46-42.
But De Colo opened the final period swishing a 3-pointer within 10 seconds as France began a quarter-long exploitation of Australia's pick-and-roll strategy of no help from the defender on the screener.
De Colo from the stripe gave France the lead 47-46 for the first time in the match with 9:01 to play. His three then bumped France's lead to 50-46 as Australia's offence dried up, its focus distracted.
A Kay reverse and a Mills jumper tied it at 50-50 with 6:56 left, and Mills-to-Bogut put the Boomers up 52-50.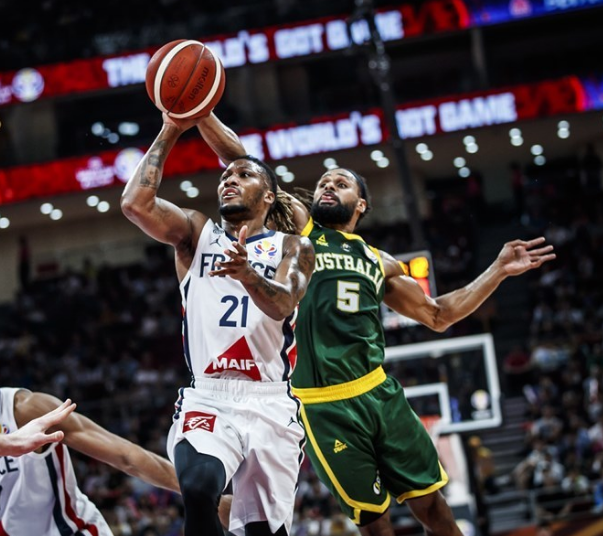 Albicy then swished the first of three 3-pointers he stroked for the period to give France back the lead, which then seesawed until Kay's tap-in at 3:49.
But 56-55 was Australia's last hurrah. At 3:27, Albicy's second three gave France the lead for keeps, Gobert scoring his only basket with 2:06 left to make it 60-56.
The Boomers looked cooked and they were, Albicy's next 3-pointer chocolate on their eclair.
Mills' three inside the final 40 seconds for 59-64 briefly suggested a flicker of life where there was none, no miracle shining Australia's way this day.
"For sure today was a great comeback, but we deserve to be where we are now," said De Colo after his 19-point tour-de-force.
"Australia played a really good game but we never gave up. We stayed together. This made the difference and this is really good for us."
Having shown diminishing faith in his bench during the 88-95 double-overtime semi final loss to Spain, Boomers coach Andrej Lemanis was far more adventurous from the tip-off when he sent out Bogut and Kay in place of Baynes and Landale in the starting quintet.
Much to the Chinese fans' delight, Bogut immediately was assessed an offensive foul on Australia's first possession as he handed the ball to Mills and a Frenchman got caught on his back.
Kay opened the scoring with a back-cut and feed from Dellavedova, then Ingles-to-Mills for a 3-pointer made it 5-0.
Dellavedova was working himself to exhaustion shadowing Fournier, and Gobert collected an offensive foul hipping Delly to the floor, followed by a technical.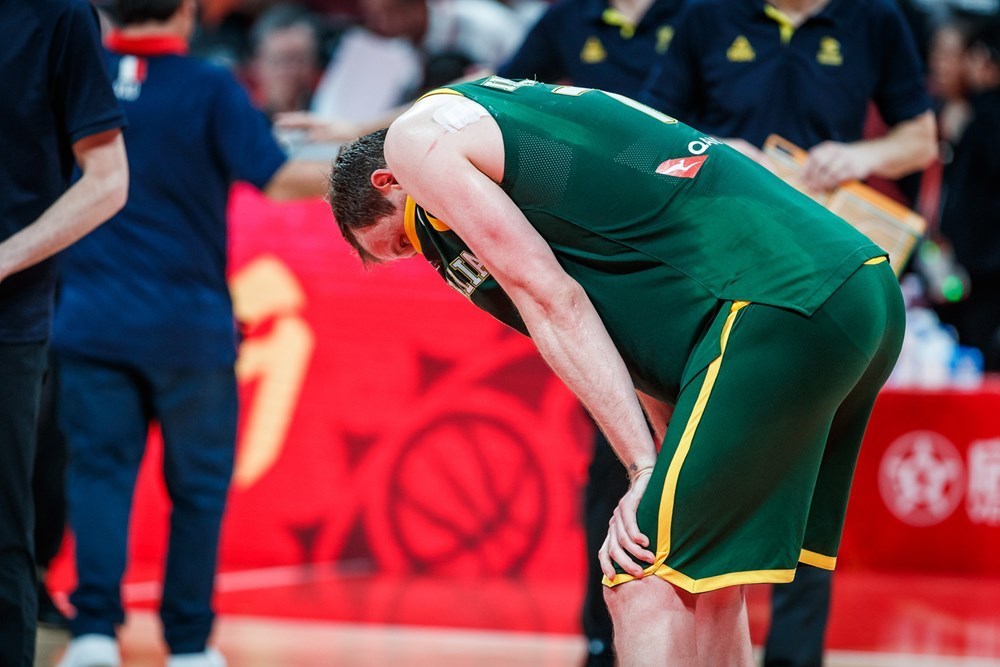 At 4:40, Mills' back cut made it 10-4 rubber ducky, before it was Fournier's turn to deck Delly.
When Baynes banked a 3-pointer, the lead was 13-6 and it was up to eight at 16-8 on a Bogut bucket, Ingles rewarding the centre with a sweet assist after the NBA championship-winner drew an offensive charge call at the other end.
But again the Aussies played their last pick-and-roll of the quarter poorly, with Bogut dropping back into the key for De Colo to stick a wide-open 3-pointer.
Australia's 16-point first quarter matched its lowest single-period return of the tournament, France's 11 also its lowest.
That was, until halftime. The Boomers led 30-21 at the break having kept France now to 10, but only scoring 14 themselves.
Ingles finally broke off his self-imposed shooting shackles with a 3-pointer to start the second quarter scoring and by the main interval, had a game-high 12 points on 5-of-7 shooting, with four rebounds, two assists and a steal.
Australia kept France shooting at 25 percent to the break (8-of-32), Lemanis doing a far better job distributing the minutes among a fatigued rotation still out there busting their butts.
But by the last quarter, the Aussies only could muster a paltry 13 points - their lowest single quarter return of the tournament - as Bronze again slipped from their hands.
BRONZE MEDAL PLAYOFF: FRANCE 67 (De Colo 19, Fournier 16, Batum, Albicy 9; Poirier 7 rebs; Batum 6 assts) d AUSTRALIA BOOMERS 59 (Ingles 17, Mills 15, Kay 9; Bogut 6 rebs; Dellavedova 5 assts) in Beijing.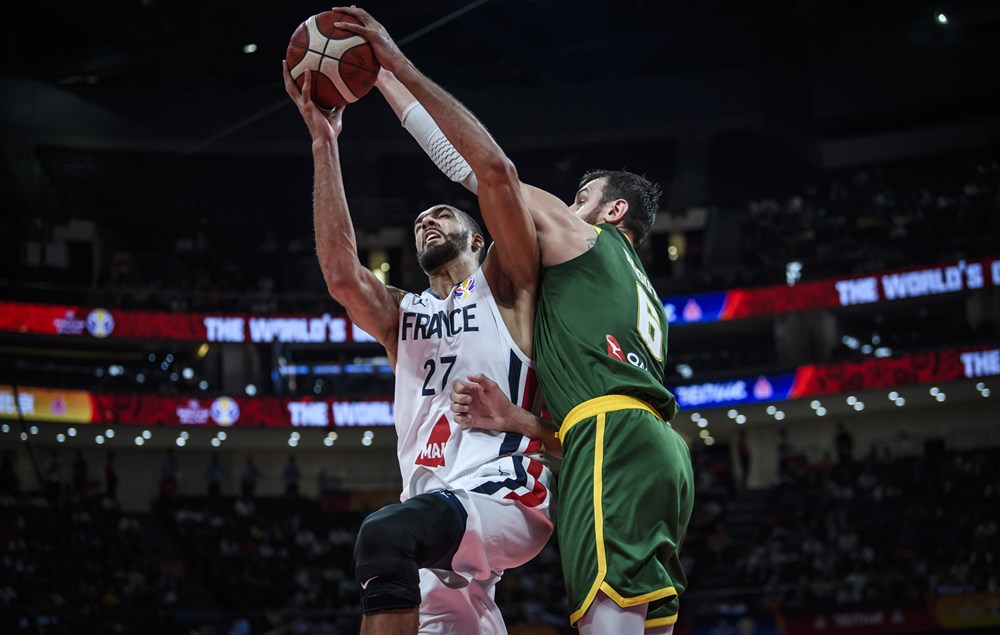 2019 FIBA WORLD CUP, FINAL POSITIONS
GOLD: Spain
SILVER: Argentina
BRONZE: France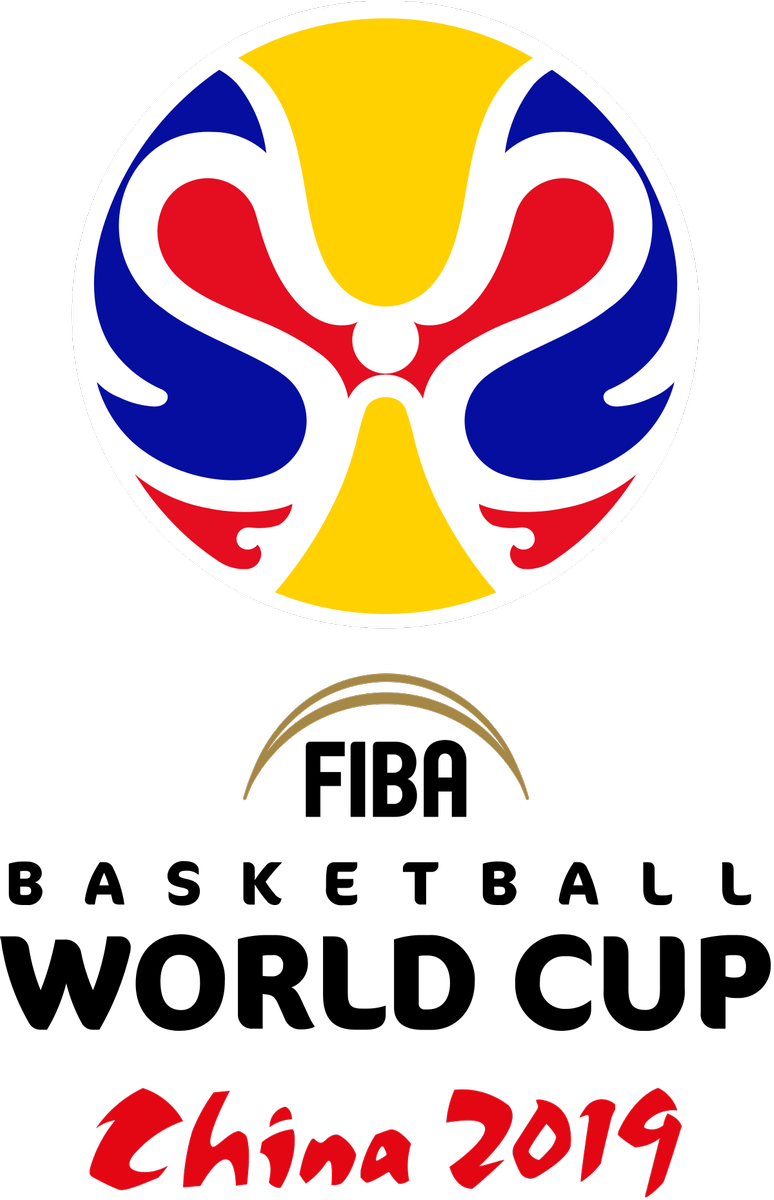 4 Australia
5 Serbia
6 Czech Republic
7 USA
8 Poland
9 Lithuania
10 Italy
11 Greece
12 Russia
13 Brazil
14 Venezuela
15 Puerto Rico
16 Dominican Republic
17 Nigeria
18 Germany
19 New Zealand
20 Tunisia
21 Canada
22 Turkey
23 Iran
24 China
25 Montenegro
26 Korea
27 Angola
28 Jordan
29 Cote d'Ivoire
30 Senegal
31 Japan
32 Philippines
TOMORROW: Where Australia went right. Where Australia went wrong.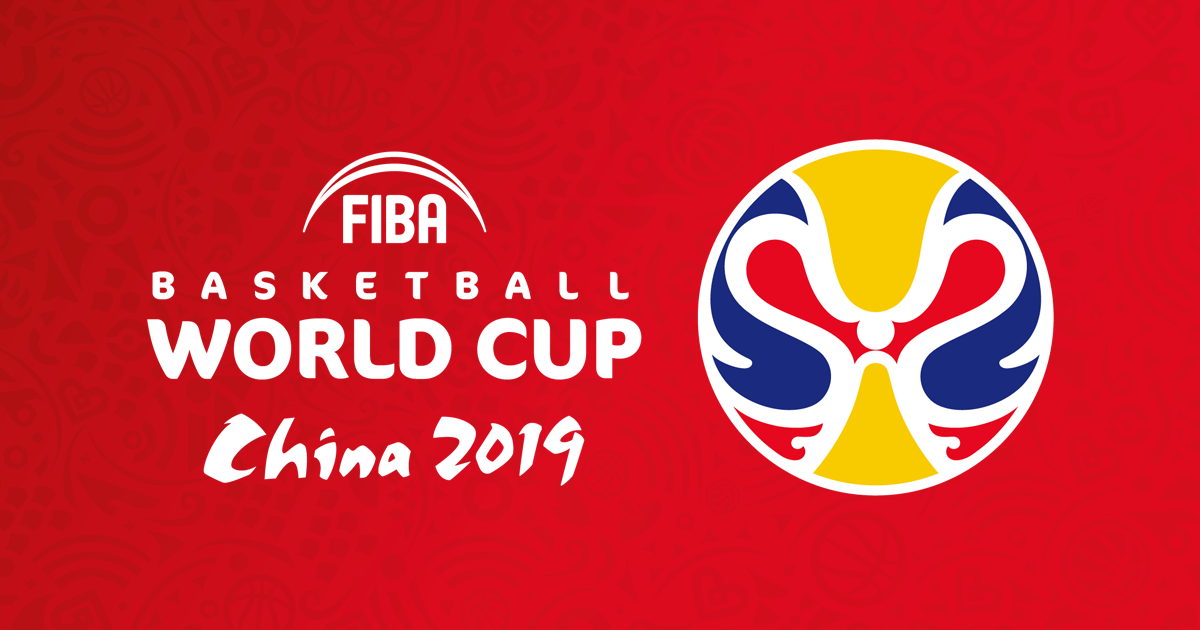 All pics courtesy of fiba.com