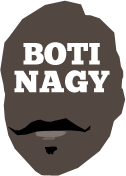 ---
Advertising opportunities available.
Please contact me.
---
When Eight is not only Enough, but too much
Tweet
MELBOURNE United, Adelaide 36ers and Perth Wildcats are faced with an additional challenge most of us overlook ahead of the obvious difficulties in battling NBA clubs such as Toronto Raptors, Utah Jazz and Denver Nuggets respectively.
It's not as if playing an NBA team on the road, with its refs and with its rules and against the best players - taller, longer, more athletic and skilled - isn't hard enough already.
But often overlooked is the fact our NBL teams are conditioned to play 40-minute games, not 48.
When the Sydney Kings were starting to fade against LA Clippers in Honolulu, the Clips still were playing at the same level.
So here's the thing. After 40 minutes, Melbourne United trailed the Philadelphia 76ers 73-86 and that would have been the scoreline under NBL rules. Instead it blew out to 20.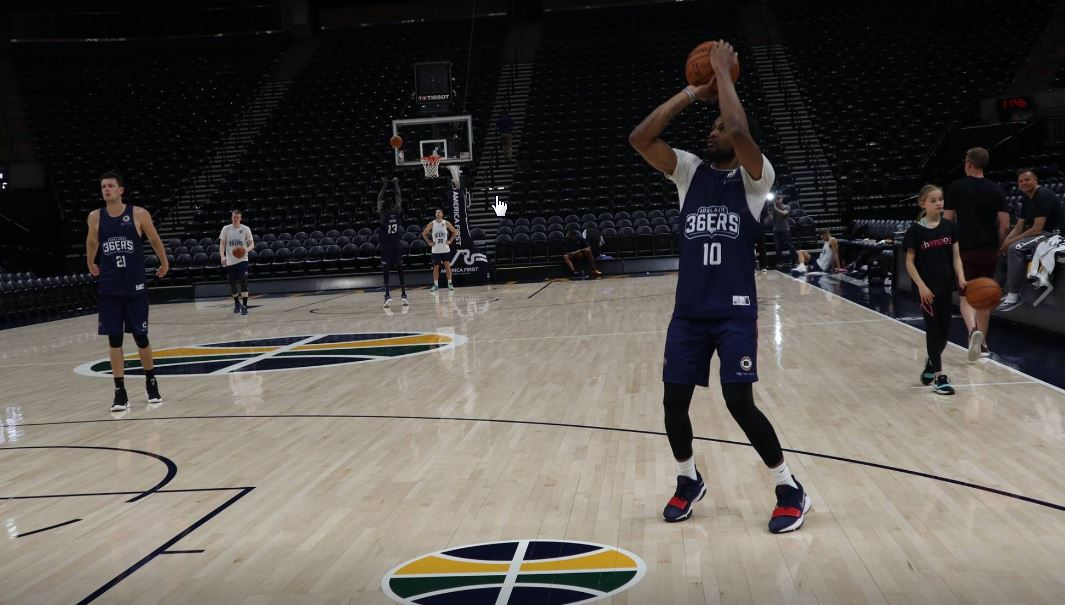 MOORE THE MERRIER: Ramone Moore getting up shots ahead of tomorrow's clash with Utah.
OK, Perth Wildcats stank it up in their 58-point loss to Utah Jazz and at the 40, they already were behind by 57 so they probably did OK. Or the Jazz took their foot off the pedal. I know which one most think it was.
The Kings lost by a deceptive 19 to the Clips but after 40 minutes, Sydney trailed 80-84. If you saw the game, you know that was a far more accurate indicator of how it played out.
The exception was NZ Breakers, who trailed by nine after 40 minutes and lost to Phoenix by five. But in fairness, the Suns always were considered the most vulnerable NBA team after finishing with its worst record last season.
United will have Chris Goulding and Josh Boone back for tomorrow morning's game against Toronto Raptors but DJ Kennedy will miss the game, probably down at the "Lost and Found" looking for his jumpshot.
Again, the Raptors will be no easybeats as an elite team in the East, much as Philly is and was.
The Wildcats regain captain and team heart and soul Damian Martin and are sure to give a much better account of themselves against the Nuggets in Denver.
The Nuggets - like the Clippers and Suns - were not a playoff team last season and so represent a great chance for some Perth redemption.
In fact, Adelaide most likely has it the toughest against the Jazz in Utah, especially with Joe Ingles returning after missing the Perth debacle.
"Basketball is basketball. At the end of the day, these guys have got to get out there and make buckets and get stops," 36ers coach Joey Wright said.
"If we do that, we can play with anybody.
"That's a lot easier said than done. They're obviously very talented players playing in the NBA but we're just happy to be out there on the court and have a challenge."
Whether Wright starts with the three-guard front of Adris DeLeon, Nathan Sobey and Ramone Moore remains to be seen because he reinstated Anthony Drmic to the starting five recently against Cairns and is likely to introduce DeLeon as a bench sparkplug.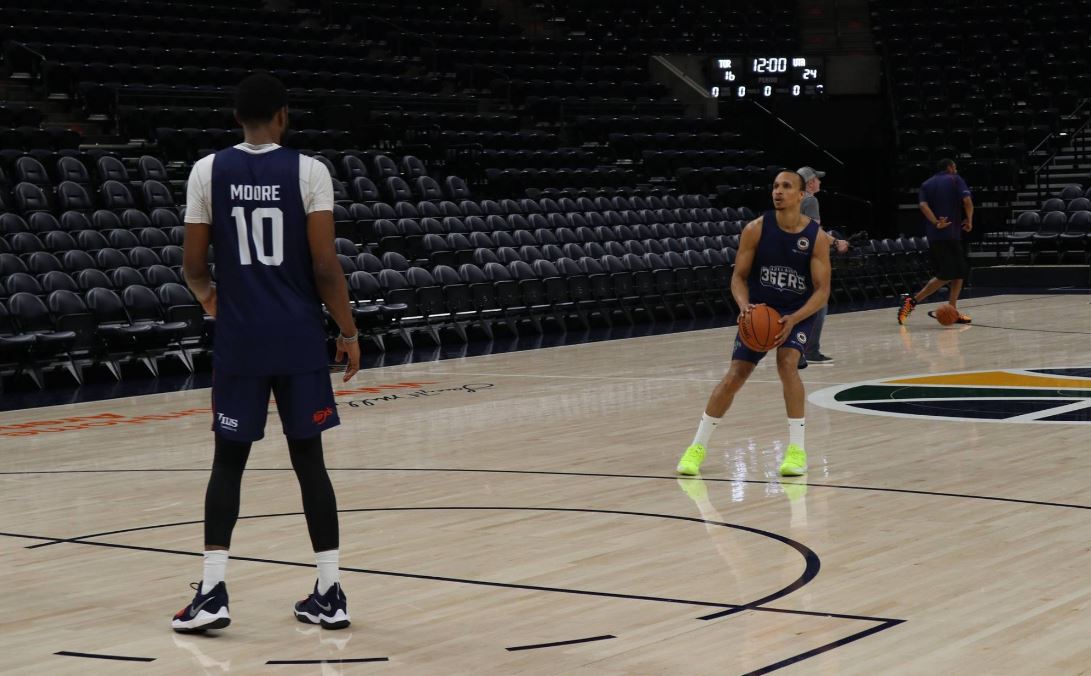 BENCH FACTOR: Adris DeLeon, more likely to come off the bench to provide a spark.
"Yeah, I'm just happy I'm playing decent basketball now, obviously looking forward to the NBL season," Drmic said.
"But if that form can carry over into this NBA game, that would be really good."
Newly-elected captain Daniel Johnson, likely to confront Rudy Gobert in the early going, is not getting caught up in the NBLvNBA hype.
"It's something we've never done I guess, and something I didn't think I'd get to do so it's going to be a good experience," Johnson said.
"Just see where you match up against them will be something to look forward to.
"I think Teysy's (former skipper Brendan Teys) been giggling like a schoolgirl all week so I think he'll be pretty excited to get out there, get some points and tell people about it."
That's the biggest aspect to tomorrow's three NBLvNBA outings. We all want to tell people about it, so putting their best feet forward is an absolute prerequisite.
Even if it only reaches the 40-minute mark.
Melbourne United @ Toronto Raptors live from Scotiabank Arena in Toronto at 9am AEST, 8.30am SA & NT, on ESPN and NBA League Pass. Adelaide 36ers @ Utah Jazz live from Vivint Smart Homes Arena in Salt Lake City at 11am AEST, 10.30 SA & NT on 9Go!, NBL TV and NBA League Pass. Perth Wildcats @ Denver Nuggets live from Pepsi Center in Denver at 11am AEST, 10.30am SA & NT on ESPN and NBA League Pass.