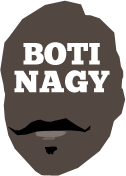 ---
Advertising opportunities available.
Please contact me.
---
WNBL: Round 1 Wrap
Tweet
THE first round at the WNBL's 2020 hub is done and dusted, the biggest surprise the margin by which Melbourne plastered prohibitive championship favourite Southside in Townsville.
Perhaps the only concern for Boomers coach Guy Molloy in the wake of his team's 30-point turnaround from a 13-point deficit to a runaway 17-point win, is whether that result may have awoken the sleeping giant too early.
Ahead by double-digits, there is no doubt several of the Flyers were in cruise mode and they paid the ultimate price against another of the few genuine title contenders.
Other surprises from the round were Adelaide beating dual-defending champion Canberra to open the season, albeit the Caps seriously understrength for the overtime drama.
Sydney smacking Bendigo by 37 also raised eyebrows and Perth won kudos for bouncing back from its thorough trouncing by Townsville to push Adelaide to the limit.
Also standing out was how ghastly the new grey Lightning uniform is, a club choice allegedly chosen by the players! Considering there are only two returnees from Lightning's 2019-20 semi finalist team, it just goes to show why some decisions need to be made by management!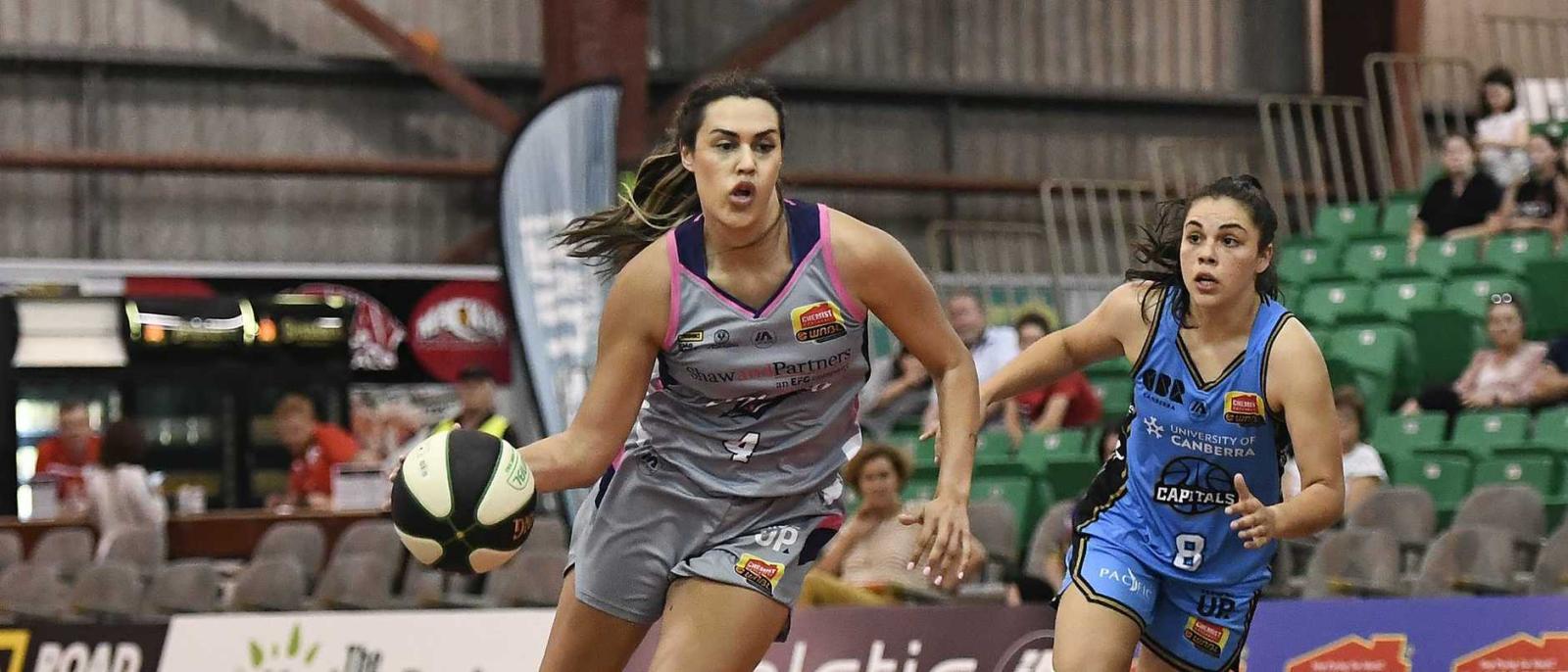 WRONG COLOURS: Alex Wilson for Lightning against the Caps, or for Eastern versus Sturt?
* * *
A 25-10 first quarter jump from the blocks by Townsville and holding Perth to five points in the third quarter ensured a comfortable 73-48 opener for the Fire.
Lauren Nicholson was hot early and Nadeen Payne had a 10-point, 12-board double while Perth struggled to find anyone to support Darcee Garbin offensively, shooting at 27 per cent for the game. It hardly was the "homecoming" for which Garbin may have hoped.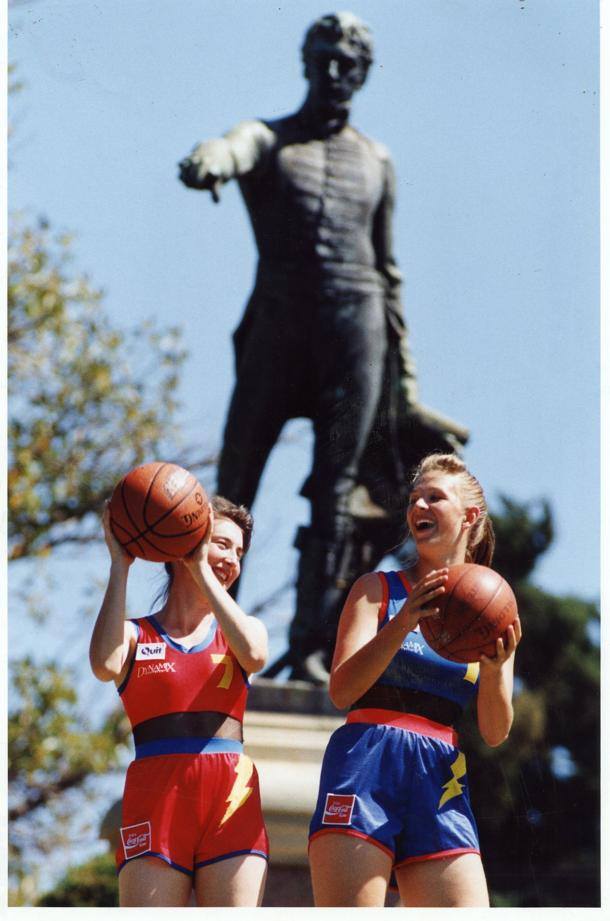 ORIGINS: The original state colours of the Lightning uniform. Fashions change but colours?
* * *
SYDNEY produced a more spirited performance than expected before being iced 85-70 by Melbourne.
Returning to the Boomers, playmaking guard Tess Madgen looked like her former self, being more aggressive offensively for a game-high 23 points while still getting the ball to the right people.
It is the shooting/passing balance many who watched the earlier stages of her career have been craving and with Ezi Magbegor delivering a 16-point, 11-rebound double, the Flames ran out of answers.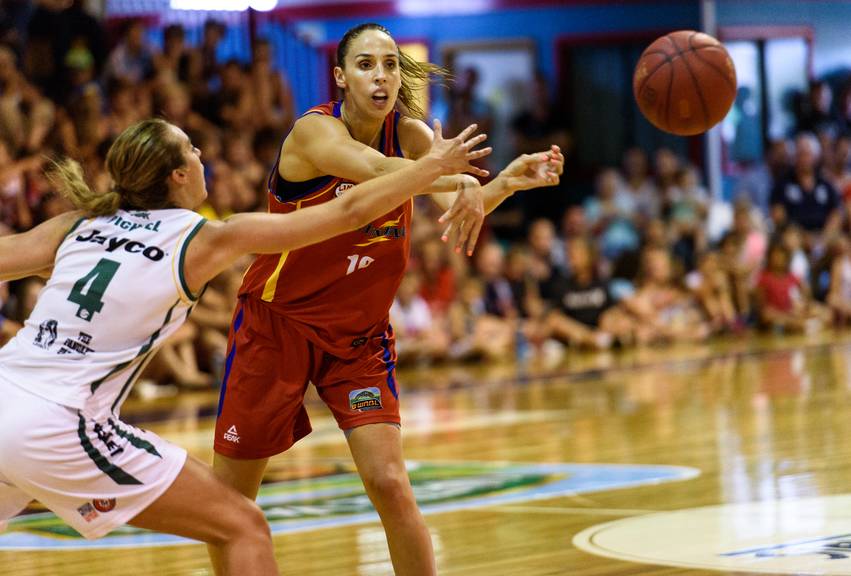 CLASSIC: The classic Lightning uniform. Clash with Perth? One wears their alternate uniform.
* * *
BENDIGO had no answers for Southside, blown off the floor by the Flyers' 13-of-25 from beyond the arc while shooting with just over half the efficiency from the floor at 27 per cent to 53.
Southside coach Cheryl Chambers enjoyed the luxury of spreading her minutes with an eye to the more significant game against a home-state rival, Melbourne, the Flyers winning every quarter.
Possibly the Spirit's only memorable moment was when Tess Lavey put a move on housemate Sara Blicavs for a slick basket and short-term personal bragging rights.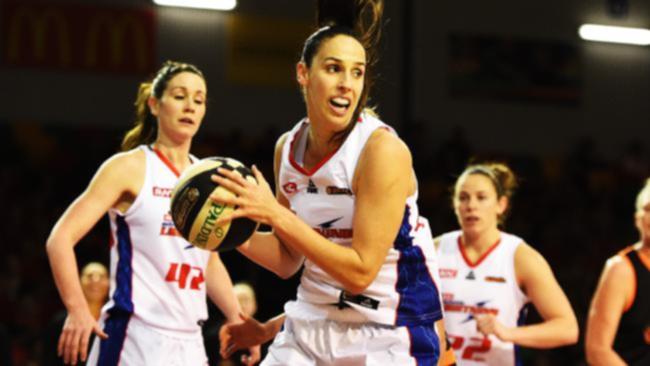 HATE THE WHITE UNIFORM? Just go back and compare it to the grey.
* * *
LAUREN Mansfield stuck 7-of-10 triples as the Flames torched Bendigo 100-63. Sydney had control of the contest at halftime but a 49-23 second-half ensured the Spirit would stay in the competition's stink hole a while longer.
Tess Lavey battled on for a 15-point, 10-assists double but had little help, Sydney's 54-38 rebounding edge and 19 turnovers by Bendigo making the result academic earlier than anticipated.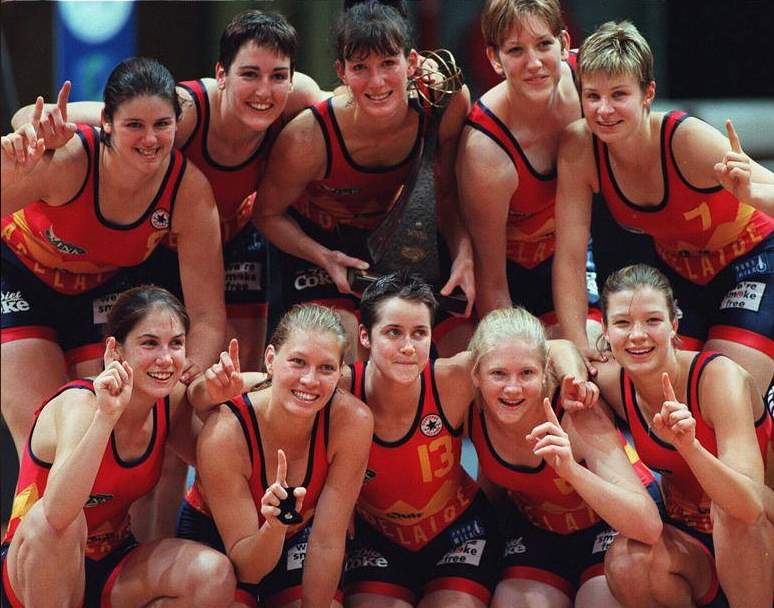 THE BODYSUIT IS DONE: We get that. But convert this to today's style maybe?
* * *
DESPITE star centre Liz Cambage being restricted to a meagre 8:32 of court-time, initially due to foul problems but later to the fact Southside was blitzing a gallant Sydney without her, the Flyers made a quick recovery from the embarrassing nature of their loss to Melbourne.
Two of the players MIA in that reversal, Jenna O'Hea (19 points, 4-of-6 threes, seven rebounds, eight assists, two steals) and Leilani Mitchell (8 points, 8 assists) turned up and Bec Cole shone in the spotlight with 27 points at 73 per cent, including 4-of-5 triples.
Sara Blicavs went close to a double-double with 14 points and nine boards and former Flyer Anneli Maley put in a flyer for Sydney, snaring nine offensive rebounds in a committed Dennis Rodman impersonation.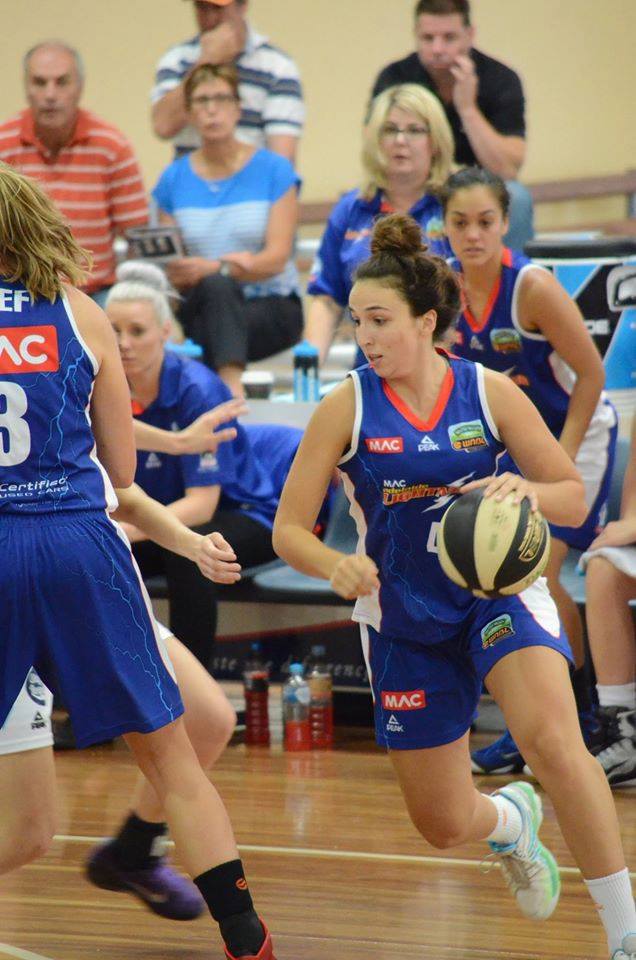 NO GREY AREAS: How's blue as an alternate to red? Another Lightning option.
* * *
STILL missing injured trio Kelsey Griffin, Brittany Smart and Tahlia Tupaea, Canberra turned away Townsville 78-67 with Maddison Rocci's display grabbing her an overdue share of the limelight in the "best new young guards" conversation.
Rocci's game-high 24 points at 58 per cent included 4-of-6 threes and she also dished seven assists and had three steals in a prominent performance.
Mikaela Ruef, who had to be helped from the floor against Adelaide after injuring her ankle, left many wonderring if she wasn't suffering that other notable injury - "being American" - after she produced a 10-point, 13-rebound double.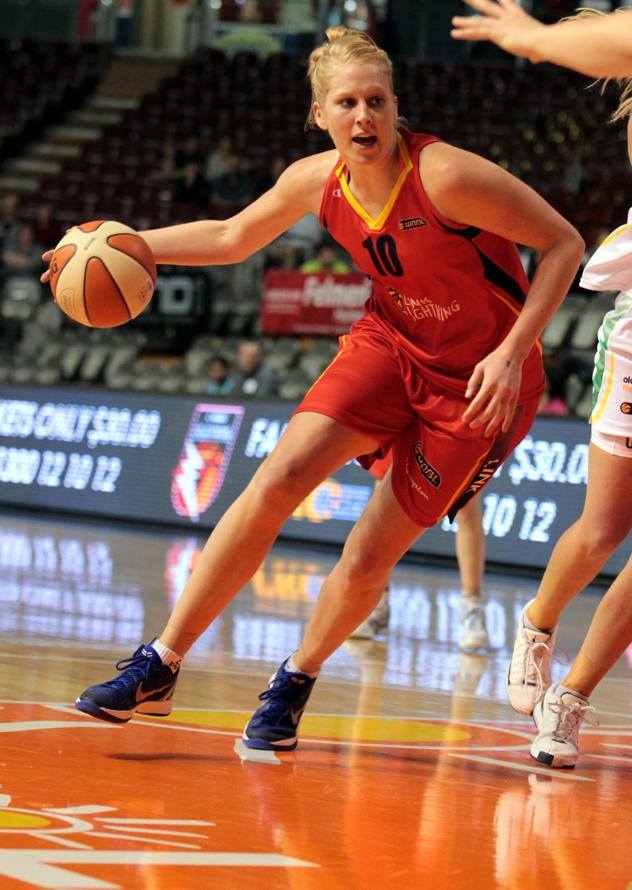 ANOTHER WINNER: The state colours seem to have been the club's preferred option.
* * *
(For match summaries of Adelaide-Canberra, go here. For Melbourne-Southside, hit this link. And for Adelaide-Perth, try here.)
* * *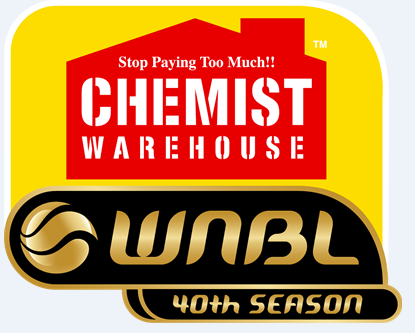 ROUND 1 WRAP: ADELAIDE LIGHTNING 85 (Talbot 31, Wehrung 16, Wilson 15, Brook, Tomlinson 10; Talbot 13 rebs; Wilson 6 assts) d UNI of CANBERRA CAPITALS 73 (Rocci 21, Froling 19, Ruef 13, Tolo 10; Delaney 9 rebs; Rocci 7 assts) in overtime (70-70) in Mackay. TOWNSVILLE FIRE 73 (Nicholson 16, Heal 15, Payne 10; Payne 12 rebs; Reid 3 assts) d PERTH LYNX 48 (Garbin 12, Ebzery 9; Sharp 11 rebs; 3 with 2 assts) in Mackay. MELBOURNE BOOMERS 85 (Madgen 23, Magbegor 16, Garrick 14; Magbegor 11 rebs; Purcell, Madgen 4 assts) d SYDNEY UNI FLAMES 70 (Mansfield 17, Nakkasoglu 12, Scherf 10; Scherf 7 rebs; Mansfield 7 assts) in Townsville. SOUTHSIDE FLYERS 102 (Cambage 19, Sa Blicavs 17, Cole 12, Mitchell 10; Sa Blicavs 12 rebs; Mitchell, St Blicavs, Cole 4 assts) d BENDIGO SPIRIT 60 (Ernst 16, Lavey 8; Froling 12 rebs; Lavey 3 assts) in Townsville. SYDNEY UNI FLAMES 100 (Mansfield 24, Nakkasoglu 14, Schwagermeyer-Belger 12, Burton 10; Burton 8 rebs; Mansfield 5 assts) d BENDIGO SPIRIT 63 (Lavey 15, Ernst 14, Price 11; Goulding, Lavey 6 rebs; Lavey 10 assts) in Townsville. MELBOURNE BOOMERS 89 (George, Madgen 24, Karaitiana 18, Beck 10; Madgen 9 rebs; Madgen 5 assts) d SOUTHSIDE FLYERS 72 (Cambage 24, Cole 13, Sa Blicavs 11; Cambage 19 rebs; Mitchell 7 assts) in Townsville. SOUTHSIDE FLYERS 99 (Cole 27, O'Hea 19, Sa Blicavs 14; Sa Blicavs 9 rebs; Mitchell, O'Hea 8 assts) d SYDNEY UNI FLAMES 72 (Burton 12, Nakkasoglu, Mansfield, Schwagmeyer-Belger 9; Maley 12 rebs; Mansfield 8 assts) in Townsville. ADELAIDE LIGHTNING 74 (Talbot 24, Wilson 12, Whittle 11; Whittle 12 rebs; Wilson 5 assts) d PERTH LYNX 69 (Ebzery 25, Garbin 15, Ciabattoni 10; Sharp 9 rebs; Burrows, Garbin 3 assts) in Mackay. UNI of CANBERRA CAPITALS 78 (Rocci 24, Tolo13, Melbourne 12, Froling 11, Ruef 10; Ruef 13 rebs; Rocci 7 assts) d TOWNSVILLE FIRE 67 (Nicholson 19, Heal 18, Reid 9; McSpadden 6 rebs; Heal 4 assts) in Mackay.
* * *
NOT that it matters greatly I suppose, but wouldn't it be nice if the WNBL's official website could have its championship ladder correct now and again?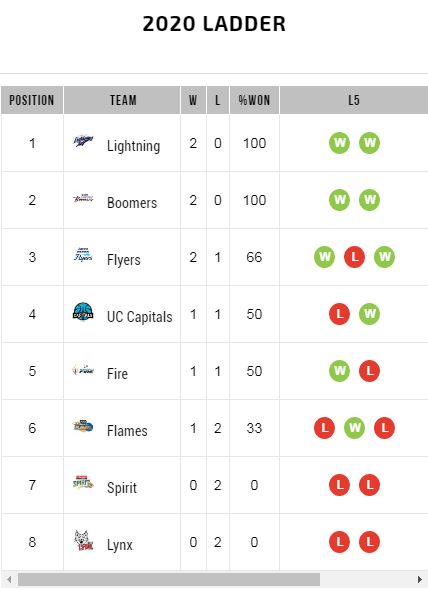 This is what the league's OFFICIAL site has as its current table. Whoever or whatever software is compiling it has no clue how teams with the same records are separated.
So just to let the person or algorithm know, they are separated next by points percentages.
In the simplist possible explanation, the Boomers winning two games by 15 and 17 points would have them ahead of Lightning, which won by 12 and 5.
Or Townsville winning by 25 and losing by 11 (+14), still is a better mark than Canberra's which lost by 12 and won by 11 (-1).
It really isn't rocket science.
Or maybe it is.
Just for anyone that cares, the REAL ladder positions - again, not that it really matters given the many changes it will undergo - should be:
1 Melbourne Boomers 2-0 100%
2 Adelaide Lightning 2-0 100%
3 Southside Flyers 2-1 67%
4 Townsville Fire 1-1 50%
5 Uni of Canberra Capitals 1-1 50%
6 Sydney Uni Flames 1-2 33%
7 Perth Lynx 0-2 0%
8 Bendigo Spirit 0-2 0%
... You know, not that it matters at all.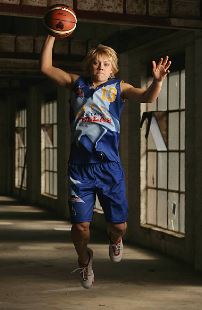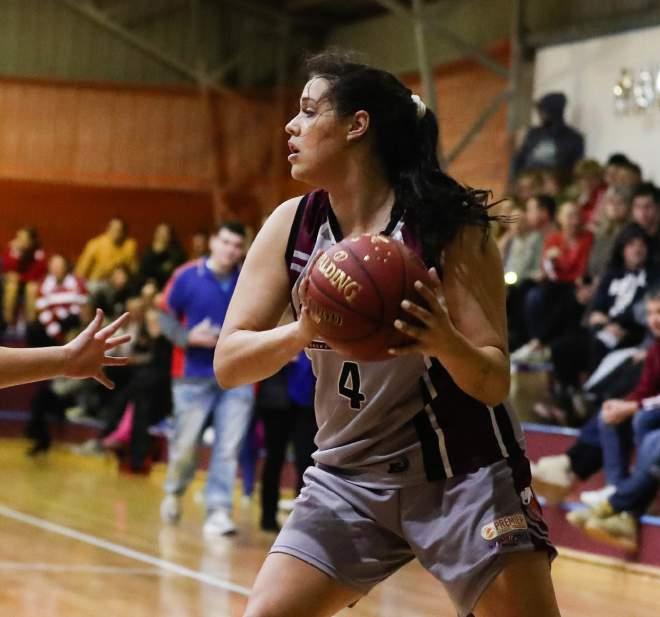 FELLAS! Left: No longer Lightning's worst uniform. And no, (right) that isn't Alex Wilson in Round 1 but playing for Eastern Mavericks.