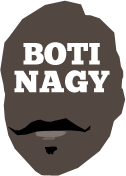 ---
Advertising opportunities available.
Please contact me.
---
It's officials! They stink: Just Wrapping
Tweet
TRULY it is scary now how far off the pace the officiating is in Australia compared to the skill levels on regular display in NBL and WNBL games.
The refereeing can be so frustrating but particularly when refs make soft calls with little or no bearing on the contest, but miss or muff big calls because the action was just too fast for their comprehension.
Michael Aylen is one of the very few officials who still can be relied upon to have his calling on an elite level but fellow fulltime official Vaughan Mayberry has had a dreadful season, reaching a new low when he ejected Anthony Drmic last round after earlier giving him a flop warning when he tripped and even slapped the floor in frustration knowing his stumble meant giving up an open shot.
Vaughan's ability to distinguish a flop from a good defensive play always has been dicey but it is going from bad to worse for the seasoned official.
Referee of the Year? Well, you know that has to be a popularity contest now and nothing more because Aylen is the best and has been for years, but his high standards and occasionally brusque manner don't sit well with colleagues. Or some coaches.
But we've seen Mika Vukona called for a USF after falling over and Damian Martin tripping over him, refs calling USFs on not only imaginary but straightforward plays, and throwing technical fouls around as if those are the cure-all for poor/inconsistent/erratic/incompetent calling.
There was a time when calling a tech in this country was akin to a policeman firing his gun. (I'm talking about Australia here, for any American visitors). It was absolutely the last resort.
Now?
It can happen anytime and often after an officiating blunder. Complain and, just like Christmas at JB HiFi, you can get two for the price of one, with the tech your added bonus.
We saw it again with Illawarra's Tim Coenraad successfully batting a ball away cleanly in the Melbourne game, only to cop a foul from the ref in the second-best position to call it. The baseline ref had clear vision and didn't move a muscle.
Coenraad indicates with his fingers to his eyes and then to the ref - a gesture often interpreted as "I see you" but in this instance it looked like he meant "you weren't in the best position to see that" - copping his bonus technical.
What a heinous gesture hey? Go sit in a corner Timmy.
Even Shane Heal on the FOX commentary was moved to mention that the tech had just made it two bad calls in a row against Coenraad.
Not to worry, United coach Dean Vickerman didn't have long to wait for his T.
These are equal-opportunity officials after all.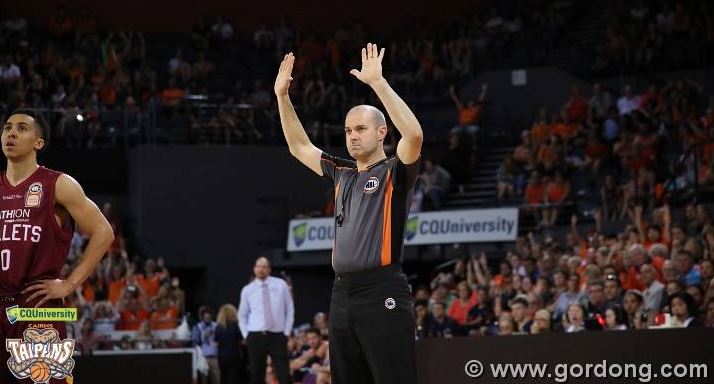 OK, YOU DON'T HAVE TO SURRENDER: But the referees do need some much stronger direction.
* * *
CONSPIRACY theories abound about the officiating but it's nothing more than the fact our ranks of quality refs is thin and their lack of direction is so powerfully evident.
They cannot be this inconsistent as a group if they are receiving strong direction.
And so many refs now appear to believe they should be sharing the spotlight, unable to allow play to flow up and down the court before feeling the need to intrude with a whistle.
It's not about you, guys.
For those referee apologists who will line up to attack these observations as more "umpire bashing", again I stress they could not, as two groups - NBL and WNBL officials - be this erratic if the direction was strong and pertinent.
Sydney Uni Flames recently lost a tight game to Adelaide where the umpires were booed from the floor. Adelaide has lost three tight WNBL games where officiating was a factor, most recently when Liz Cambage travelled twice in the process of scoring the winning basket for Melbourne over the Lightning.
Andrew Gaze was justifiably baffled by some of the calling when his Kings lost to the Taipans in Cairns. Both Joey Wright and Paul Henare could not explain the officiating after their clash in Adelaide.
This cannot just be everyone's imagination. It's too late to do much to salvage 2017-18 but unless the two elite leagues address their leadership/direction/personnel issues, officiating will be the anchor which keeps them from reaching their greatest heights.
* * *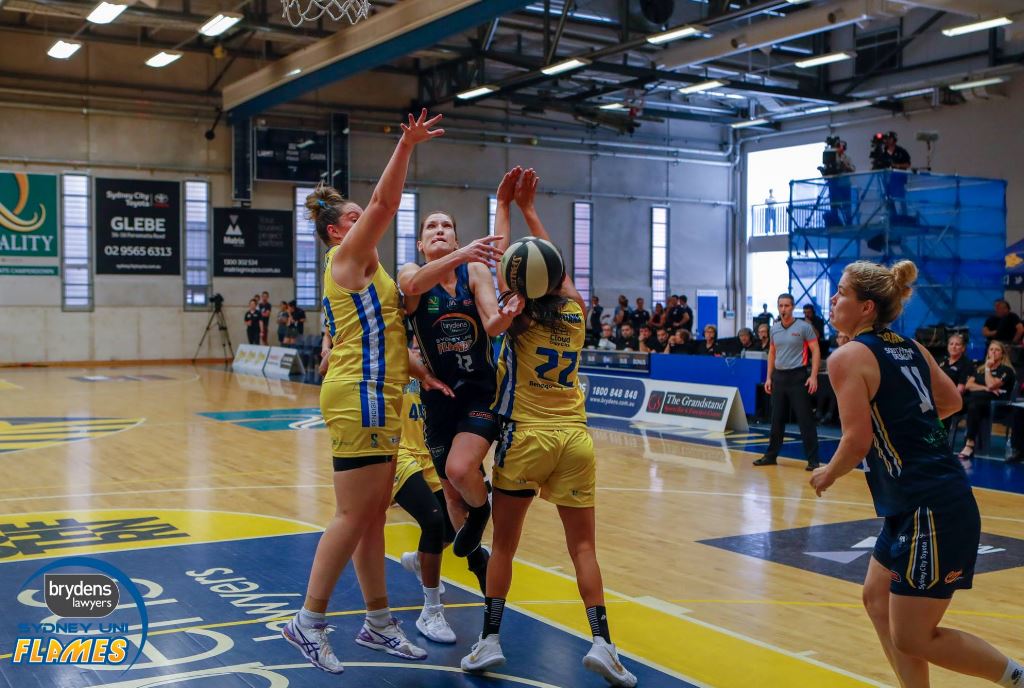 BELINDA Snell (above, courtesy of Sydney Flames) chalked up her 300th WNBL match as her Sydney Uni Flames overwhelmed Bendigo 90-57.
The triple-Olympian - stiff to be excluded from calculations ahead of the Rio Games last year - has continued her stellar form as she pursues her fourth championship.
Her nine assists led the game at Bryden's Stadium and she stuck a trademark 3-pointer, just in case anyone was wondering if she was going to.
* * *
IT wasn't quite Akil Mitchell but Casey Prather dislocating his elbow in United's win over Illawarra definitely was in the same "look away" ballpark.
He will be out for a while with that, as will Adelaide 36ers guard Anthony Drmic who injured his knee against New Zealand and will go for scans tomorrow. It looks like an MCL at this stage.
* * *
SCOREBOARD integrity on FOXSPORTS' NBL and WNBL replays really is an ongoing issue.
Check in here at the WNBL game between Sydney and Bendigo and the on-screen graphic says 0-0: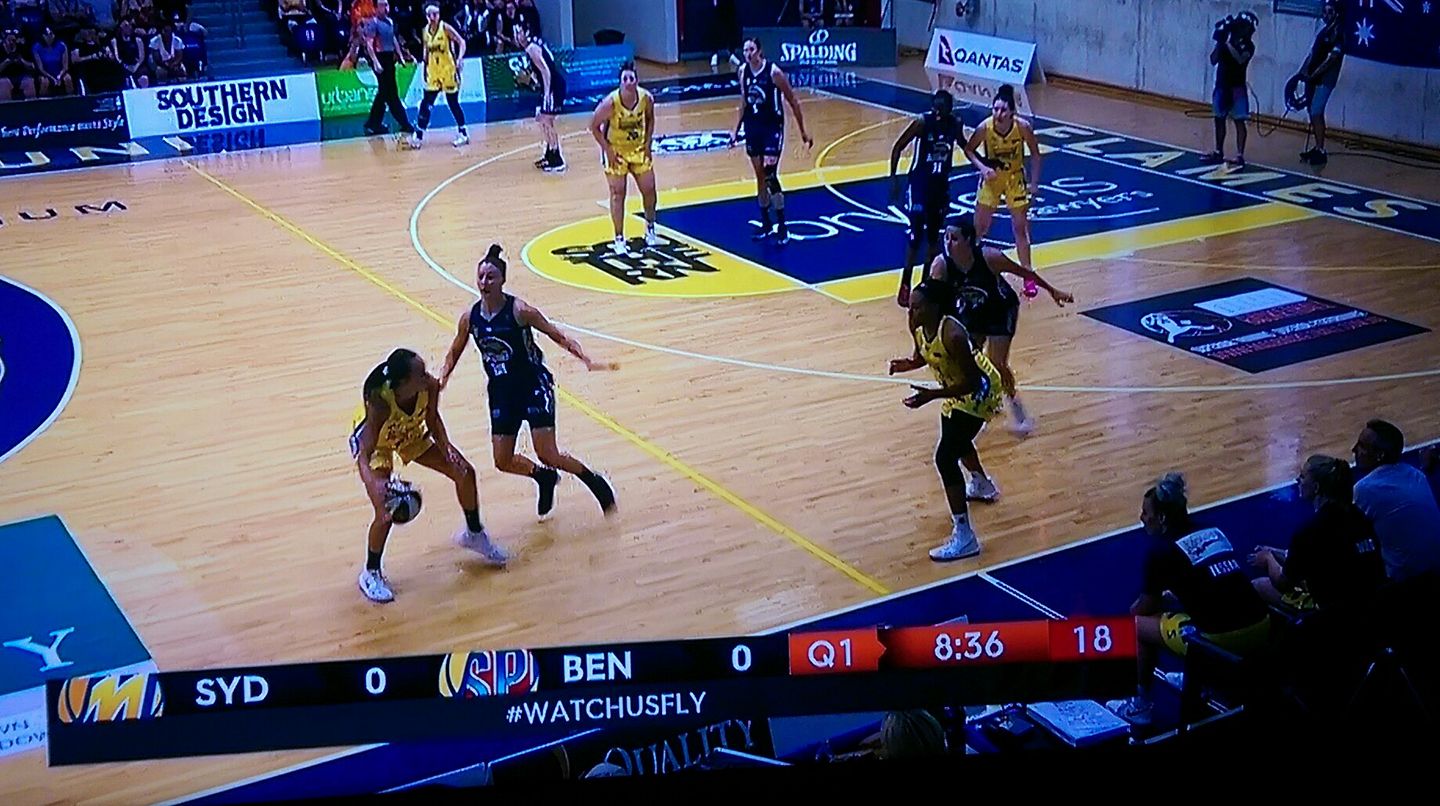 Except the score is actually 8-0 in Sydney's favour. The Flames already had two 3-pointers and an additional bucket. WTH is that? Someone taking a nap?
Or how about this one at the NZ-Adelaide game where the 36ers are 2-0 ahead according to the graphic: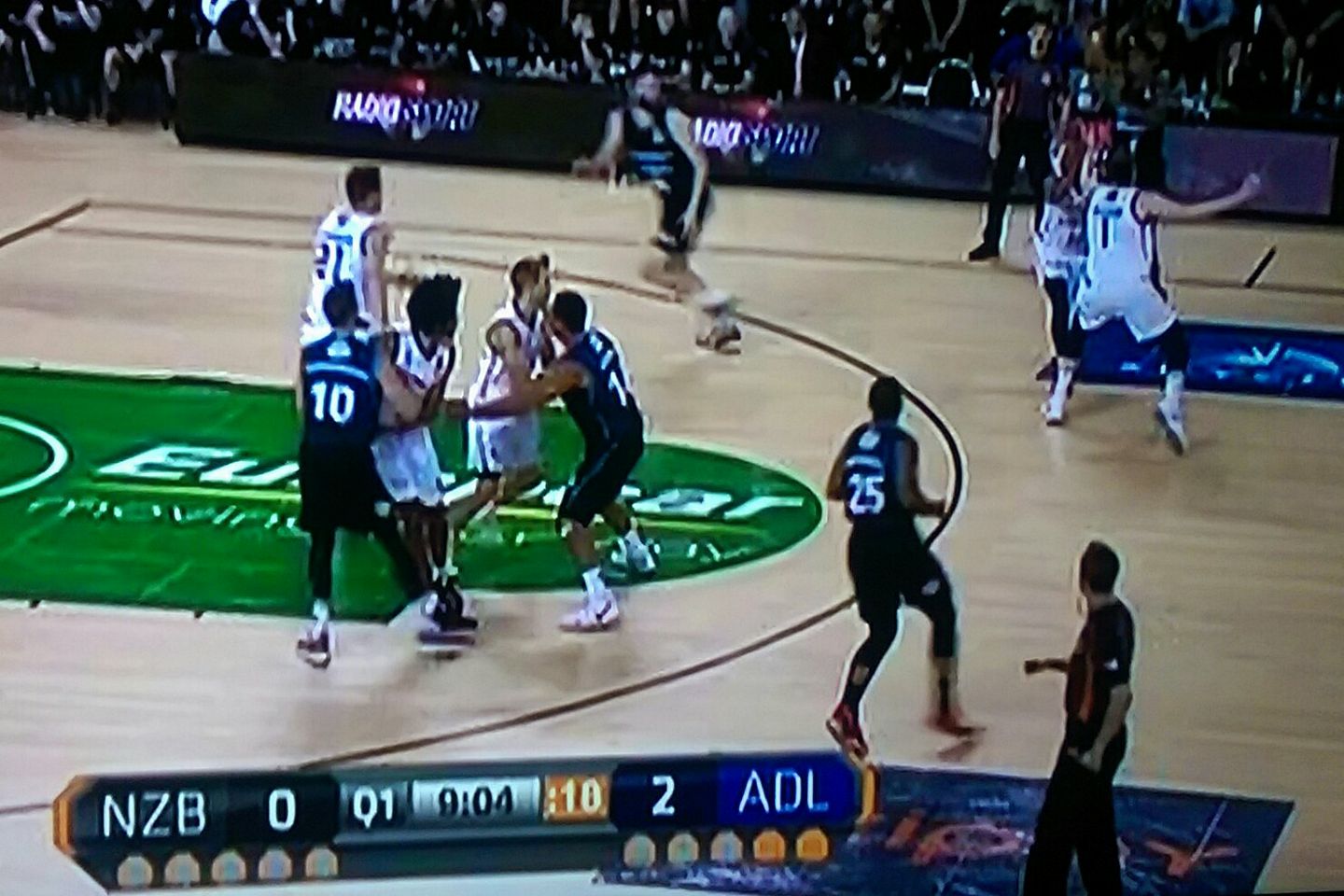 Except that the score is 4-2 in the Sixers' favour, the two additional scores yet to hit our screens.
Does the NBL give a flying frapdoodle about this stuff because it is supposed to be in charge of its telecasts, or paying for them?
See if you can spot what's wrong with the following graphic ahead of the Perth-Brisbane game's big marquee matchup: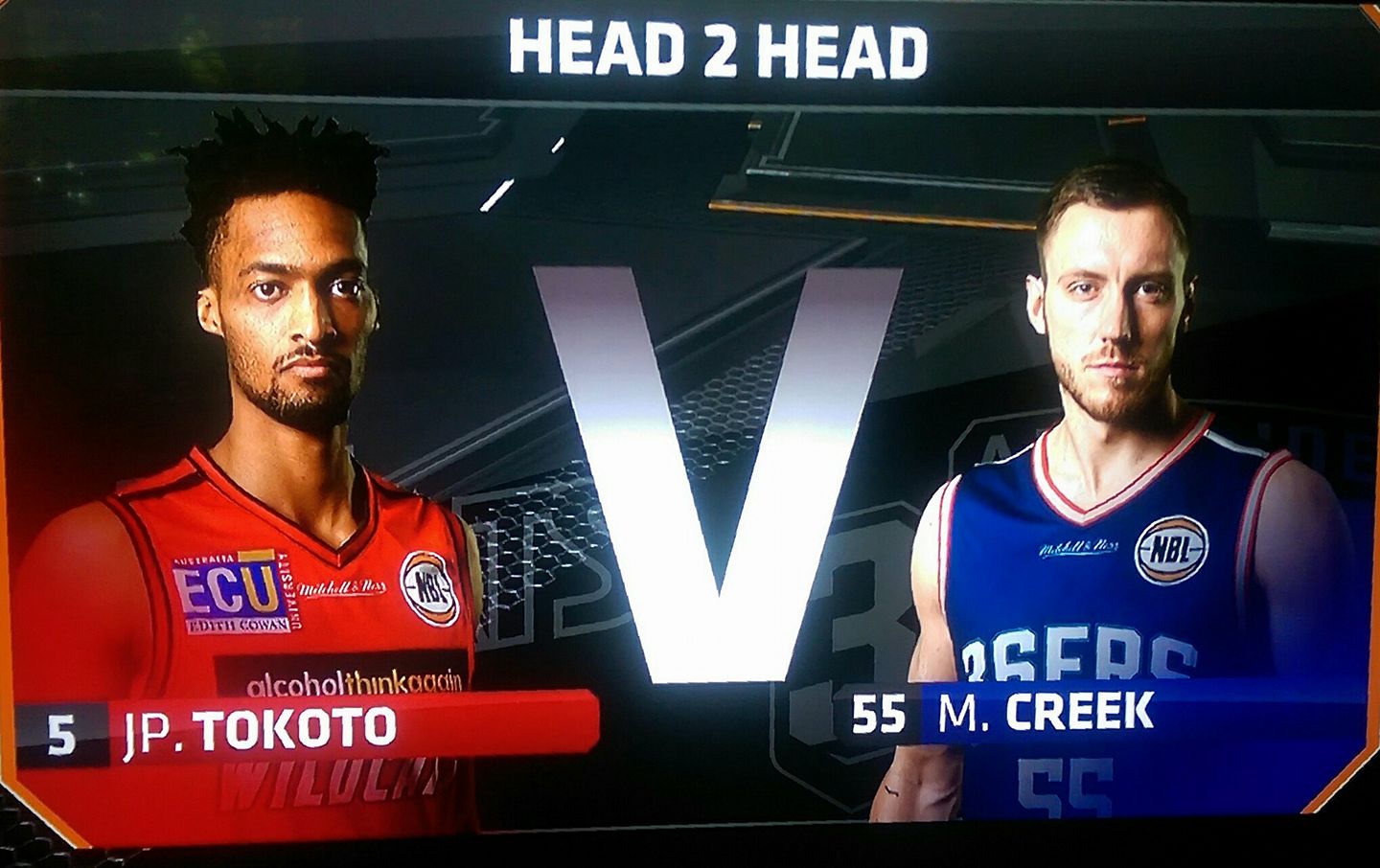 Yes, well done. Mitch Creek doesn't play for Brisbane. This was the graphic the boys threw to as they started to talk about the forthcoming JP Tokoto-Perrin Buford matchup!
And yes, we have another dopey director on the Sydney-Cairns NBL game who makes the mistake regularly made by his colleagues and/or predecessors, cutting to a shot of cheering cheerleaders after a basket ... and completely missing Jarrad Weeks' three-quarter-court heave for a 3-pointer which closed the first quarter.
Let's tell you again - this isn't football. After a score, you don't have bucketloads of time for crowd or fan shots, or closeups on a coach or players. STAY WITH THE PLAY. Or is it just a "Cairns thang"?
Because Fox missed Cam Gliddon's live monster three closing the game a few weeks ago too.
Yes, the replays are nice but when we're watching live action, STAY WITH THE PLAY!
How many times does it have to be screwed up before someone from the NBL and FOX work it out?
* * *
MEANWHILE, Casey Frank on the FOX/SKY call of the Breakers-36ers game remarked about Mika Vukona: "Vukona scares ball handlers."
Newsflash Casey. Mika scares post players, mid-rangers, perimeters snipers AND ball handlers. Let's not differentiate!
And in more good news, Corey Williams in his first game across the Tasman as a FOX analyst, said a lot less than usual.
* * *
HOW great was the finish of the Cairns-Brisbane game?
Scoochie Smith gives Cairns the lead, Travis Trice restores it for Brisbane in the frantic finish. The Taipans with the last play again went to Scoochie but this time both Reuben Te Rangi and Perrin Buford were on hand to contest the shot, Buford swatting it away (below).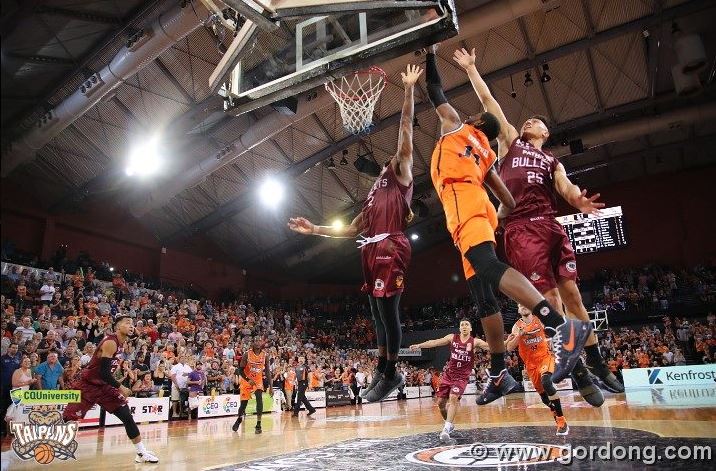 Hell of a way to win and celebrate the 300th NBL game of Bullets coach Andrej Lemanis.
Buford had a top game in a fine weekend, then Daniel Kickert stepped up in Perth in his battle with the league's Most Improved Player, Lucas Walker, reminding everyone Kicks is the premier Aussie power forward in the league.
* * *
WHO knows how much Phil Smyth had to do with Sydney's resurgence as the Kings rallied to strangle the Taipans 88-69?
As Cairns opened with a 7-0 start, then pulled to 12-3, 16-3 and 18-4, it seemed his flights to and from Sin City were a General waste of time.
But the insertion of Isaac Humphries and Jason Cadee kick-started Sydney on its way back. both good in the first quarter, then better in the second.
From, 18-31 in the hole, first Humphries, then Cadee repeatedly stepped up to draw the Kings back to 28-31. Then Jerome Randle took the spotlight to tie it at 34-34, before pushing Sydney ahead 36-34.
It was pretty much a different game from then on, Sydney's 30-14 third quarter setting up its fourth win of the season.
And, I mean, who cares if Amritpal Singh's dunk attempt was rejected by the ring?
* * *
BIGGEST WINNERS/LOSERS
BY far the biggest winners in the NBL this round were the Bullets of Brisbane, winning twice on the road and in our most far-flung cities - Cairns and Perth! That is no mean feat and was not only Brisbane's best weekend since re-entering the NBL but puts it back in the finals race.
THE biggest losers though were the NBL's other Queensland-based club, Cairns. Sure, losing at home to Brisbane was in heart-breaking (and heart-stopping) circumstances but to have the battling Kings on the ropes, up 18-4, then to get torched, made this a bomb for the Orange.
PERTH moved on through its WNBL club record for consecutive wins to 12, then 13, beating finals wannabe Adelaide and title contender Melbourne to again be the biggest winners. (Although Canberra continuing in its spoiler role, deserves an honourable mention.)
SADLY the loss of Natalie Novosel (ACL) came home to roost for Adelaide, beaten by Perth and then in Canberra to see its finals hopes hanging by a thread, if at all. It made the Lightning the round's biggest losers, left needing wins and results to fall their way to return to the post-season.
* * *
NBL Rd.10
BRISBANE BULLETS 75 (Buford 17, Trice 14, Te Rangi 12; Buford 12 rebs; Trice 4 assts) d CAIRNS TAIPANS 74 (Evans 18, Egwu 14, McCarron 12; McCarron 10 rebs; Egwu, Gliddon 5 assts) at The Orange Grove, Cairns Convention Centre.
ADELAIDE 36ERS 90 (Moore 27, Johnson 22, Sobey 13; Johnson 8 rebs; Childress 6 assts) d NEW ZEALAND BREAKERS 75 (Pledger 12, Delany, Penney 11; Pledger, Loe, Newbill 7 rebs; Newbill 7 assts) at The Breakwater, Spark Arena.
BRISBANE BULLETS 82 (Buford 24, Kickert 21, Jervis 14; Buford 8 rebs; Trice 7 assts) d PERTH WILDCATS 76 (Cotton 20, Brandt 16, Tokoto 12, Kenny 10; Cooke 10 rebs; Cotton 4 assts) at The Jungle, Perth Arena.
MELBOURNE UNITED 84 (Boone 20, Wesley 17, Goulding 15, Ware 13; Boone 9 rebs; Wesley 7 assts) d ILLAWARRA HAWKS 78 (Conger 20, Clarke 18, Ellis 12; Johnson, Conger 6 rebs; Conger 4 assts) at The Sandpit, WIN Entertainment Centre, Wollongong.
SYDNEY KINGS 88 (Randle 17, Tyler, Cadee 15, Humphries 14, Newley 10; Ellis, Newley 6 rebs; Randle 6 assts) d CAIRNS TAIPANS 69 (Weeks 14, McCarron, Gliddon 11; McCarron 7 rebs; Loughton, McCarron, Gliddon 3 assts) at The Kingdome, Qudos Bank Arena.
* * *
WNBL Rd.11
UNI of CANBERRA CAPITALS 91 (Hurst 18, Bass 15, Scherf, Hooper 12, Gaze 109; Gaze 5 rebs; Hurst 6 assts) d BENDIGO SPIRIT 80 (Banham 20, Payne 19, Richards 18, Laney 14; Richards 10 rebs; Banham 6 assts) at The Spirit Level, Bendigo Stadium.
SYDNEY UNI FLAMES 70 (Snell 20, Hamson 17, Ebzery 15; Hamson 14 rebs; Wilson 5 assts) d JAYCO DANDENONG RANGERS 65 (St Blicavs 16, Mijovic 15, Pedersen, Roberts 10; Mijovic 10 rebs; Pedersen 5 assts) at The Ranger Station, Dandenong Stadium.
PERTH LYNX 99 (Williams 41, Standish 16, Farnworth, Whitcomb 13; Dowe 12 rebs; Whitcomb 5 assts) d MAC ADELAIDE LIGHTNING 82 (Bishop 20, Seekamp 18, Clydesdale 12, Panoussis 11; Hamblin 7 rebs; Clydesdale 6 assts) at The Zoo, Bendat Stadium., Perth.
SYDNEY UNI FLAMES 90 (Wilson 21, Hamson 17, Taylor 13, Boag 11; Hamson 10 rebs; Snell 9 assts) d BENDIGO SPIRIT 57 (Laney, Banham 13, Karaitiana 11; Richards 7 rebs; Payne 4 assts) at Study Hall, Bryden's Stadium, Sydney.
TOWNSVILLE FIRE 83 (Batkovic 25, George 17, Murray 12; George 8 rebs; Wilson 5 assts) d JAYCO DANDENONG RANGERS 71 (Mijovic 22, St Blicavs 17, Todhunter 15; Pedersen, Roberts 7 rebs; St Blicavs 4 assts) at The Fire Station, Townsville Stadium.
PERTH LYNX 92 (Whitcomb 28, Williams 26, Standish 15; Dowe 8 rebs; Whitcomb 7 assts) d DEAKIN MELBOURNE BOOMERS 89 (Cambage 38, Garrick 16, O'Hea, Cole 14; Cambage 17 rebs; O'Hea 8 assts) at The Kangaroo Courts, State Basketball Centre, Melbourne.
UNI of CANBERRA CAPITALS 88 (Bass 21, Gaze 14, Hooper 11, Rocci, Wehrung 10; Gaze 6 rebs; Wehrung 6 assts) d MAC ADELAIDE LIGHTNING 87 (Clydesdale, Planeta 18, Bishop 16, Elsworthy 10; Planeta 6 rebs; Seekamp 6 assts) at The Alphabet Soup, National Comvention Centre, Canberra.
THIS was a very tough tipping round. Up until today, I was sweeping the WNBL on 5-0. But Perth made (win No.) 13 lucky and snuck in over Melbourne, as Canberra held off Adelaide by a point to ruin my round. Over in the NBL, Brisbane's one-point win over Cairns set me back, then Adelaide (down Mitch Creek, then losing Anthony Drmic) turned a three-point home win into a 15-point road rout of New Zealand. No Damo, no Perth as Brisbane stunned the Wildcats at the Jungle. But salvaging my tips were Melbourne taking out Illawarra in Wollongong and Sydney taking care of business against Cairns after a super-slow start.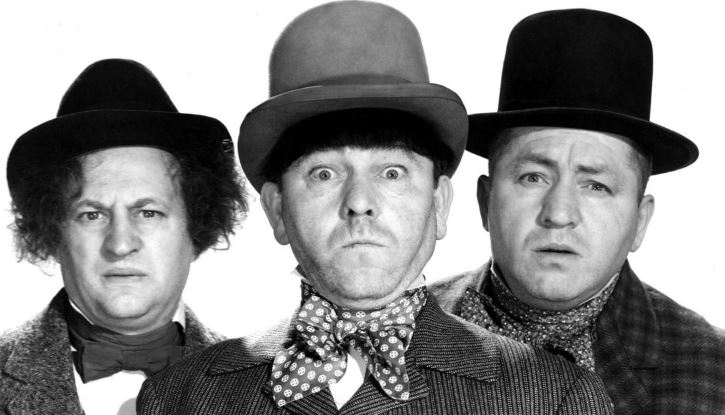 TOMORROW: Players of the Week