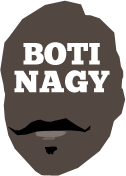 ---
Advertising opportunities available.
Please contact me.
---
In: NBL — Monday, 11 Nov, 2019
THIS was a truly tough round to find our NBL Player of the Week, with the "rule of thumb" having to apply, reinforcing it had to be the best performance or performances if a team played twice.
In: WNBL — Monday, 11 Nov, 2019
THIS round's Basketball On The Internet Player of the Week arguably was our easiest choice of WNBL Season 2019-20 so far despite several big individual efforts.
In: NBL — Sunday, 10 Nov, 2019
FOURTH spot on the NBL table remains very much a lottery as Melbourne today smacked another playoff hopeful, manhandling Adelaide 109-90 after Brisbane fell to Sydney, and New Zealand lost to both Victorian clubs.
In: WNBL — Sunday, 10 Nov, 2019
THE WNBL's top four have opened up a two-game break over the four teams pursuing post-season activity after anything but a definitive Round 5 of nationwide action.
In: NBL — Sunday, 10 Nov, 2019
MELBOURNE United again sent NBL playoff wannabe Adelaide back to the drawing board with a thoroughly convincing 109-90 win at Melbourne Arena, Melo Trimble with a season-high 32 points.
In: WNBL — Saturday, 9 Nov, 2019
ADELAIDE tonight reasserted itself as a WNBL Final Four contender with arguably its most complete team performance of the season, dishing 29 assists in a thoroughly emphatic 105-77 mauling of Bendigo Spirit.
In: NBL — Friday, 8 Nov, 2019
EXPERTS call it the "championship quarter" and so far in Round 6 of NBL 2019-20, the third period indeed has been the decider in matches on both sides of the Tasman.
In: NBL, WNBL — Thursday, 7 Nov, 2019
CONTROVERSIAL New Zealand Breakers' replacement for injured NBL import Scotty Hopson (knee) Glen Rice Jr will debut tonight against Melbourne while WNBL champ Canberra works out how to stop Lei Mitchell.
In: NBL, WNBL — Wednesday, 6 Nov, 2019
BULLETS wins over defending NBL champion Perth and hapless Illawarra has seen Brisbane spike from eighth to fifth in our weekly rankings, the return of Bec Tobin helping Bendigo jump from #7 to #5 on the WNBL rankings.
In: NBL, WNBL — Wednesday, 6 Nov, 2019
NO, no, I'm sorry but Brad Rosen and I simply won't be discouraged and our latest Brad&Boti podcast, talking all things NBL and WNBL, is available now at Apple podcasts and Spotify.