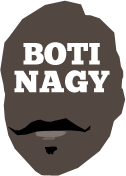 ---
Advertising opportunities available.
Please contact me.
---
36ers dumped as Bullets fire on fourth
Tweet
MELBOURNE United only needs to get the job done tomorrow against derby rival South East Melbourne to land in the NBL semi finals, despite Brisbane today smashing Cairns by 36 points.
That was a sufficient margin to eliminate New Zealand Breakers from the Final Four equation on overall percentage, with both clubs on 15 wins and 13 losses.
The Breakers are done and dusted. Now the Bullets have to wait on the Phoenix to take an upset win over United which looks highly improbable, despite a great losing effort to the Breakers.
Tonight in Perth, the Wildcats rested imports Bryce Cotton and Terrico White as a precaution ahead of their semi final series against Cairns but still had too much for Adelaide, winning 94-79.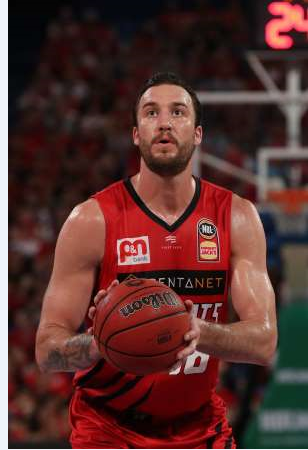 Clint Steindl's second 3-pointer of the first quarter saw the Wildcats jump out to a 15-7 lead and the 36ers were going to need something special to reward coach Joey Wright in his 500th NBL game milestone.
Down 36-47 at halftime, it never looked like happening, the depleted Wildcats not lacking in gameplan or discipline as Miles Pulmlee followed Nick Kay's example, Kay with a career-high 17-point first half.
Wright's Sixers' stalwarts such as Daniel Johnson, Jack McVeigh, Anthony Drmic and Harry Froling dragged the deficit back to 63-69 with a quarter to play, when Nic Pozoglou's 3-point heave to end the third was deemed too late.
Cruising, the Wildcats led 75-65 before the 36ers rallied. When Drmic hit a three, the deficit was back to 72-77, then 74-77 when McVeigh iced a tough jumper.
Brendan Teys on the break made it 76-77 and with 5:50 left, Perth coach Trevor Gleeson had seen enough, calling timeout.
First Steindl nailed a 3-pointer, then Kay made a tough basket, Perth pulling to 82-76. A bad Dan Dillon passing turnover opened Jesse Wagstaff up for a three which he encored with another for 88-76, an 11-0 response and the ballgame was over.
Possibly reflecting a sentiment he harboured before tonight, Wright played import Eric Griffin just 2:27 - in which time he managed three turnovers - and Jerome Randle 17:46 for his seven points, one assist and rebound.
PERTH WILDCATS 94 (Kay 23, Plumlee, Steindl 14, Wagstaff 12; Norton 8 rebs; Norton 5 assts) d ADELAIDE 36ERS 79 (Johnson 18, McVeigh 16, Froling 11, Drmic 10; Johnson 11 rebs; Froling 5 assts) at The Jungle, RAC Arena. Crowd: 13,493
* * *
IN Christchurch, the quest for New Zealand to beat South East Melbourne by the biggest margin possible wore heavily on the home team, especially when the Phoenix showed they meant business.
From Dane Pineau"s opening basket to get the game rolling, South East showed that even the absence of captain Mitch Creek (knee injury) and Kendall Stephens would make little difference to their attacking mindset.
Up 24-22 after one, in trouble at halftime, level at 63-63 at the last break, the Phoenix kept the Breakers under sustained pressure as the home team tried desperately to put their feisty opponents away.
In fact it wasn't until the final minute New Zealand was able to inflate the margin to nine after Adam Gibson kept South East in it, down 83-86 with just over 30 seconds to play.
Tom Abercrombie stuck a 3-pointer, then was fouled on his last basket and added the bonus for the Breakers to grab a 92-83 win, still a long way short of what they truly needed.
NEW ZEALAND BREAKERS 92 (Hopson 23, Loe, Abercrombie 18, Henry 14; 4 with 5 rebs; Hopson 10 assts) d SOUTH EAST MELBOURNE PHOENIX 83 (Roberson 15, Pineau 14, Gibson 12, Madgen 11, Adnam, Walker 10; Pineau 7 rebs; Roberson 8 assts) at The Break Bread, Christchurch. Crowd: 5,053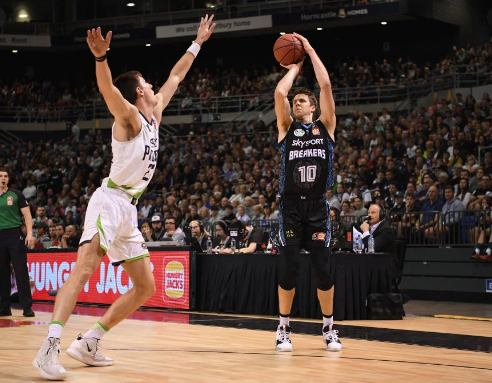 * * *
IN Sydney, the match went pretty much to script with the Kings' depth overwhelming Illawarra for a comfortable home win to close the regular season.
Andrew Bogut marked his return to action with a dunk as his first shot, Sydney moving steadily away after the depleted Hawks showed their customary early pluck.
Casper Ware took 11 field goal attempts, all threes, and made five while for Illawarra, Sunday Dech offered some sunlight toward 2020-21 with 26 points on 11-of-17 shooting, 3-of-4 threes, five rebounds, two assists and two steals.
Angus Glover also went down scrapping for 15 points on 5-of-7 shooting, 3-of-4 threes, and team highs in rebounds (8) and assists (4).
Sydney claimed the regular season championship after leading the league from start to close, today's crowd of 11,047 taking its season total attendance to 140,168 smashing its old 1994 record of 121,871.
It marks the first time ever the Kings have averaged more than 10,000 fans per game.
SYDNEY KINGS 98 (Tate, Ware 19, Newley 13, Taylor 12; Cooks 11 rebs; 4 with 3 assts) d ILLAWARRA HAWKS 82 (Dech 26, Glover 15; Glover 8 rebs; Glover 4 assts) at The Kingdome, Qudos Bank Arena. Crowd: 11,047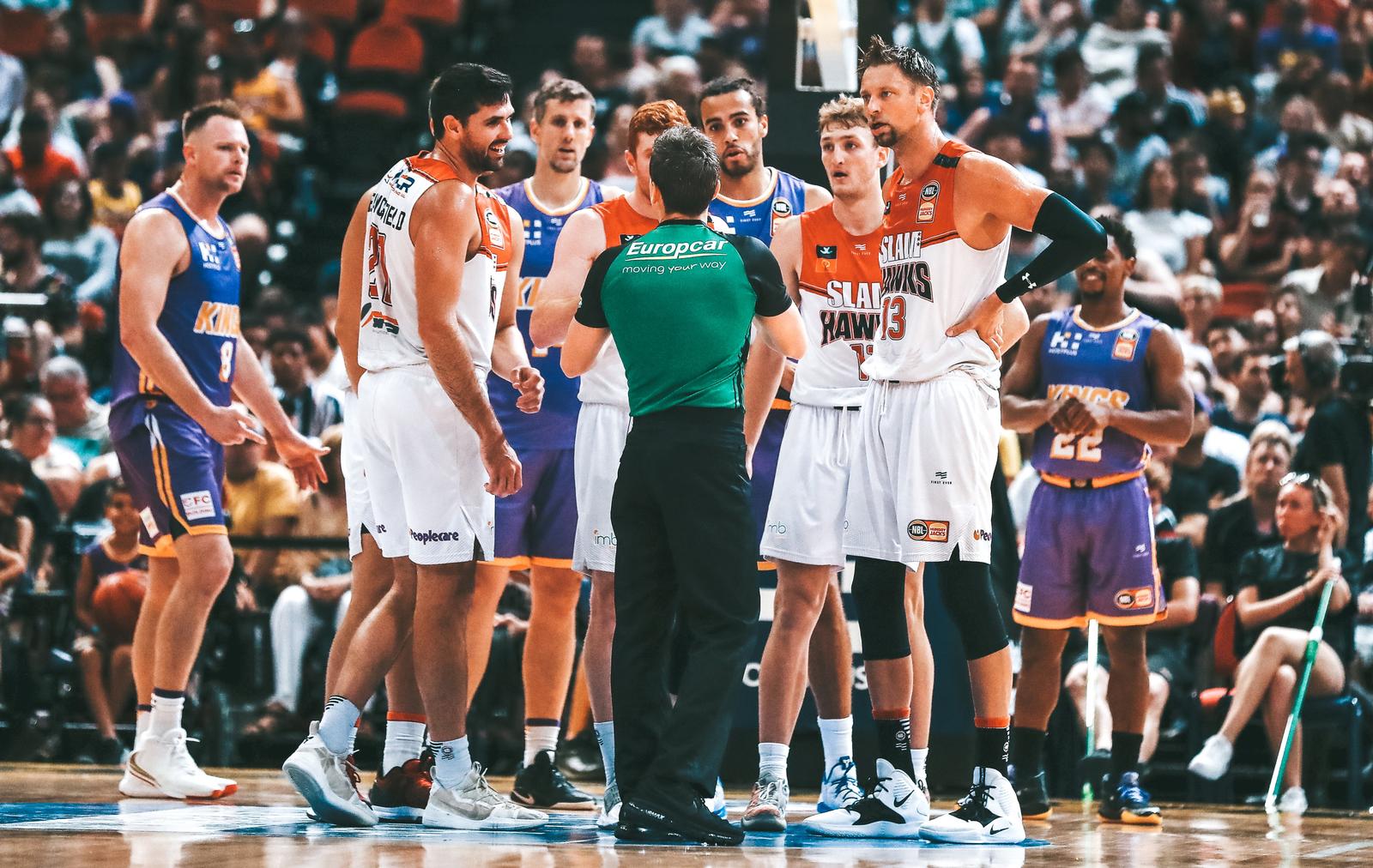 * * *
MATT Hodgson got the ball rolling for the Bullets in Brisbane where they needed to hammer Queensland derby rival Cairns by 34 and incredibly did it by more, winning 124-88.
Yes, the Taipans ultimately put the cue in the rack but not before a sizzling 39-15 first quarter Brisbane bludgeoning as the Bullets scored the equal-highest first quarter tally of the past decade.
Hodgson threw down three dunks in Brisbane's first nine points before a 3-point blitz blasted the Taipans to oblivion.
Cam Gliddon (25 points, 7-of-14 threes), stuck two in quick succession, then Nathan Sobey (30 points, 4-of-9 threes, eight rebounds, seven assists, two steals) struck his first.
Cairns appeared powerless to stop the avalanche as EJ Singler (21 points, 3-of-5 threes, eight rebounds, six assists, three steals) also nailed two in the quarter, Jason Cadee adding another, the Bullets with six triples in the first before Sobey closed the quarter on a three-point play.
Cairns couldn't take a trick and while it threatened a couple of times, Brisbane shut down all of the Taipans' main scoring avenues in an all-court assault that should prove a blueprint for Perth in the playoffs.
BRISBANE BULLETS 124 (Sobey 30, Gliddon 25, Singler 21, Patterson 17, Cadee 14; Hodgson, Singler, Sobey 8 rebs; Sobey 7 assts) d CAIRNS TAIPANS 88 (Deng 20, Oliver 13, Krslovic 12; Krslovic 8 rebs; Djeric 4 assts) at The Armoury, Nissan Arena. Crowd: 5,145