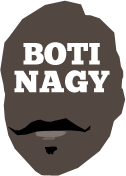 ---
Advertising opportunities available.
Please contact me.
---
36ers in new PR debacle
Tweet
THE Adelaide 36ers are in the eye of another public relations disaster, apologising today to an Aboriginal artist who yesterday exposed the club on social media for offering her a contra arrangement for designing their Indigenous Round uniform.
A year after losing grassroots fan support for threatening court action to prevent Mitch Creek, the face of the Sixers for almost a decade, from joining the NBA's Brooklyn Nets without financial compensation, the club again is embroiled in what appears another ill-conceived, financially-motivated process.
Aboriginal artist Elizabeth Close brought the club's new operating methods into the public forum overnight when she posted details of her ill-fated association with the 36ers.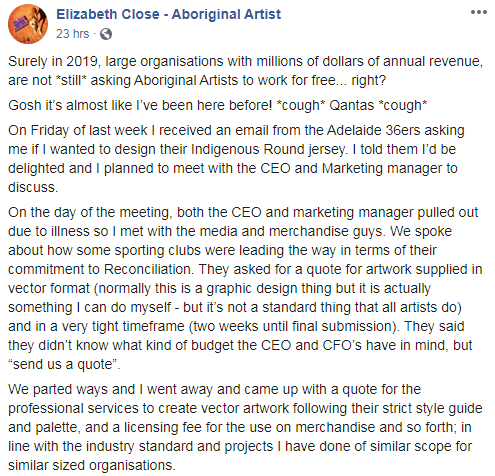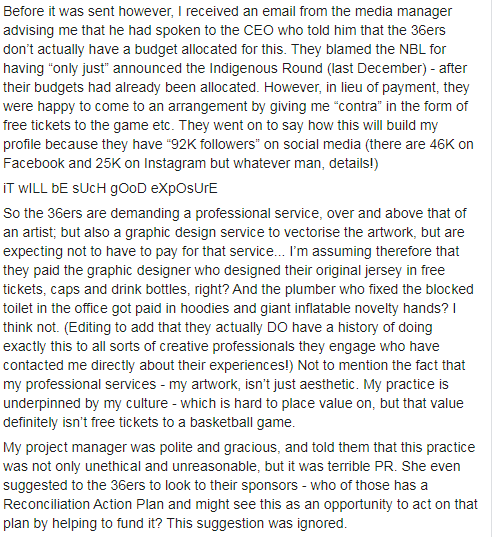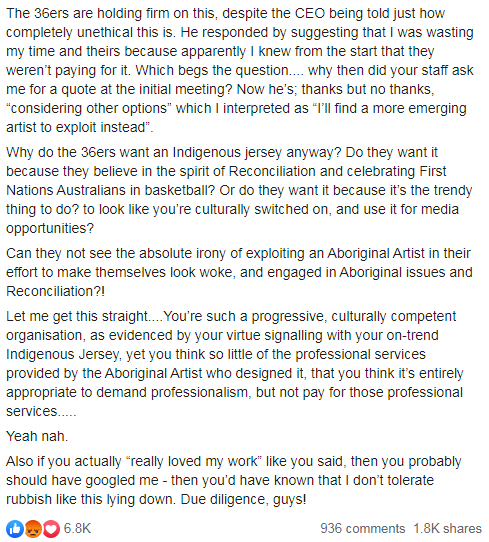 Close's exposure of the entire affair caused a huge furore across social media platforms, leading to an apology today from the Sixers.
Unfortunately, they couldn't even get that right, turning Elizabeth Close into Rebecca Close.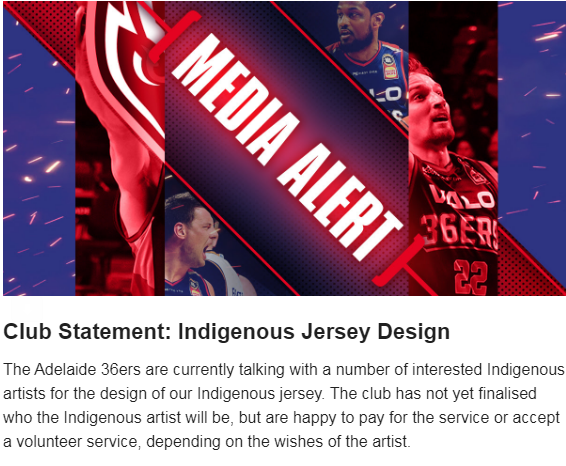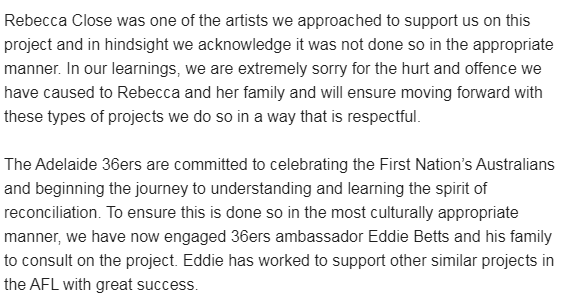 Readers should be pleased to note the 36ers reissued their press release, realising they had "in their learnings" mistaken Rebecca Close for Elizabeth Close, to whom their apology was aimed and intended.
Last year the club's decision to stall Creek's departure merely resulted in such ill feeling between the parties that he broke off all contact with Adelaide and joined new Victorian franchise South East Melbourne Phoenix. Adelaide, meanwhile, received zero compensation for releasing Creek to the NBA, another exercise in the club self-harming its reputation in the court of public opinion.
Close designed the Adelaide Thunderbirds Indigenous uniform earlier this year (below) and also paints public murals, including at the new home of the North Adelaide Rockets Basketball Club at Lights Community and Sports Centre on Hampstead Rd, in partnership with Thomas Readett.