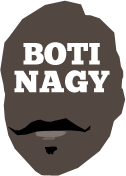 ---
Advertising opportunities available.
Please contact me.
---
A rivalry renewed? Hmm, not really
Tweet
SINGAPORE: There's a history too rich to avoid revisiting between the NBL's most successful coach, Brian Goorjian, and the Adelaide 36ers, a postscript written here today.
While the 36ers were raising the Merlion Cup they just had won by beating Goorjian's China Basketball Association outfit and defending Cup champ Shanghai Sharks 101-81 in the Final, a rivalry once filled with animosity was now one of affection.
Before Goorjian, 64, ever won six NBL championships (3 with Sydney Kings, 2 with South East Melbourne Magic, 1 with South Dragons), six Coach of the Year awards, won more games than anyone before - or since - or led Australia through two Olympic Games cycles, he was a 24-year-old American playing for Melbourne Tigers.
I watched him with his efficient bullet jumpshot, passing flair and creative on-court play as Melbourne battled Coburg in an Australian Club Championship thriller at storied Albert Park in maybe 1977. Or 1978.
And when the Tigers finally broke into the NBL in 1984, Goorjian was their inaugural captain.
He was a player ... even if his defensive stance in the only "action" pic I could dig up of him doesn't reflect his later intimacy or attention to that aspect of the game when he was drawn to the coaching sidelines.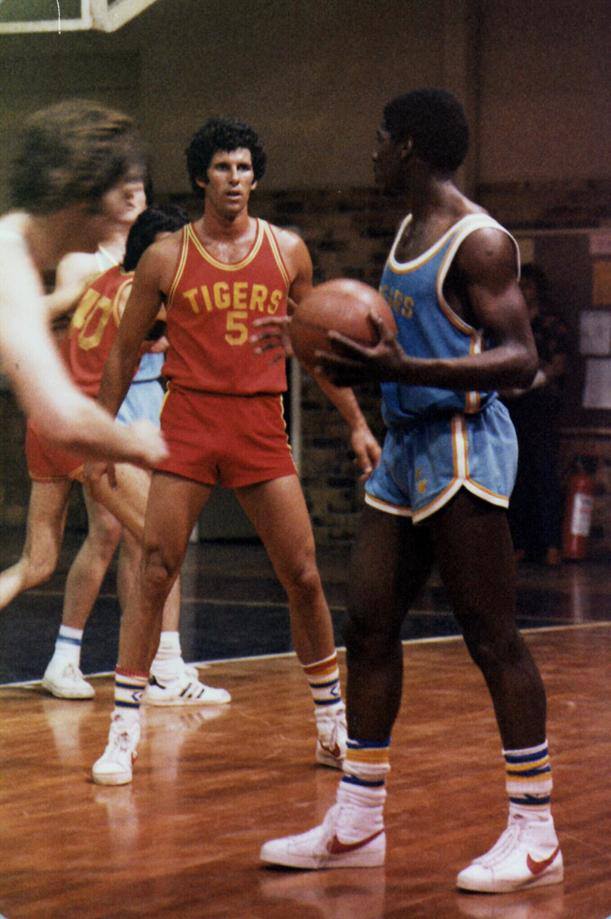 Assistant coaching Ken Richardson at Geelong Supercats in the NBL, he once was charged with going to the home of a particularly muscular and athletic import who was getting the sack, to collect the club's loan car from him.
How that played out is a good story, one of many Goorj can weave in an almost mesmerising way.
His elevation as Barry Barnes' successor at Nunawading Spectres, upgraded to Eastside Spectres, was marginally controversial at the time, his first two seasons (1988-89) memorable for the fact the club missed the playoffs.
The 36ers, in particular, were a team he could not master. Wow, how that changed.
When the Spectres and the equally financially embattled Saints merged to form South East Melbourne Magic in 1992, Goorjian won his first championship.
And a mastery over Adelaide was established. In fact Goorjian colleague Mike Dunlap was at the helm of the 36ers in 1996 when they won a home match against the Magic at the then Clipsal Powerhouse, their only win over SEM in a seven-season span from 1992-98.
Across the 1998 regular season, SEM swept Adelaide and marched into the playoffs boasting a phenomenal 26-4 win-loss record, perhaps prematurely claiming the mantle of best team of all time.
Adelaide fans bristle whenever they hear that from anyone, their 1986 "Invincibles" going 24-2, their two losses both on buzzer beaters.
So when the 36ers lobbed in Melbourne for Game 2 of the best-of-three Grand Final series and already ahead 1-0, there was genuine shock at the outcome.
It was a comprehensive 90-62 mauling to give Adelaide its first title since 1986, Goorjian a stunned man at the post-game press conference.
He could not even find the right words to describe the performance by Adelaide import Kevin Brooks, the Larry Sengstock Medallist who carved up his team.
Merging with North Melbourne Giants the following year to form the Victoria Titans, the hostility with Adelaide grew, the two teams drawn from Day One to be fighting it out at the season's pointy end.
Adelaide grabbed Game 1 off the Grand Final in Melbourne, then dropped Game 2 in Adelaide, after a memorable halftime clash between Goorjian and 36ers centre Paul Rees.
In his own words, Rees said he saw Goorjian walking off speaking with the referees and decided to stop to listen himself.
Except he stopped ahead of the blindsided Goorjian who bounced off him and hit the floor.
Rees typically feigned innocence - years later he would confess it was deliberate - but Goorjian recognised it at the time and remonstrated angrily.
The crowd loved it. They hated Goorj.
But the balance of power had swung back to the 36ers, who followed 1998's championship over his Magic with the 1999 crown over his Titans.
Through 1999-2000, Adelaide again was the master but when the two teams were drawn in the semi finals and the 36ers owned homecourt advantage, there was now a mental hurdle for the Titans to negotiate.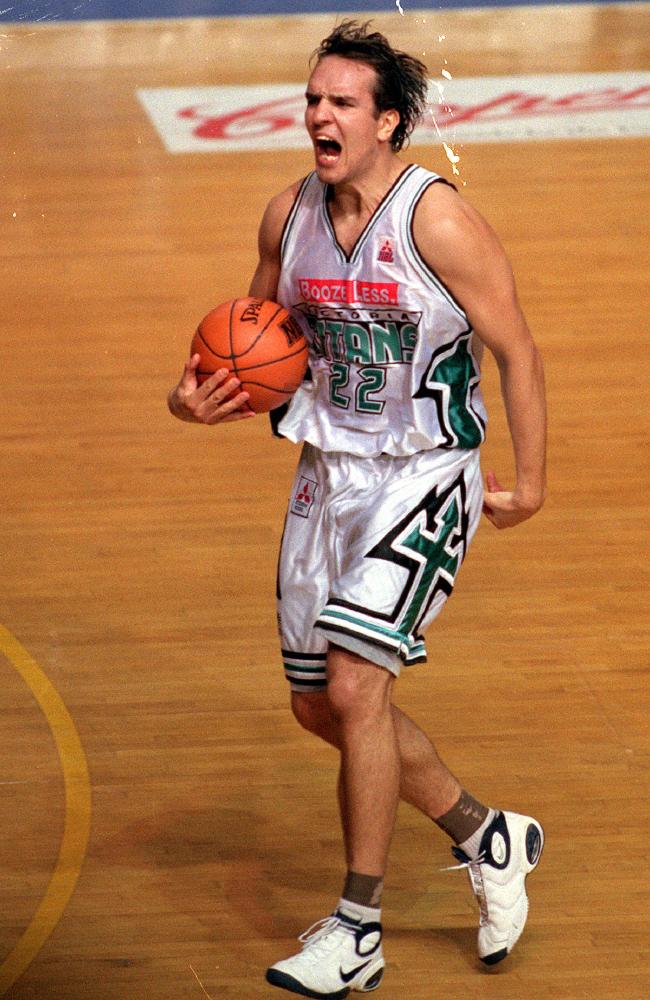 WE DID IT! Frank Drmic celebrates Victoria eliminating Adelaide in the 2000 semi finals.
Unfortunately, Sixers forward Martin Cattalini said as much and whether that was the spark Goorjian's club needed, we'll never know. But when the Titans won Game 3 of the semis in Adelaide, they celebrated as though they'd shaken King Kong off their back.
Not surprisingly, they had nothing left for Perth in the Grand Final, Adelaide again, in a way, indirectly responsible for the shortfall.
Coaching Sydney Kings to the league's historic first "threepeat", Goorjian's NSW-based team rarely experienced too many issues with Adelaide, the same true of his South Dragons' championship group.
While he never again missed the playoffs after those first two Spectres' seasons, he also witnessed Adelaide's rise, demise, rise and demise.
Goorj has been in China for almost a decade, mostly with the Dongguan Leopards but now running the rebuilding show for Shanghai Sharks.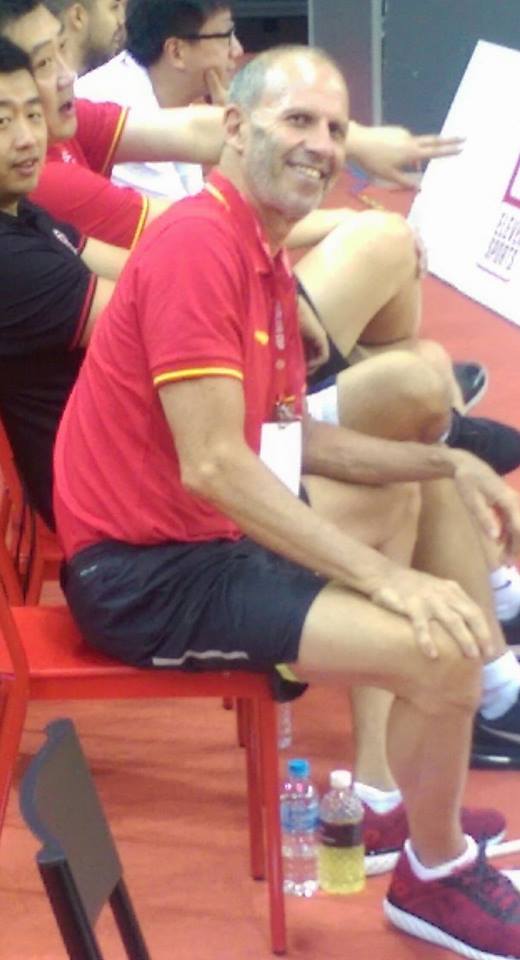 Without superstar import Jimmer Fredette (injured) today was always going to be a long day.
China currently is running with two national men's teams of 17 players apiece and they are comprised of players competing in the CBA.
Shanghai Sharks do not have a national rep.
But where "beating Goorjian " once was an absolute Adelaide mission, today it was a formality.
He strolled the sideline with his usual intensity, no-one yelling "sit down ya mug".
Where once the Goorjian-Adelaide rivalry was clearly black-and-white, time teaches you life is in fact immeasurable shades of grey.
"I've never had a problem with Brian," 36ers coach Joey Wright said.
"You're out there doing the same job - trying to beat each other. It's nothing more than that."
Brooks, the man who in 1998 helped restore Adelaide's superiority for a few years, was assisting Wright today.
Anthony Drmic is now a 36er and wearing the No.22 his brother Frank wore almost 20 years ago,
The best aspect of any rivalry is that years later, there's time to reflect and recognise it brought the best out of everyone, be it Celtics-Lakers, Borg-McEnroe, Ali-Frazier.
Or Goorjian-36ers.
They were extraordinary and great years in the NBL. Today was a nice postscript.