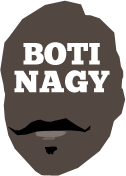 ---
Advertising opportunities available.
Please contact me.
---
ABC Day 4: Hawks take "TIME OUT!"
Tweet
ILLAWARRA Hawks tonight claimed their first Loggins-Bruton Cup and third NBL preseason title after beating defending champion Melbourne 94-86 in a surrogate Australian Basketball Challenge "final".
NBL preseason series haven't have a "final" since the premiership points system (one per quarter one, three for the win, making it seven points up for grabs) was adopted four years ago. But ahead of tonight's final match, both clubs had 13 points meaning the match-winner would be the title-winner.
"TIME-OUT!" Hawks coach Rob Beveridge boomed with 36 seconds left as Illawarra put the final touches on its first preseason crown since 2009 in Darwin and third all up, winning in 1990 at Sydney's State Sports Centre.
The game came down to a thrilling finish, Illawarra ahead 86-80 with a minute to play and Kyle Adnam on the break for United.
Somehow Rotnei Clarke not only dispossessed him of the ball but got it to AJ Ogilvy who gifted Marvelle Harris with an emphatic slam dunk.
It was a terrific conclusion and highlighted yet again the 2016-17 NBL season is going to be an absolute cracker.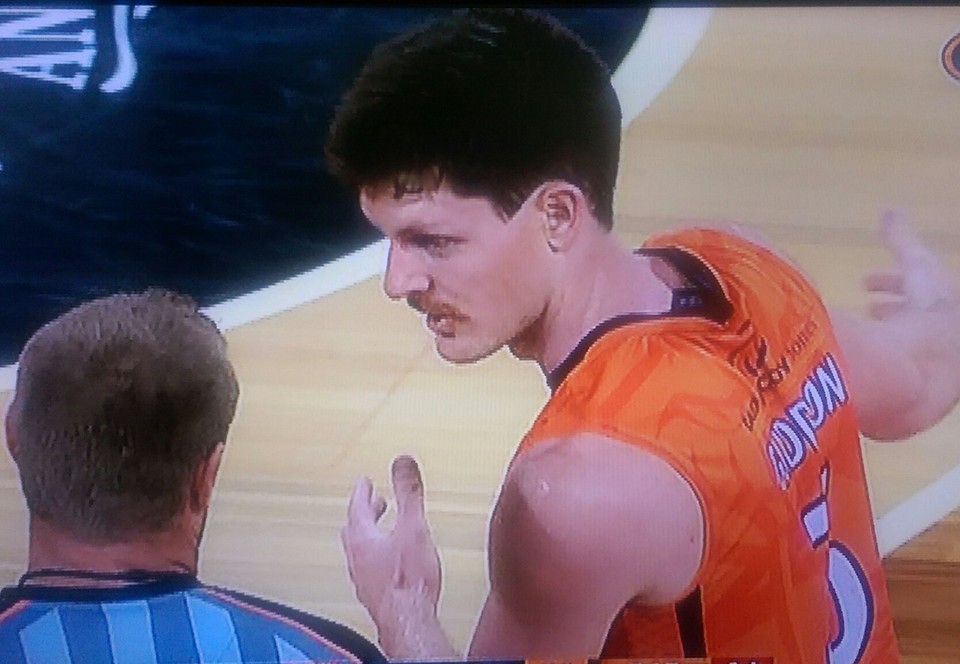 CAM Gliddon, as predicted here yesterday, today clinched the Ray Borner Medal as the tournament's Most Valuable Player.
Gliddon's contribution to Cairns's 91-61 win over Brisbane - 10 points, four assists, two steals - earnt him enough votes to move him sufficiently clear of the pack and out of reach of whoever was challenging, allowing the NBL to make the announcement before the evening's last game.
It was some sort of compensation for the Taipans who went 3-0 but didn't have the benefit of playing either of the Chinese teams which would have meant a significant premiership points bolster.
WHAT WE LEARNT
ADELAIDE: Mitch Creek is a new man as team captain, the 36ers' fullcourt pressure and up-tempo game will be fun to watch and Joey Wright's plan to utilise multiple scoring options will work. The team is young though and will have form variances. Matt Hodgson is becoming a serious defensive presence, Jerome Randle a superstar, Terrance Ferguson will be entertaining and there are lots of nifty pieces. Eric Jacobsen also will be returning (concussion) after missing the ABC.
BRISBANE: Process-driven and disciplined, picking up Jermaine Beal and Tom Jervis (ex-Perth), Adam Gibson and Anthony Petrie (ex-Adelaide) equals four players from the 2014 Grand Final. Torrey Craig (concussion) missed two-thirds of the ABC but the Bullets' win over Sydney was full of merit. They also still have Cam Bairstow to position in the group. Will be competitive from 2016-17 tipoff.
CAIRNS: Maybe the surprise of the tournament with a 3-0 sweep (sans the CBA gifts), the Taipans have Cam Gliddon in form, solid imports - and we didn't see one of them - and in Mitch McCarron, snagged a quality Aussie talent. And they still have Nate Jawai, Mark Worthington and Stevie Weigh to reintroduce. Taipans fans should jump all over ill-informed betting markets that have them on the bottom line, before they wise up and the odds shorten.
ILLAWARRA: The "old guard" still is serviceable but taking a back seat now to AJ Ogilvy, Rotnei Clarke, Michael Holyfield and Marvelle Harris. Nick Kay and Mitch Norton were stronger pickups than most realise and Cody Ellis continues to play as though the next game could be his last. These are all great signs, Harris a spectacular import who will delight many. The Big O outside as instant offence also will be fun to behold.
MELBOURNE: David Andersen, Chris Goulding and David Barlow gives it three Olympians to go with a past league MVP in Cedric Jackson and fellow championship-winner Tai Wesley. Out from his role as Mika Vukona's understudy, Wesley will shine, import Ramone Moore has range and class, and Devin Williams will get the dirty work done. There's still Majok Majok and Todd Blanchfield to factor in. Finals bound.
NEW ZEALAND: We didn't see Kirk Penney or Corey Webster but did we need to? We all know how good they are. Import Ben Woodside is efficient at the point, Izzy Tueta can be a genuine asset, and big-man import Akil Mitchell has game. Alex Pledger is back to being a huge target, athletic Finn Delany is a young Tom Abercrombie (without his range yet) and Mika is still there. The pieces are intriguing.
PERTH: Casey Prather is taking it up a level, Jaron Johnson is a player but third import Jameel McKay needs to keep his game from being at the extremes. The good news, for anyone not named Lucas Walker, is Matt Knight will be back sooner from injury than expected. Then there's the usual crew of winners such as Martin, Redhage, Hire, Kenny and Jesse Wagstaff, who missed the ABC. You're betting against them?
SYDNEY: There's talent in abundance but question marks too. When will Julian Khazzouh (quad) make it back and how soon will he settle in? Import Greg Whittington definitely is a wing force and with Brad Newley threatens havoc. Kevin Lisch may be my personal favourite player and Aleks Maric is a big-time old-style centre. Jason Cadee can lay claim to the title of the league's best long-ranger bomber but expect a few teething problems before the Kings rule.
DID YOU KNOW?
CORBIN Wroe was actually cloned from Brad Robbins' pirate headband.
IT'S enought to make Ken Cole jealous.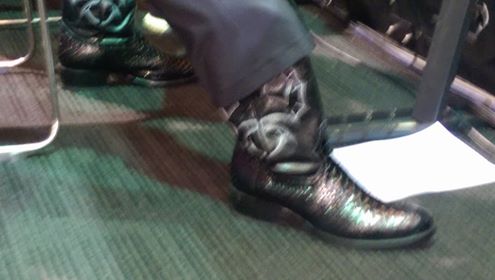 (And Scott Butler wish he'd seen them first).
These boots were made for walking, but to whom do they belong?
The fashion plate known as "KB".
ACKNOWLEDGEMENTS
CONGRATULATIONS to Matt McQuade and Liam Santamaria for their ongoing calls of the ABC Tournament, particularly for their work in yesterday's match between the two CBA teams, beamed back to China. That had to be a challenge. Also to their off-air info source, "Statman" Mark Slocombe, a major asset for us all.
REFEREES boss Scott Butler for recycling Bobby Knight's 1974 wardrobe.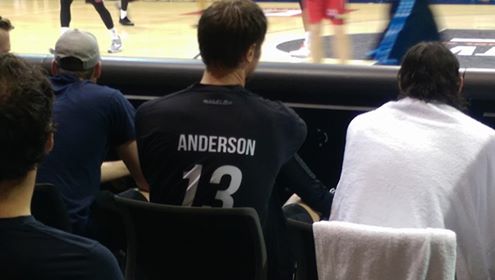 UNITED'S wardrobe department: Um, that's not how you spell your superstar's name...
THE CROWDS, for coming along in solid numbers, being vocal and engaged.
WHOEVER turned the music off.
SPOTTED
Brian Kerle
Chris Hemsworth and Tom Hiddleston. But they left separately.
FINAL CHAMPIONSHIP TABLE
Team W-L Pts
Illawarra 3-0 18.0
Cairns 3-0 16.0
Melbourne 2-1 15.0
Perth 2-1 14.0
Brisbane 2-1 12.0
Sydney 1-2 9.5
Adelaide 1-2 9.0
Zhejiang 1-2 7.0
New Zealand 0-3 3.5
Tianjin Ronggang 0-3 1.0
DAY FOUR RESULTS
Perth Wildcats 81 (Prather 16, Johnson, Redhage 15; McKay 8 rebs; Kenny, Martin 5 assts) d Sydney Kings 69 (Newley 25, Whittington 16, Garlepp 10; Whittington 7 rebs; Cadee 7 assts). Perth 6 pts, Sydney 1 pt.
Adelaide 36ers 103 (Johnson 18, Teys 17, Randle 16, Hodgson 13; Hodgson 9 rebs; Creek 5 assts) d NZ Breakers 89 (Tueta 22, Abercrombie 15, Delany 12, Rankawa 10; Pledger 13 rebs; Tueta 5 assts). Adelaide 6 pts, NZ 1 pt.
Cairns Taipans 91 (Edwin 23, Weeks 13, McCarron 11, Egwu, Gliddon 10; Egwu 6 rebs; Gliddon, Jackson 4 assts) d Brisbane Bullets 61 (Jervis 12, Young 11, Kickert 10; Jervis 6 rebs; Beal 5 assts). Cairns 6 pts, Brisbane 1 pt.
Illawarra Hawks 94 (Ogilvy 24, Harris 16, Kay 12, Clarke 10; Ogilvy 9 rebs; Martin 6 assts) d Melbourne United 86 (Wesley 19, Jackson 14, Adnam 12, Blanchfield, Tomlinson 11; Majok 7 rebs; Jackson 7 assts). Illawarra 5 pts, Melbourne 2 pts.
QUICKIE KMART, BLITZY ABC QUIZ
Who was the inaugural winner of the Ray Borner Medal?
(12,892 bonus points if you can name the year.)
a) Darryl McDonald
b) Tony Ronaldson
c) Jacob Holmes
d) Andrew Vlahov
Check back tomorrow for the answer.
Yesterday's Answer to: How many non-NBL teams have participated in the league's 20 official preseason series to date?
The answer was A) 16
1 1988 Exchequer Saints (NZ); 2 1990 Canterbury (NZ); 3 1990 Isuzu Lynx (Japan); 4 1992 Mobil Lakers (NZ); 5 1992 KIA Motors (Korea); 6 1992 Knox Raiders (SEABL); 7 1993 Canterbury (NZ); 8 1993 SBL All Stars; 9 1999 Nunawading Spectres (SEABL); 10 2000 Dandenong Rangers (SEABL); 11 2004 Cairns Marlins (QBL); 12 2005 Big V All Stars; 13 2010 Darwin Airport Resort All Stars; 14 2011 Qld All Stars; 15 Tianjing Ronggang (China); 16 Zhejiang (China).
Safe travels home!