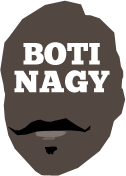 ---
Advertising opportunities available.
Please contact me.
---
Yes Gong, here comes JR: Ranking/Tips
Tweet
ROUND 7 in the NBL appears to be all about one man - reigning MVP Jerome Randle - and to a great extent it is, although there are big games right across the league.
As great a basketballer as he is - and of that there is no question - Randle last season went from a respected, tenacious star to a polarising figure in a number of venues.
The WIN Entertainment Centre in Wollongong was one of those venues, Hawkheads turning on him after his comments before their Semi Final Series against Randle's former club, Adelaide.
This week Randle, as the new star recruit of the Sydney Kings preparing tonight to re-enter the NBL and in Wollongong of all fortuitous places, was distancing himself from what he said last season.
Apparently he was "taken out of context" when he spoke - unsolicited mind you - ahead of the semis with Illawarra.
"I just don't like them. I don't like the way they play basketball," Randle said. (Seems pretty clear.)
"I don't like anything about none of the guys on the team. I'm just being honest." (Again, pretty hard to misinterpret.)
"There's a lot of dirty players on the team, that is how they play - fight first, play basketball second." (OK. I think we get it.)
During that same interview, Randle forecast the semi-final series was "going to be fight".
"They want to make it to the grand final and we want to make it to the grand final so however they throw blows, then we're going to do the same thing," he said.
"I'm from the south side of Chicago ... that is pressure being from the south side of Chicago.
"Basketball is not pressure. I don't know what pressure is when it comes to basketball because it's a game. You have just got to come out and here and play."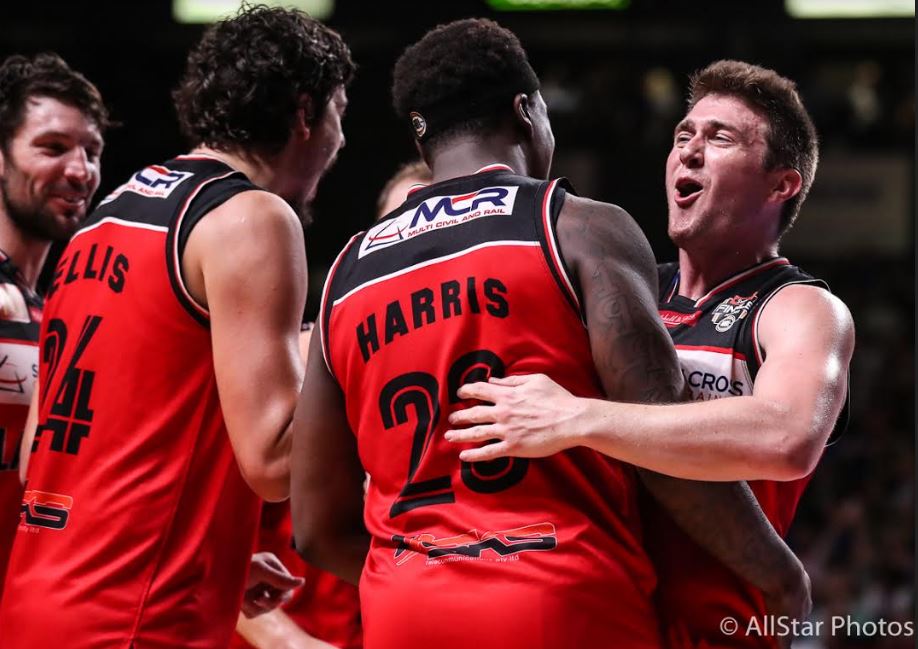 CELEBRATE GOOD TIMES: The Hawks enjoying eliminating the 36ers and Jerome Randle.
So fast-forward to this week and Randle was quoted as saying: "When I said what I said about Illawarra, I think a lot of people took it out of context.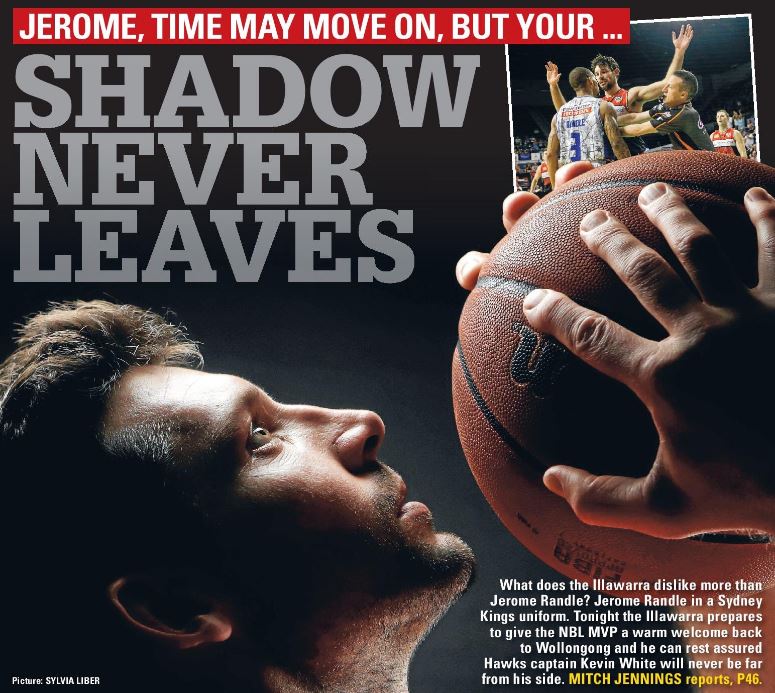 BACK PAGE: The Illawarra Mercury has its say.
"Illawarra is a team where I knew I had to bring my A-game. I'm not talking the physical game, I'm talking about the mental game. This is the team that made me think the game instead of actually just playing it.
"So my respect level for that team was at an all-time high. That was the team that I respected more than anybody and especially the coach – I think Rob Beveridge is an excellent coach and I think he brings the best out of his players."
No matter how many times I reread those original quotes, I can't find "I have to bring my A-game" or "Rob Beveridge is an excellent coach" there, even reading between the lines!
But maybe it's just me. (Read my views on Randle's return here.)
Randle has not won a game in Wollongong during his time in the NBL but Andrew Gaze has not lost there in his time as Kings' coach. It will change for one of them tonight, the overall record between Sydney and Illawarra in Wollongong 21-21.
CAN confirm there's no truth to scurrilous rumours children aged 8 and under are being given plates of party pies and pasties, (plus sauce), by the Hawks, to offer Randle's wife, should she make it to The Sandpit tonight.
Other "sauces" tell me she will be stashed away in a suite at the 36ers' game in Adelaide on Saturday.
SIXERS coach Joey Wright says he expects the crowd to be divided when Randle leads the Kings into Adelaide on Saturday.
He also says there won't be anything "personal" about the clash, the 36ers' No.1 priority now to get its house (and game) in order.
ALWAYS felt the WNBL's weekly "Team of the Week" was an excellent concept.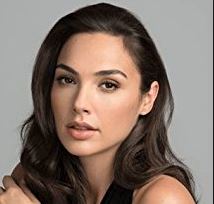 Basketball is a team sport, after all.
I just can't take seriously any "team of the week" which doesn't include "Wonder Woman", Gal Gadot.
Just saying.
(And yes that's right, Justice League opens today ... but it will need to be pretty special to top Thor Ragnarok.)
STRONG rumours afoot that two of the NBL's more senior referees have decided to blow the whistle own their own careers after not enjoying their recent performance reviews. (Good thing it wasn't coaches, players or fans doing the reviews then!)
A "whistleblower" told me (you see what I did there?) the duo pulled the pea, effective immediately, within 48 hours of each other.
PRETTY sure NZ basketball caller Andrew Mulligan will be tuning in tonight for the Sydney Kings' clash with Illawarra Hawks.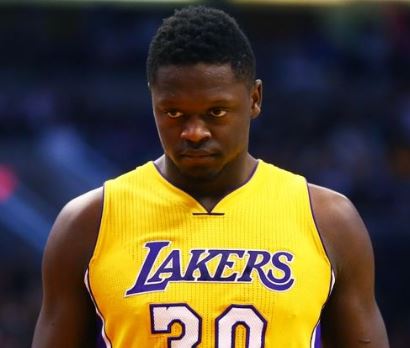 But it won't be "Julius Randle" running around with those Sydney Kings as he suggested last week.
(Or even Jerome Hodge, for that matter.)
But hell. I think most of us can agree to give Andrew a mulligan on that one, considering the regular quality job he and Casey Frank give us on the TV games from across the Tasman.
Compliments too for his regular stellar work on the weekly WNBL matches to Warren Smith, who definitely appears to have a good feel for the game. Carly Wilson and Lauren Jackson make great co-hosts, even if we are getting a bit of a Canberra-skew.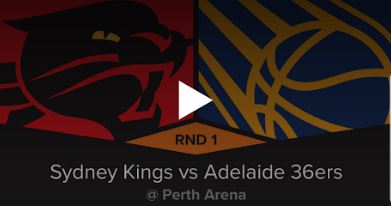 Can't complain too much about the TV coverage generally, though our policy here is "better late than never," so here's an interesting Fox graphic from way back in Round 1, submitted by B.O.T.I. reader Paul Smith for your enjoyment.
Or confusion.
It's wrong in so many ways, it's almost right!
NBL TIPS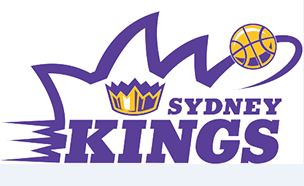 V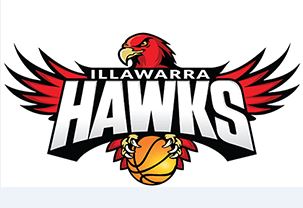 THE Kings' two wins this season are against Illawarra, though the Hawks pulled one back recently and after their systematic dismantling of Adelaide, should start this one full of confidence. The "Jerome Factor" will be huge for Sydney and Jeremy Tyler offers a foil for AJ Ogilvy, if the big American can stay out of foul trouble. With Randle handling the playmaking duties, players such as Brad Newley and Perry Ellis can enjoy some breathing space and the Kings WILL be feeling they are now back in the NBL playoff hunt. This is such a tough call but I'm leaning toward Rotnei and Co.
PERTH isn't in the habit of losing three games in a row - that is unless all three are against New Zealand - but the defending champs face that prospect in Brisbane. The Bullets are coming off a good win over a depleted Cairns but it feels like their match against the NBA's Phoenix Suns was a long, long time ago. Despite their twin losses to the Breakers, Perth was deeply in both contests so it's not as if the Wildcats' form is shot or anything. Tokoto versus Buford should be fun, as will how Brissy's backcourt handles Cotton. But at this point, it is hard to see Perth dropping this one.
JEROME Randle's return to Adelaide is sure to fill the stands at the Not-Much-Of-A-"Fortress"-Lately. Will fans cheer his past heroics or jeer his defection is the question? Were all those "never play for another NBL club" or "Joey Wright is a great coach who has freed me to love the game again" quotes real, or taken out of context? One thing is for sure. This is the season-defining game for the 36ers. After the so-called controversy over Nathan Sobey, then Wright calling out Shannon Shorter and Daniel Johnson, his team either will respond in this one, or splinter. Jeremy Tyler's addition to the Kings opens the door for Matt Hodgson to step up too. Adelaide wins, or it's a long way back.
WITH Michael Carrera's ankle injury sidelining him again, Illawarra would have to like its chances of a win at Cairns. The Taipans are playing well - home wins over Perth and Melbourne (last round) were huge - with players such as Mitch McCarron and Cam Gliddon returning to the type of touch that made them Gold Medal-winning Asia Cup Boomers. The Orange also peeled off a win over the Hawks here in Round 1, the game in which Nate Jawai was injured. That was an 88-87 win, the blueprint for another thriller, Cairns with a week to prepare, Illawarra rolling. Hmm. The Hawks to win.
SPARK Arena hung the "sold out" sign early this week ahead of New Zealand's return across the Tasman to host Brisbane and three-time Breakers championship-winning coach Andrej Lemanis. With all due respect to Drej, his assistant CJ Bruton and Tall Blacks star Reuben Te Rangi, the sell-out actually was the fans' way of saying: "We love you, Mika Vukona" and rightly so. The stalwart superstar who played his 400th NBL game last round in Perth - for another win - will be feted and celebrated. And somewhere during the party, the Breakers also will beat Brisbane.
IT was billed as the "grand final preview" by some when Melbourne crossed the Bight and faced the Wildcats in Perth earlier in the season. (That was, of course, before the Breakers pumped their winning streak out to eight.) The defending champs took care of business but this time around, having to also play in Brisbane, Perth will be up against it to repeat that win at Hisense Arena. United has started to find the cohesion necessary to be a contender, when it isn't getting caught up in peripherals and having its bare butt exposed by a well-organised team such as Cairns. Perth is certainly every bit as prepared, but Melbourne should respond to this challenge in front of its own.
NBL RANKINGS This Wk-Prev (Record)
8 (8) KINGS 2-7: Have everyone they need now to start moving forward with no excuses.
7 (7) BULLETS 3-4: Bounced back but now face both top teams in a difficult weekend.
6 (6) TAIPANS 4-6: Carrera hurt again put dampener on United upset but can take Hawks.
5 (4) 36ERS 4-5: Statement game coming up for sure if they are to stall sudden slide.
4 (5) HAWKS 4-5: Roads wins last round were gold and can get two more Ws this round.
3 (3) UNITED 5-4: Must halt tendency to lose to lower clubs but will be up for Perth.
2 (1) WILDCATS 5-3: Met their match in NZ and will crave two road wins. Probably a split.
1 (2) BREAKERS 8-1: Back at the summit and at home to Brisbane should take streak to 9.
WNBL TIPS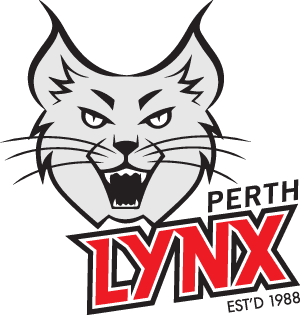 V
ROLLING into form as this team gels, Perth heads into Bendigo where the Spirit are dealing with the loss of Kelsey Griffin for the rest of the season. As Betnijah Laney gets back to 100 per cent, there can be no discounting Bendigo but the weight of numbers and talent across the Lynx suggest problems for the home team. Yes, Bendigo previously beat them at home by 35, but then took a 27-point welt in Perth. With Courtney Williams and Sami Whitcomb firing, Alice Kunek in great form and Kayla Standish reliable, it definitely favours Perth to go ahead 2-1 in this series.
THE psychological bruise of Townsville's recent 42-point rout of Adelaide will play some role in this game. A number of Lightning players looked beaten before tip-off and a much harder-nosed approach will be necessary to curtail the twin influences of Suzy Batkovic and Cayla George - both very comfortable at The Lighthouse. So too Mia Murray. Righting their ship last round despite dropping a close one to Melbourne, the Lightning need an interior strategy (Cambage had 44 on them last round) and more players to back themselves offensively. The Fire to win, but much closer.
NOW boasting a lineup as close to "full strength" as possible following Jenna O'Hea's return last round and Louella Tomlinson settling in, it becomes a huge challenge for Canberra to upset the Boomers in Melbourne. The persistent problems with concussion for Olympian off-guard Rachel Jarry have left the Capitals under strength and much will fall on Lauren Scherf's young shoulders to try and rein in the influence of Liz Cambage. The dual-Olympian scored 44 last round on Lightning and again will own the keyways unless Paul Goriss finds a magic formula. Melbourne to win.
STILL reeling from the revelation Sara Blicavs (ACL, meniscus, knee fracture) is out for the rest of the season, Dandenong has its first outing without her against a similarly afflicted Bendigo, which is minus Kelsey Griffin for the rest of the 2017-18 journey. The Spirit have had time to adjust while this one will be a test of how the Rangers have reshuffled, more pressure now falling onto players such as Carley Mijovic, Amelia Todhunter and Tayla Roberts to provide greater consistency. At home, and with Steph Blicavs immediately ready to step up, it feels like a Rangers win.
HAVING won previously in Perth, fired up after losing in Adelaide, Sydney will hit the west keen to reassert itself after last round's home beating by Melbourne. The character of the Flames will be under the microscope, considering another contender, Townsville, was beaten by the Lynx in Perth and that they have found their new identity. Having the opportunity to fly in and wait for Perth to return from Bendigo also helps Sydney, which is why I am leaning toward the Flames to win again. But Perth rising to the challenge would be no surprise and, in fact, stamp it as another contender.
WNBL RANKINGS This Wk-Prev (Record)
8 (7) SPIRIT 2-7: The loss of Griffin is monumental and it will take a lot to break back.
7 (8) CAPITALS 2-8: Finding the going tougher now and it won't be any easier at Melbourne.
6 (3) RANGERS 4-5: Losing Sara is a big adjustment but can settle new rotation this round.
5 (6) LYNX 4-4: On the rise and can make a genuine statement his round, away and home.
4 (4) LIGHTNING 6-4: Got the split and unlucky not to go 2-0, now its Fire "revenge" time.
3 (2) FIRE 6-3: Will find a different Lightning waiting in Adelaide but still favourite.
2 (1) FLAMES 7-3: Took a welt from the Boomers in Sydney and must KO Perth in the west.
1 (5) BOOMERS 7-4: Big rankings jump but beating champs, then backing up will do that.
PS
I blame Jerome ...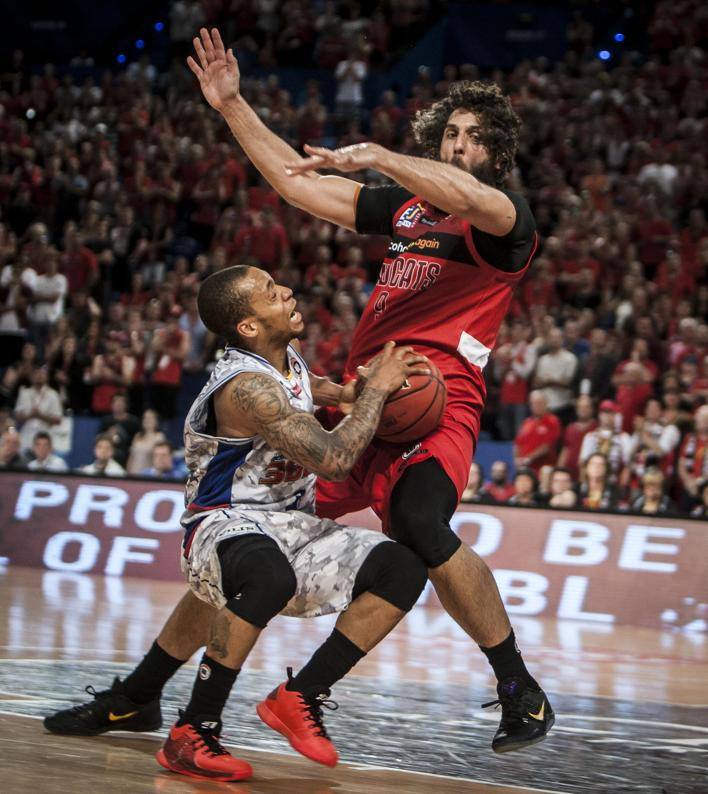 What? Too soon?