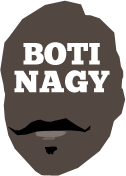 ---
Advertising opportunities available.
Please contact me.
---
Adelaide-Perth set for a new chapter
Tweet
THE rivalry between the semi final's pairing of Adelaide 36ers and Perth Wildcats may not be the NBL's oldest but it is the richest, long pre-dating any Brendan Teys-Dexter Kernich-Drew kerfuffle.
While FOXSPORTS and the league are sure to trot out the footage from the regular season melee at Perth Arena, and Sixers coach Joey Wright losing it at Wildcats' assistant Adam Tatalovich (below) after a heated exchange on Valentine's Day, 2014, they're only scraping the tip of the iceberg.
This starts all the way back in 1987 and a man named Cal Bruton largely is to blame.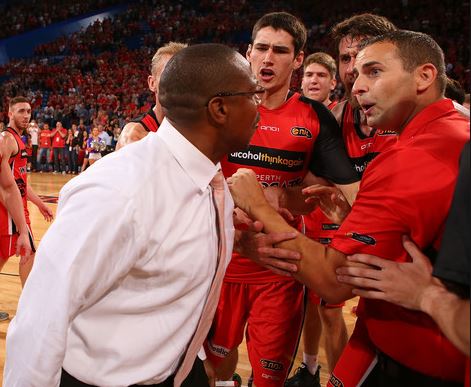 The 36ers and Wildcats entered the NBL together in 1982 as the Adelaide City Eagles and Westate Wildcats respectively, and it was the South Aussies who immediately found their niche. They went 15-11 on debut to the Wildcats' 10-16, then followed up with 11-11 to 6-16.
In 1984, Adelaide was into the playoffs off a 16-7 springboard, the Wildcats last in the Western Division of the NBL's 17-team competition, with a paltry 3-20 mark.
As the 36ers made it to the 1985 Grand Final, Perth enjoyed its first "break even" season on 13-13. That slumped to 8-18 in 1986 as the 36ers produced the "Invincibles", the most successful single-season team in NBL history, with a 24-2 mark and both losses on buzzer-beating shots, keeping them six seconds from a perfect 26-0 season.
Enter Bruton, recruited to Perth as player-coach from Brisbane, where he had seen the Invincibles first-hand win the championship from a Bullets team which boasted Leroy Loggins – the league MVP who averaged 29.8 points, 8.9 rebounds, 3.1 assists, 3.3 steals and 1.3 blocks per game – American-born Ron Radliff, Dave Nelson and Tom Gerhardt, Boomers superstars Larry Sengstock and Danny Morseu, and future Olympians John Dorge and Robert Sibley.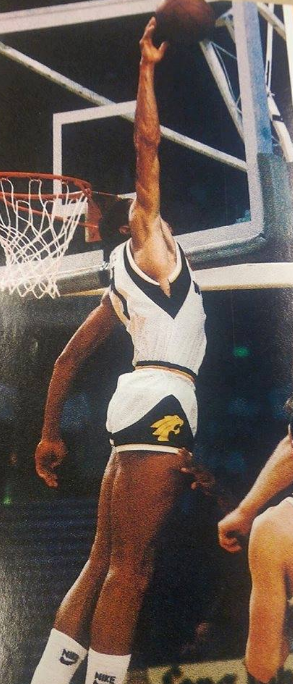 That was one hell of a team in the first great rivalry, the 36ers versus the Bullets. And Brisbane had come off second-best.
Recruited to Perth, Bruton openly declared he was modelling the new Wildcats on the 36ers of 1986.
"I knew what I had to do," Bruton recalls with fondness. "I looked at Adelaide's 1986 team and said 'that's our blueprint' for success.
"The Wildcats' owner at the time, Bob Williams, recruited me to build a championship team so I took a leaf out of Adelaide's book."
Bruton recruited frontcourt import duo James Crawford (right) and Kendall "Tiny" Pinder as his foils for Adelaide's rebounding beasts Mark Davis and Bill Jones.
He had himself to match up against friend and adversary Al Green, with Alan Black and Mike Ellis as his answers for Darryl Pearce.
"I recruited Steve Davis for Peter Ali, Dan Hickert for Dwayne Nelson, we had Eric Watterson for Ray Wood, Trevor Torrance for Mike McKay," Bruton said, having an answer for every Adelaide strength.
(Of course, it helped that the 36ers' Hall of Fame coach Ken Cole had been dismissed by Adelaide's board, with NBL rookie Gary Fox appointed. But that's a story for another day.)
At the 1987 pre-season Schweppes Tournament in Sydney, the long-time Wildcat "easybeats" immediately turned heads, arriving in stunning white tracksuits, the club having undergone a complete image makeover.
White slacks and black blazers, over shirt and tie was the new Wildcat image, the days of thongs and T-shirts banished.
"We needed to look the part too so I went to Nike and got everybody the same shoes," Bruton said. "That was a big deal in 1987.
"My wife designed the uniform, the new logo was aggressive, we were on our way."
In Sydney, the Wildcats swept through to the preseason Grand Final, Bruton's "copy" beating the blueprint 36ers. "We won $15,000 for winning the pre-season tournament," Bruton is still pleased to remember, Bob Williams collecting the cheque below.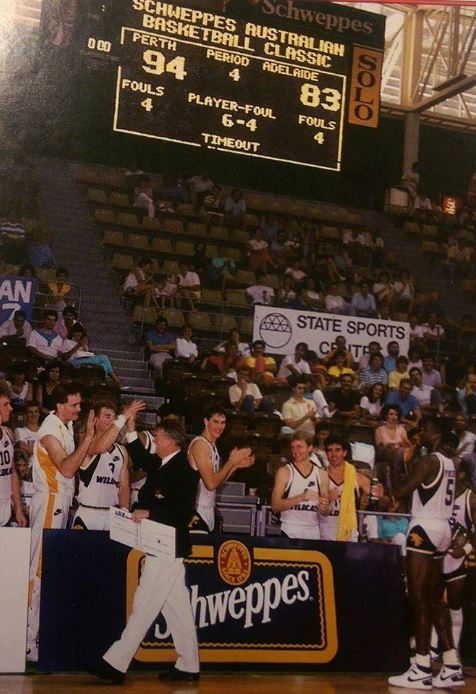 Fast-forward to the semi finals and it was a promoter's dream with the copy and the original drawn to face off. The 36ers won the opener in Perth 99-98 and only had to win one of two games at home to advance to a third straight championship series.
Bruton and Green got into each other at Apollo but it was James Crawford who turned Game 2 on its ear. The 36ers were double-digits in front going into the final quarter but Crawford was majestic, his baseline corner jumper a thing of relentless beauty and accuracy.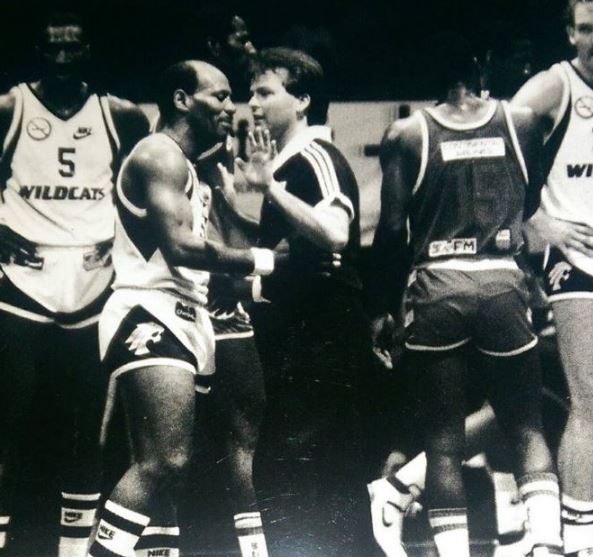 NOT SO FRIENDLY: Referee Robbie Barnett separates Cal Bruton from Al Green in Game 2.
When the dust cleared, Perth had outscored Adelaide 31-19 in the last, Crawford had scored 40 points, the Wildcats had won 101-99 and not only tied the series 1-1 but shattered the 36ers' self-belief.
Perth's Game 3 win 103-93 was more convincing than the scoreline, Crawford good for a further 34, the Wildcats into their first Grand Final Series.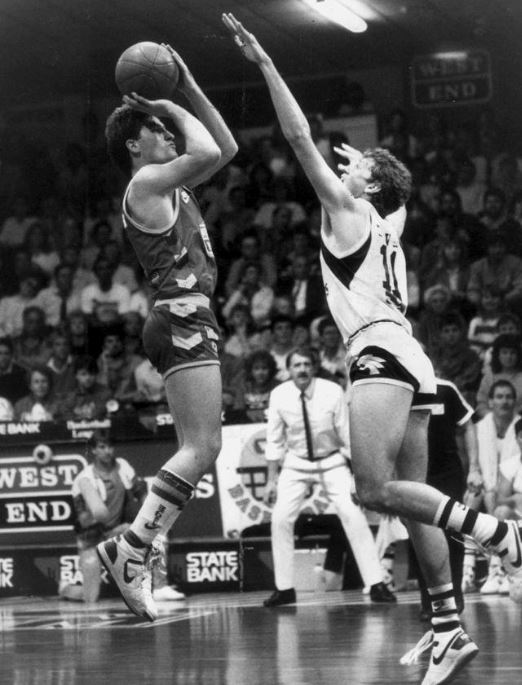 PERTH ADVANCES: Steve Davis pressures Darryl Pearce's jumper in Game 3.
They were back to the semis in 1988 and knocked out Adelaide in another torrid three-game elimination final in 1989.
There is no doubt, the Wildcats had taken Adelaide's mantle as the league's leading program.
It took until 1990 for them to claim their first championship, Bruton at the coaching helm, having brought another stellar superstar to the club in Ricky Grace (right).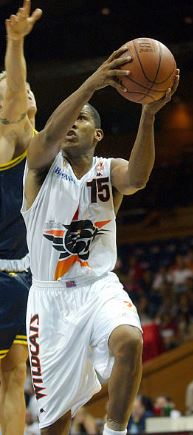 Bruton hype about Grace — "he's so fast, he can steal the hubcaps off a moving car" — continued to captivate the club's burgeoning fanbase, the Wildcats going back-to-back with the 1991 crown.
They swept Adelaide 2-0 in the semis that year, maintaining their mastery in what had become the league's No.1 rivalry.
Now the club also had a homegrown superstar to build around, Andrew Vlahov (below) the Rookie of the Year and bound for a magnificent 349-game career for Perth.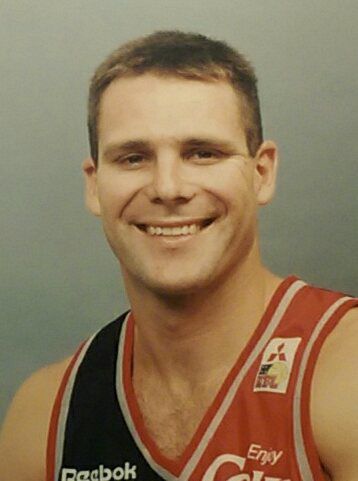 Vlahov's 3-pointer for the win did a "lap of honour" before it decided to stay out and Melbourne had saved Game 3 of the 1993 NBL Grand Final Series, 104-102.
A year later it was Adelaide losing a Grand Final series to North Melbourne, including an overtime thriller but in 1995, Perth beat the Giants for the title, Vlahov the Grand Final Series MVP.
To get there, the Wildcats knocked out Adelaide in a semi final series which featured 36er Chris Blakemore smashing Wildcats forward Martin Cattalini in the face in Adelaide and Sixers import Robert Rose requiring stitches in his mouth after copping a midseason elbow at Perth Entertainment Centre.
In 1998, Adelaide swept Perth out in the semis, en route to the club's first championship since those 1986 "Invincibles". It had been a long dry spell.
Mirroring Perth's 1990-91 back-to-back championships, the 36ers went back-to-back in 1998-99, this time sweeping the Wildcats in the elimination final series. This time it was Vlahov and Sixers import Kevin Brooks (right) having a verbal war after the latter referenced the Perth captain's overly physical play.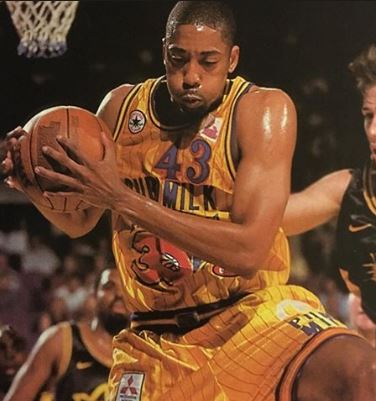 That same season, Wildcats import guard Clint McDaniel was suspended for striking 36ers forward David Stiff in another heated Perth Entertainment Centre tryst.
Only two NBL clubs have ever played in the sadly now defunct McDonald's World Club Championship, featuring the NBA champs and champion teams from the continents. Perth competed in London in 1995, Adelaide in Milan, Italy in 1999 – Cattalini a member of both teams.
Perth won it all again in 2000, former Adelaide 36ers centre Paul Rogers winning league MVP honours in the process as the centrepiece of the Wildcats' title drive.
In 2002, the 36ers returned to the top of the NBL tree again and in 2003, Perth lost the championship series to Sydney.
Championships dried up until 2010 when Rob Beveridge guided Perth back to the dais, beating Illawarra Hawks, uncovering a super talent in Kevin Lisch in that process, and winning with another former 36ers centre, Luke Schenscher.
Somewhere in there too, 36ers import Adam Ballinger hit a match-winning shot over the Wildcats, Brett Maher had a blinder to force an New Year's Eve game into overtime where he again took over, and Shawn Redhage shattered his hip in Adelaide, an injury he was not supposed to return from. It's been a fairly wild ride.
But it took until 2014 and the arrival of Joey Wright as Adelaide's coach for these two storied rivals to finally meet in a Grand Final Series.
Tied at 1-1, the decider was at Perth Arena, the Wildcats delivering a crushing 93–59 win in front of 13,498 fans.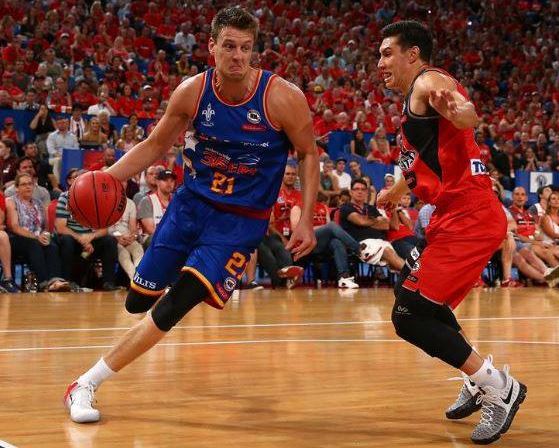 While the 36ers have returned from a period in the doldrums for the decade between 2003-2013, Perth has gone on to win back-to-back championships in 2016 and 2017, the Wildcats chasing their first "threepeat."
Adelaide putting an end to that dream would add a further chapter to the best rivalry in the NBL, although 32 consecutive finals appearances still sets the Wildcats apart as one of the most successful pro sporting organisations in the world.
"Perth is notorious for playing hard," Joey Wright said of the Wildcats' program.
"They're one of the best sporting institutions in the world, in any professional sport. OK?
"Their guys are trained by their public that WE take this series. There's 15,000 people show up down there and they play extremely hard, every game.
"So if you bring a team in there that's going to play extremely hard with them, there's going to be some things that happen.
"I love the way Perth play. If I'm going to sit there and watch a game, it's probably going to be a Perth game. I love the way they play – they play hard."
Expect the same in this semi final series, which opens Saturday with Game 1 at Titanium Security Arena. Just remember, this rivalry wasn't born yesterday.
TOMORROW: NBL awards
WEDNESDAY: Melbourne-New Zealand, the newest rivalry