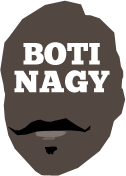 ---
Advertising opportunities available.
Please contact me.
---
Adelaide united, still thrashed: NBL Rd.15 Wrap
Tweet
BIJAN Johnson's post-game behaviour to set off a potential melee after Adelaide tonight was thrashed by 23 points, reflected everything that is wrong with the 36ers' in NBL Season 2018-19.
If you've never heard of the kid, it's because he's a development player who Sixers coach Joey Wright gifted with 77 seconds of court-time after reigning champion Melbourne United was well on its way to a resounding 114-91 rout in Adelaide, the club's biggest loss in three years.
BJ had time to abort two free throws and collect two fouls and as a DP, should have been happy his teammates again degenerated in the last quarter sufficiently for him to hit the hardwood.
So to then shove United import DJ Kennedy at the post-siren team-to-team handshake, allegedly because the American wouldn't shake his hand, reflected behaviour best described as undisciplined, unprofessional and completely inappropriate.
It set off a minor scuffle, push-and-shove, referee Damian Lyons rightly overheard saying: "Control your players."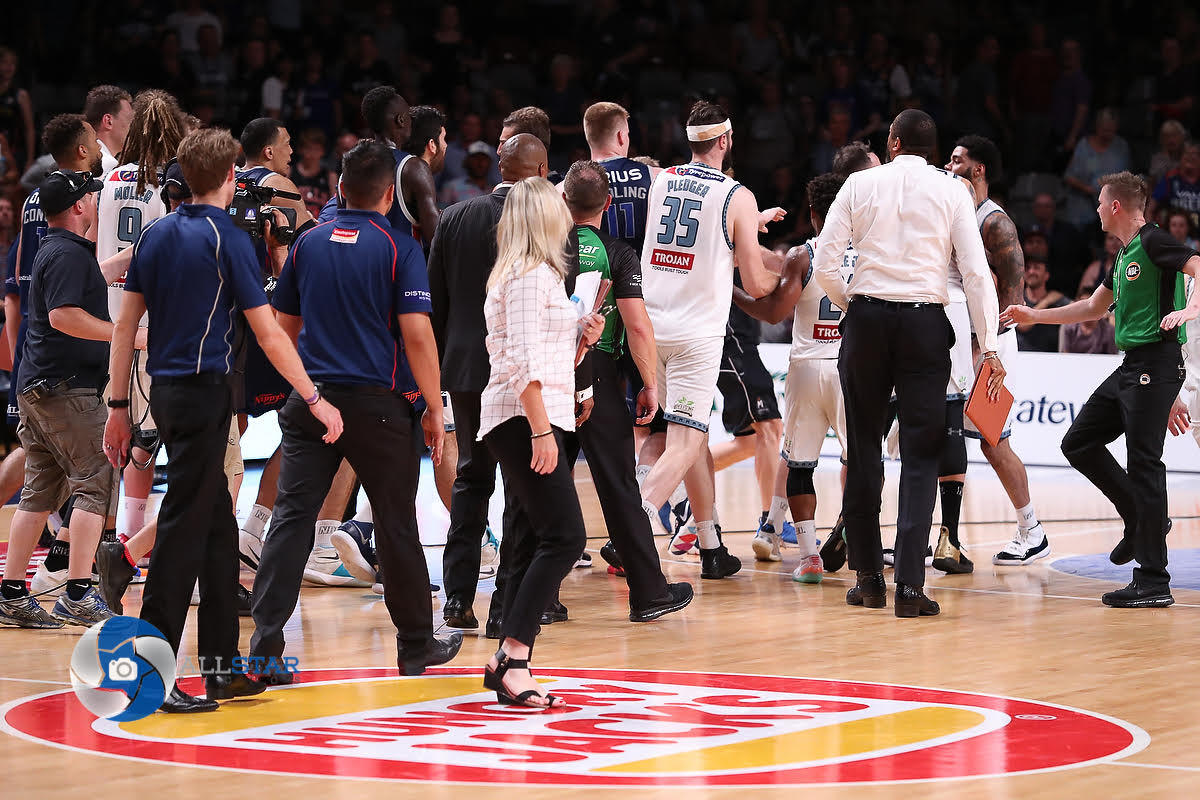 And that's Adelaide's biggest problem. Too many of Wright's men are still boys mentally and their immaturity rises to the surface far too easily.
Volatile? Try juvenile.
United seized the upper hand early and when Chris Goulding swished a 3-pointer to close the first quarter, it was comfortably ahead 31-20.
Some inspirational play by Jack McVeigh (11 points, 9 rebounds, 8 offensive), Harry Froling, and Nathan Sobey with 13 points for the period, ignited Adelaide and its fans.
They rarely were louder than when Wright took time-out with 1.0 second to play to halftime to execute a play which saw Sobey swish a buzzer-beating three in front of his bench, tying the game 48-48 at the interval.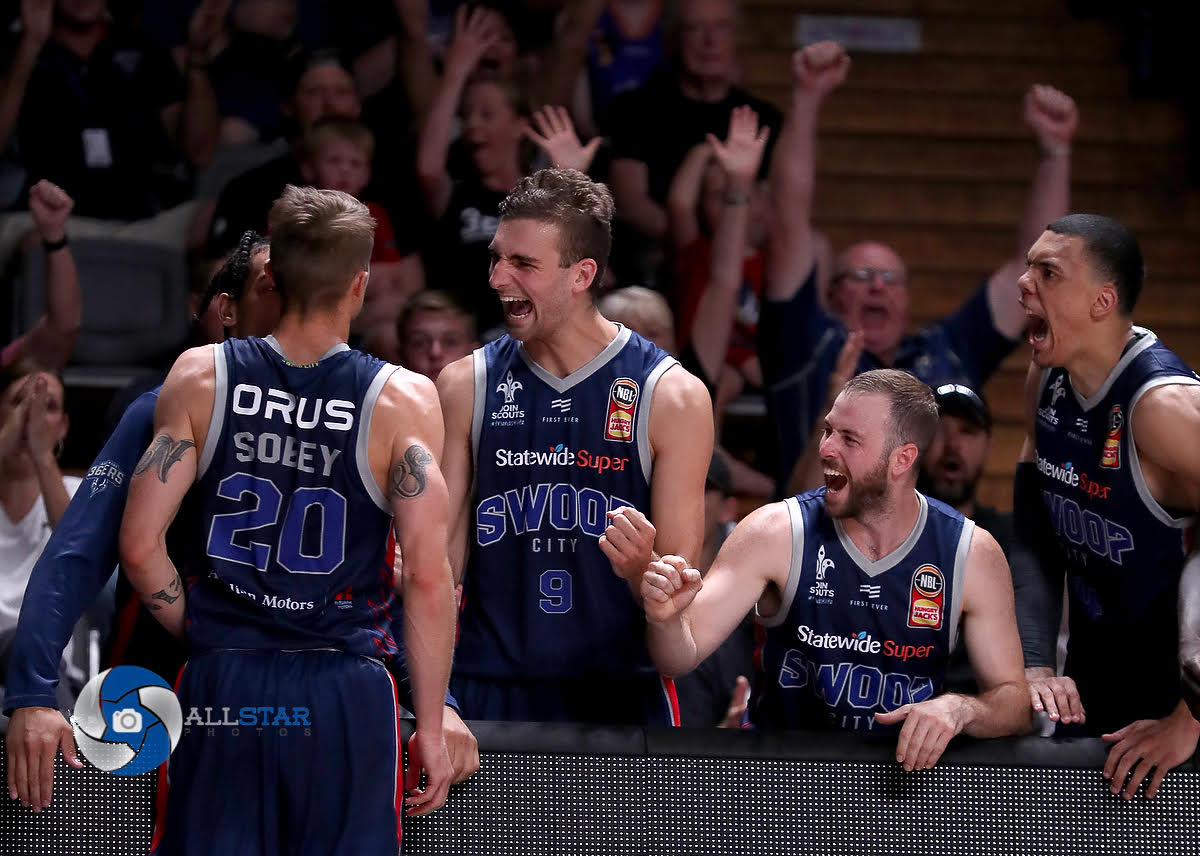 The selfishness which soured the awful loss in Perth was not evident and there was little reason to suspect what would follow.
But what followed was Casper Ware, jeered by the crowd for shoving Shaun Bruce in an earlier incident, reacting with a 12-point, six-assist second half, en route to 16-and-nine.
Josh Boone (19 points at 75 percent, 10 rebounds, three assists, two steals, four blocks, 0 turnovers) killed, as Adelaide, which pulled ahead to lead 57-54 in the third term, then was helpless in the face of a 14-0 United onslaught.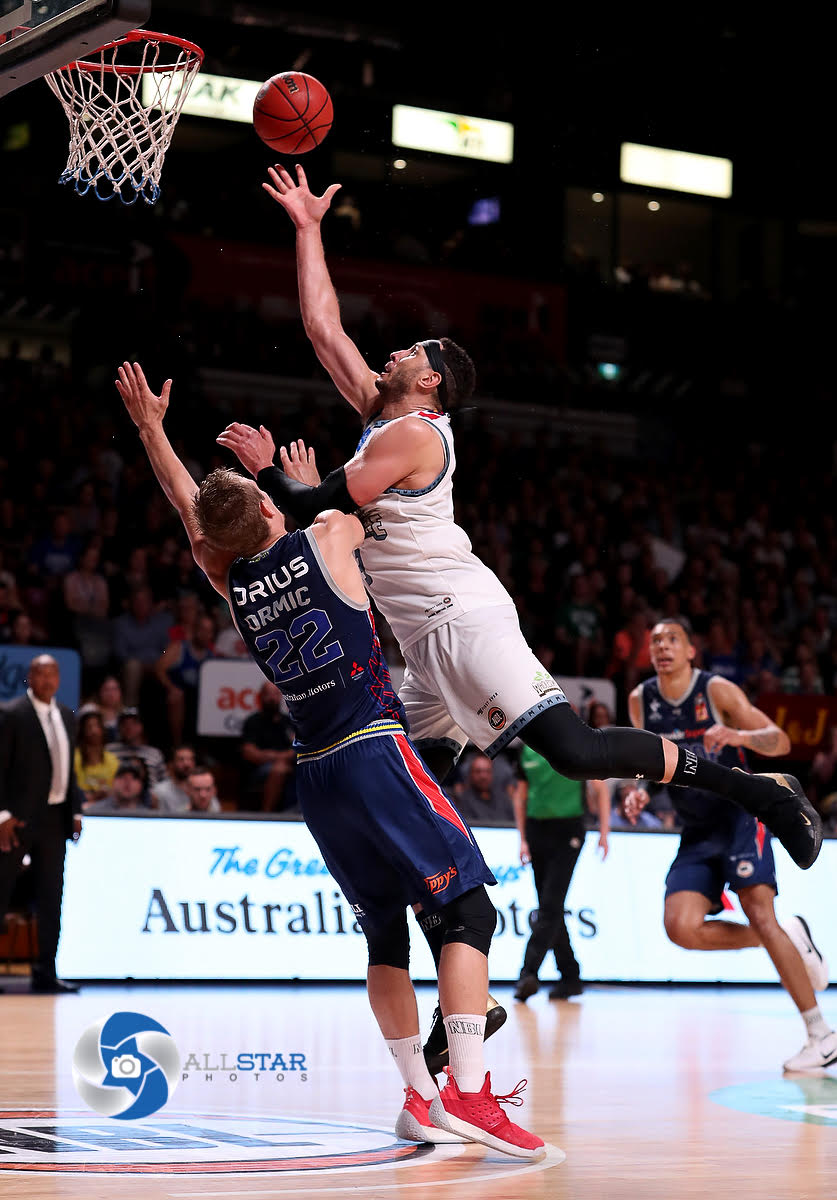 Goulding stuck three 3-pointers in the final period as the margin blew out further, United exploiting the 36ers' defensive rotations out of double-teams to consistently find open shooters.
Adelaide's offence fell apart accordingly, and in a now-familiar last quarter manner, the Sixers' shot selection and halfcourt decision-making turned to manure.
"We played together, but we didn't play well," Wright said, crediting Melbourne for its performance.
As for the absurd post-game incident and its culprit, a kid with attitude when he should have shown gratitude, Wright saw it differently.
"Every team needs a BJ, every team needs a BJ," the coach said. "And that kid, in a couple of years, when he gets it all together, is going to be a dynamite player.
"I mean, there's not any Australians in the league as quick as him, that's for sure.
"He's got some things to work on but his ability to finish around the rim and get past people is uncanny. So he plays with a lot of fire but every team needs that, every good team needs that."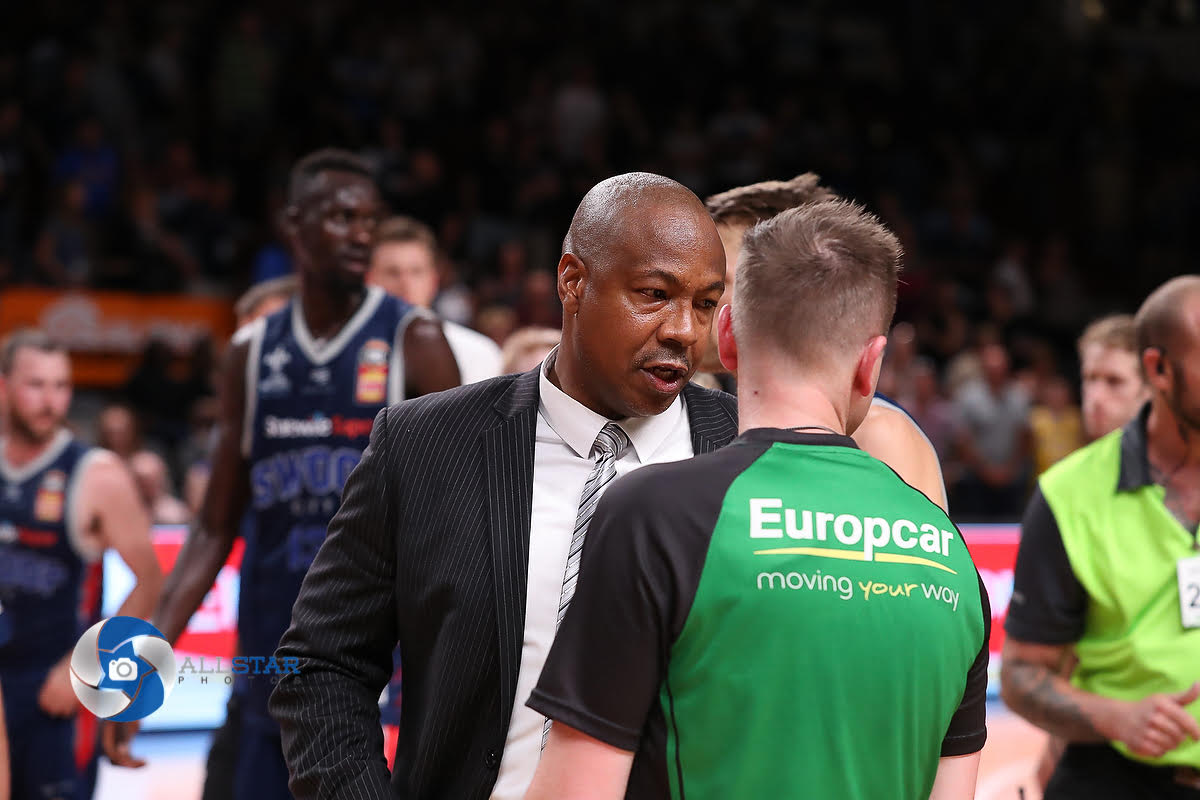 Every good team may "need that" but Adelaide is far from a good team, once again blowing a chance to relegate Brisbane from the top four and running halfcourt sets in which players even ran into each other, such was their level of confusion.
Melbourne, meanwhile, behind Boone's 19, had four players with 16 points - Mitch McCarron, Kennedy, Goulding and Ware - and looked every inch a league-leader and title favourite.
This week, at least.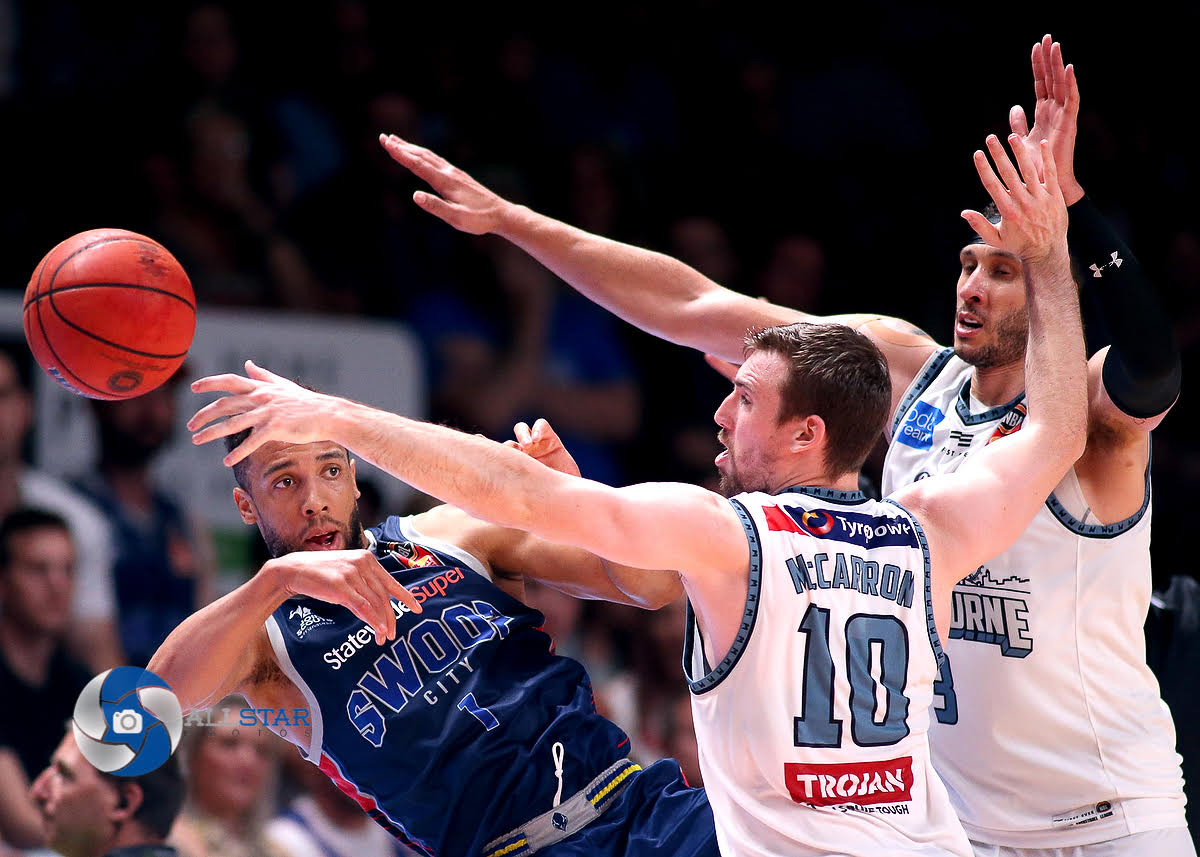 EARLIER in MELBOURNE, United had seven players in double figures with a quarter to go as they smacked Illawarra by 24 points at Hisense Arena.
Casper Ware was at his best with 25 points as United's 37-17 third quarter put this one into the record books.
In NEW PLYMOUTH, Cairns hung around and hung around but could not take the final steps to pinch a win off New Zealand, as Shawn Long masterminded a 113-106 Breakers' success.
Both Melo Trimble (31) and DJ Newbill (32) scored over 30 points for Cairns – the only other time that has happened for the Taipans was in 2002 and it was a pair of Aussies, Aaron Trahair and Anthony Stewart.
With Long leading the way for the Breakers on 32 points - 23 in a dominant first half - it was the first time in a decade three players had 30 or more in an NBL game.
But in the end, it was the W which was most important, Tai Wesley also playing his part with a career-best 10 assists and Newbill finishing the game with a vicious dunk on his former team.
In BRISBANE, the Bullets spluttered and tumbled to Sydney despite the Kings going the entire game without snaring a single offensive rebound, only the third time in NBL history that has occurred.
While Cam Bairstow continued his game's elevation this season, it was Andrew Bogut showing off his NBA bona fides with 20 points, seven rebounds, four assists and three blocks.
Sydney did its work at the defensive end and had important contributions across the board, while Brisbane's great depth appeared to serve no purpose.
In PERTH, after a 32-point opening quarter by the 36ers, the Wildcats shut down the league's high flyers, Damian Martin scoring 15 points, Clint Steindl and Bryce Cotton with 19 apiece.
For the full game, go here, but the cost was great for Perth, with Boomers playmaker and boom off-season signing Mitch Norton tearing a calf in his left leg and now out for the rest of the regular season, at least.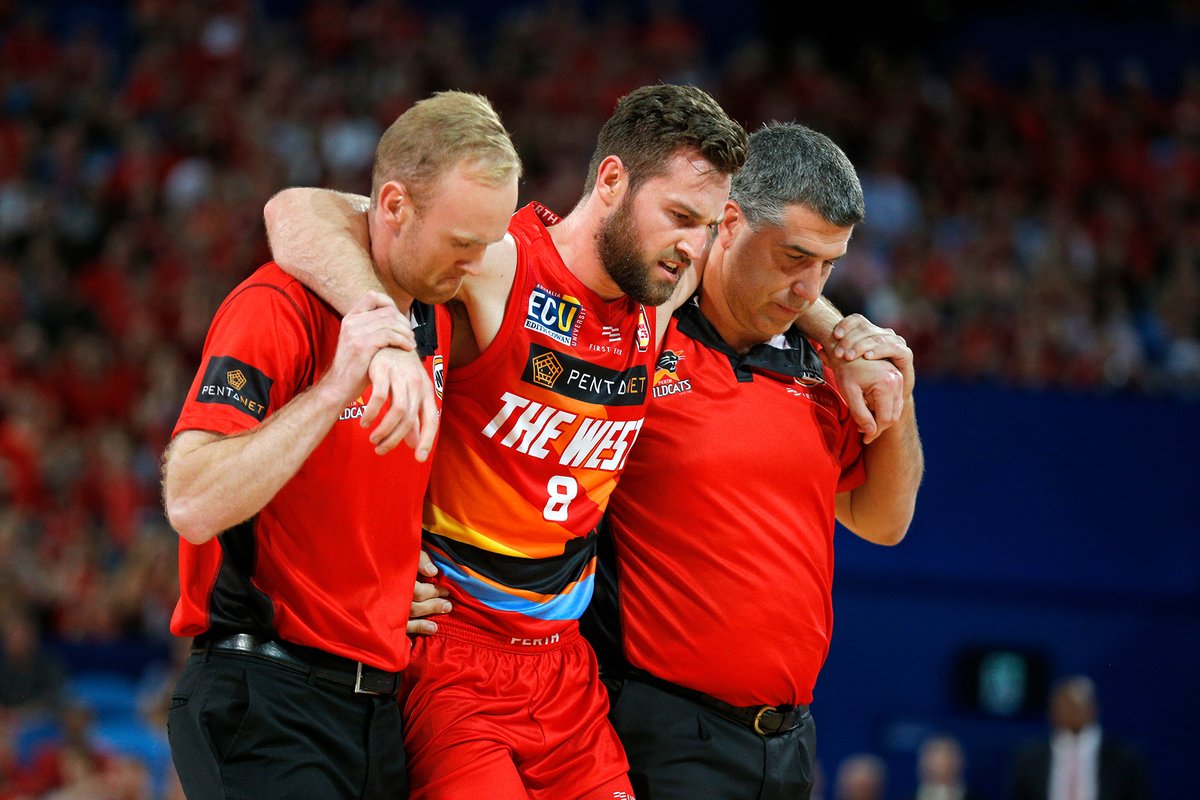 In CANBERRA, the AIS Arena was steaming hot, necessitating warm weather breaks as Illawarra scored an important 82-81 win over Cairns.
It was a struggle for both teams but the Hawks owned the initiative, AJ Ogilvy's 10 rebounds invaluable and, despite his best efforts, Kevin White unable to substantially unsettle Melo Trimble who still led the game with 24 points.
The Hawks led by as many as 18 points before Cairns came back to force it to the wire, without ever truly looking as if they would snatch it.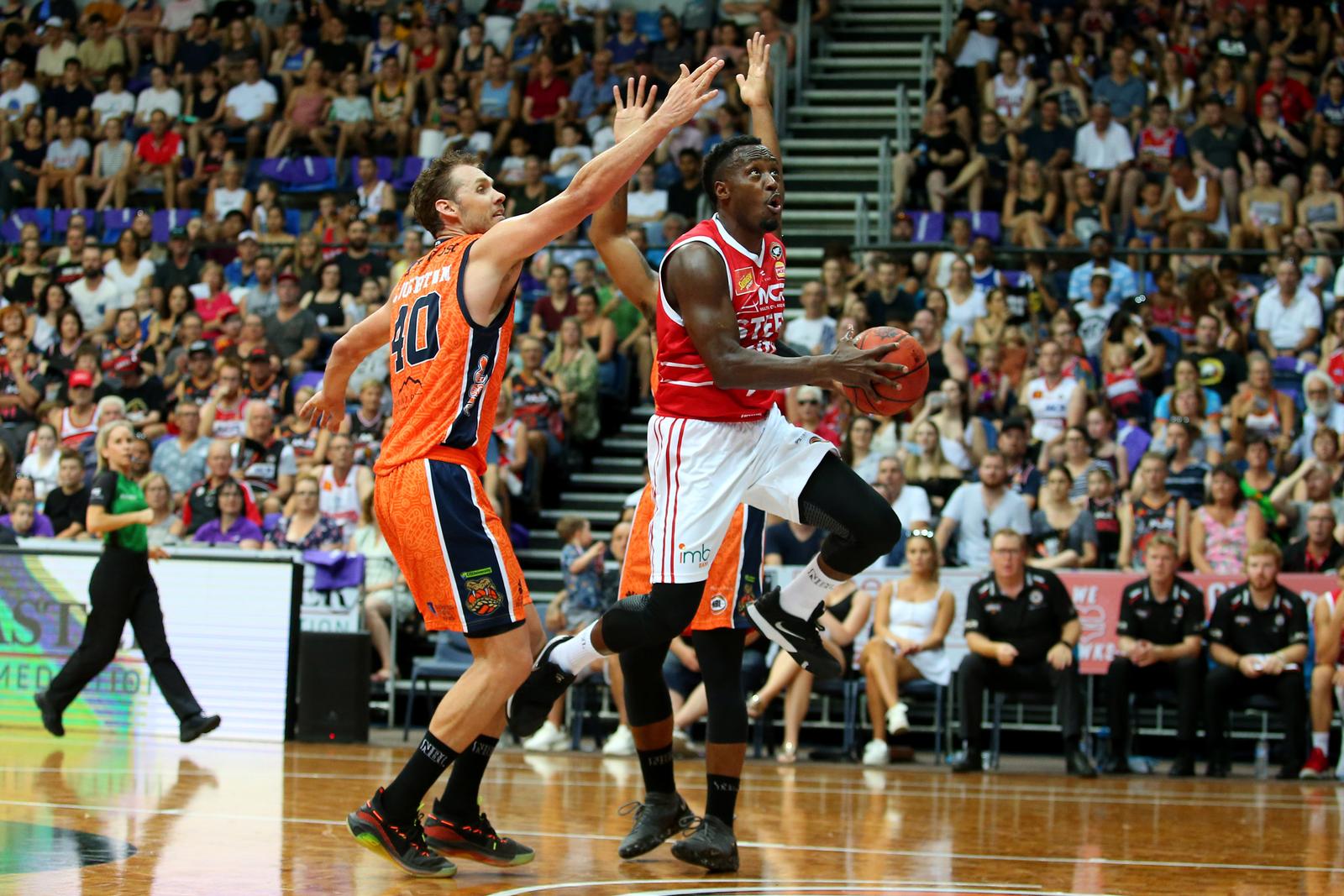 In AUCKLAND, there was a bit of feeling in this one as former Breakers coach Andrej Lemanis brought his Bullets into town, only to be run out of town by the flaky Breakers.
This time New Zealand produced the best version of itself, Shawn Long again influential (23 points, six rebounds, two assists, three steals, two blocks) but Finn Delany an X-Factor with 17 points on 7-of-9 shooting, plus five assists.
The Breakers led by as many as 16, and had it locked away with time to spare.
In SYDNEY, the Kings played like paupers and even despite playing without Mitch Norton, Perth absolutely smacked the home team.
It is almost as if the Wildcats lift and play better when a key player is missing as, so far, they have gone 6-0 with captain Damian Martin sidelined, 3-0 without import Terrico White or Boomers centre Angus Brandt, 2-1 when league MVP Bryce Cotton was out and now 1-0 without Norton.
That ability and character to dig deep in the face of adversity was completely at odds with the dross Sydney served up after quarter-time, held to a miserable eight second-quarter points, the lowest by any outfit this season.
The 27-8 period underpinned Perth's resolve as Clint Steindl's 18-point game high was off six 3-pointers, the Kings choosing to resemble traffic cones defensively. Nick Kay again was a standout with 16 points (at 85 percent), 10 rebounds and seven assists.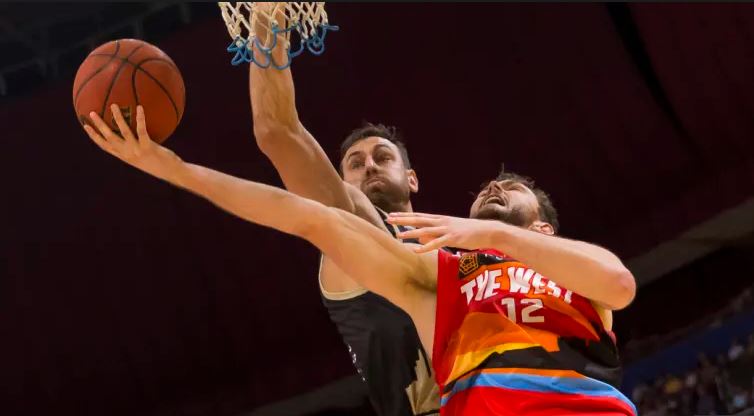 NBL MAKE-A-WISH ROUND
MELBOURNE UNITED 113 (Ware 25, McCarron, Kennedy 17, Barlow 15, Goulding 13, Pledger, Boone 10; Kennedy 13 rebs; Barlow, Kennedy, Ware 4 assts) d ILLAWARRA HAWKS 89 (Blanchfield 22, Conklin, Jackson, Ogilvy 10; Ogilvy 7 rebs; Jackson 3 assts) at The UN, Hisense Arena.
NEW ZEALAND BREAKERS 113 (Long 32, Wesley 16, Delany, Weeks 12, Moore, Ili 11; Long 9 rebs; Wesley 10 assts) d CAIRNS TAIPANS 106 (Newbill 32, Trimble 31, Walker 16; Walker 9 rebs; Trimble 6 assts) at The Rock, TSB Stadium, New Plymouth.
SYDNEY KINGS 87 (Bogut 20, Kickert 17, Randle 15, Lisch 12; Bogut 7 rebs; Randle 7 assts) d BRISBANE BULLETS 81 (Bairstow 23, Patterson 21, Te Rangi 15; Bairstow 10 rebs; Patterson 4 assts) at The Weapons Cache, Brisbane Entertainment Centre.
PERTH WILDCATS 100 (Steindl, Cotton 19, Kay 16, Martin 15, Brandt 10; Martin, Kay 8 rebs; Kay 8 assts) d ADELAIDE 36ERS 81 (Deng 19, Wiley 18, McVeigh 12, Froling 10; Wiley 6 rebs; Doyle, Sobey 5 assts) at The Jungle, RAC Arena.
ILLAWARRA HAWKS 82 (Conklin 15, Andersen, Blanchfield 11, Jackson 10; Ogilvy 10 rebs; Jett 4 assts) d CAIRNS TAIPANS 81 (Trimble 24, Newbill 17, Walker, Hall 10; Loughton 8 rebs; Newbill 5 assts) at The Hawks' Nest, AIS Arena, Canberra.
NEW ZEALAND BREAKERS 109 (Long 23, Weeks 20, Delany 17, Richard 16, Webster 10; Richard 10 rebs; Delany 5 assts) d BRISBANE BULLETS 96 (Patterson 18, Gliddon 16, Hodgson, Te Rangi 14; Te Rangi, Hodgson 7 rebs; Cadee 5 assts) at The Breakwater, Spark Arena.
PERTH WILDCATS 88 (Steindl 18, Kay, Cotton 16, White 13, Wagstaff 11; Kay 10 rebs; Kay 7 assts) d SYDNEY KINGS 68 (Bogut, Randle 11; Bogut 8 rebs; Bogut, Lisch 4 assts) at The Kingdome, Qudos Bank Arena.
MELBOURNE UNITED 114 (Boone 19, McCarron, Goulding, Kennedy, Ware 16; Boone 10 rebs; Ware 9 assts) d ADELAIDE 36ERS 91 (Sobey 24, Johnson 15, McVeigh 11; McVeigh 9 rebs; Sobey 3 assts) at The Fortress, Titanium Security Arena.