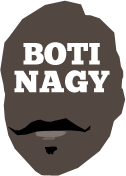 ---
Advertising opportunities available.
Please contact me.
---
36ers claim third NBL Preseason crown
Tweet
WITH a convincing 108-90 rout of arch rival Perth today in Ballarat's Minerdome, Adelaide 36ers claimed their historic first Loggins-Bruton Cup and third preseason tournament win, following successful campaigns in 1993 and 2004.
Perth Wildcats guard Bryce Cotton, the 2017 Larry Sengstock Medallist and 2018 NBL Most Valuable Player, finished today's clash with a tournament-high 29 points ... and also walked away with the Ray Borner Medal as the series MVP.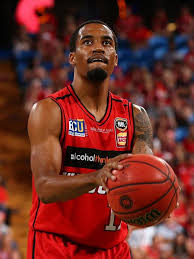 Cotton stands alone for that series of achievements as a package.
The 36ers won every quarter over the Wildcats to claim the maximum premiership points of 7 (three for the win, one per quarter won), throwing the pressure back onto Illawarra.
The Hawks came into the final day with a 2-0 record and leading the table with 12 points. Adelaide started the day with 11 but finished with 18, throwing the heat onto Illawarra in the tournament's final game.
Defending Loggins-Bruton Cup holder Melbourne had other ideas and with its 88-82 win, assured the 36ers of the prize.
Adelaide won the K-Mart Classic under coach Don Monson in 1993 in Sydney and took the Blitz title in 2004 under Phil Smyth in Cairns.
Sixers coach Joey Wright previously won the preseason championship with Brisbane in 2006, then went on to win the 2006-7 NBL Championship.
Melbourne United's Dean Vickerman achieved the same feat last year, winning the 2017 Loggins-Bruton Cup, then the 2017-18 NBL Championship, beating the 36ers in a torrid five games.
It was ironically Melbourne's win today over Illawarra which guaranteed Adelaide, the tournament's only unbeaten team, the silverware and its first Cup, which was instituted and named after legends Leroy Loggins and Cal Bruton in 2013.
THE day started brilliantly with New Zealand electric as it motored to a 16-point buffer and 55-40 halftime lead over Cairns.
The Taipans snapped back to produce an amazing third quarter, going 31-14 to not only steadily reel in the Breakers but create what would be one of the Cup's best contests.
Against his former club, DJ Newbill produced a game-high 24-point, five-assist tour de force and riding their incredible momentum, the Taipans drew great moments from players such as Kuany Kuany and Alex Loughton, who stuck a huge late three to clinch the win.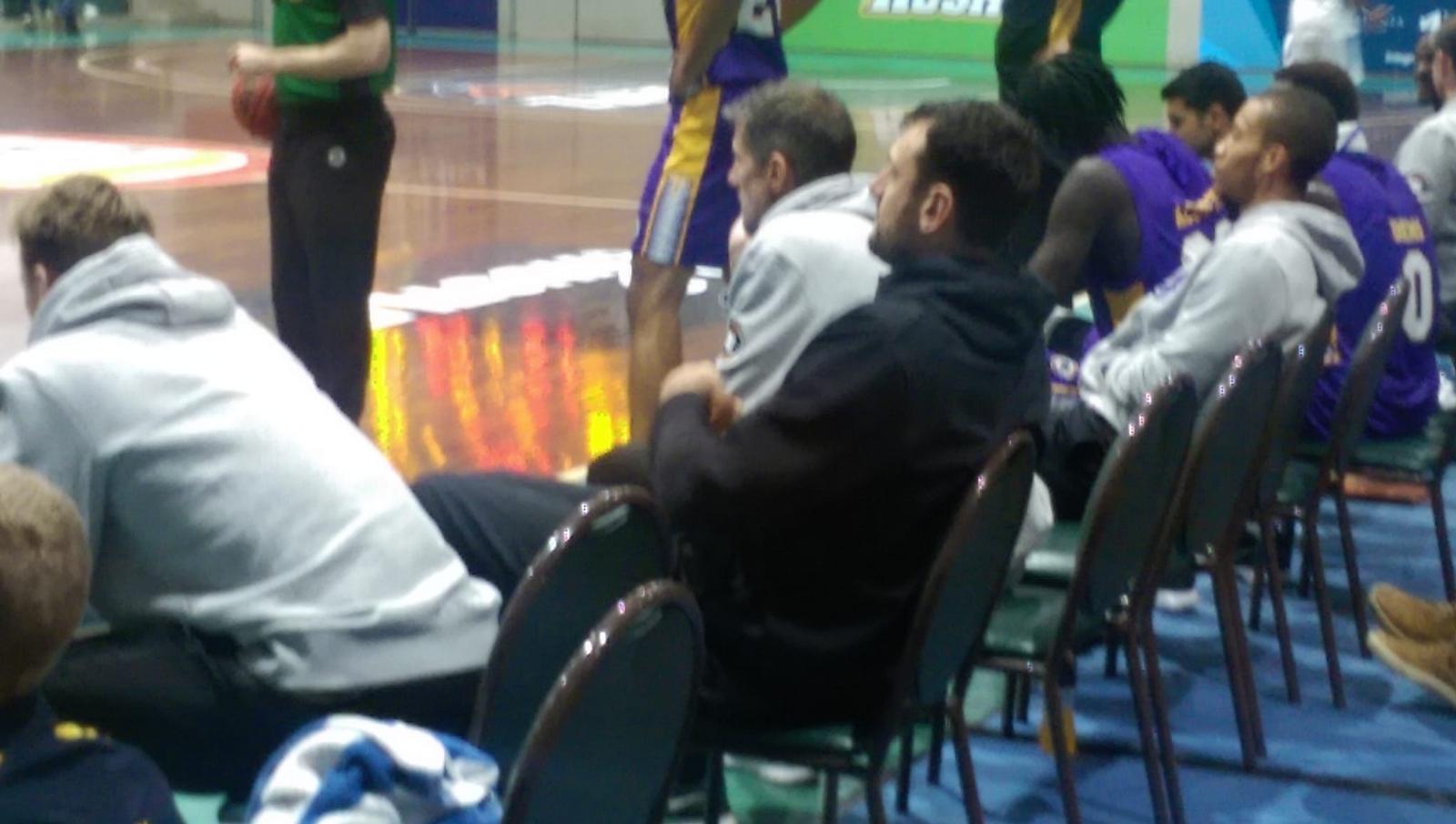 PARKED BENCH: From left, Brad Newley, Andrew Bogut, Daniel Kickert, Jerome Randle
RESTING their entire projected starting quintet, it was the Sydney Kids who today took it right up to Brisbane and almost created a boilover before losing 60-70.
Kyle Adnam, Tom Wilson, Brian Bowen, David Wear and Dane Pineau started with a flurry of exuberance and Deng Deng and Deng Acouth followed suit when they hit the floor. (Until Acouth REALLY hit the floor, hard, after an athletic leap.)
Tied 16-16 after one, before the Bullets nudged to a 29-28 halftime lead, the young Kings - the Princes? - hit the wall after the break as Brisbane went 24-12 and Cam Gliddon (below) started hammering in the nails.
Not to be outdone though, Sydney finished with another burst of high energy and if Wear could have done a little better than 3-of-12 from the floor, who knows how this may have finished?
Bowen was an athletic highlight reel and Adnam dished some wicked passes.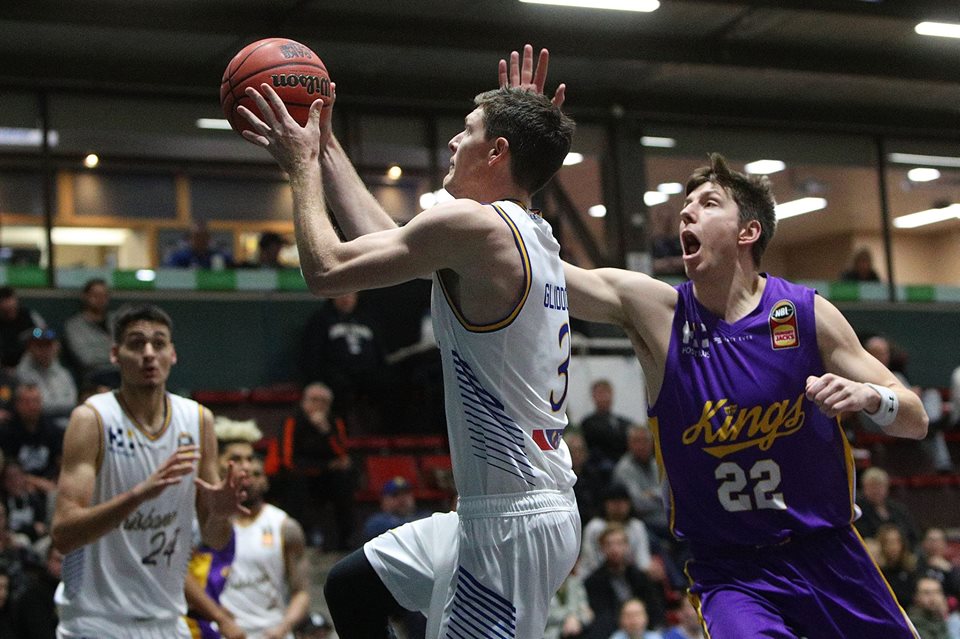 HAVING twice had their pants pulled down in the west so far this preseason, Adelaide started with a clear intent and quickly had Anthony Drmic showing why Wright expects him to be a big factor this season as it beat Perth.
Adris DeLeon had his stroke going too, with 3-of-4 threes among his 19-point haul, the Wildcats mounting a run before Drmic uncorked a shot from over the halfcourt line right on the halftime buzzer for a 52-45 lead.
Drmic finished with 28 points (his best NBL return), with five assists and five rebounds. Daniel Johnson (below) had a cool 12 points, Harry Froling with 11 points on a perfect 4-of-4, and seven boards.
For Perth, Sunday Dech backed up Cotton with an aggressive 16 points on 8-of-13 shooting, seizing his opportunity.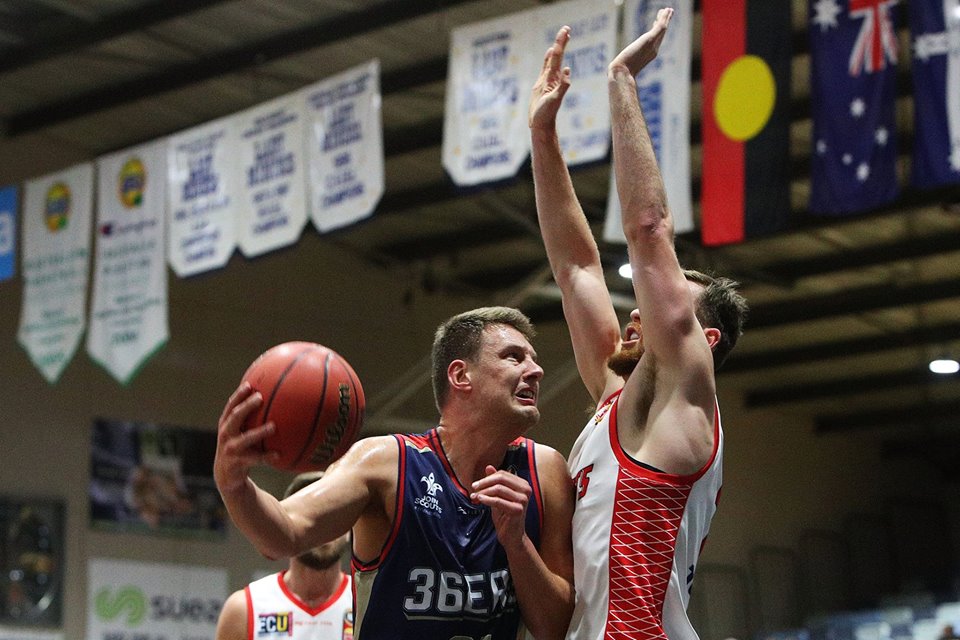 MELBOURNE and Illawarra closed the series with a cracker, a big triple by Mitch McCarron with 34 seconds left giving United 86-82 breathing room.
DJ Kennedy closed the door with two free throws at 24 seconds left, Chris Goulding smooth for 20 points, David Barlow 18, and McCarron with 11 points, six rebounds and seven assists.
Illawarra, which finished the tournament in second place, drew amazing stuff from Emmett Naar, whose team-high 17 points came on 7-of-8 shooting. He also led the Hawks with six assists.
Daniel Grida continued his evolution too with 13 points.
SOME 13,000 fans tuned in through Twitter and NBL TV for yesterday's tip-off between the 36ers and Kings - not too shabby.
Matt McQuade and Liam Santamaria again were true pros, calling all eight games from Ballarat, after Nathan Strempel teamed with Santamaria in Bendigo on Thursday.
The coverage was well-received and well worth the effort the NBL went to in providing it.
In other news, Leroy Loggins, Cal Bruton and Ray Borner all still look fit and healthy enough to play. It's so freaking annoying...
DAY THREE
CAIRNS TAIPANS 96 (Newbill 24, Trimble 23, Loughton 19; Kuany 6 rebs; Newbill, Trimble 5 assts) d NEW ZEALAND BREAKERS 89 (Richard 23, Moore 17, Majok 11, Ngatai 10; Moore 9 rebs; Richard 4 assts). Cairns five points, New Zealand two. BRISBANE BULLETS 70 (Gliddon 20, Bairstow 14, Gibson 11; Vukona 9 rebs; Cadee 4 assts) d SYDNEY KINGS 60 (Bowen 16, Adnam 15, Wilson 11; Bowen 8 rebs; Wear, Adnam 3 assts). Brisbane 5.5 points, Sydney 1.5. ADELAIDE 36ERS 108 (Drmic 28, DeLeon 23, Johnson 12, Froling 11; Froling 7 rebs; Drmic 5 assts) d PERTH WILDCATS 90 (Cotton 29, Dech 16, Kay 13; Kay 8 rebs; Norton, Hire 4 assts). Adelaide 7 points, Perth zero. MELBOURNE UNITED 88 (Goulding 20, Barlow 18, Kennedy 15, Moller 13, McCarron 11; Pledger 11 rebs; McCarron 7 assts) d ILLAWARRA HAWKS 82 (Naar, Conklin 17, Grida 13, Blanchfield 12; Blanchfield 8 rebs; Naar 6 assts). Melbourne 5.5 points, Illawarra 1.5.
FINAL BLITZ TABLE (Team, Win-Loss, Premiership points)
Adelaide 3-0 18
Illawarra 2-1 13.5
Melbourne 2-1 11.5
Sydney 1-2 10.5
Perth 1-2 9
Brisbane 1-2 8.5
New Zealand 1-2 8
Cairns 1-2 5