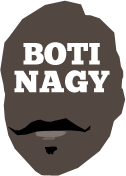 ---
Advertising opportunities available.
Please contact me.
---
Andrew the definition of a legend
Tweet

AT a time when we've unfortunately grown accustomed to throwing around words such as "great", "legend", "icon" and "GOAT" (Greatest Of All Time) with the same ease social media's rampant keyboard warriors rush to take offence, Andrew Gaze continues to stand head-and-shoulders above the elite of Australian sportsmen.
An Olympian for the first of five occasions in Los Angeles in 1984, the seven-time NBL Most Valuable Player, dual-championship winner with his beloved Melbourne Tigers and the league's scoring champion 14 times, Gazey, or Drewey as he is also commonly known, now has been elevated to Legend status in the Australian Basketball Hall of Fame.
Ah. So finally the formality will be completed next month when the Boomers play China and Japan in the FIBA window.
Forgive us for not realising, because - let's be blunt - to Australian basketball and the wider community at large, Drewey is a legend and has been for a long time.
Long before he encapsulated what everyone was thinking and feeling with his heartfelt soliloquy on national television as Patty Mills historically drove the Boomers onto the medal podium at the Tokyo Olympics last year for the first time.
Long before his comedic talents came to the fore on Fox Footy's "Bounce" and perhaps even long before he was the Australian team's flag-bearer and captain at those memorable Olympic Games of Sydney 2000.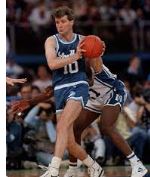 When a television network such as Channel 7 in 1989 shows the NCAA semi final and then the Final live on national TV because Andrew Gaze is playing for Seton Hall, that's already when we started to recognise the man was something - and someone - very special.
Remember, that happened IN 1989!
By that time, he already had led the Boomers at two Olympics and ahead of Seoul in 1988, starred as the Aussies fell tantalisingly short of the eventual Olympic gold medallist USSR team in a Test match in Melbourne that went into overtime courtesy of his heroics.
Asked on TV post-game what he now would be doing, he said something along the lines of grabbing a whopper at Hungry Jack's on his way home. Jack Cowin, the founder of Hungry Jack's happened to be watching.
The NBL's first naming rights sponsorship with HJs was born out of Drewey's typical post-game candour.
So yes, some of us have been fortunate enough to know Andrew Gaze is quite the unique individual and so intrinsic to our sport that when he speaks, all of us fall quiet and listen.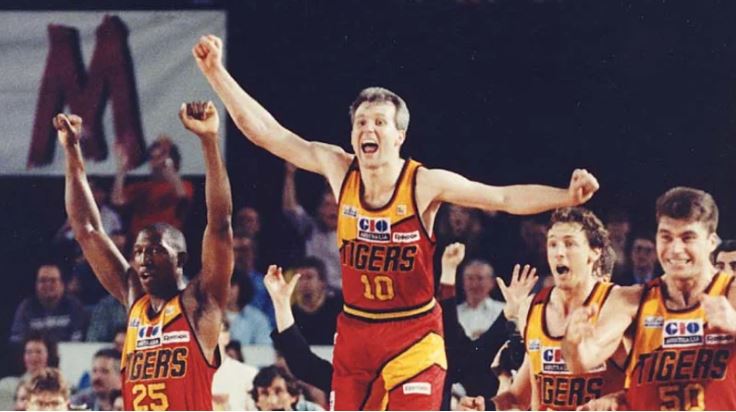 When he enters a debate about Liz Cambage, the debate is forever ended.
When he speaks about Patty Mills, the joy is forever evident.
His basketball achievements are long and distinguished, and most basketball fans who venture here would already know of them.
But what Andrew also represents is the quintessential Australian - a genuinely good bloke filled with passion, wisdom and just enough larrikin to not take himself seriously when, Lord knows, he has every right to.
There was and never has been a time when he hasn't stopped to chat or make the person he is speaking to feel as if they were the king or queen of the world.
He is a what-you-see-is-what-you-get guy and what you get is a sincere, honest, kind, positive and loving human being.
So yes. This man is already a Legend and not the type of "legend" so declared by some couch potato suddenly revelling in the fact his flat-mate brought home a packet of salt-n-vinegar chips.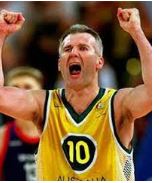 Andrew joins his father Lindsay, Al Ramsay (dec), Betty Watson, John Raschke (dec) and Michele Timms as only the sixth Legend in the Australian Basketball Hall of Fame.
Lindsay instilled in Andrew the values of being an Olympian. It is magical they now should share legendary status.
The Andrew Gaze Trophy is awarded to the NBL's MVP, Drewey scored 18,908 points across his storied career, the most by an NBL player and he was also named to the All-NBL First Team 15 times and was an 11-time All-Star.
He coached the Sydney Kings from 2016-2019.

"I am beyond honoured to be elevated to legend status. To follow in my father's footsteps is a dream I never dared to imagine," Drewey said in a BA statement.

"I am eternally indebted and grateful for the opportunities the game has provided me and my family. I am acutely aware that the recognition I have received would not be possible without the support and guidance of my teammates and coaches.

"Thanks to the awards committee for their support. I am humbled that the selection committee feel I am worthy to sit alongside some of the great contributors of the game."

Andrew's continuous representation of Australia started at the LA Olympics, concluding in Sydney - five Olympic Games and four FIBA World Championships - for 297 international appearances and eight years as captain.

For good measure, he even has an NBA Championship ring with San Antonio Spurs in 1999.
Legend?
Of course he is. And now what we've all known for years is offically officlal.