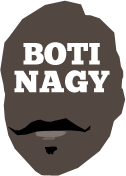 ---
Advertising opportunities available.
Please contact me.
---
April Fools as Kansas, South Carolina win big
Tweet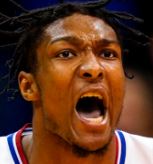 THE NCAA Women's and Men's Championships for 2022 have been decided, with South Carolina and Kansas celebrating their successes, as our man with his finger on the pulse of USA basketball, Bob Craven informs us. Destanni Henderson and David McCormack were huge in the wins.
SOUTH Carolina was the wire-to-wire #1-ranked team in women's college basketball, and they proved Sunday night that the ranking was legitimate.
They went 14-0 this season against teams ranked in the AP top 25. And, one year after an OT loss to eventual champion Stanford in last year's semifinals on a missed putback at the buzzer by this year's Player of the Year (Aliyah Boston), Carolina found redemption and won their 2nd national title with a 64-49 win over Connecticut
Connecticut coach, Geno Auriemma had led Connecticut to 11 national titles and his teams were 11-0 in championship final games.
But South Carolina was too good on the night, finishing the season with a masterpiece based on suffocating defence and complete dominance on the boards.
Carolina started off hot, scoring 13 of the game's first 15 points, and early in the 2nd quarter had pushed their advantage to 30-12. Connecticut settled in after that and managed to cut the lead to 35-27 at the half.
South Carolina got it going again early after the break, opening up a 16-point lead midway thru the 3rd quarter, but Connecticut went on a 10-0 run to cut the lead again to single digits shortly before the end of the quarter.
South Carolina surged again at that point and continued it into the fourth quarter, with Connecticut getting no closer than 10 points the rest of the way.
Carolina was led by guard Destanni Henderson, who scored a career-high 26 points in her final college game.
Aliyah Boston notched her 30th double-double of the year with 11 points 16 rebounds and was named the Final Four's Most Outstanding Player.
Heading into the title game, South Carolina had held teams in the Tournament to an average of 44.8 points per game, the 2nd lowest ever. They also demolished Connecticut on the boards 49-24, including a 21-6 advantage on offensive rebounds.
The 25-board advantage was the 2nd biggest ever in a title game. Connecticut also had trouble getting to the free throw line, too, ending the game at only 1-4.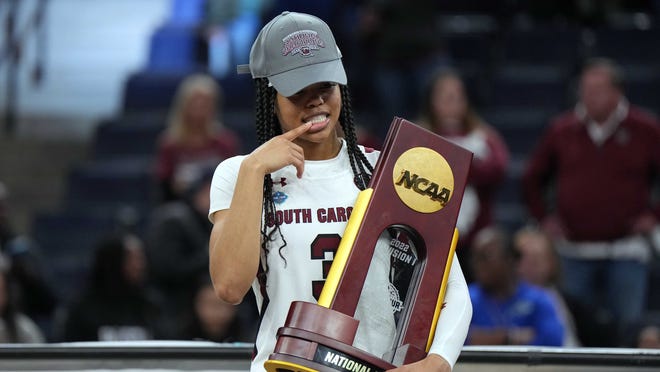 NOTHING COULD BE FINER: Carolina's Destanni Henderson with the championship trophy.
THE NCAA men's title game this year was a battle between two historic programs, and was actually two different games within a game.
Despite a quick start by the Kansas Jayhawks, the #1 seed, the underdog North Carolina Tar Heels turned up the screws on defence and surprisingly blew up Kansas in the first half, leading by 16 at one point and by a score of 40-25 at the intermission.
The second half was a completely different game. Kansas turned up its defence from the start of the 2nd half, and in the first 10 minutes, outscored Kansas 31-10 to take a six-point lead.
Carolina righted itself and managed to fight back to catch up, and it was nip and tuck from there to the end.
With 1:21 left in the game, Kansas big man, David McCormack, hit a short jump hook for the go-ahead bucket and UNC never scored again.
With 22 seconds left, McCormack scored again from close range and that was it. With 4.3 seconds left, Carolina had one last chance, but a desperation 3-pointer never had a chance, and Kansas finished off an improbable win, 72-69.
Its comeback from 16 points down was the largest ever in title game history, beating the 15-point comeback by Loyola-Chicago over Cincinnati on a basket at the buzzer in 1963.
Despite being outrebounded by 20, Kansas outscored Carolina in the 2nd half, 47-29, as Carolina shot just 11-of-40 from the field.
Kansas had five players score in double figures, led by McCormack with 15 and his 10 rebounds, despite dealing with foul trouble in the second half.
Christian Braun had a double-double with 12 and 12, and Mr. Cognac, Remy Martin came off the bench to score 14 points, 11 in the second half.
North Carolina had three players with double-doubles: Armando Bacot had 15 points and 15 boards, becoming the first player ever to record double-doubles in 6 games in one tournament, RJ Davis was 15-12, and Brady Manek was 13-13 and had four blocks.
UNC shot itself in the foot, almost literally, by shooting just 31.5 per cent from the field. Bacot, Davis, and Caleb Love together were 13-of-54 from the field, including just 1-of-13 from 3-point range.