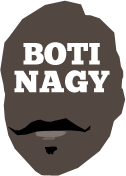 ---
Advertising opportunities available.
Please contact me.
---
Around Game 4 of the NBL C'ship
Tweet
IT was the biggest shot of the NBL's exhilarating best-of-five Grand Final Series but for Adelaide's All Star Five 'big' Daniel Johnson, it wasn't a hard one to take.
Leading Melbourne United 83-78 and with the visitors storming home from a 24-point deficit, the 36ers desperately needed a basket as the epic Game 4 slipped inside its final minute.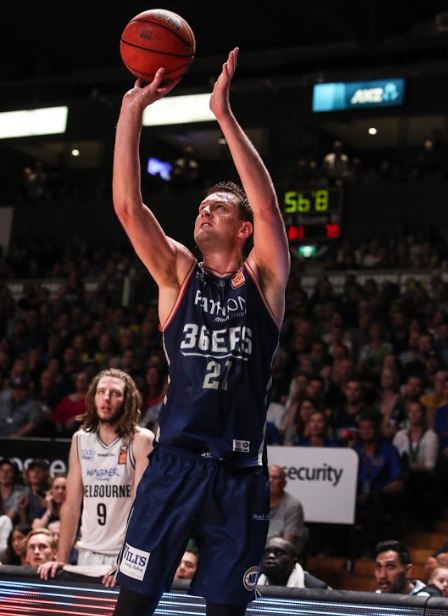 The ball was swung around with great movement, finally locating Johnson in the corner in front of United's bench as he let fly with a huge 3-point attempt (right).
Nothing but net, it beat the shot-clock, forced a Melbourne time-out and left United with too much to do and too little time to do it.
"I didn't really have much time to think about it, to be honest," Johnson said.
"The shot-clock was winding down, it's an easy shot to take when you know you have to shoot it."
United captain Chris Goulding kept the drama going by sticking a three at the other end but in a major brain fade, teammate David Barlow touched the ball while it was in the hands of 36ers swingman Mitch Creek, about to pass it in.
Automatic tech foul.
Johnson made the free throw and off the additional possession, Creek was fouled and added two more to ensure this series was heading back to Melbourne for a decider on Easter Saturday.
* * *
HARRY Flourentzou was sitting in the front rows of Titanium Security Arena when Willie Farley and Brett Maher were pacing his beloved Adelaide 36ers to their 2002 NBL championship. But yesterday even he got a little more than he bargained for.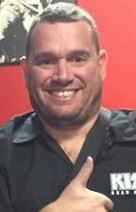 Sitting courtside, the man whose Distinctive Homes provided the Arena's previous naming rights sponsorship, caught Mitch Creek's knee flush in the face as the Sixers' swingman endeavoured to leap over him in pursuit of an errant ball.
"His knee got me right on the nose," Harry laughed post-game despite needing medical assistance for several minutes after the play.
Creek clipped Harry's young son Georgio too as he tumbled over the single row of seating, pausing to see if everyone was OK before returning to the on-court action.
Harry paid $175 for the seat but never expected to be part of the action.
The Arena crowd – raucous, with the venue filled beyond its 7,800 capacity – collectively held its breath momentarily as the dramatic moment played out.
"Nah, it's all good," Harry said of his blood nose from the scrape, the ardent Adelaide fan having travelled to Melbourne to watch Game 3 of the series and ready to head back next Saturday. "Go Sixers!"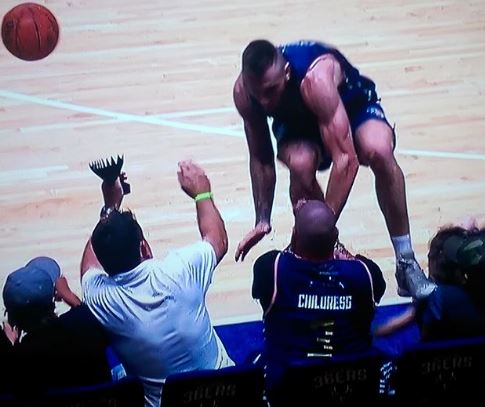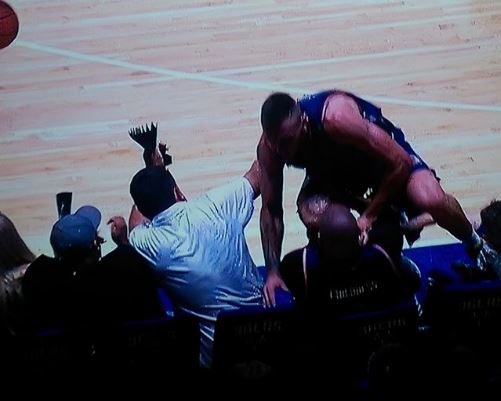 * * *
THE first words out of the mouth of FOXSPORTS commentator Corey Williams during the coverage of yesterday's Game 4 from Titanium Security Arena in answer to a John Casey intro were?
If you said: "100 percent", you would be 100 percent correct.
* * *
SOME early rushed work by our news media yesterday: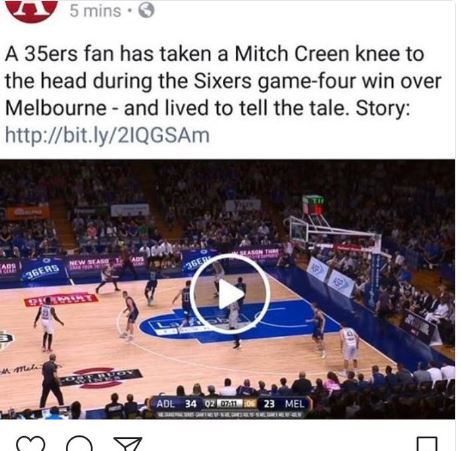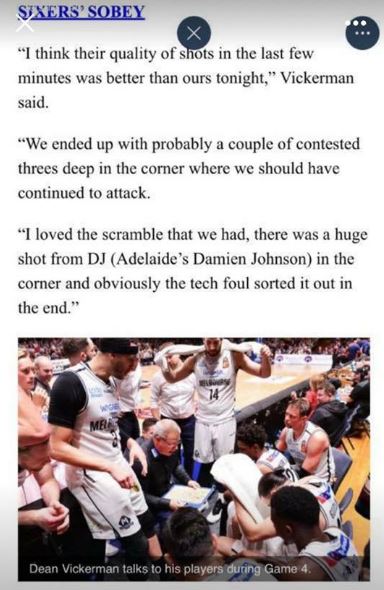 So that's the 35ers' Mitch Creen in the left report and Damien Johnson on the right.
This never would happen in Melbourne.
* * *
ADELAIDE had owned the first half – a record 33 free throws to one disparity as glaring a decisive stat as you'd ever want to see.
Casey Prather spearheaded United's revival in the second half with 10 points in the third and seven in the last as they came within four points on three separate occasions.
But for the Sixers, there were numerous players willing to take the spotlight when it was required – from Nathan Sobey, to Johnson, to Ramone Moore, with Shannon Shorter also letting his game do the talking for a positive change.
But Majok Deng rapidly is growing from a cult hero to a bona fide fan favourite.
His finish to the third quarter with a baseline jumpshot to beat the shot-clock, then a big three (caught below by ALLSTAR PHOTOS) and finally a series of second efforts which concluded with him feeding Moore for a dunk, were gold.

* * *
THIS just in.
The Games Review Panel has viewed vision of Mitch Creek kneeing a genuine long-time NBL fan in the face during the second quarter and will suspend him for two matches – reduced to one with an early plea – on a charge of bringing the game into discomfort.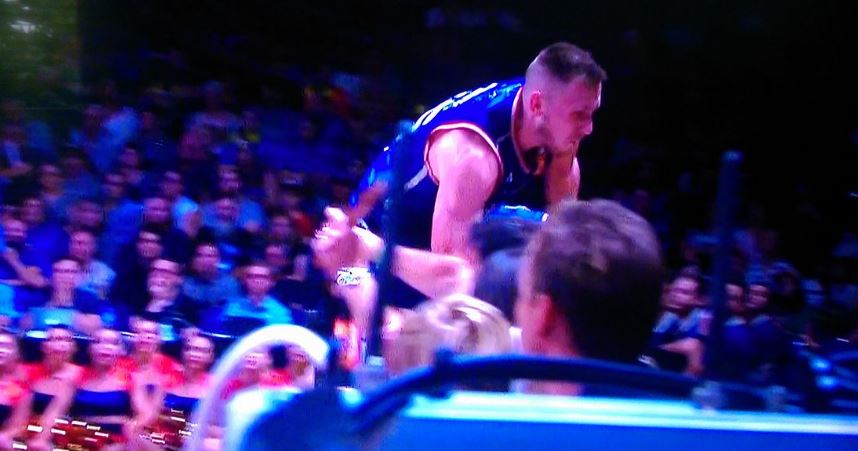 * * *
CARRICK Felix took the NBL's stay-off-the-bench ban so seriously, he spent time on the court instead.
For Game 5 at Hisense Arena, he plans to masquerade as wait staff to be able to pass drink bottles to Melbourne players.
* * *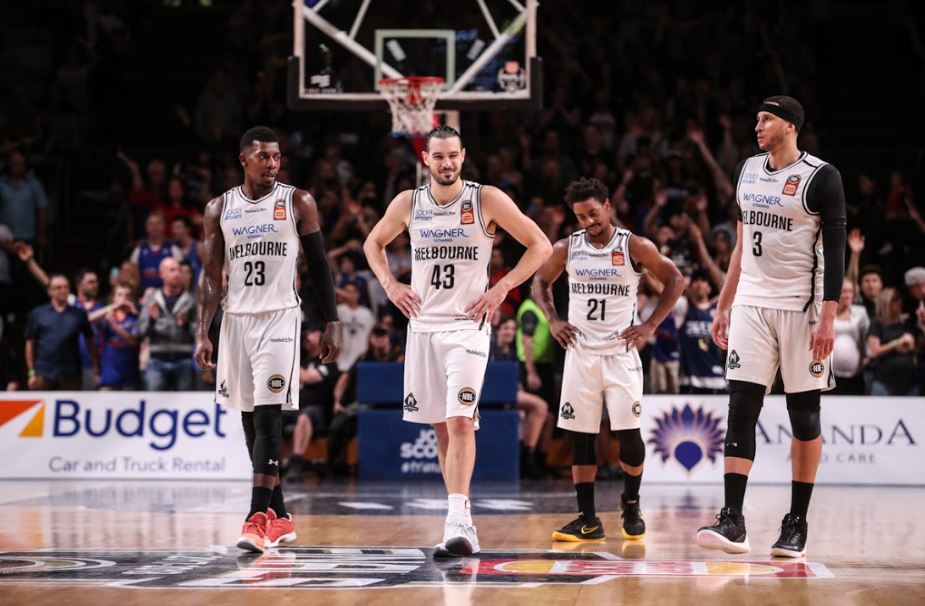 YOU put your right foot in, You take your right foot out, You put your right foot in, And you shake it all about. You do the hokey pokey, And you turn yourself around, That's what it's all about.
* * *
THE crowd yesterday rocked the venue as it hasn't been rocked since championship series in 1994, 1998, 1999, 2002, 2014 and semi finals in 2000, 2014 and 2018 against Perth.
It was loud and proud and for consistent volume, up there with the best since the venue opened in 1992.
The gauntlet again has been thrown down to Hisense Arena's faithful.
* * *
TAI Wesley fouled out, leaving the court clutching at his chest (below) and later with ice around his left shoulder.
While fans of this deadlocked Grand Final will follow this late development with avid interest, expect Wesley the Warrior to be out there on Saturday, giving his all.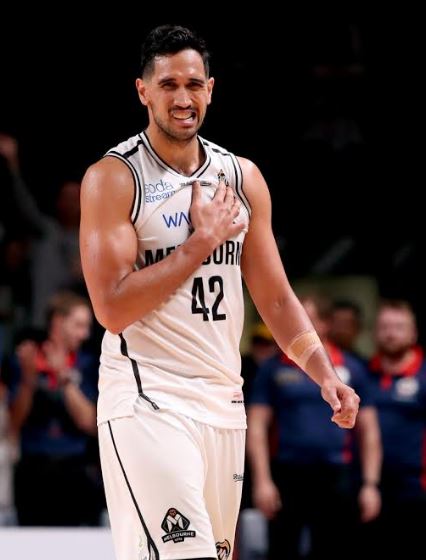 GAME 4 match wrap here.