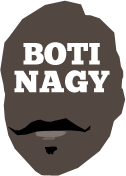 ---
Advertising opportunities available.
Please contact me.
---
Aussie v Aussie in Eastern semi final
Tweet
IT was always going to be Aussie versus Aussie in the NBA's Eastern Conference semi finals and it was confirmed today when Aron Baynes' Boston Celtics finally eliminated Milwaukee Bucks 112-96 to set up the showdown with Ben Simmons' Philadelphia 76ers.
Baynes had eight points at 80 per cent, seven rebounds, two assists and a steal in 15 minutes of action for the Celtics as they closed out Game 7 in Boston.
For the Bucks, Thon Maker had five points at 50 per cent, six boards and four assists in 25 minutes while championship-winner Matthew Dellavedova saw only seven minutes of daylight.
As if to revisit the NBA's great era of the 80s (below) when the Celtics, 76ers and the Bucks – with legends such as Bird, McHale, Parish, Erving, Malone, Toney, Moncrief, Lanier and Johnson – ruled, one of the one-time Eastern Conference's "Big 3" had to bow out and today it was the Bucks.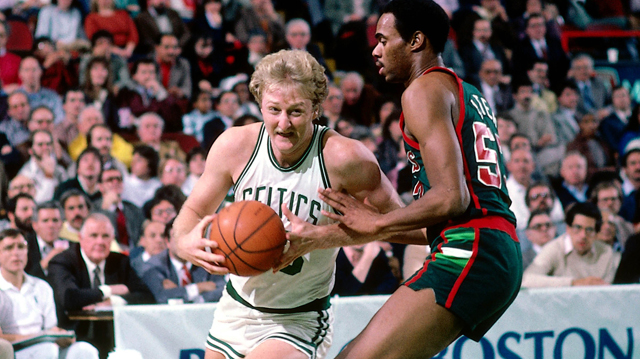 It sets up a terrific Eastern Conference semi final series as Simmons, under the Boomers' 2012 London Olympics coach Brett Brown, and alongside fellow young megastar Joel Embiid, go to war against a Boston team superbly coached by Brad Stevens after first losing Gordon Hayward for the season, then Kyrie Irving for the post-season.
Stevens, Brown and Utah Jazz's Quin Snyder have to be right in the thick of any NBA Coach of the Year conversation and any one would be a worthy winner.
But it is interesting that both Philly in the East and Utah in the West employ more international players, following what has been a fairly successful long-term recipe for the San Antonio Spurs.
It is unlikely to be a coincidence. Brown previously a long-time assistant at the Spurs under Gregg Popovich and Snyder coaching the Toros, the Spurs' D-League affiliate at the time, from 2007-2010.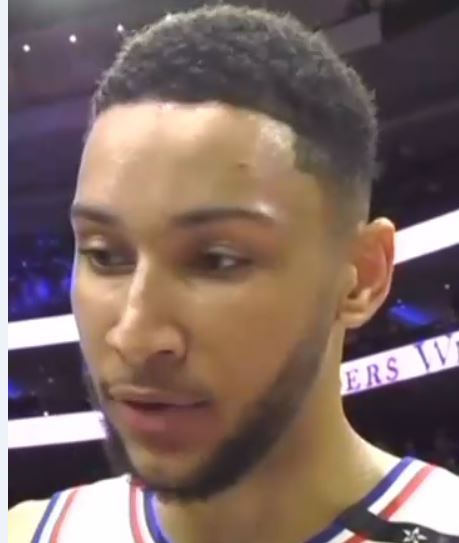 Both Philadelphia with Simmons (right) and Brown, and Utah with Aussies Joe Ingles and Dante Exum, are fun to watch because they try to play basketball the right way and succeed for the most part.
But can the 76ers keep going now past a Celtics team which, under the circumstances, many might say is "over-achieving". (Always doubted that term myself. You can only be who you can be so shouldn't it be "fully-achieving"?)
"It's been a while since this team's been here," Simmons said after his Sixers sent Miami out of the playoffs in Game 5 of their series, a series in which he delivered 18.2 points, 10.6 rebounds, and 9.0 assists per game.
"We have a lot of young guys and a lot of new guys on the team and it's the least we could do for this city.
"We've been playing hard, working hard and they deserve it."
How far can they go now, given the Celtics won their season-series 3-1?
"I think it's really up to us. We've just got to stay together as a team, lock in every game and follow coach's instructions," Simmons said.
While the Boston crowd today was chanting: "We want Philly," as the Celtics eliminated Milwaukee, Stevens post-win was more circumspect about the 76ers.
"They are playing great - they have a great team, a great coach and I think that everybody talks about (Joel) Embiid and (Ben) Simmons and rightfully so, but the skill they have added to their team and their other young guys getting better, obviously (JJ) Redick's presence has just opened everything up," Stevens said.
* * *
IN the West, the defending champion Golden State Warriors expect two-time MVP Stephen Curry back by Game 2 of their semi final series against Anthony Davis and the New Orleans Pelicans.
"I fully expect him to play Tuesday night for Game 2," Warriors coach Steve Kerr said.
Curry has not played since March 23 due to a sprained left knee.
It didn't stop the Warriors coasting past Patty Mills and the Spurs 4-1 in their first-round series.
And it's dreadful news for the Pelicans, already down 0-1 after today's 123-101 opening win by the Warriors.
Utah is not quite as optimistic about starting point guard Ricky Rubio who could be out for anything up to 10 days after injuring his left hamstring some seven minutes into the Game 6 elimination win over Oklahoma City.
The Jazz face James Harden and the Houston Rockets in their best-of-seven Western Conference semi final.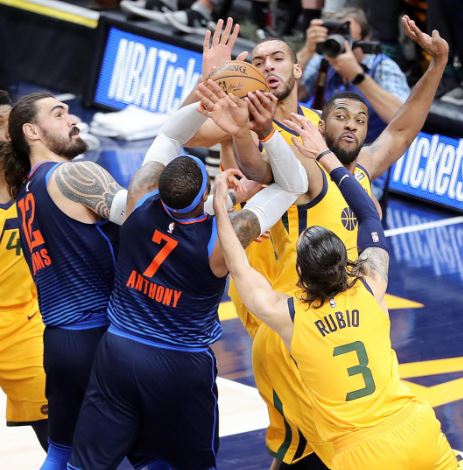 OUT: Rubio in the thick of it before being hurt. Pic courtesy Scott G Winterton, Deseret News