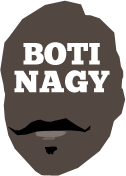 ---
Advertising opportunities available.
Please contact me.
---
Basketball SA Hall of Fame inductees: North Adelaide 1990 Senior Women's Team
Tweet
EARLY-BIRD tickets are on sale for the BASKETBALL SA Hall of Fame presentation dinner at Stamford Grand on Friday, July 9, where the most dominant women's club team in the history of the sport in this state - North Adelaide's 1990 national champion - will be inducted as part of the Class of 2021.
The gala event from 6:30pm to 10 at seaside Glenelg will recognise the exceptional service to basketball of the inductees while also acknowledging past Hall of Fame members and those granted automatic BSA Hall of Fame status by virtue of their previous recognition by Basketball Australia.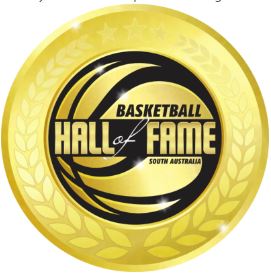 Already in the BSA Hall are household basketball names such as Michael Ahmatt, Frank Angove, Jean Bain, Andris Blicavs, George Dancis, Alan Dawe, Lorraine Eiler, Inga Freidenfelds, Merv Harris, Algy Ignatavicius, Werner Linde, Keith Miller, Huba Nagy and Pat Rowe.
All of the new inductees are unique and showcase the best of basketball in SA across the ages and it is our pleasure here to reprint their back stories.
Get along on the night - tickets are available by hitting this link. It promises to be one of the great nights on the annual basketball social calendar.
Meanwhile, today's inductee back story is of one of our greatest teams and multiple championship outfits, North Adelaide Rockets' all-conquering 1990 women's team.
North Adelaide Senior Women's Team of 1990
North Adelaide's 1990 senior women's team was one for the ages, arguably the greatest single-year club team in Basketball SA's long and storied history.
From the outset, the Rockets looked the part, sweeping through the City of Adelaide Conference – the former "summer season" in SA – with a 10-0 record to capture the championship.
The Australian Club Championship annually brought together the nation's 24 leading club teams to contest a four-day carnival that would determine our champion side, even though the WNBL now provided a weekly home/away competition to achieve the same result.
At the ACC tournament staged in Melbourne, North Adelaide duly swept aside the best the nation had to offer, completing its journey to the championship with a 5-0 winning streak.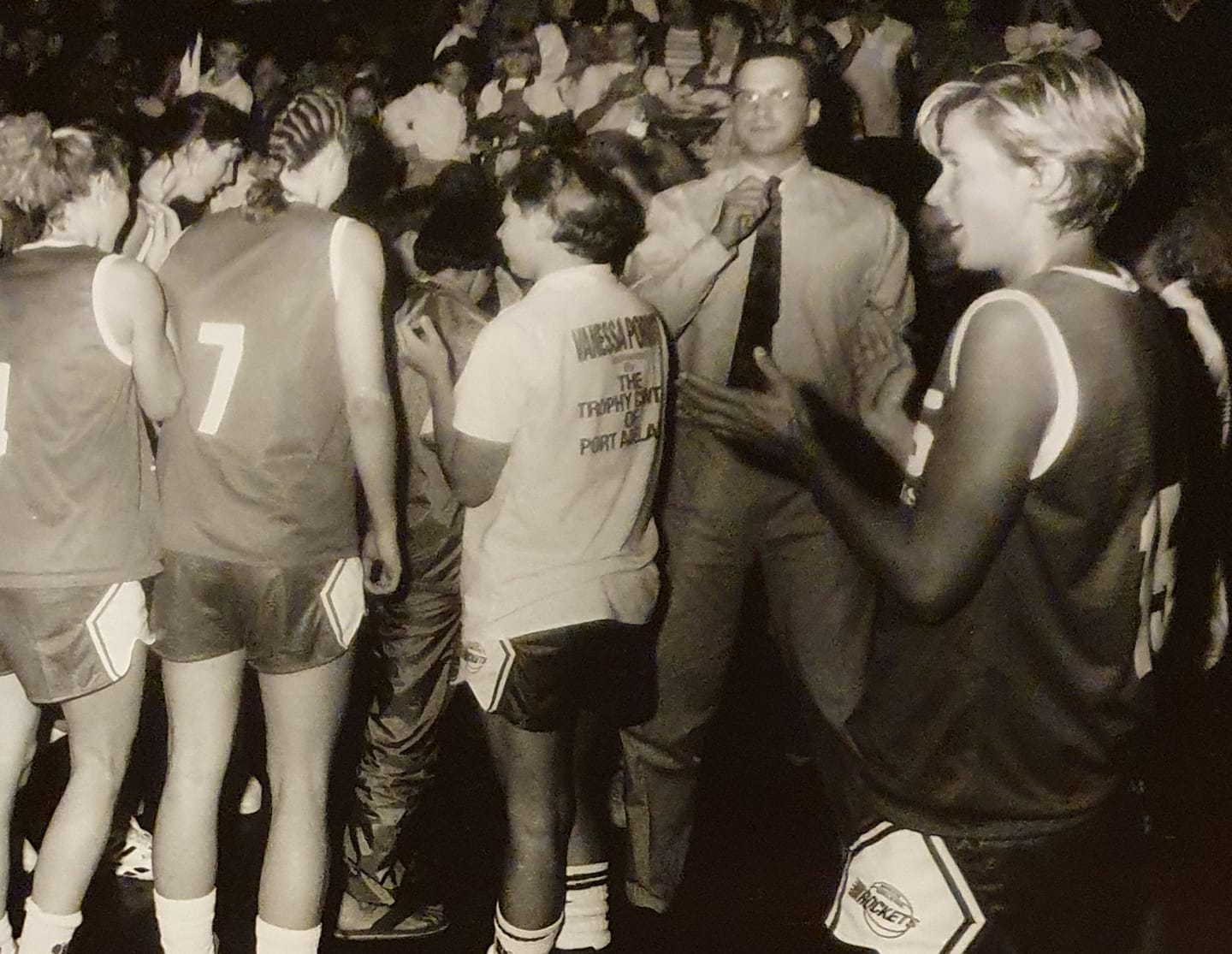 Playmaker Vicki Daldy was named MVP of the Grand Final and into the tournament All-Star Five after being named MVP of all five of North's ACC matches.
Coach Mark Molitor was named the Coach of the Tournament.
By now, many were sensing these Rockets were bound to be a team of destiny. Molitor, recruited as an American import to play for North's men's team in the early 80s, had assembled an exceptional side that had strengths in every position.
In Hall of Famer Rachael Sporn, North recruited the best centre in the business, then retained dual-Olympian and Hall of Famer Marina Pearce (nee Moffa) and Opals forward Donna Brown to support her.
Murray Bridge's young tyro Jo Hill and talented Eastern Hills forward/centre Melissa Day rounded out a richly-talented frontcourt, ably supported by a premium backcourt.
Daldy, who would continue on to coach Norwood to multiple state titles and also Adelaide Lightning to a WNBL championship, provided the team's on-court leadership as its floor general.
Beside her were Michelle Weir, American import Jenny Brown, Vanessa Porritt and Jacqui Pearce – as formidable and deep a guard combination as could be found in the country.
And whenever "Sporny" and "Moff" were absent due to Opals national duties, former veteran WNBL forwards Leeanne Grantham and Benita Molitor filled in to maintain the numbers and depth of this awesome team.
Throughout the WNBL regular season, North looked capable of achieving what no South Australian club team had and in the 10th year of the league, the Rockets reigned supreme, beating the Kathy Foster-led Hobart 72-57 in the Grand Final, played in Hobart before a full house which steadily fell into greater and greater silence.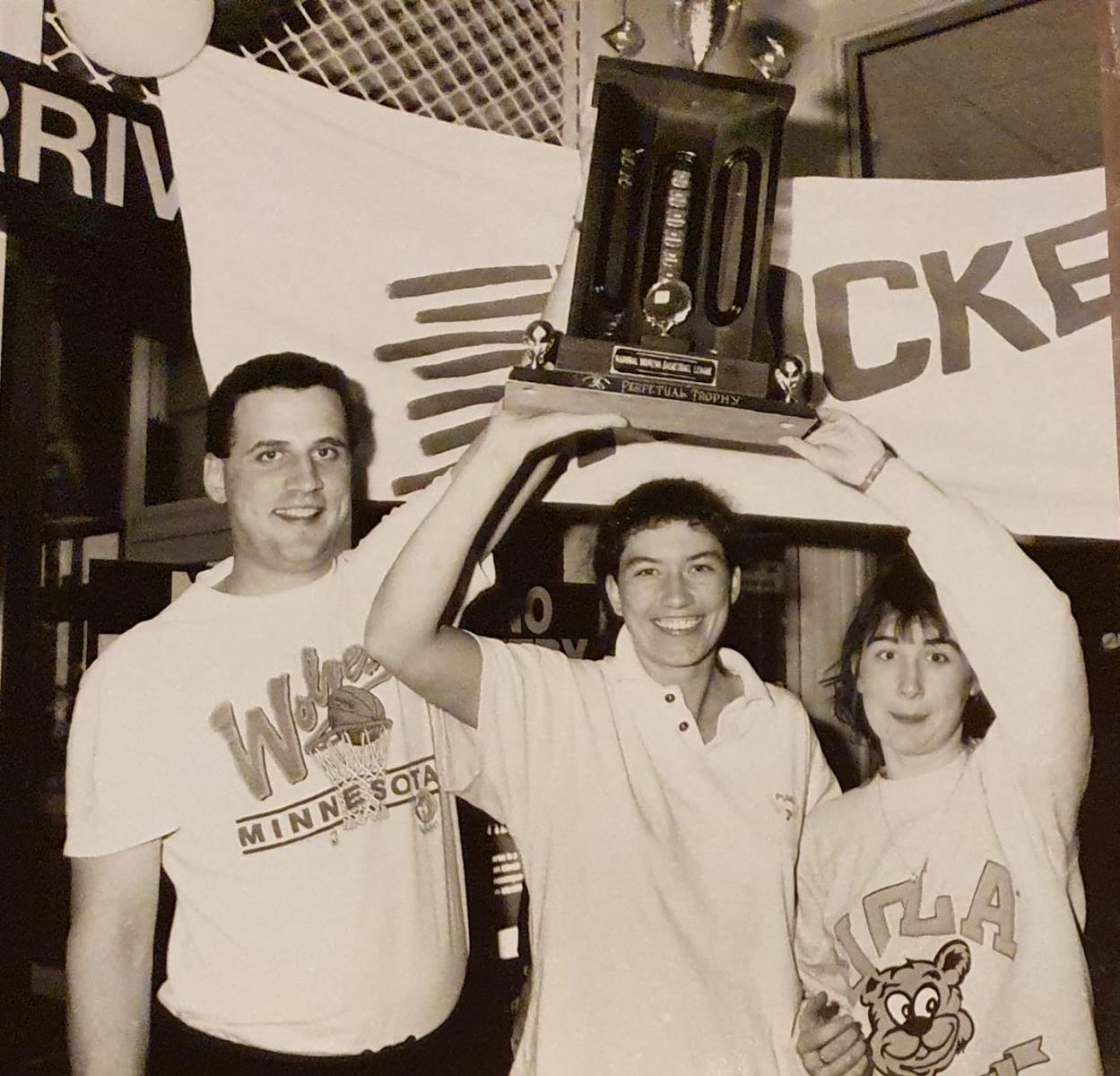 En route to claiming the crown, North Adelaide became the first non-Victorian team to do so, the first (and ultimately only) club team from SA to win a WNBL championship and finished the home/away season with a 22-2 win-loss record.
Along that journey, the Rockets set a league record by winning 21 consecutive games before giving the WNBL two members of its All-Star Five in Vicki Daldy and Donna Brown, while Brown also was named MVP of the Grand Final success.
Back in Adelaide for the main season – then known as the State Bank League – North thrashed fellow WNBL club Noarlunga City Tigers by 29 points in one semi final before routing West Adelaide 59-41 in the Grand Final to claim the SA Championship.
This time it was Sporn who claimed Grand Final MVP honours in a season where three of the state's All-Star Five were from the Rockets, namely Sporn, Brown and Daldy.
It was the Rockets' remarkable 12th consecutive State League Grand Final appearance since 1979, and gave them the "threepeat" with championships in 1988-1989-1990.
Donna Brown was voted by the referees as the 1990 Halls Medallist, the state's fairest and most brilliant player, while Daldy was named the league's MVP on the annual vote by her peers.
Brown also was awarded as the state's Best Defensive Player, Molitor named Coach of the Year for his second year in succession and in all, North Adelaide drove through 1990 winning 56 games and dropping just six.
Molitor's coaching assistant, Jan Stirling, went on to further great success as a four-time WNBL championship coach of the Adelaide Lightning and steered the Australian Opals to a FIBA World Championship Gold Medal in 2006.
As a team of destiny and one of total domination, North Adelaide Rockets of 1990 remain incomparable, also winning the McAvaney Award as the "best club team" at the 25th SA Women's Sports Association awards.
Year Event (including location) North Adelaide - Result
1990 1990 City of Adelaide Conference Champions – Adelaide (W-L: 10-0)
1990 1990 Australian Women's Club Champions - Melbourne (W-L: 5-0)
1990 Women's National Basketball League Champions – Hobart (W-L: 24-3)
1990 1990 State Bank League Champions – Adelaide (W-L: 17-3)