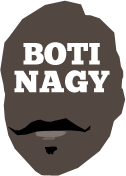 ---
Advertising opportunities available.
Please contact me.
---
Beware. It's Player of the Week
Tweet
JOSH Boone gave Sydney a torrid first half to deal with yesterday but it was the guards who stood out - yet again - when it came to B.O.T.I. Player of the Week considerations.
Perth was under the pump after losing three successive home games but Bryce Cotton, already a two-time PotW winner (Rds 7 and 9), stood up in no uncertain terms.
The star of the Wildcats' 2016-17 championship hit a round-high 27 points and did it at 67 percent with his 2-of-3 threes maintaining that average.
Cotton also grabbed six rebounds and dished two assists, with two steals as the Wildcats whipped arch rival New Zealand 90-73 at The Jungle.
It was an outstanding performance in a single game.
His counterpart at the Breakers, Edgar Sosa, the second player to win two PotW nominations (Rds 3 and 5) had 10 points with seven assists as New Zealand slipped back within Illawarra's reach.
Hawks' guard Rotnei Clarke largely was responsible for that, leading the way with 20 points at 58 percent, with 3-of-6 triples in an important 88-78 win over Cairns.
Clarke went 0-of-19 from beyond the arc in two games against Adelaide in the previous round so his return to form was a welcome sight for The Sandpit faithful.
The guard who stood out most though was Casper Ware, who stepped up in the end-game against Cairns to secure a 79-68 win, nailing 4-of-8 threes and five assists, putting the game out of reach with a match-high 24 points.
While Boone led the early onslaught in Sydney, when the Kings mounted their recovery, it was Ware, with a couple of big shots and plays, who turned a six-point game into a 93-76 waltz.
For the round, he averaged 22ppg, 4.5aps, 2.5rpg, 1.5spg and even managed to block a shot!
That gave him his second B.O.T.I. Player of the Week award, which, on top of his Rd.1 win, makes him this season's third multi-week winner.
B.O.T.I. NBL Player of the Week
Rd1 Casper Ware
Rd2 Perry Ellis
Rd3 Edgar Sosa
Rd4 Shea Ili
Rd5 Edgar Sosa
Rd6 DJ Newbill
Rd7 Bryce Cotton
Rd8 JP Tokoto
Rd9 Bryce Cotton
Rd10 Ramone Moore
Rd11 Cameron Gliddon
Rd12 Demitrius Conger
Rd13 Daniel Johnson
Rd14 Tai Wesley
Rd15 Jerome Randle
Rd16 Casper Ware