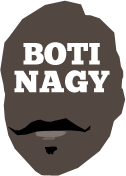 ---
Advertising opportunities available.
Please contact me.
---
Big trouble in little China
Tweet
THE burning question you have to consider as the NBL figuratively places a number of eggs in the China basket is simply this: What's in it for China?
As much as I embrace and relish teams and players having a shot at international action, surely first that action has to competitively be worthwhile.
Back in 2002, I had the privilege of accompanying the Adelaide 36ers' NBL champion on a playing tour through Malaysia, culminating in an international Asian tournament in Sarawak.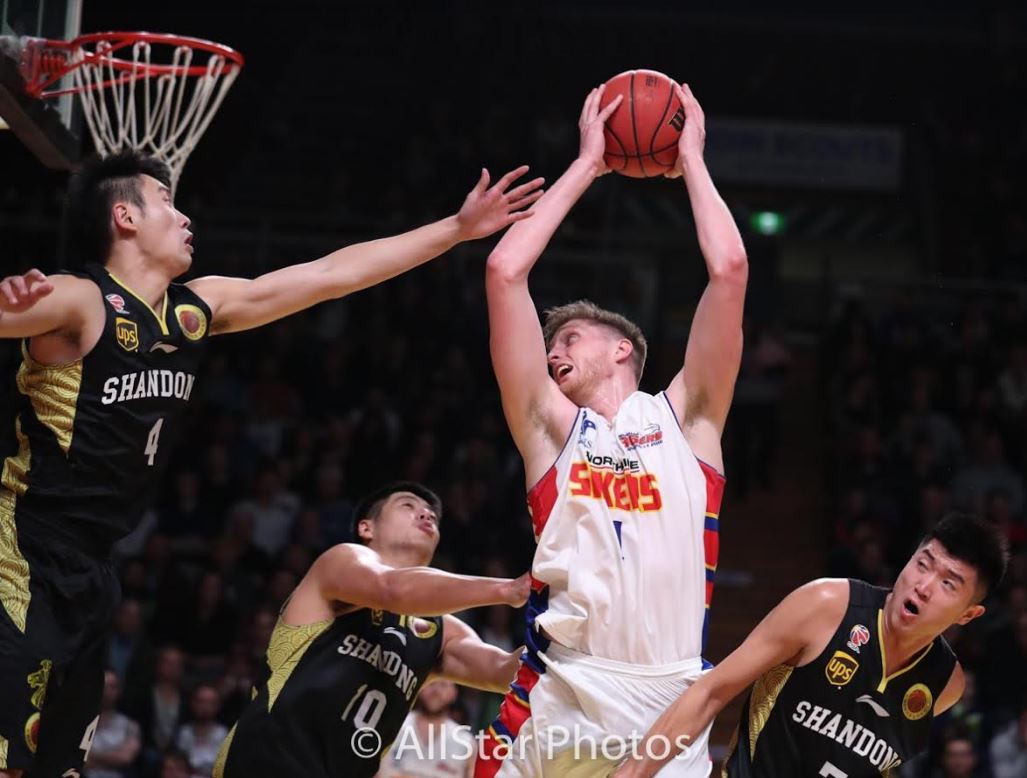 SHANDONG OVER-MATCHED: 36ers centre Matt Hodgson doing it fairly easily last Friday.
Then-Sixers coach Phil Smyth had enjoyed a stellar international career as one of Australia's first true superstar players and as a result was abundantly aware the general Asian standard would be well down on the competitiveness to which his champs were accustomed.
So championship stars such as Brett Maher, Willie Farley, Matt Garrison et al were not required, Smyth basically suiting only two established players, David Stiff and Mark Nash, with Jason Williams acting-captain.
Very young players such as Oscar Forman, Jacob Holmes, Darren Ng, Paul Bauer, Matt Illman made up the bulk of the team.
Nonetheless, it still swept through Malaysian, Indonesian and other Asian teams with such ease as for it to be embarrassing, even with cultural sensitivities guaranteeing the foot very much was off the pedal.

SHANDONG SWAMPED: Terrance Ferguson ready to block this attempt.
Come the tournament Final and the fledgling 36ers were heading for their one genuine contest of the trip – against the Chinese Basketball Association's Shanghai Sharks.
That was Yao Ming's team and thus a CBA club with some cache outside Asia.
Shanghai had been equally impressive disposing of the rival Asian minnows so the Final was going to be a gem, I expected.
It wasn't. The 36ers went into beast mode and convincingly beat the Sharks.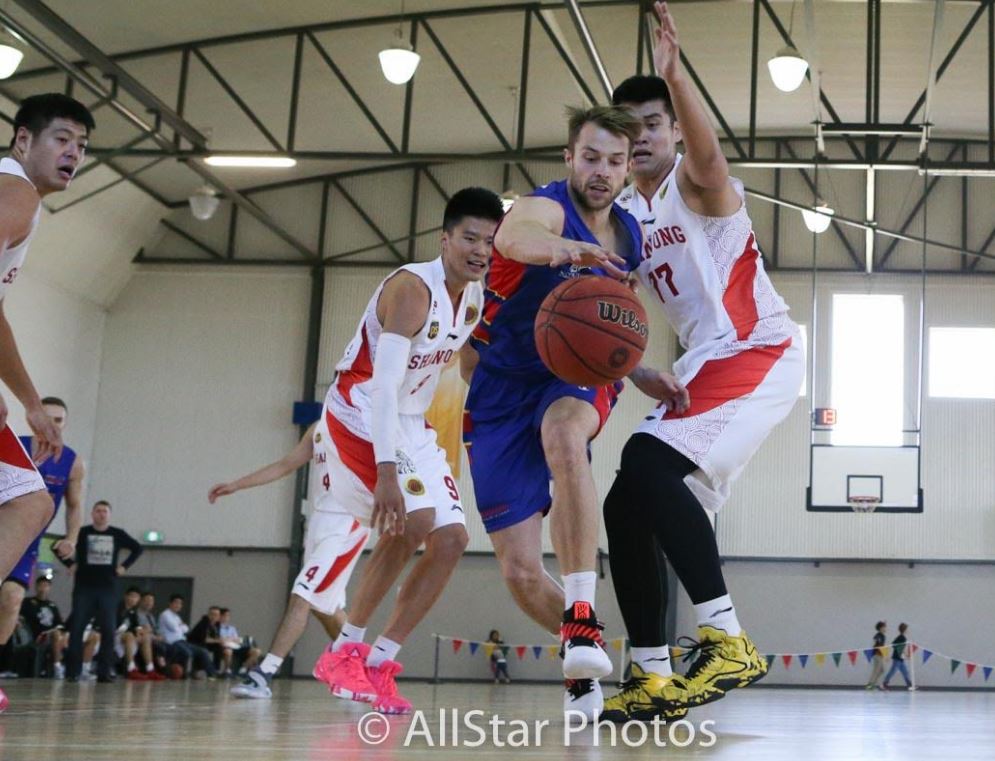 SUNDAY FUN DAY: Nathan Sobey taking off against the Golden Stars in Murray Bridge.
That was 14 years ago and not a great deal – other than CBA teams spending small fortunes recruiting NBA players such as Gilbert Arenas, Al Harrington, Stephon Marbury, Tracy McGrady, Metta World Peace, Kenyon Martin, J.R. Smith and Michael Beasley – appears to have changed.
Currently, Adelaide's sister city team in China, the Hi-Speed Golden Stars from Shandong, are preparing for their third and final game against the 36ers tonight for the "Friendly Cup".
Truly, it couldn't get much friendlier. The opening game was a 103-37 36ers' rout which bordered on farcical after halftime when the Golden Stars were given "unlimited fouls" because so many of the team's better players were on four at the interval.
In Game 2 at Murray Bridge, the Sixers agreed to have the scoreboard returned to 0-0 after each quarter so as to minimise the awful disparity that was about to unfold.
Now that's friendly stuff, for want of a more suitable description. The result was a 109-54 win anyway.
DANG, AS DENG DINGS 'DONG: Majok Deng had spectacular minutes against Shandong.
"When you play these teams from China you must do your homework," an Australian expat coaching in China told me.
"First it means nothing to the Chinese players - just one more day on the practice court really.
"I very much doubt they would have their best Chinese players with them or play them.
"We see this all the time in China and abroad. They play the young kids so the coach has an 'out' card with the owners . We have never seen the best of the CBA teams in Australia (because) they don't care enough.
"It does not help anyone with results like this. They may have worked harder shopping at the mall!"
Thereby hangs the dilemma ahead of the renamed Blitz Preseason Tournament in Brisbane in 10 days – count 'em, 10.
The Australian Basketball Challenge will feature the eight NBL clubs and two CBA outfits, Zhejiang CB Golden Bulls and Tianjin Ronggang, their games live-streamed back to China.
Questions abound but the biggest is this – will they bring their bona fide CBA teams and/or their NBA recruits?
If not, it could get, shall we say, "unfortunate".
And that brings me to the other question of the NBL's much-touted plan to bring a Chinese team into the NBL as early as 2017-18, basing it at the Gold Coast but with some home games in China.
Who will be playing on that team? For the purposes of ease, let's call it the "Mandarin Dragons".
Which CBA player will want to play for the Dragons, in a competition in far flung Australia where, if he is lucky, thousands may attend and thousands may tune in?
CCTV in China beams to billions. Yes, billions.
So here's the option for a potential Mandarin Dragons recruit. Play CBA and become well known and even a celebrity in your own country – with all abundant benefits – or play NBL in Australia/New Zealand in front of strangers.
Wouldn't seem a tough call to me.
Would fans in China tune in to watch Mandarin Dragons versus Illawarra Hawks, or Dongguan Leopards versus Zhejiang CB Golden Bulls?
NBL rivalries such as Perth-New Zealand, Perth-Adelaide, Adelaide-Brisbane, Cairns-Illawarra, Illawarra-Sydney, Sydney-Melbourne … they have history and substance.
Maybe the Kings once could have drawn a crowd from Chinatown for a match against the Mandarin Dragons but the Sydney Entertainment Centre is gone. And so are the Kings.
So which players would we see on the Dragons?
"Inevitably it would have to be Division II players from China," a former Aussie who worked in China basketball told me.
Again, it is not hard to see what the merits of this could be for the NBL.
But what's in it for China?