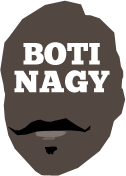 ---
Advertising opportunities available.
Please contact me.
---
Bob's Corner: NBA latest and some sad big man news
Tweet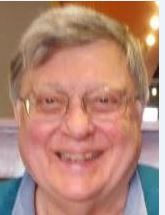 BOB'S CORNER:BOB'S CORNER: Our US correspondent BOB CRAVEN has an NBA playoffs update this week, along with some sad and tragic news regarding a couple of very notable "big" guys, Shawn Bradley and the late Mark Eaton, a Utah Jazz fixture for 11 years. All this and more with Bob's regular round-up.
THE NBA playoffs are nearing the end of their first round, with some series already decided.
So far (at time of writing) the Warriors and the Heat are the noteworthy teams already done for the season.
The Ws never really had much of a chance as they lost their one-game play-in to try to qualify for the playoffs in their Conference.
Klay Thompson missed the entire season for them, and Steph Curry missed a substantial portion of this Covid-shortened regular season due to injury. He was back for the play-in game, but it was too little, too late for the Warriors.
The other newsworthy note so far in the playoffs was that the Heat were ousted in four straight (best-of-7). They were the losers in the championship finals just last season.
An interesting individual note was the performance of Damian Lillard of the Blazers in Game 5 of their series against the Nuggets.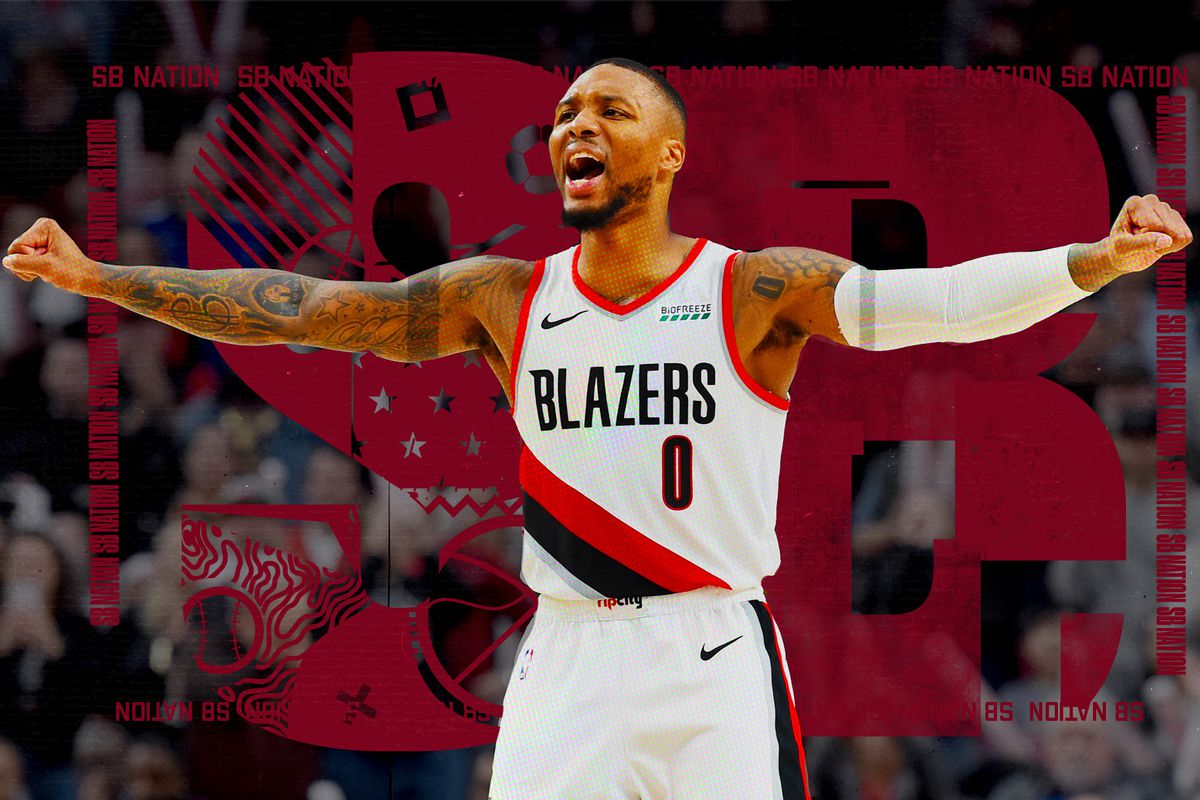 The series tied 2-2 going into Monday night's game in Denver, and Lillard did his best Superman imitation, though his effort fell just short.
The Blazers lost in double OT, 147-140, Lillard scoring 55 points on 17-of-24 shooting from the field, including 12-of-17 from 3-point range.
Those 12 threes are an all-time NBA record for the playoffs. Additionally, he became the first player ever to score at least 50 points, dish out at least 10 assists, and connect on at least 10 3-point shots in any game, regular season or playoff.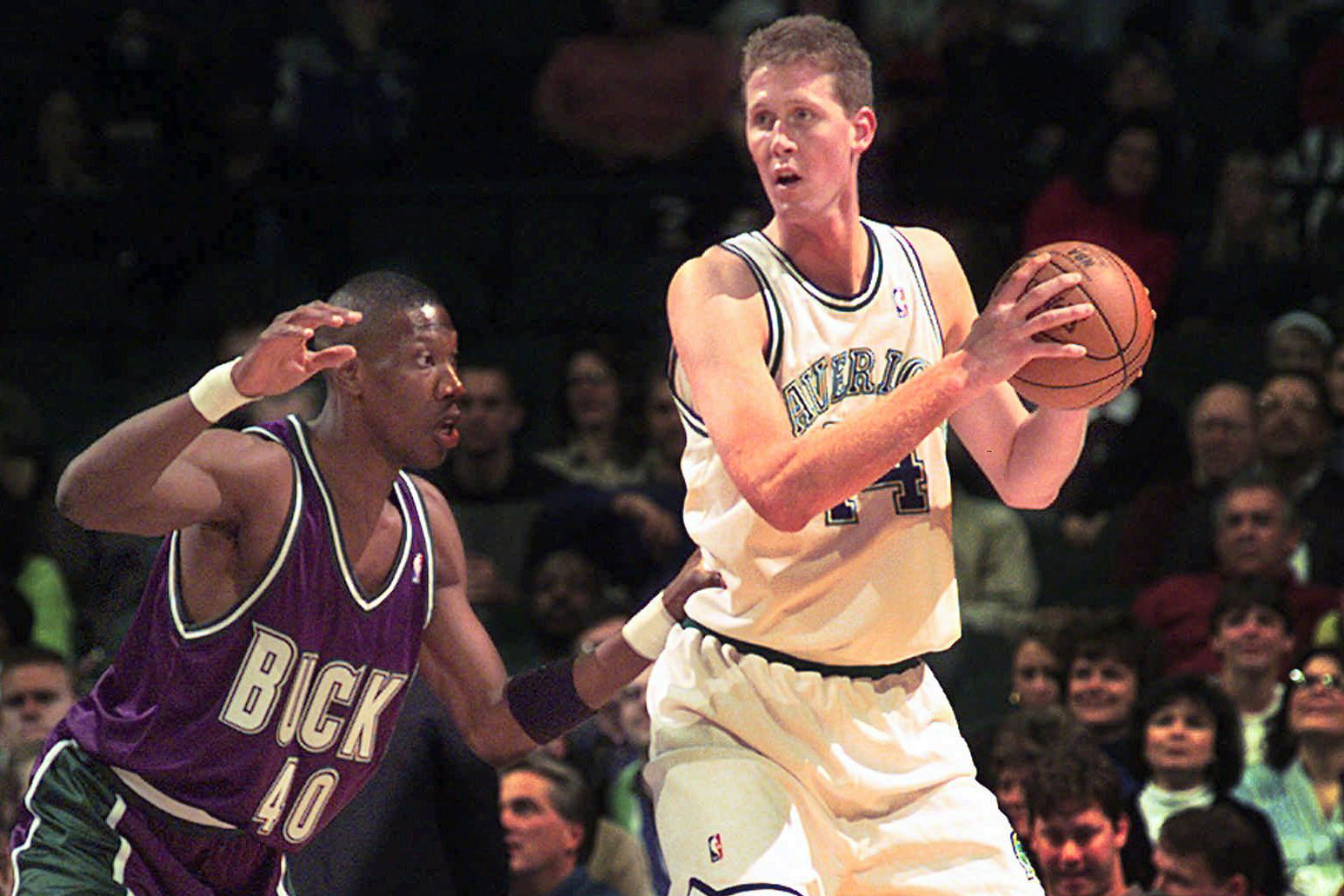 THE first five months of this year have not been good for a couple of retired NBA big guys who were among the tallest ever to play in the league.
Near the end of January this year, Shawn Bradley (above) was riding a bicycle a block from his house in the State of Utah when he was run into from behind by a speeding vehicle.
Amazingly, he survived but he is now permanently paralysed from the neck down. Bradley was born in Germany of an American father (who worked at a US military hospital) and a German mother.
His dad was 6'8" (204cm) and his mother was 6'0" (183cm). He was a high school basketball All-American and, after playing one year at Brigham Young University (BYU), he took a two-year mission overseas for his Mormon Church (thus the nickname "The Stormin' Mormon"), spending those two years in Sydney.
In one game that season with BYU, he tied the NCAA record for blocks in a game with 14, a mark originally set by "The Admiral", David Robinson. (This record was broken in 2007 by a player from small school Alabama A&M who blocked 16. )
Because his mother was German, he also played basketball internationally for Germany alongside Dirk Nowitzki at the EuroBasket Tourney in 2001 where they finished fourth.
Upon his return from Australia, he declared for the NBA draft, rather than go back to university, and played for 12 years in the NBA for four different teams before retiring.
His career was marked by what his teams and coaches would have termed "maddening inconsistencies" with his scoring and rebounding, but he was a superb shot blocker, as we might expect.
He had several triple-doubles during his time in the NBA, with blocks, rather than assists, being the third statistic. He is one of only five players ever to have a triple-double consisting of 20 or more points, 20 or more rebounds, and 10 or more blocked shots, and he is the only one who did it while coming into the game off the bench (in the latter part of his career, some coaches used him off the bench instead of starting him, in the hope he'd have a larger impact on the game.)
The other four 20-20-10 players were Kareem, Elvin Hayes, Hakeem Olajuwon and Shaq.
At 7'6" (229cm), Bradley is one of our players listed by the NBA as tied for being the second tallest person ever to play in the league.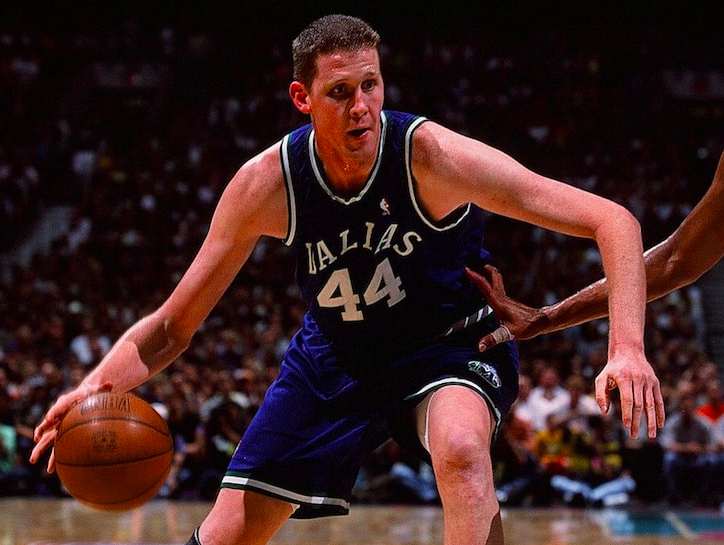 The tallest player ever in the NBA was Romanian Gheorghe Muresan at 7'7" (231cm). Along with Bradley, the others listed by the league as measuring 7'6" (229cm) are Manute Bol from Sudan, Yao Ming from China and Slavko Vranes of Montenegro.
In my humble opinion, Vranes' listing deserves a very large asterisk, as he only appeared in one game for the Portland Trailblazers in 2004, was credited with 3 minutes played, took one shot (he missed) and committed one foul.
Based on a bunch of reading I've done, I think Bol might also deserves an asterisk, as more than one media person has mentioned that he appeared to be slightly taller than his listed height by maybe a centimetre or so when seen standing next to other exceptionally tall players.
I guess we'll never know on that one, officially, as he passed away a few years ago.
On a side note, three years ago, Bradley was the subject of some analytic genetic testing. Most super-tall people have some sort of abnormality as a cause or a part of their height, such as Marfan's Syndrome.
In Bradley's case, it was determined that his height was not the result of a physical and/or genetic disorder. His size resulted from an extremely rare combination of the thousands of genetic variants that determine height in a human.
One of Bradley's daughters, who is 6'4" (194cm) is currently playing collegiate volleyball for Washington State U.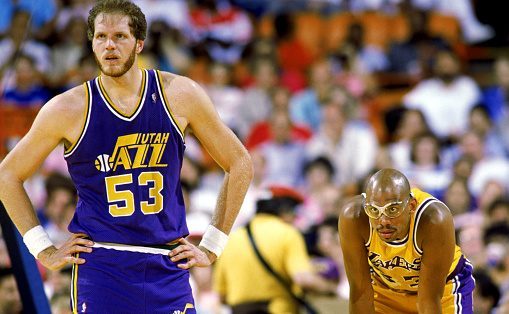 The other sad case occurred just this week (May 29), and also in Utah where 7'4" (224cm) Mark "Mount" Eaton left home for an evening bicycle ride and, shortly thereafter, was found dead on the side of the road beside his bike.
There was no sign that a vehicle was involved, so we don't yet know anything about the circumstances surrounding his death, other than that he appeared to have crashed the bike.
Eaton was a former All-Star and a two-time NBA Defensive Player of the Year for the Utah Jazz, for whom he played his entire 11-year pro career.
He holds the league's single-season record for most blocks, was second to Kareem in total career blocks when he retired, and he is the career leader in blocks per game with 3.51.
He was a 3-time All-Defence First Team player, led the league in blocks four times, and the Jazz retired his number 53.
A more unlikely player who would accumulate a resume like that would be tough to imagine.
In high school, he was tall (211cm), skinny (81 kilos) and uncoordinated, and played only sparingly off the bench for the school team. After high school, he worked as an auto mechanic for four years, and attended a local community/junior college to take more mechanic classes.
One of his professors there was also an assistant basketball coach at the school and, because of Eaton's size (by then he had reached his full size of 224cm), convinced him to try out for the team.
An immediate hit at that level, two years later he was offered a scholarship to play at UCLA. He had two different coaches in those two years (Larry Brown and Larry Farmer) and rarely left the bench—his final year there He played a total of 42 minutes all season.
That summer after a summer pick up game, Wilt Chamberlain, seeing that Eaton was frustrated with his inability to play effectively, sought him out and told him that it was a mistake for him to try to score points against players who were better and quicker than he was.
Wilt advised him to focus just on protecting the basket, grabbing rebounds and passing the ball to quicker guards, rather than trying to compete with small, quicker players in scoring.
Eaton would later say that Wilt's advice was the turning point in his career.
The next turning point happened shortly after that when Jazz head coach and General Manager, Frank Layden, a huge, outgoing, wisecracking New York Irishman, picked him in a later round of the NBA draft that summer.
When asked why he drafted Eaton, he replied that he was a believer in Celtic's Hall of Fame Coach Red Auerbach's comment that, "You can't teach height." He saw a future for Eaton as the defensive stalwart of his Jazz teams that would feature Karl "The Mailman" Malone and John Stockton, and he turned out to be right.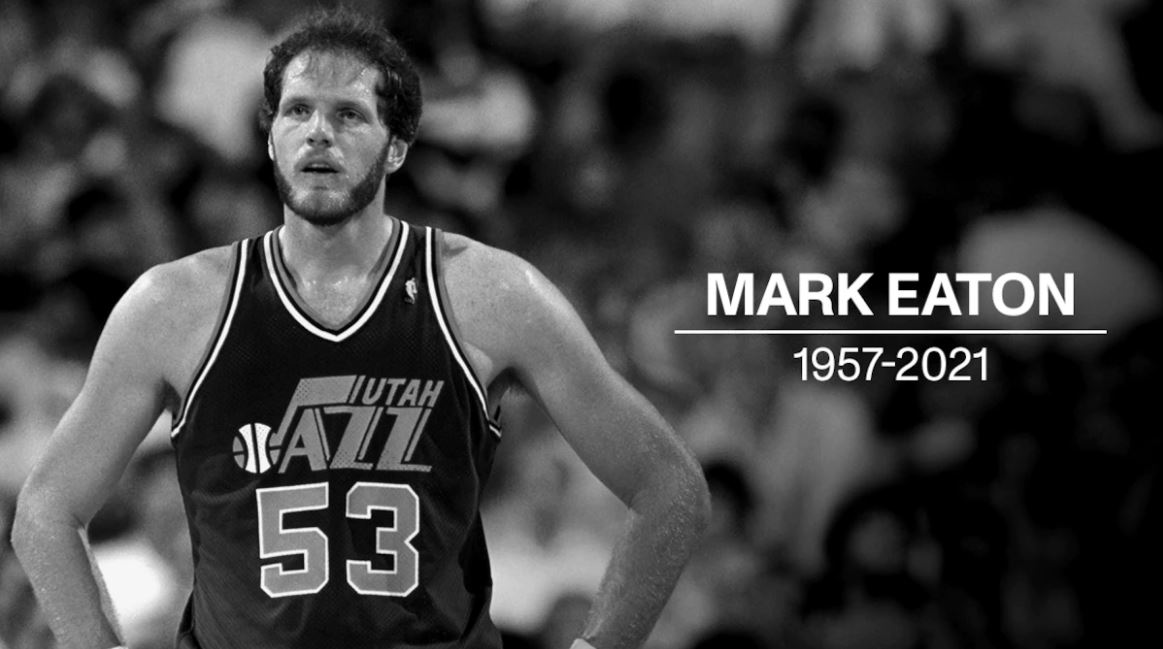 Layden was also famous for a comment he made when asked about why he drafted little (6'0"—183cm) John Stockton from tiny Gonzaga U. in Spokane, Washington, in the middle of nowhere.
His response was something to the effect that, "He's smart, quick, plays great defence, is a tremendous ball-handler and passer ... and besides, he's of Irish descent and his dad owns a bar right next to the campus. How can you not like the guy?"
Stockton is now, of course, in the Hall of Fame and is the NBA career leader in assists—by far.