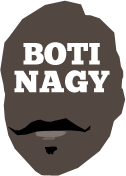 ---
Advertising opportunities available.
Please contact me.
---
Bogut hurt as Cavs seize initiative
Tweet
KYRIE Irving and LeBron James put on a show at Oracle Arena, the defending NBA champion Warriors with work ahead, especially if Andrew Bogut is ruled out from here, as feared.
Bogut went down early in the third quarter with what looked a fairly serious left knee injury as Golden State worked to avoid the inevitable, Cleveland winning 112-97 to send the series back home with the Warriors' lead reduced to 3-2.
The reason the injury appeared more serious than the Warriors' initial diagnosis of a "sprained left knee" was that Bogut is no actor. When the big fella clutches his knee and is grimacing in pain, he is in pain.
Golden State's chances of wrapping up the series suffered a blow pre-game when Draymond Green was suspended for his somewhat regular insistence to go "down under", even before his holidays have begun.
(Fascinating to me that there's no "Dirty Dray" stuff from being thrown by the American media at Groin, er, Green, in the way Aussie guard Matthew Dellavedova was vilified and turned into "Dirty Delly" last year. But I digress…)
Andre Iguodala started in his place and was active early as GSW sped out to a 9-3 lead, the fans at Oracle Arena in full voice.
Klay Thompson (37 points, six threes), also was a force in the first half, with 26 points before the break.
Dellavedova came in a couple of minutes before halftime and quickly compiled two turnovers, missed an open three and collected three fouls in an unusually wayward stretch.
His third foul was a total furphy though, Warriors backup Anderson Varejao grabbing him across the shoulder as Delly attempted a basic box-out. From there, Varejao – a notorious flopper – threw himself on the floor and an unamused Dellavedova was assessed the foul.
By halftime, it was 61-61 and obvious if anyone wanted to commit to playing defence, they'd have a distinct advantage.
The Warriors missed 14 of their first 20 shots after the interval, en route to a 7-of-24 period, which was very helpful for James and his troops as they set up victory.
Cleveland's "big three", James, Irving and Kevin Love, were responsible for 84 of its 112 points. James had 41, Irving 41 and Love 2.
Irving mesmerised with his play, his 41 points on 17-of-24 shooting, with 5-of-7 threes, plus six assists.
James' 41 was on 16-of-30 shooting, with 4-of-8 triples, plus 16 rebounds, seven assists, three steals and three blocks.
"We weren't very good defensively," Warriors coach Steve Kerr said.
"We obviously knew we were without Draymond, so there's no point in harping on that. We had to play better, and we didn't."
Steph Curry had 25 points, Iguodala 15, with 11 boards and six assists.
Shaun Livingston threw down a highlight-reel slam dunk but beyond that, and with the question-mark now hanging over Bogut, it is GSW with the work to do ahead of Game 6 in Cleveland on Friday.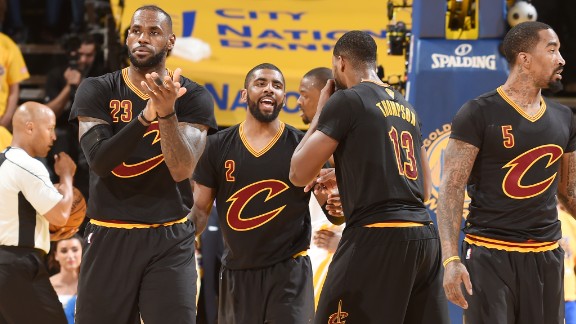 SSH, DON'T TELL ANYONE: We're all wearing T-shirts. Picture: Courtesy nba.com
NBA FINAL
G1: Golden State 104, Cleveland 89
G2: Golden State 110, Cleveland 77
G3: Golden State 90, Cleveland 120
G4: Golden State 108, Cleveland 97
G5: Golden State 97, Cleveland 112
Golden State leads 3-2
NBA PLAYOFFS
WESTERN CONFERENCE
FINAL:
G1: Golden State 102, Oklahoma 108
G2: Golden State 118, Oklahoma 91
G3: Golden State 105, Oklahoma 133
G4: Golden State 94, Oklahoma 118
G5: Golden State 120, Oklahoma 111
G6: Golden State 108, Oklahoma 101
G7: Golden State 96, Oklahoma 88
Golden State wins 4-3
SEMI FINALS:
G1: San Antonio 124, Oklahoma 92
G2: San Antonio 97, Oklahoma 98
G3: San Antonio 100, Oklahoma 96
G4: San Antonio 97, Oklahoma 111
G5: San Antonio 91, Oklahoma 95
G6: San Antonio 99, Oklahoma 113
Oklahoma advances 4-2
G1: Golden State 118, Portland 106
G2: Golden State 110, Portland 99
G3: Golden State 108, Portland 120
G4: Golden State 132, Portland 125 in o/t
G5: Golden State 125, Portland 121
Golden State advances 4-1
FIRST ROUND:
G1: Golden State 104, Houston 78
G2: Golden State 115, Houston 106
G3: Golden State 96, Houston 97
G4: Golden State 121, Houston 94
G5: Golden State 114, Houston 81
Golden State advances 4-1
G1: Oklahoma 108, Dallas 70
G2: Oklahoma 84, Dallas 85
G3: Oklahoma 131, Dallas 102
G4: Oklahoma 119, Dallas 108
G5: Oklahoma 118, Dallas 104
Oklahoma advances 4-1
G1: San Antonio 106, Memphis 74
G2: San Antonio 94, Memphis 68
G3: San Antonio 96, Memphis 87
G4: San Antonio 116, Memphis 95
San Antonio advances 4-0
G1: Los Angeles 115, Portland 95
G2: Los Angeles 102, Portland 81
G3: Los Angeles 88, Portland 96
G4: Los Angeles 84, Portland 98
G5: Los Angeles 98, Portland 108
G6: Los Angeles 103, Portland 106
Portland advances 4-2
EASTERN CONFERENCE
FINAL:
G1: Cleveland 115, Toronto 84
G2: Cleveland 108, Toronto 89
G3: Cleveland 84, Toronto 99
G4: Cleveland 99, Toronto 105
G5: Cleveland 116, Toronto 78
G6: Cleveland 113, Toronto 87
Cleveland wins 4-2
SEMI FINAL:
G1: Cleveland 104, Atlanta 93
G2: Cleveland 123, Atlanta 98
G3: Cleveland 121, Atlanta 108
G4: Cleveland 100, Atlanta 99
Cleveland advances 4-0
G1: Miami 102, Toronto 96 in o/t
G2: Miami 92, Toronto 96 in o/t
G3: Miami 91, Toronto 95
G4: Miami 94, Toronto 87 in o/t
G5: Miami 91, Toronto 99
G6: Miami 103, Toronto 91
G7: Miami 89, Toronto 116
Toronto advances 4-3
FIRST ROUND:
G1: Indiana 100, Toronto 90
G2: Indiana 87, Toronto 98
G3: Indiana 85, Toronto 101
G4: Indiana 100, Toronto 83
G5: Indiana 99, Toronto 102
G6: Indiana 101, Toronto 83
G7: Indiana 84, Toronto 89
Toronto advances 4-3
G1: Atlanta 102, Boston 101
G2: Atlanta 89, Boston 72
G3: Atlanta 103, Boston 111
G4: Atlanta 95, Boston 104
G5: Atlanta 110, Boston 84
G6: Atlanta 104, Boston 92
Atlanta advances 4-2
G1: Cleveland 106, Detroit 101
G2: Cleveland 107, Detroit 90
G3: Cleveland 101, Detroit 91
G4: Cleveland 100, Detroit 98
Cleveland advances, 4-0
G1: Miami 123, Charlotte 91
G2: Miami 115, Charlotte 103
G3: Miami 80, Charlotte 96
G4: Miami 85, Charlotte 89
G5: Miami 88, Charlotte 90
G6: Miami 97, Charlotte 90
G7: Miami 106, Charlotte 73
Miami advances 4-3