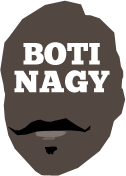 ---
Advertising opportunities available.
Please contact me.
---
Boomers beat odds, Caps lock first
Tweet
MELBOURNE today made its road win over in-form Adelaide definitive, overcoming foul trouble and injury to inflict a decisive 98-83 WNBL whipping, while Canberra clinched first place.
After two lucky escapes in Melbourne, today the Boomers stayed on task throughout, weathered Lightning's best shot, then pulled away behind the brilliant shooting of import Lindsay Allen (22 points at 56 percent, 8 assists) and former Adelaide WNBL Rookie of the Year, Steph Talbot (21 points at 57 percent, 5-of-9 threes).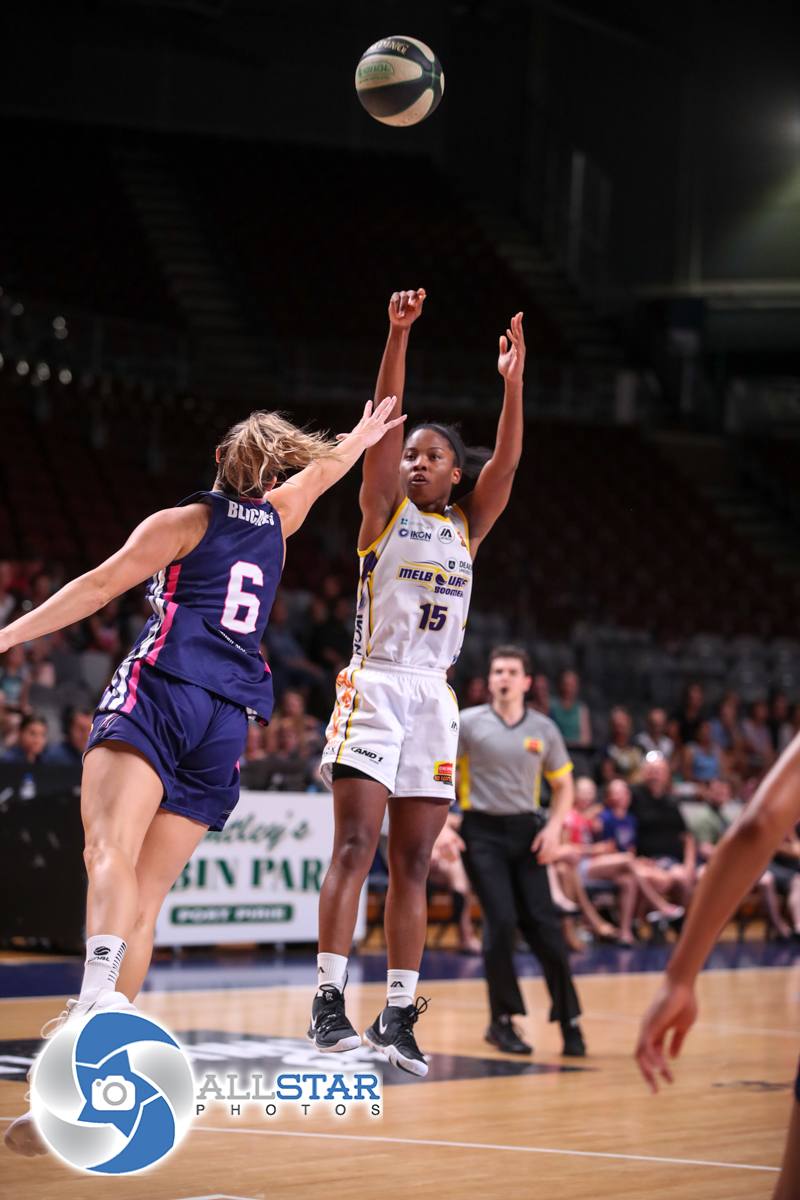 ALLEN KEY: Lindsay Allen hit the shots when Melbourne needed them today in Adelaide.
Melbourne produced a 52-30 second half against the first half's run of play and despite Cayla George taking an awkward tumble which saw her walk to the sideline in some discomfort and in danger of not returning.
Nia Coffey (game-high 26 points and three blocks, including a highlight smash away of a Talbot shot) again led Adelaide but the absence of consistent scoring contributions from Aimie Clydesdale, Colleen Planeta and Steph Blicavs curtailed Lightning's ability to maintain scoreboard pressure.
The win took Melbourne's record to 14-6 and guaranteed it second place for the Final Four playoffs.
The loss sent Adelaide tumbling to fourth on 12-8, behind Perth on 13-7. The two teams meet in the final round of the regular season next week, with the winner guaranteed third spot.
IN Townsville, the home team showed some post-halftime pluck to drag the deficit back to a 12-point loss after Canberra led 52-31 at the interval.
Leilani Mitchell (below defending Tess Madgen), with a game-high 20 points and seven assists, paced the Caps who took their record to 14-5.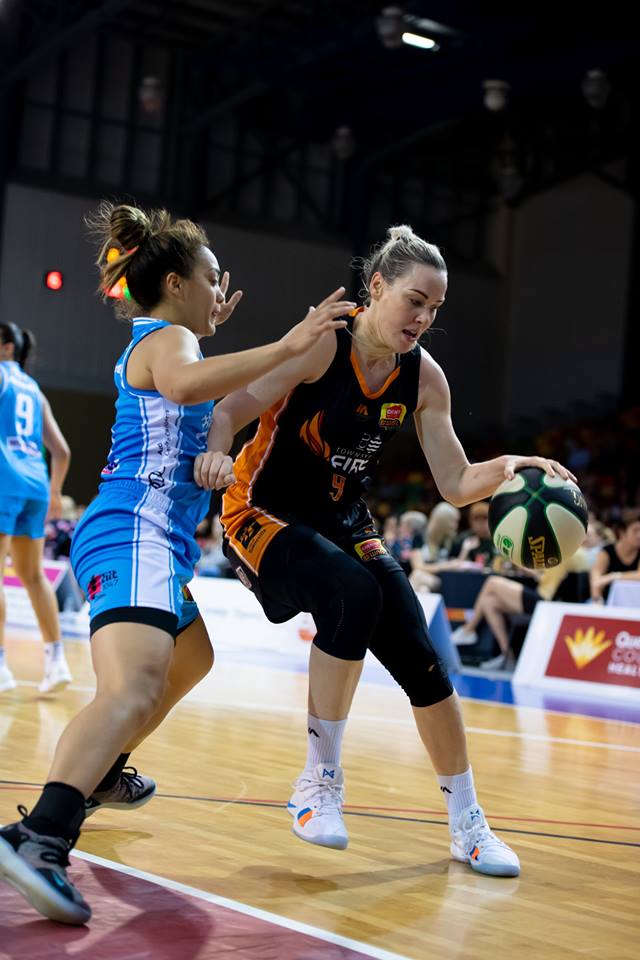 With last-placed Sydney and luckless Bendigo to come, the Capitals have all but officially wrapped up first place and the regular season championship. But just because it isn't official, doesn't mean it isn't so.
IN Adelaide, WNBL Head Sally Phillips was on hand to present Lightning coach Chris Lucas - the most successful current coach in the league - with his league life membership for 300 games coached.
Melbourne then promptly began to rain on his parade, leading 31-27 after the first quarter, despite bigs George, Ezi Magbegor and Sarah Boothe all collecting two fouls apiece.
Penina Davidson (below) and Nicole Seekamp had eight points apiece for Lightning who looked in further trouble, slipping 38-46 behind late in the second.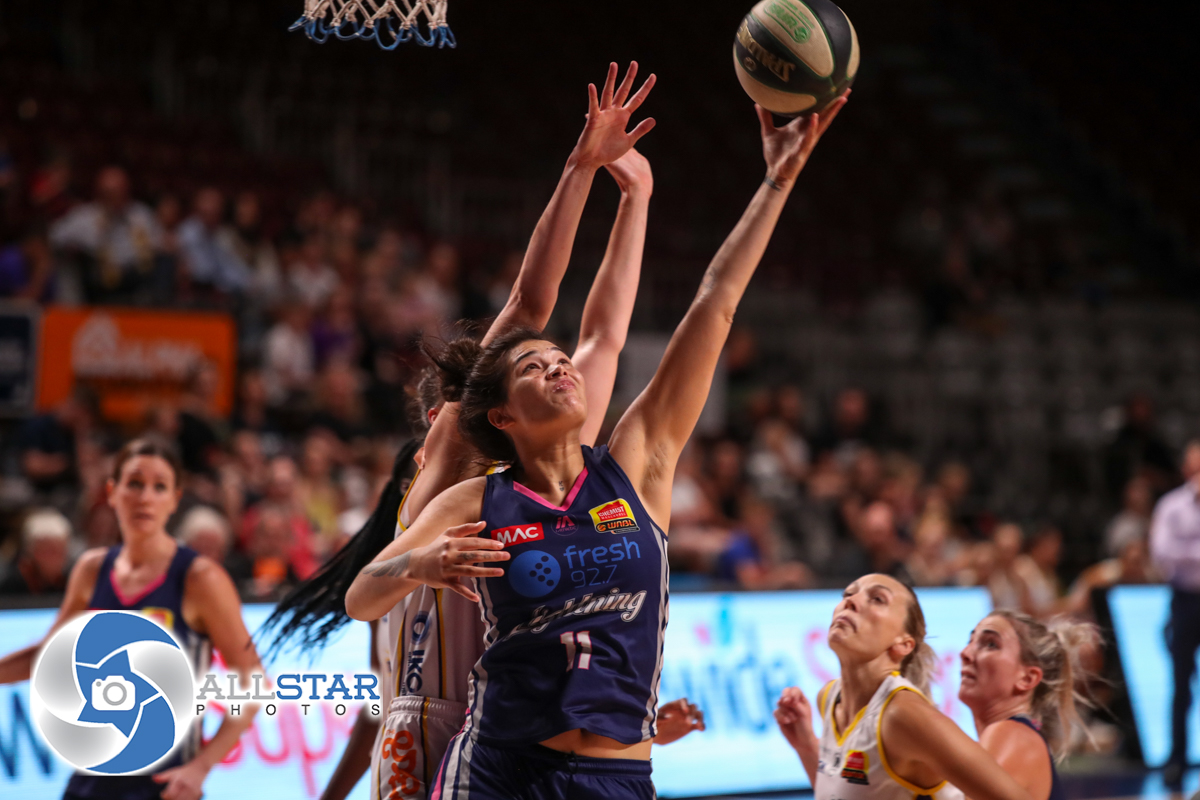 That triggered a 15-0 Adelaide run in which Coffey, Lauren Nicholson and Alexander all were prominent, giving Lightning a 53-46 halftime lead, Boomers George, Magbegor and Boothe now all on three fouls each.
When Alexander (21 points at 70 percent, 9 rebounds), opened the second half scoring for a 55-46 Lightning lead, the run was out to 17 unanswered points.
Allen ended it there but it was still Adelaide ahead 66-58 as its imports controlled the paint, 5:13 left in the third.
Magbegor, Allen and O'Hea tied the game at 66-66, before Seekamp interrupted the run.
But it was to little avail. Melbourne scored the quarter's next eight points - Talbot and Allen taking over - to lead 74-68 going into the last.
A 16-2 run in all, it became 19-2 and 11-0 when Jenna O'Hea (11 points, 13 rebounds, 5 assists) opened the last quarter with a 3-pointer for a 77-68 buffer.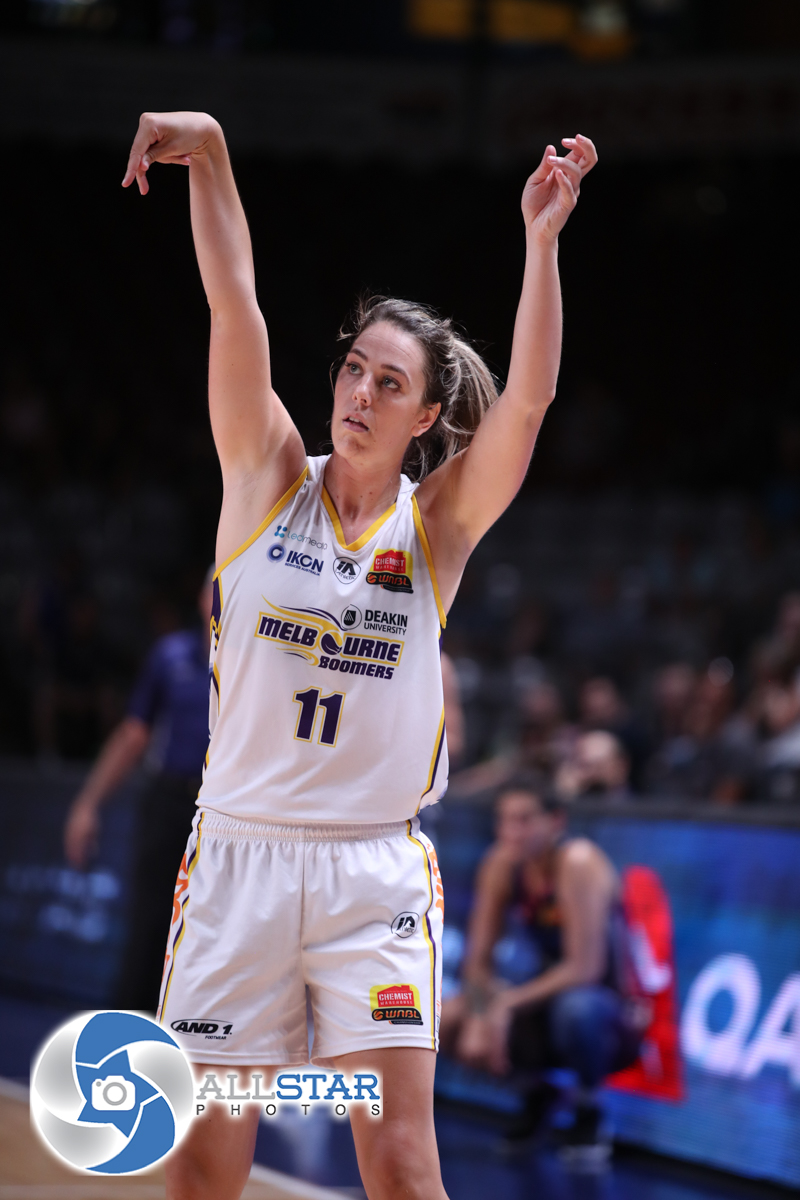 OVER-RUN: Jenna O'Hea's three was a back-breaker as the Boomers ran over Adelaide.
With the Boomers growing in confidence and Adelaide visibly tiring, this one was over.
Blicavs, with three points on 1-of-6 shooting, was too passive offensively while Clydesdale went scoreless and even passed up an open three to end the game, with the clock running out as Nicholson received the pass.
Planeta, who has struggled offensively for the past few weeks and seems to successfully have convinced herself she has forgotten how to shoot, also went scoreless, none of her five attempts even looking likely.
WNBL Round 14
MAC ADELAIDE LIGHTNING 92 (Coffey 37, Blicavs 16, Seekamp 11, Alexander 10; Coffey 12 rebs; Seekamp 9 assts) d BENDIGO BANK SPIRIT 81 (Payne 21, Wehrung 16, Tomlinson 14, Whittle 12; Tobin 10 rebs; Hurst 8 assts) in overtime at The Goldmine, Bendigo Stadium.
PERTH LYNX 74 (Taylor 29, Schwagmeyer 14, Ebzery 11; Taylor 8 rebs; Mansfield, McPhee 5 assts) d DEAKIN MELBOURNE BOOMERS 60 (Magbegor 16, O'Hea 12, Garrick 10; O'Hea 8 rebs; Talbot 4 assts) at The Enclosure, Bendat Stadium.
UNIVERSITY of CANBERRA CAPITALS 80 (Mitchell 20, Wilson, Nurse 14, Griffin, Tolo 10; Scherf 10 rebs; Mitchell, Wilson 7 assts) d JCU TOWNSVILLE FIRE 68 (Mincy 15, Aokuso 13, Madgen 11, Garbin 10; Garbin 8 rebs; Donnelly 6 assts) at The Fire Station, Townsville Stadium.
DEAKIN MELBOURNE BOOMERS 98 (Allen 22, Talbot 21, Purcell 13, George 12, O'Hea 11; O'Hea 13 rebs; Allen 8 assts) d MAC ADELAIDE LIGHTNING 83 (Coffey 26, Alexander 21, Nicholson 13, Seekamp 12; Alexander 9 rebs; Seekamp 6 assts) at The Lighthouse, Titanium Security Arena.