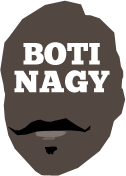 ---
Advertising opportunities available.
Please contact me.
---
Wild scenes erupt in Philippines
Tweet
SOME of the most sickening, disgraceful scenes ever perpetrated on a basketball court tonight turned Australia's 89-53 rout of the Philippines in Manila into irrelevancy and require a quick and fierce reaction from FIBA tomorrow.
A game which repeatedly threatened to boil over into chaos, especially as the Boomers pulled further away, finally erupted with 4.01:8 to go in the third quarter as Aussie forward Daniel Kickert decked Filipino guard Roger Pogoy (below), setting off a riot in which it was a miracle Chris Goulding and Nathan Sobey were not seriously injured.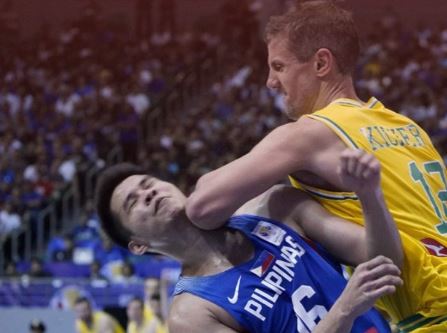 Goulding was attacked by what appeared like a pack of wild hyenas who set upon him in one of the most heinous assaults ever seen in a basketball stadium, if not a sporting arena of any type.
Forget the NBA's so-called "Malice in the Palace", these scenes should have seen people ejected and others arrested and on charges.
Australia was asserting its authority over the game when Filipino coach Vincent Reyes called a time-out and frustratedly implored his charges to: "Hit somebody! Put somebody on their ass!"
Pogoy, after making a move on Goulding, threw a hit on him which sent him sprawling to the floor (below).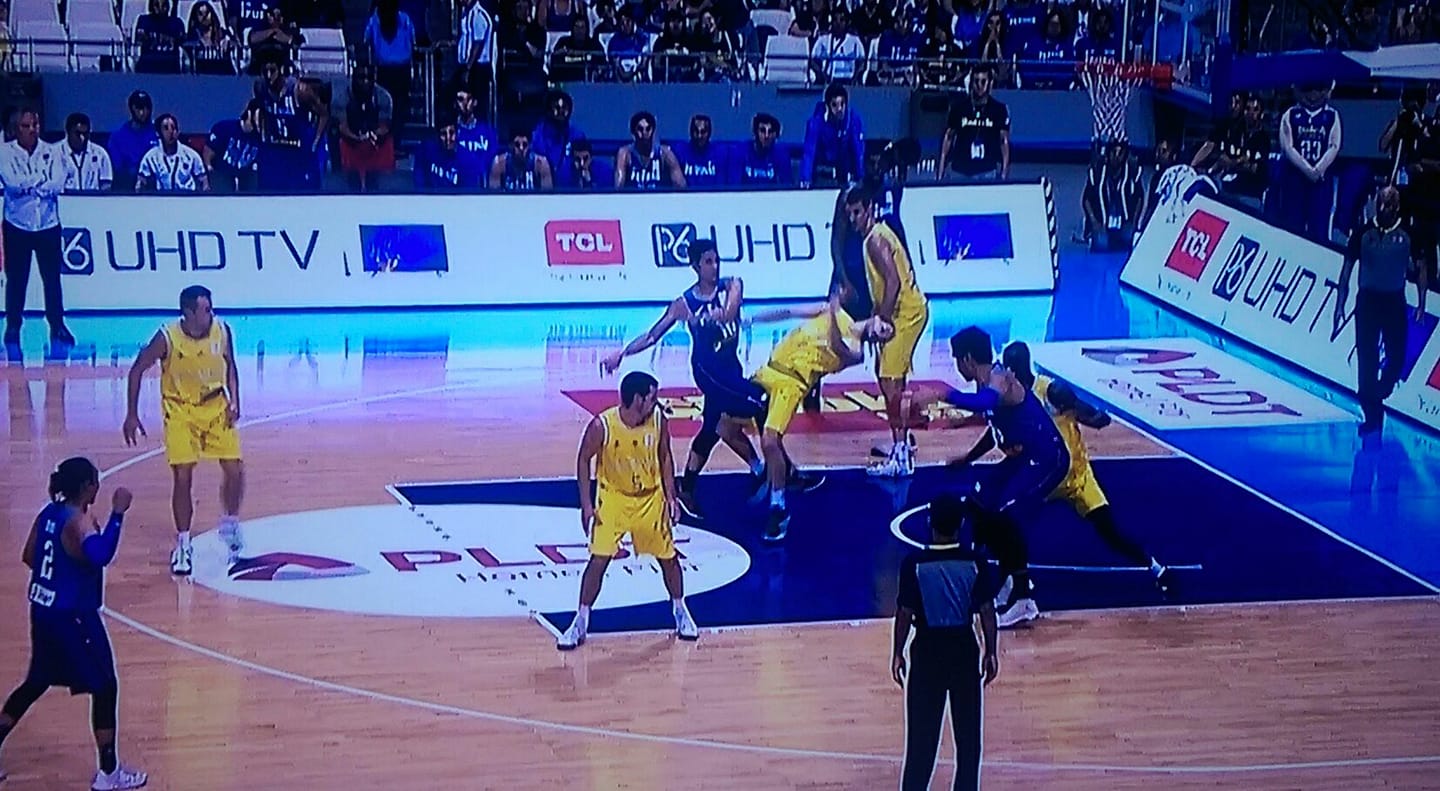 There already had been USFs and technical fouls, and Kickert unnecessarily dragged to the floor earlier in the quarter during a Boomers offence.
When he saw Goulding struck, he retaliated by elbowing Pogoy to the head.
Clearly emboldened by their coach's exhortations, the Filipino players then attacked en masse, Andray Blatche endeavouring to punch Kickert as Jayson Castro (#7) jumped in from behind to cheapshot the Sydney Kings' new power forward (below).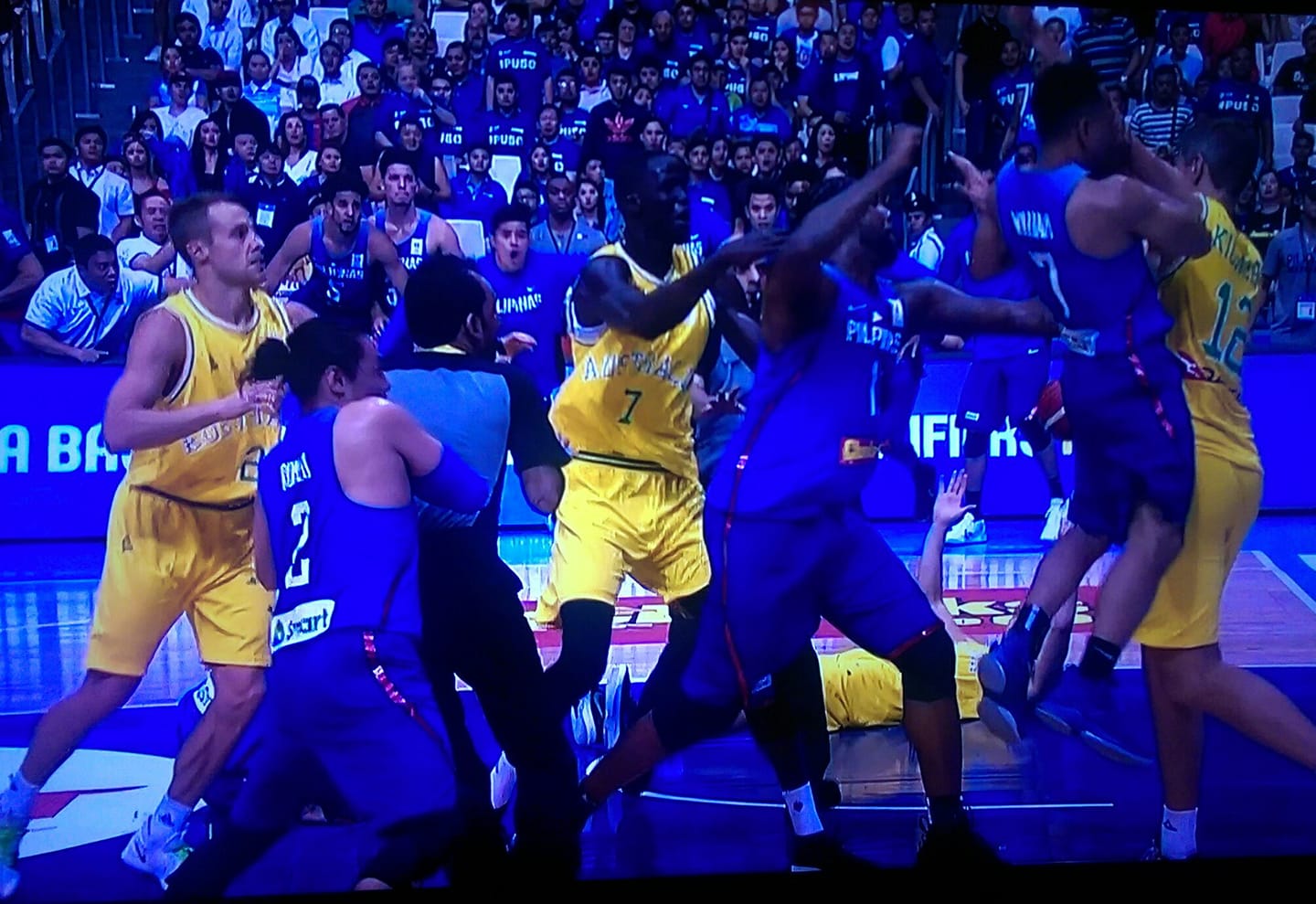 Terence Romeo, another player high on the "punch you from behind" heroics, then struck Thon Maker who turned to chase after him with some sort of improvised jumping kick.
While Filipino players cleared their bench to join the fray in the 55,000-seat venue – which, fortunately, was only about one-third full … thank heaven for expensive ticket prices – Australia's coaches ran in to try and restore order and bring their players back to their team bench.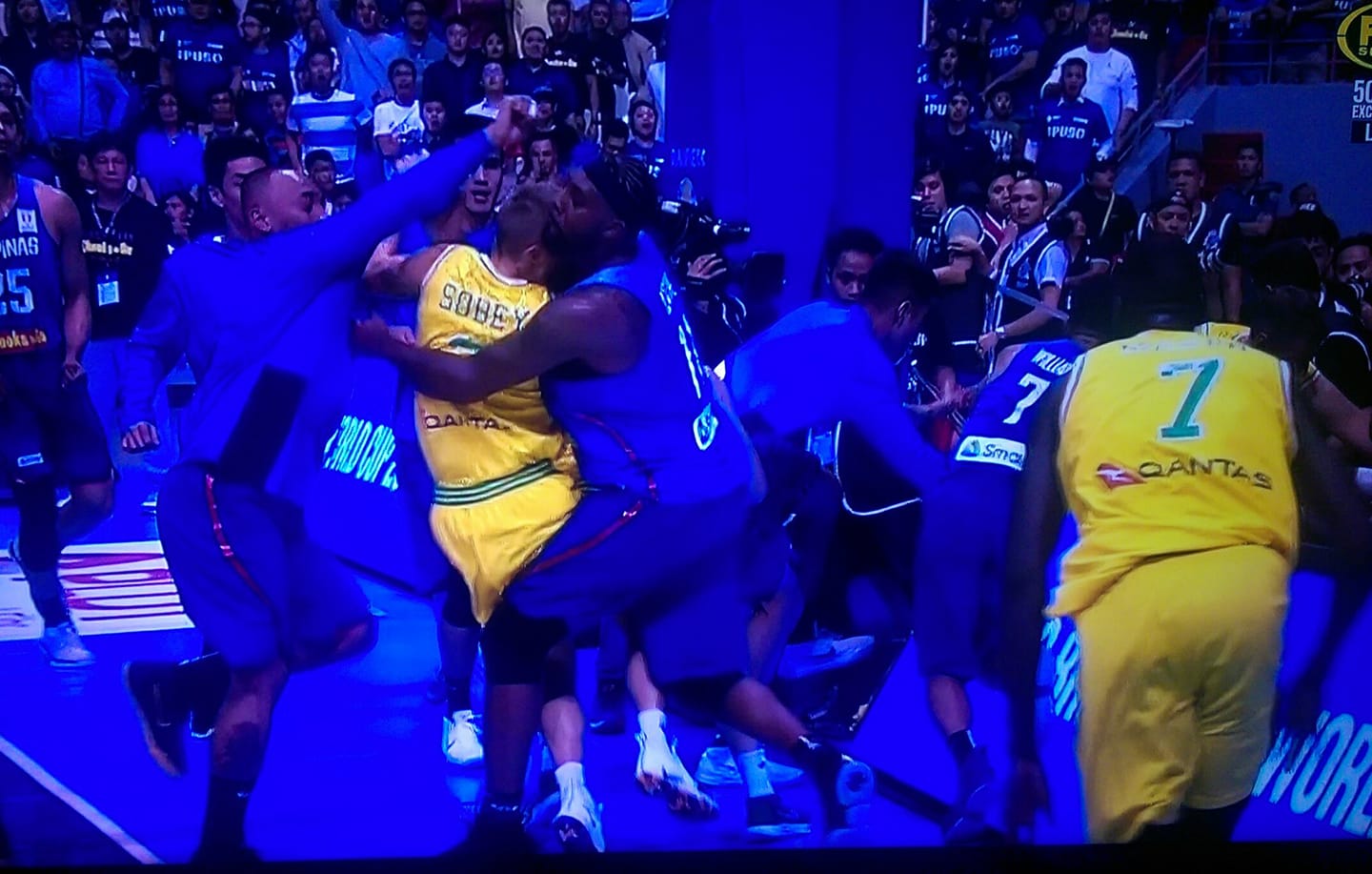 Kickert was still being pursued by upto three opposition players (below) as local security seemed either overwhelmed or unmotivated to bring the crisis to a halt.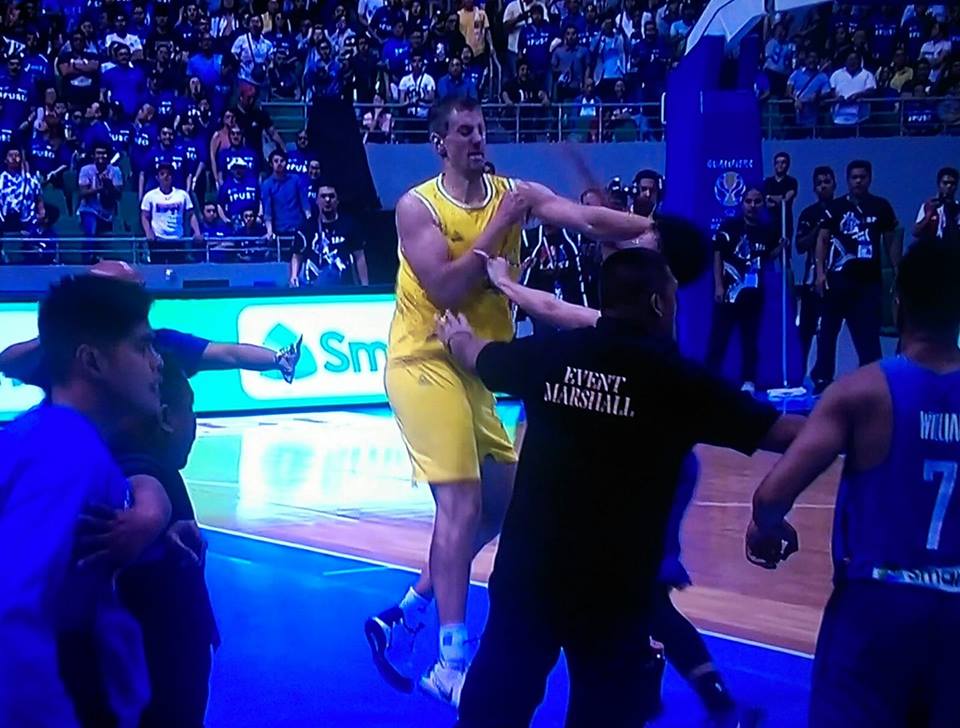 In the meantime, Goulding had been shoved between the basket upright and the baseline seating where he was set upon by upto a dozen different players, offiicials, fans – who knows who half of them were? – kicked and punched in sickening, outrageous scenes.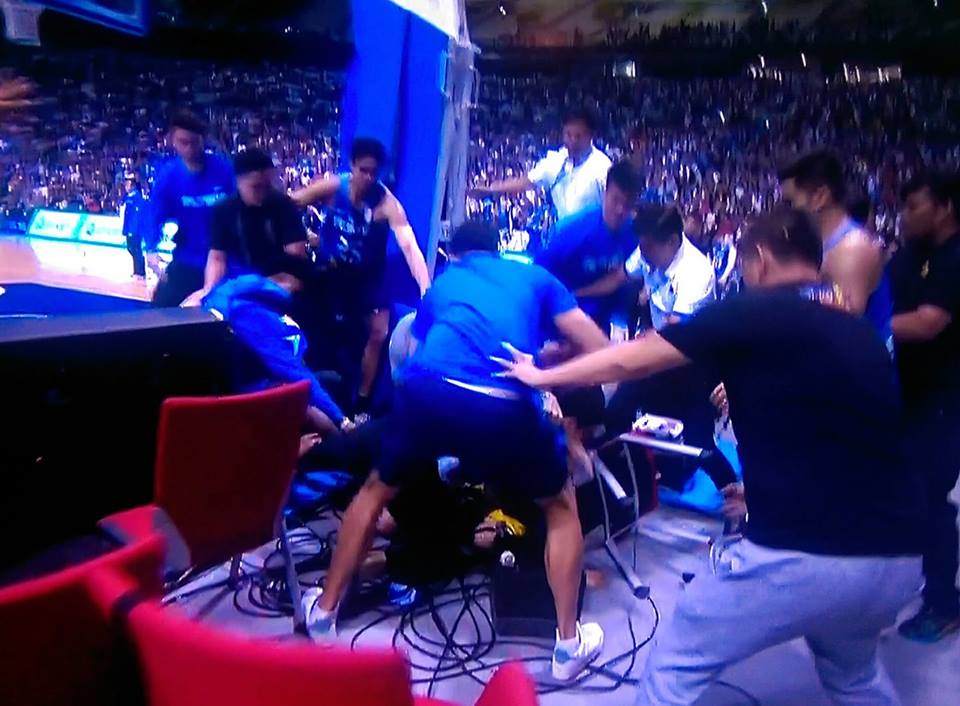 GOULDING ASSAULT: That yellow singlet is Chris Goulding under a pack, punched, kicked. And BELOW, you cannot even see him as he is mugged while security considers its position.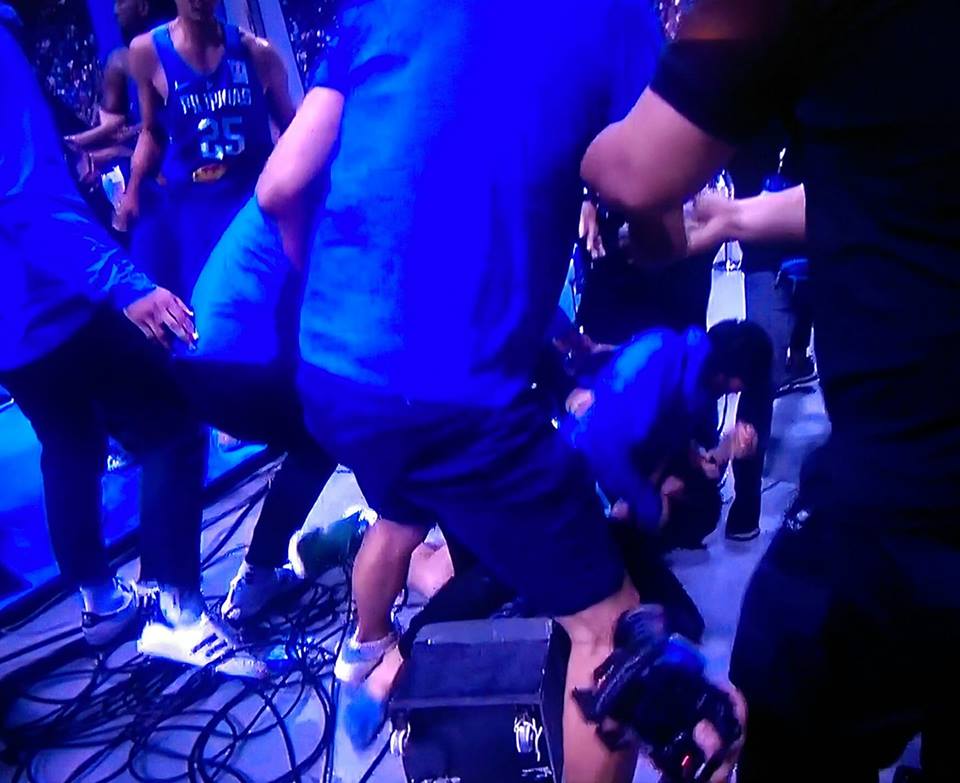 It was nothing short of a full scale mugging and when other Boomers, including Sobey, realised his predicament and rushed to his aid, Sobey was struck by a chair thrown by a fan or official, then viciously assailed (below).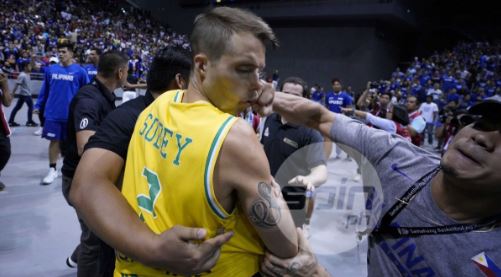 While officials tried to restore order, the Filipino players, who had hunted in packs, sat about grinning, inciting the crowd, before settling for "selfies" amid the mayhem.
After a ridiculously long time, the three officials returned courtside to eject Goulding, Kickert, Maker and Sobey, before throwing out nine members of the Philippines team.
Why the match wasn't called off right then, Australia ahead 79-48 and in complete control, is a mystery.
Instead the officials made the Philippines resume the farce with its remaining three players, two of whom quickly fouled out to draw the curtain on easily the ugliest night of international basketball this century.
When FIBA rules on this, Kickert should unquestionably harshly be penalised but the Philippines team and its coach must be made an example of that this type of behaviour cannot and must not be tolerated. Sanctions should be swift and far-reaching.
Its national team should hang its collective head in shame for the indefensible manner in which it conducted itself throughout this appalling, disgusting incident.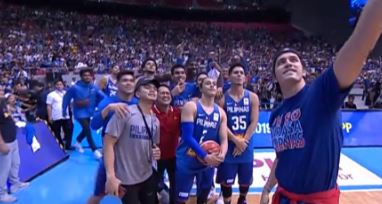 Unfortunately, when you see its players posing for selfies after exhibiting such sickening and unrepentant behaviour, it is clear they have neither the maturity nor comprehension to understand what a blight they have perpetrated, bringing the sport into worldwide disrepute.
AUSTRALIA 89 (Goulding 20, Kickert 12; Lisch, Maker, Brandt 4 rebs; Dellavedova, Maker, Cadee 4 assts) d PHILIPPINES 53 (Blatche 12, Fajardo 10; Blatche 10 rebs; Romeo 5 assts). Match concluded with 1.57:4 left in the third quarter with Philippines unable to continue.