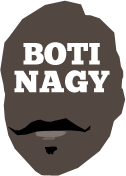 ---
Advertising opportunities available.
Please contact me.
---
Boomers can chop and change
Tweet
THE most positive aspect of the new 24-man Boomers squad announced today is that coach Andrej Lemanis has the option to alter his lineup between next month's two FIBA World Cup qualifying games.
Australia hosts the Philippines on February 22 and Chinese Taipei on February 25 in FIBA's second qualifying window within the NBL season.
The matches will be played at Margaret Court Arena between the end of the regular season and the tip-off for the NBL semi finals, the Boomers already leading the Group stage after two wins last year over Chinese Taipei away, and Japan at Adelaide's Titanium Security Arena.
All seven Australian NBL clubs are represented in the new squad which includes all the members of the Boomers' Asia Cup-winning champions.
"It is important to note that under the new system, the team can change between the Philippines and Chinese Taipei games," Lemanis said in a Basketball Australia release today.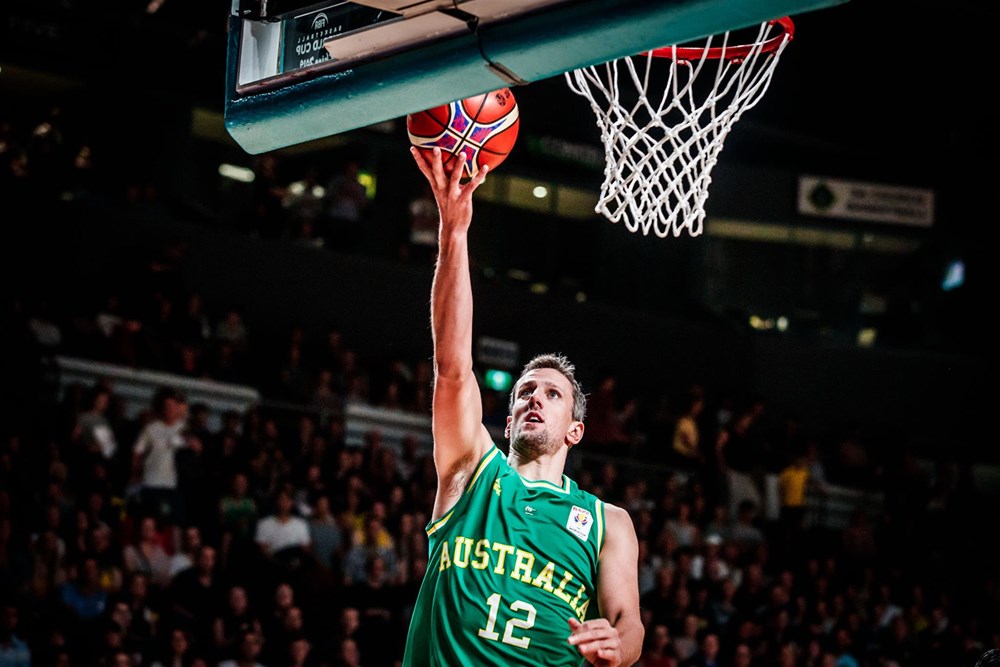 KICKING IT: Daniel Kickert is named in the new Boomers squad.
"This new FIBA format requires a commitment from the guys to the greater good of the national team and I've been humbled by the tremendous attitude and commitment every player has shown in that regard."
NBL pacesetting Adelaide, defending champion Perth and reborn Sydney, all boast five players in the 24-man squad, with Wildcats swingman Clint Steindl easily the most fortunate.
Steindl has struggled in his 15 games since replacing Matt Knight, playing just over 10 minutes a game and averaging 2.2 points at 26 per cent.
How he warrants selection on current form is a mystery.
"The squad is selected in order to give us the best opportunity for success for the upcoming games," Lemanis said.
"Continuity is important in the team, especially with the limited preparation time in the FIBA qualification windows. This is why the Asia Cup campaign was so important- it was there we had the opportunity to build on who we are as a team and having a core group of those players available for each of the windows is key.
"In addition, current NBL form is taken into consideration, as is past performance at international level, injury status and the unique challenges of the upcoming opponents. We are fortunate to have such a depth of talent in the NBL and as always, that means some good players miss out."
Adelaide's Mitch Creek, Matt Hodgson and Nathan Sobey were obvious returnees but finally Daniel Johnson has been given a chance and so too 2016-17 Rookie of the Year, Anthony Drmic.
Johnson always has had the scoring and rebounding tools for the step up but his defence has been the clear and unavoidable deficiency.
Perth's Angus Brandt and Damian Martin were no surprises, and neither were Jesse Wagstaff and Lucas Walker, even if the Wildcats have gone off the boil of late.
Steindl though? Come on. Seriously? I am a fan of his game and of his talent, thought he was under-utilised at Cairns before shining at Townsville. But right now at Perth, he has zero form to warrant inclusion. Hopefully his elevation will spark better form but is that how it should work?
Brad Newley, Kevin Lisch, Jason Cadee were Kings' no-brainers and no-one should wonder why Isaac Humphries got a training squad shot or Todd Blanchfield stayed in favour.
Cam Gliddon and Mitch McCarron have done extremely well wearing the green 'n' gold but the inclusion of their Cairns teammate Alex Loughton was a delightful surprise.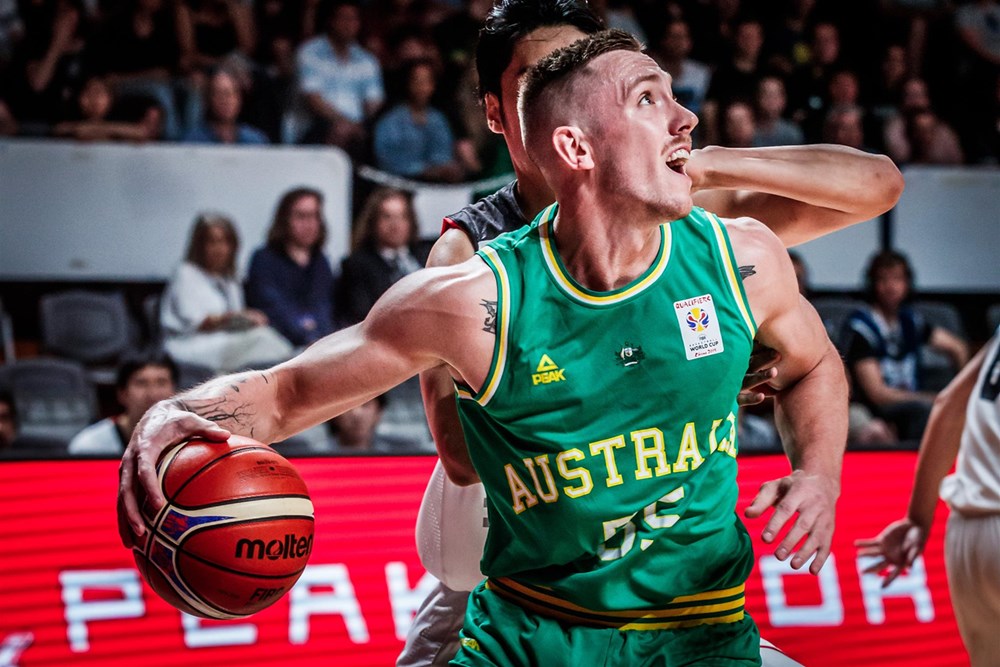 CREEK IN: Mitch Creek is in. He and Kickert should have been FIBA Asia Cup All Star Five.
He has undergone a rebirth this season and to be potentially back among the Boomers is a great reward for his effort and diligence.
Melbourne's pair, Olympians David Andersen and Chris Goulding, and Brisbane's duo of Adam Gibson and Daniel Kickert, also were stand-out choices.
Illawarra's hard-working Nick Kay and terrier Mitch Norton were obvious selections as well.
The Melbourne double-header presents international basketball fans the chance to see the Boomers live for the first time since they qualified for the 2016 Rio Olympic Games two-and-a-half years ago.
"Representing Australia is always an honour and a privilege. For those who were in Adelaide and experienced our game live, they would have felt the passion, intensity and purity of play that international basketball brings," Lemanis said.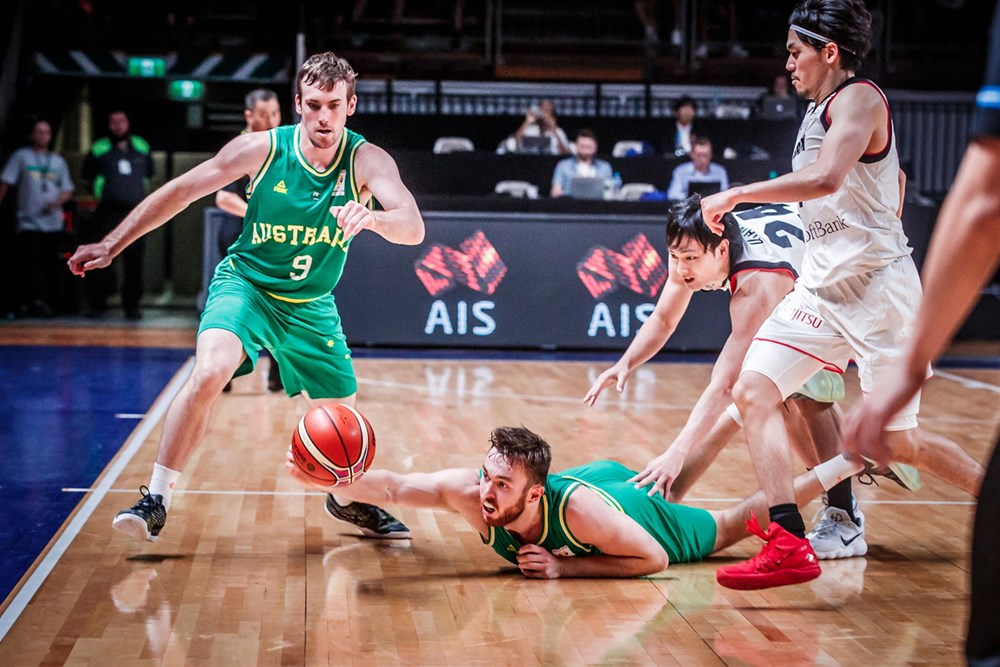 O-KAY: Nick Kay hustling for Australia, with Mitch McCarron ready to pounce.
"Melbourne is a basketball city with knowledgeable fans who will provide a tremendous atmosphere deserving of the Boomers. It's always such a special experience and having the opportunity to share this with the fans in Melbourne is something I'm very much looking forward to."
Tickets for both games or two-day passes can be purchased now via Ticketek.
The Australian Boomers Squad is: David Andersen (Melbourne United), Todd Blanchfield (Sydney Kings), Angus Brandt (Perth Wildcats), Jason Cadee (Sydney Kings), Mitch Creek (Adelaide 36ers), Anthony Drmic (Adelaide 36ers), Adam Gibson (Brisbane Bullets), Cameron Gliddon (Cairns Taipans), Chris Goulding (Melbourne United), Matt Hodgson (Adelaide 36ers), Isaac Humphries (Sydney Kings), Daniel Johnson (Adelaide 36ers), Nick Kay (Illawarra Hawks), Daniel Kickert (Brisbane Bullets), Kevin Lisch (Sydney Kings), Alex Loughton (Cairns Taipans), Damian Martin (Perth Wildcats), Mitch McCarron (Cairns Taipans), Brad Newley (Sydney Kings), Mitch Norton (Illawarra Hawks), Nathan Sobey (Adelaide 36ers), Clint Steindl (Perth Wildcats), Jesse Wagstaff (Perth Wildcats), Lucas Walker (Perth Wildcats).
Ahead of the first game on February 22, Lemanis and his coaching staff will continue monitoring the squad's NBL form while also reviewing ideal match-ups for both opponents.