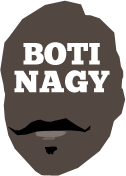 ---
Advertising opportunities available.
Please contact me.
---
Boomers on cusp of Asia Cup Gold
Tweet
AUSTRALIA today built its FIBA Asia Cup quest for Gold on a 31-10 first quarter foundation before ousting arch rival New Zealand 106-79 in their semi final in Beirut.
The Tall Blacks fought it out to the finish and even trimmed the deficit back to 10 (33-43) late in the second period before a three-point play by Mitch McCarron closed the half, Jason Cadee opening the second with a 3-pointer.
At 49-33, it was smooth sailing again for the Boomers, though never a cruise as New Zealand was forced to dig deep when its best player Shea Ili left the match early in the third period with a finger injury.
Ili departed with 14 points and four assists in 17:38 of action and New Zealand then ran out of answers as Australia's bigs - Matt Hodgson, Daniel Kickert, Nick Kay and Angus Brandt - dominated the paint, while the Boomers also hit from behind the arc at 50 per cent, connecting on 9-of-18.
Tall Blacks coach Paul Henare went deep into his bench to give his youngsters greater international experience as Australia overpowered his battlers.
In truth though, this effectively was over in the first 10 minutes.
Australia opened full of vigour, Hodgson blocking consecutive shots in the Tall Blacks' first attack and the Boomers ready to run.
Ili tied the game at 2-2 and then the unforeseen became the dream.
Incredibly, the Boomers peeled off an extraordinary and match-winning 20-0 run to race to 22-2, Henare's timeout when 2-16 down, attempting to halt the avalanche, but having little impact.
Cadee's drive made it 18-2 before back-to-back Mitch Creek slam dunks on New Zealand turnovers.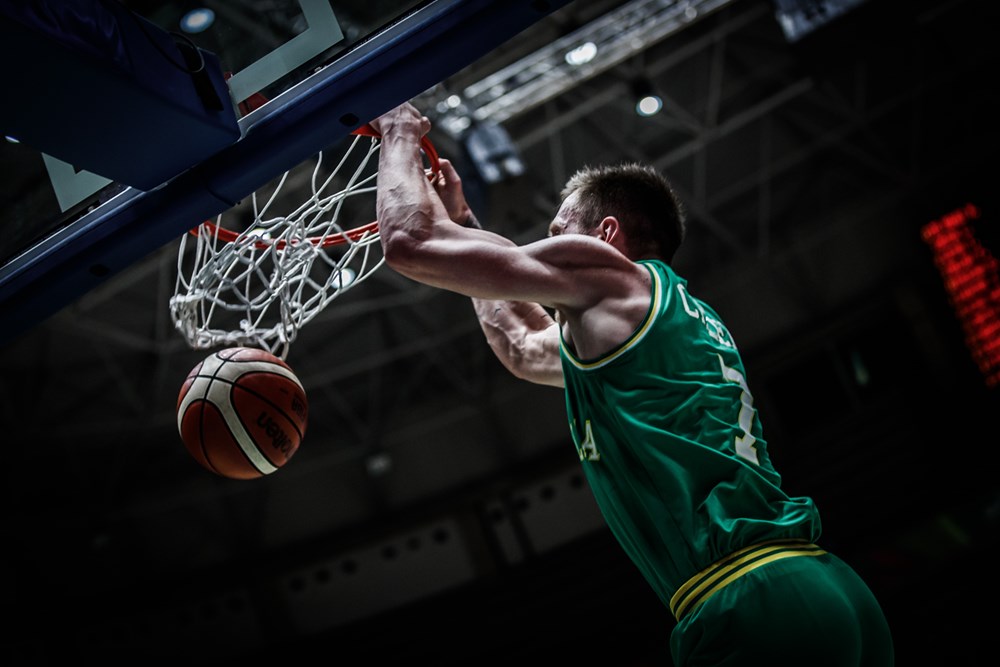 SLAM! Mitch Creek makes a point - two actually - against NZ. Pic courtesy FIBA.com
Hodgson already had thrown down a dunk in a solo 6-0 run of his own, and 3-pointers by Cadee and Creek had the Kiwis on the ropes.
From Ili's basket at 8:40, it took until 3:55 before James Hunter stroked two free throws to pull the deficit to 4-22.
Ili's drive brought New Zealand to 6-22 at the 2:08 mark, making it 6:32 between field goals.
Two more Hunter free throws and another Ili drive were stunted when Mitch Norton struck a 3-pointer for the massive 31-10 first period.
Ili scored all six of the Tall Blacks' points from the floor, and Hunter was 4-of-4 from the stripe.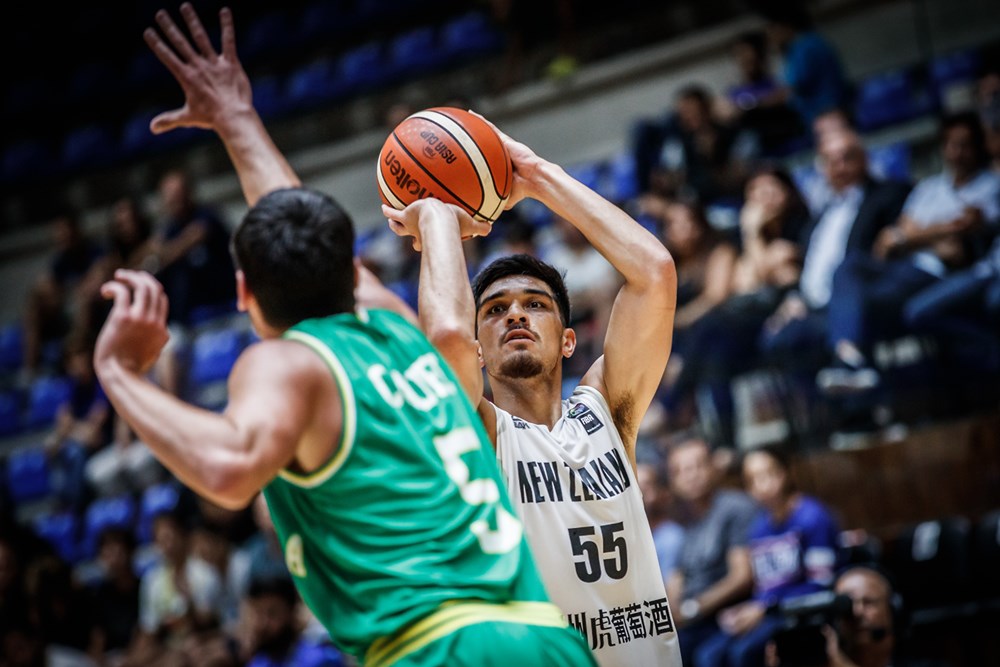 KILLER ILI: Shea Ili fires up but once he was hurt, NZ's chances nosedived. Pic courtesy FIBA
Beyond that, the Tall Blacks had no winners.
As Reuben Te Rangi worked his way into the game and Tohi Smith-Milner began to exert some influence, the Tall Blacks started on the long claw back, Ili still instrumental.
The Tall Blacks went into a brief period of "Hack-a-Hodgy" as the Adelaide 36ers' big man continued his struggles from the stripe, going 1-of-6. But it was the only place he struggled, leading the Boomers with 15 points at 78 per cent and also grabbing six rebounds in just 18:41.
That was value-for-minutes, as was Kay who grabbed a semi final-high 10 boards.
McCarron was great value again and the third of the "Mitch Brigade", Mitch Norton, also had a breakout game offensively with 12 points at 67 per cent.
Brad Newley also found his stroke - excellent news ahead of the Gold Medal match - Cadee had five assists with his 13 points and Cam Gliddon returned with an efficient contribution.
Brandt had five assists and Kickert 13 points with six boards, the Aussies with one hand on the Asia Cup at their first attempt.
AUSTRALIA 106 (Hodgson 15, Creek, Kickert, Cadee 13, Norton 12, Kay 11; Kay 10 rebs; Brandt, Cadee 5 assts; Creek 3 stls; Hodgson 2 blks) d NEW ZEALAND 79 (Te Rangi 15, Ili 14, Smith-Milner 13, Hunter 10; Smith-Milner, Te Rangi 6 rebs; Ili 4 assts; Ngatai 3 stls; King-Hawea 1 blk).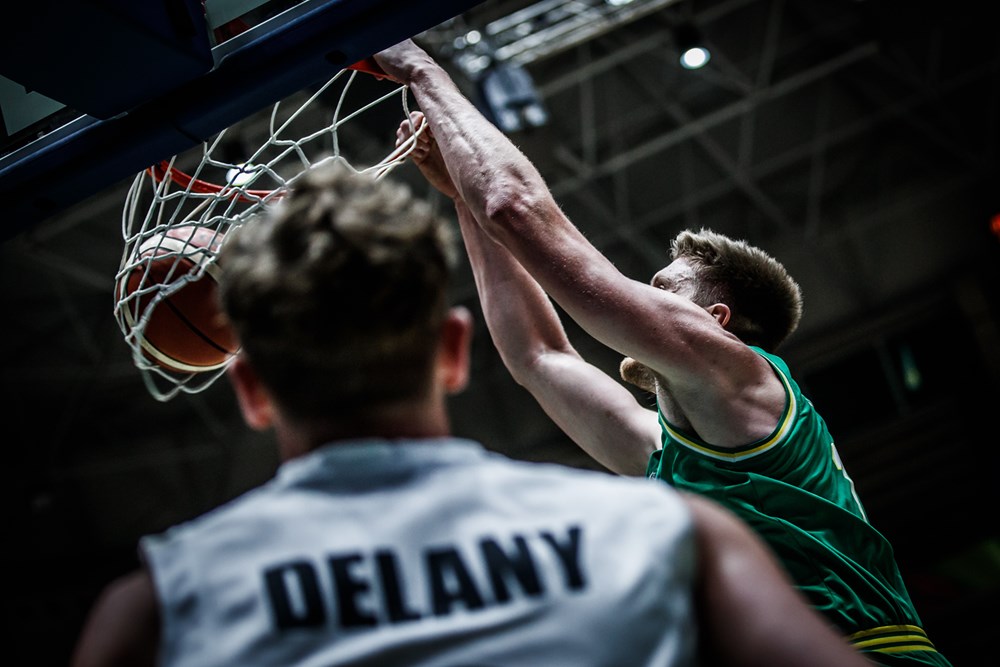 UP AND AWAY: Matt Hodgson with an early dunk, his reverse slam even better. Pic from FIBA