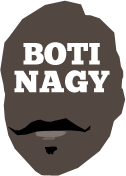 ---
Advertising opportunities available.
Please contact me.
---
'Baby' Boomers coming out party cracks China
Tweet
AUSTRALIA's "baby" Boomers came of age today with a singleminded performance of grit, tenacity and unshakable purpose as they ousted China from the FIBA Asia Cup 97-71.
The odds were against Andrej Lemanis' "newbies", already without war-horse Dave Andersen (injured shoulder), then losing steady combo guard Cam Gliddon pre-match with a cut foot after he stepped on broken glass in a swimming pool.
Recasting his starting quintet for the KO quarter-final and inserting dual-Olympian Brad Newley, Australia took the first half to settle into a new rhythm before a sizzling 26-13 third period sent China packing.
The 26-16 fourth quarter almost flattered China which - as expected and predicted by many observers - suffered for the type of game-style and antics it always gets away with in internationals on home soil.
Even though at times it did enjoy the better end of the officiating, the flailing of arms playing for fouls and overt physicality was punished today in Beirut.
It had a foul within four seconds of tip-off and another one inside 13 seconds of the start.
And in the third period when the Boomers began the ceremonial burial, China's fouling was exposed, Australia hitting 8-of-11 free throws.
Put most simply, Australia was terrific.
Jason Cadee led from the point, dropping 20 points at 50 per cent, with 4-of-7 triples, four assists and a steal.
He had the usual capable support from tournament star Mitch Creek (16 points at 67 per cent, 1-of-1 threes, five rebounds, two assists, three steals and a block in 25 minutes) and Daniel Kickert, whose 16 points came at 56 per cent, also including 4-of-7 threes, plus four assists.
While the trio orchestrated the execution, they had plenty of accomplices, Mitch McCarron magnificent, Nick Kay causing chaos and Angus Brandt a keyway focal point.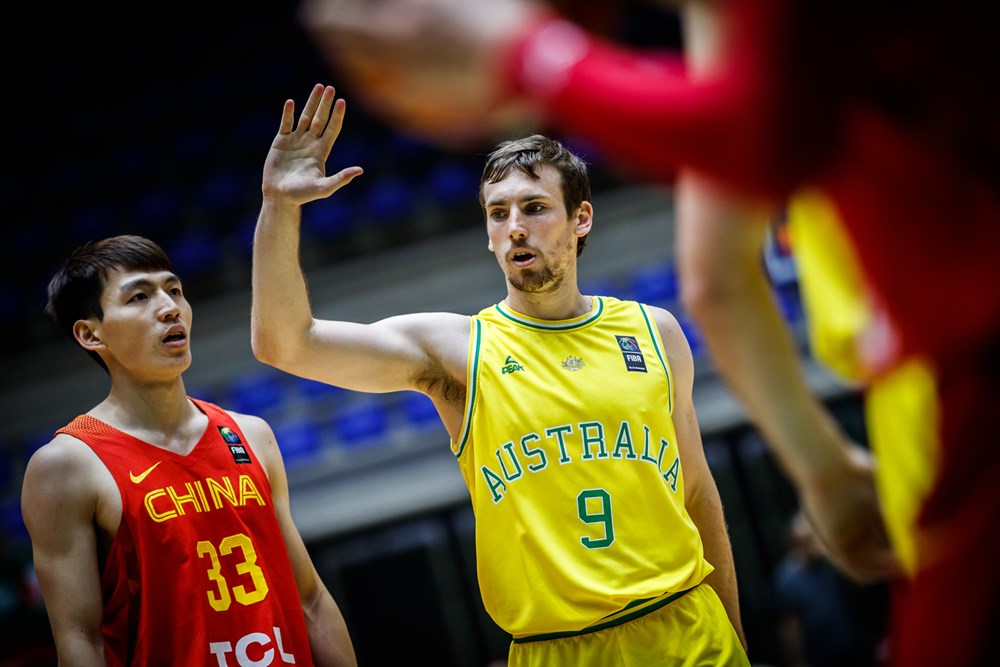 WHO IS PLAYING GREAT? Mitch McCarron acknowledges a great pass. Pic courtesy FIBA.com
Matt Hodgson was no less effective, sending China a message just three minutes into the quarter final when he smacked a shot by Junfei Ren into the stands.
China gave its last real hurrah at 6:53 in the third when Ailun Guo's jumpshot gave it the lead 50-48.
Cadee swished his second 3-pointer for the half to restore the lead, Hodgson scoring a free throw before missing his second, Creek gobbling up the offensive board for a tough putback and 54-50 lead.
When Creek went to the stripe with 5:43 left, China already had five fouls at a time Australia was asserting itself.
Inexplicably, Cadee copped a flopping technical after taking a smack to the chops but at least the officials were consistent on that, Dehao Yu hit with one for flailing about like an inflatable tube-dude in a car yard.
A three by Creek, encored by McCarron in transition, had Australia off on its most decisive 14-0 run, China held scoreless for the final 3:40 of the period.
McCarron was great and Kay's numbers (7 points, 3 rebounds) did nothing to reflect his fabulous turnover-causing hustle and inspirational diving on the floor.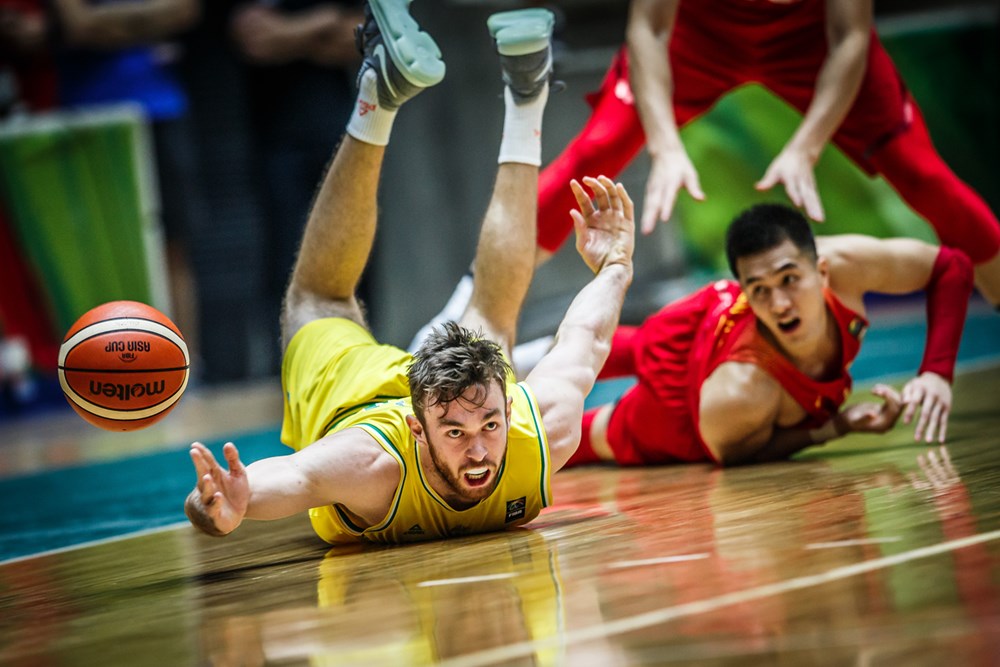 OH KAY: Nick Kay's hustle was exemplary. Pic courtesy FIBA.com
Ahead 71-55 with 10 minutes left in China's Asia Cup campaign, Australia weathered a fast start by centre Dejun Han before McCarron's 3-pointer (he was a perfect 6-of-6 from the floor, including 3-of-3 threes) ignited another blistering 14-0 explosion.
A Kay slam dunk and three triples by Kickert in the quarter made this academic, Newley showing his veteran wiles by compensating for his shooting struggles with six defensive boards, five assists, and two steals in 18 minutes.
China did start strongly, Gen Li going off for 12 points in the first quarter.
Lemanis called timeout with 4:39 to the first break, Australia trailing 7-14 and missing Gliddon's early-game composure. But down 9-16, the Boomers ignited.
A Cadee 3-pointer cut it to 12-16, then the Sydney point guard worked to get Creek a shot, and the 36ers swingman scored and rode the contact.
With his bonus free throw, Creek trimmed the deficit to 15-16 before a confident McCarron pulled up for a sweet triple, and the lead.
Fouled on a steal, Cadee went to the stripe and knocked down both free throws to put Australia ahead 20-16. In just 1:22 of action, the Boomers had uncorked an 11-0 run for the lead.
The buffer was out to five when Creek turned a steal into a thundering two-handed slam dunk.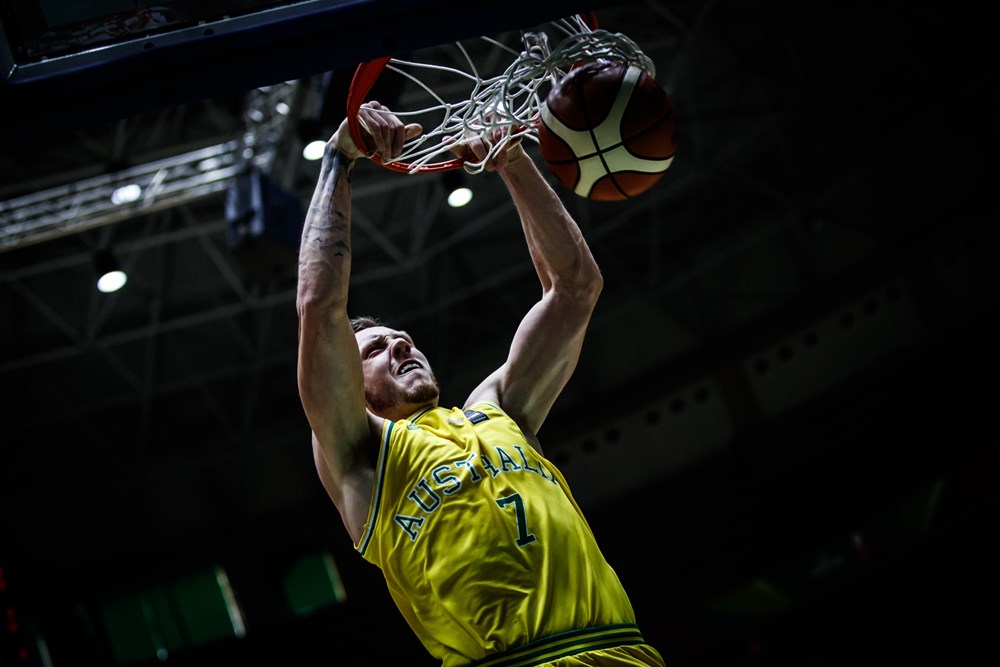 STATEMENT! Mitch Creek makes no mistake against China. Picture courtesy FIBA.com
Creek, who also had the tough defensive assignment on Li, next went coast-to-coast but missed the finish - probably because he was startled by the ease with which he reached the hoop.
Ahead 26-23 at the first break, the Boomers had to weather the increasing presence of China playmaker Ailun Guo whose consecutive jumpshots had the match tied at 33 midway through the second period.
A phantom foul on Brandt which should have gone against a defender holding his arm, then a fast five-second count on a McCarron inbounds pass on Australia's next possession, opened the door for China and it waltzed right through to lead 38-35.
But that just signalled an 8-0 response which included a McCarron steal-and-slam, and a steal and coast-to-coast break by Todd Blanchfield.
Australia forced 24 turnovers and had 17 steals, lending itself to 52 per cent shooting and a 12-of-24 return outside the arc. For China, the "home-cooking" it doesn't get outside its national borders came home to roost.
But for the Boomers, this was a statement performance which left everyone talking about these guys, not those guys watching on TV.
AUSTRALIA 97 (Cadee 20, McCarron 17, Creek, Kickert 16; Hodgson, Newley 6 rebs; Newley 5 assts; McCarron 4 stls; Hodgson 3 blks) d CHINA 71 (Li 19, Guo 13, Han 11; Guo 5 rebs; 4 with 2 assts; Ren 2 stls, Han 3 blks).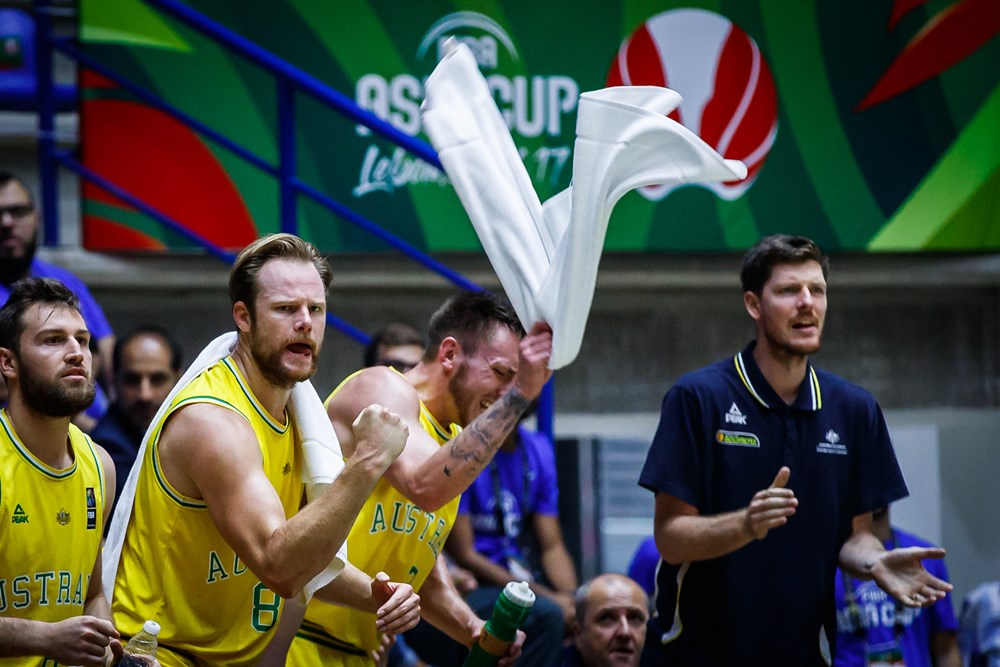 LOVING LIFE: The Boomers enjoy the fruit of their labours. Pic courtesy FIBA.com