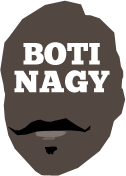 ---
Advertising opportunities available.
Please contact me.
---
Boomers: Our 'Dreamtime Team' gets it done. Bronze Bronze Bronze!
Tweet
AUSTRALIAN basketball tonight hit a new Olympic Games high as Patty Mills carried the flag, the Boomers following him to immortality as our historic first men's medal-winning team, claiming Bronze with a 107-93 victory over Slovenia.
After 65 years of many great and memorable moments but no ultimate team glory - and four defeats in Bronze Medal playoffs - with 42 points Mills planted the Aussie flag early, declaring any Slovenian win had to deal with him.
A man possessed, he led our now immortal Dreamtime Team with his highest Olympic Games pointscoring return and second only to Eddie Palubinskas' 48 points in an overtime victory over Mexico in Montreal in 1976.
But Mills wasn't just scoring and running rings around, through and in between frustrated Slovenian defenders with his exceptional range in change-of-pace moves, he also was feeding out nine assists.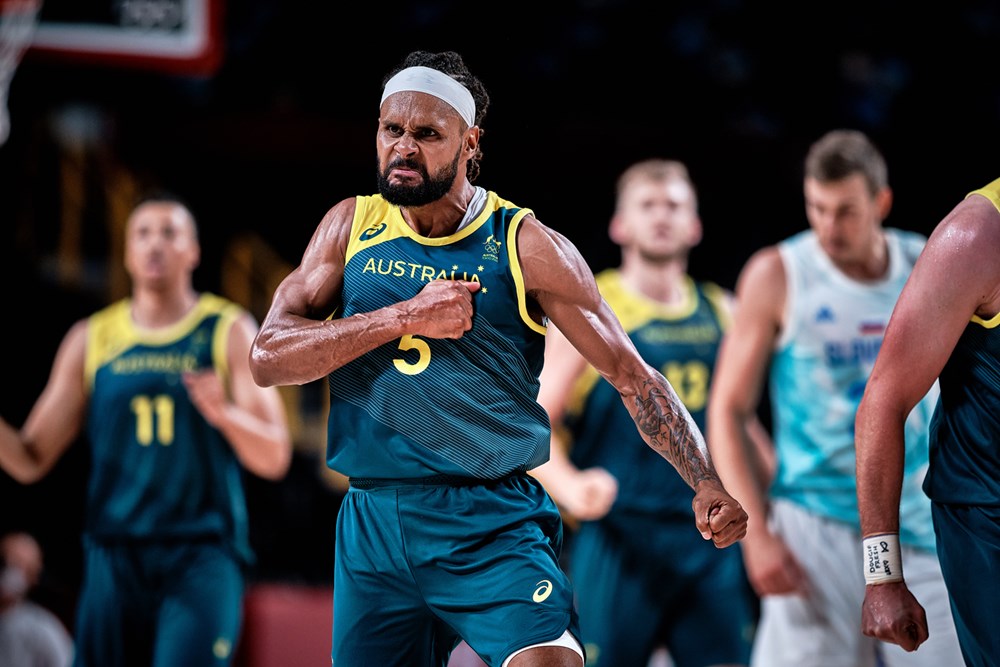 Joe Ingles thrived on his kick-outs with four 3-pointers and a game-high nine rebounds to be The Batman to Mills' untouchable Superman.
But it also was the contributions of Olympic debutants such as Matisse Thybulle, Dante Exum, Nick Kay and Jock Landale which tonight will have had every Boomer, past and present, punching their fists in jubilation, exultation and relief.
Not to mention a hungry national public which has followed the exploits of Brian Goorjian's amazing team through all of its many highs in this campaign - and even its one low against the USA - to the ultimate celebration that a Bronze Medal finally has been achieved.
Four Olympic campaigns by Mills and Ingles, three by Matthew Dellavedova and the unfortunately absent-through-injury Aron Baynes, and two by Chris Goulding finally have borne fruit that every Australian basketball fan can equally savour for its sweetness.
And make no mistake. After the pain of a one-point loss to Spain for Bronze in Rio five years ago, this could not have been much sweeter.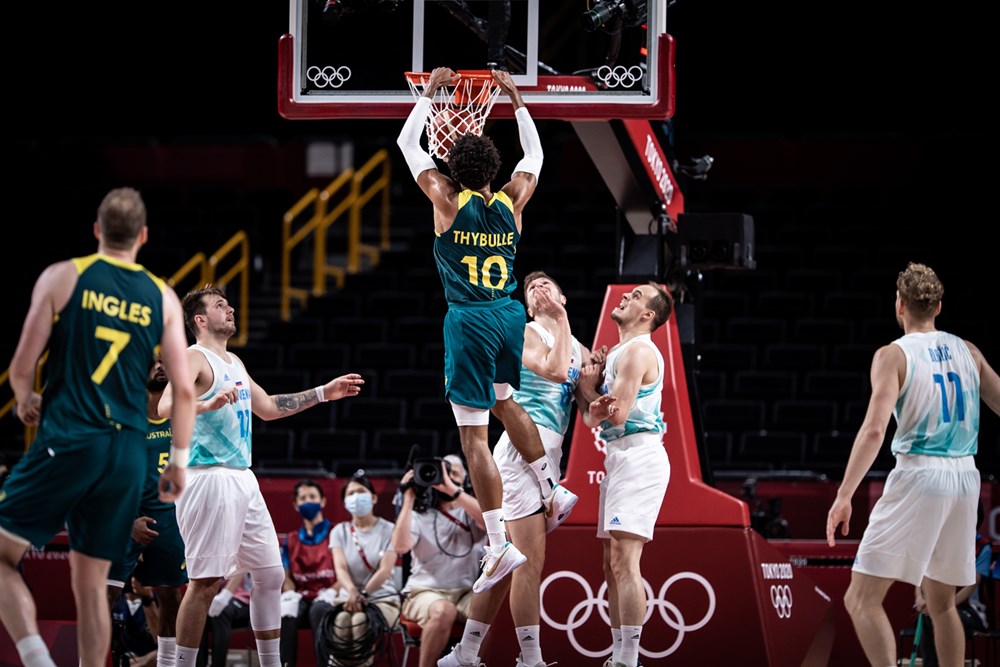 Opening with Thybulle inserted into the starting lineup for the out-of-form and out-of-touch Dellavedova, Australia looked laser-focused from the outset, Ingles scoring twice and Mills with his first three making it 9-2.
Mills had seven points in the first quarter and 19 in the second, his play overshadowing Slovenia's megastar Luke Doncic (22 points, 8 rebounds, 7 assists, 8 turnovers), Australia winning the second period 33-26 after taking a 20-19 lead into the first break.
From 31-33 down in the second quarter, the Boomers went on a 14-2 tear to lead 45-35.
Some of its play was simply sensational, Ingles to Thybulle to Landale just pretty to watch.
Thybulle's third dunk of the half closed it with Australia ahead 53-45 and Mills taking an Olympics-career high 26-point single-half return into the interval.
Landale had 10 at the break on 5-of-6 shooting, the Boomers weathering the best Slovenia could muster after worrying signs only minutes earlier.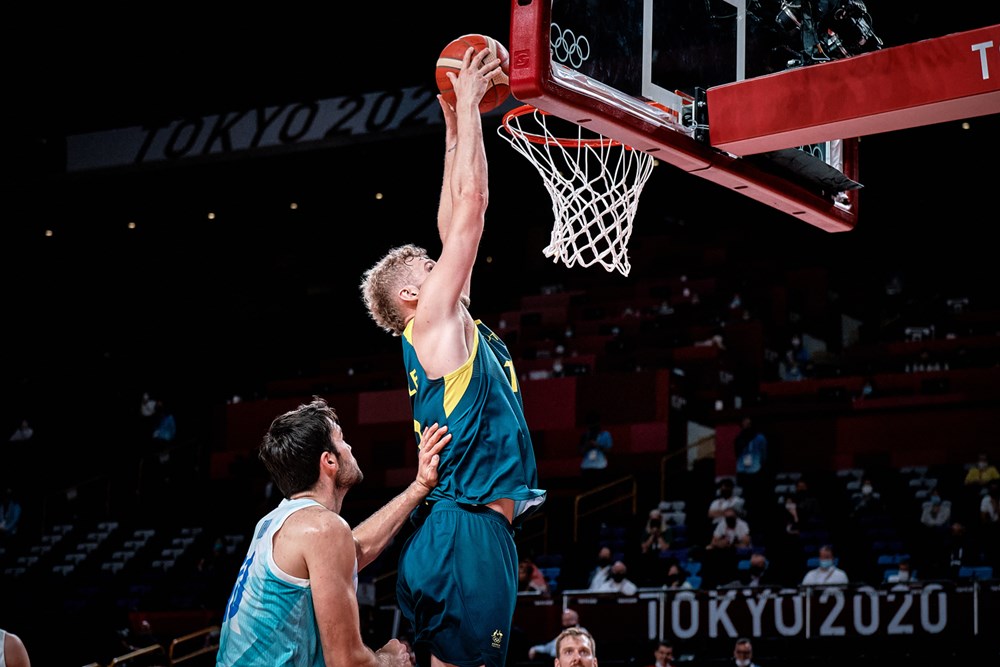 Mills was keeping the Slovenian defence on its toes, allowing him to also dish four assists, his pass to Landale for a dunk followed by a fast-break basket from the mesmerising magician creating the 10-point lead.
That forced Slovenia into a timeout and a quick basket, a stop and a Doncic 3-pointer had it back to 40-45 in no time. Slovenia was at 43-47 when Mills drew a charge from Doncic, who also copped a technical foul after that play.
That again ignited the Aussies who were looking clearly on top going into the interval.
The third quarter started with a bench tech against Doncic for some halftime banter and Slovenia's composure was becoming questionable.
Attending its first Olympics, it had trouble coping with the Boomers' relentless play and the many little but significant "one per centers" players such as Kay (game-high four steals) consistently contributed.
The lead was at 12 just 4:46 from the last break but back to six (66-60) after Klemen Prepelic completed a four-point play after a poor foul on his 3-point make.
Consecutive Mills jumpshots had the lead back at 10, two triples by Ingles to close the third ensuring Australia won another quarter and had a 78-67 buffer going into the last.
An early three from Goulding meant the lead briefly ballooned to 81-67, an 8-0 run including a turnover and an unsportsmanlike foul in its favour, suddenly swinging Slovenia the momentum.
At 75-81 it was back in it and with 6:18 left, Doncic's drive sliced the deficit to 80-83.
It was a horrific time for Jaka Blazic to pick up a foul manhandling Mills, then choosing to shove him to cop an extra unsportsmanlike. Horrific for them, perfect for Australia.
Mills' free throws at 6:05 took the lead back to five, Exum drew a copybook charging foul, then coolly slotted a triple from a Mills feed for 88-80.
Kay's steal for an Exum fast break dunk pushed the lead back to 90-80, successive Doncic threes drawing Slovenia to within 86-92.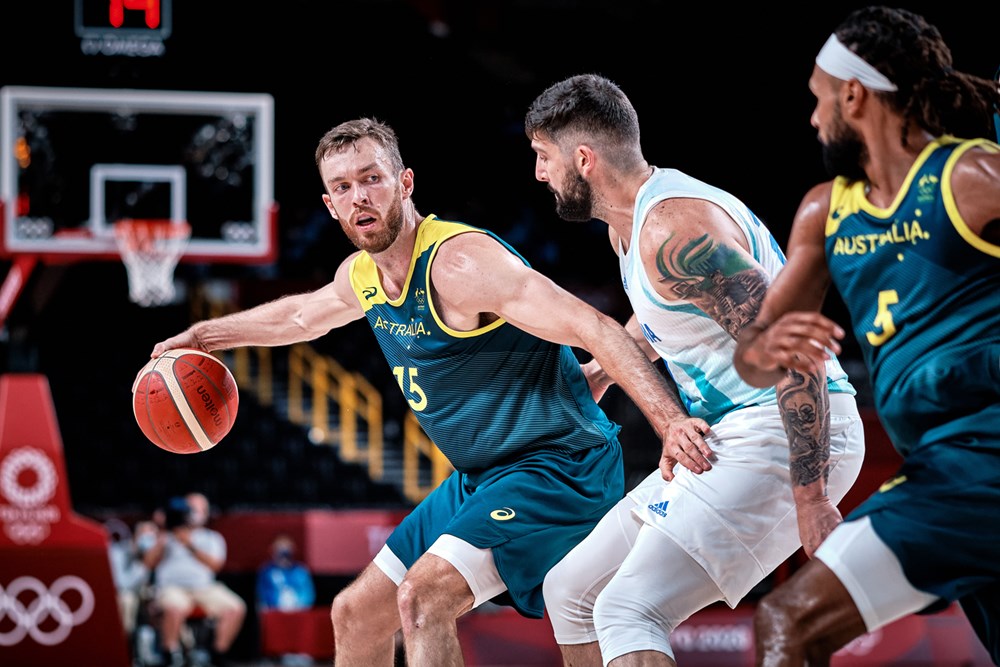 That, however, was its last hurrah. Ingles sank a three, then grabbed another defensive rebound releasing Mills for a layup and with 3:22 left and ahead 97-86, the Bronze was within grasp.
Free throws from Exum and a Mills feed to Kay for a 3-pointer made it 102-86, a 10-0 response and this was over.
There still was time for a further Exum threeball and another Thybulle dunk - that stuff NEVER gets old - and a team which set out to return home with Australian men's basketball's historic first medal at Olympic level could stamp "Mission Accomplished" on that aspiration.
It's been a long wait but on August 7, 2021, the Boomers, led supremely by the NBL's coaching doyen Brian Goorjian and a fully-committed purposeful crew of assistants and helpers, finally had the job done.
The team of Aron Baynes, Matthew Dellavedova, Dante Exum, Chris Goulding, Josh Green, Joe Ingles, Nick Kay, Jock Landale, Patty Mills, Duop Reath, Nathan Sobey and Matisse Thybulle goes into history as our greatest ever on a night to remember forever.
And Mills' performance - one for the ages ... and that's ALL ages - will go down as the benchmark of self-belief, belief-in-the-team and belief in the impossible dream.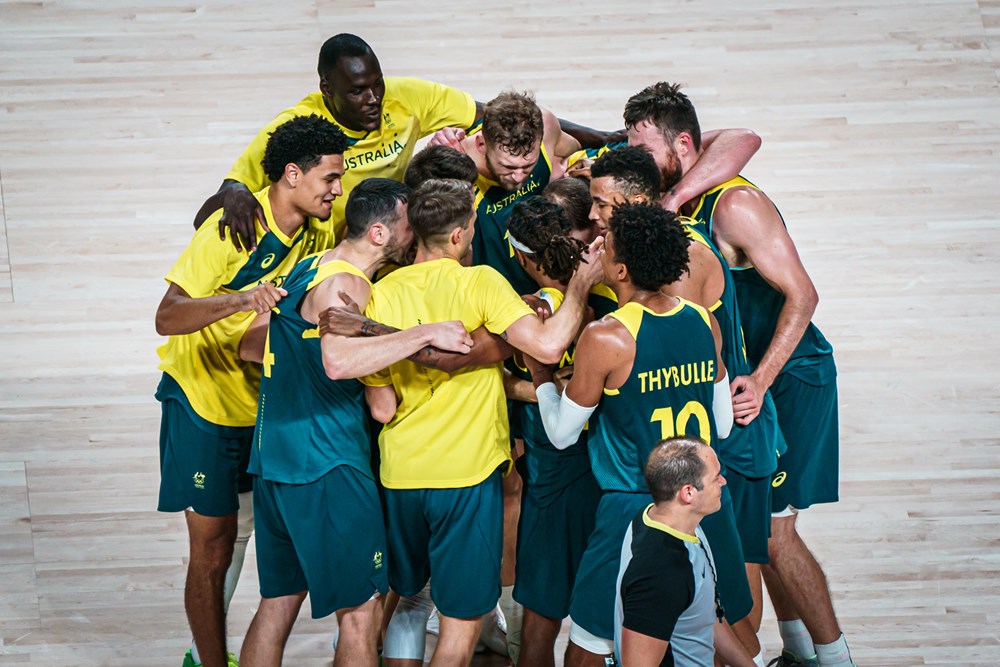 FOR BRONZE: AUSTRALIA BOOMERS 107 (Mills 42, Ingles 16, Landale 14, Exum 12, Thybulle 11; Ingles 9 rebs; Mills 9 assts) d SLOVENIA 97 (Doncic 22, Prepelic 18, Tobey 13, Blazic 12; Doncic 8 rebs; Doncic 7 assts).
EARLIER, the USA's alpha male Kevin Durant completed his third consecutive Olympics with his third Gold Medal as the Americans staved off a plucky but outmatched France 87-82.
After France opened with a Rudy Gobert dunk, it quickly revealed it had no fear or qualms about facing the titleholders, leading throughout the early going.
But once the USA swung into gear behind Durant, it swept from 12-15 down to 25-18 ahead and despite some memorable and exceptional play by France, it could not catch the champions.
Jayson Tatum offered offensive relief for Durant and Jrue Holiday was magnificent at both ends of the floor, France forever threatening but the USA always having the answer.
FOR GOLD: USA 87 (Durant 29, Tatum 19, Holiday, Lillard 11; Tatum 7 rebs; Green 5 assts) d FRANCE 82 (Gobert, Fournier 16, Yabulsele 13, De Colo 12, Luwawu-Cabarrot 11; Gobert 8 rebs; De Colo 7 assts).