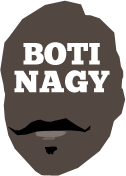 ---
Advertising opportunities available.
Please contact me.
---
B.O.T.I. Players of the Week, 4
Tweet
THE competition was thick and fast for this round's B.O.T.I. Player of the Week awards, word somehow leaking out I had jam AND chocolate doughnuts for the various winners.
In the NBL, Travis Trice looked as if he had it stitched up in the round opener when he stuck 28 points at 67 per cent as Cairns saw off United 83-75.
Mark Worthington put in a fairly decent game too for the Taipans, with 14 points, 10 boards and five assists but both still had a second game to go in Wollongong so nothing was in cement.
Then Marvelle Harris carved up the Wildcats to put his hand up for consideration. But with a second fixture to come against the Taipans.
Adelaide hit Auckland to be ambushed by Kirk Penney at his best, the superstar sticking 17 points on 9-of-13 shooting, including 7-of-8 threes. He added a couple of rebounds and four assists too.
In the same game, 36ers tyro Nathan Sobey had a career-high 32 points at 64 per cent, with eight rebounds, five assists and two steals. Unfortunately, that kind of outstanding effort can get lost amid a team's 26-point loss.
Last round's PotW, Brad Newley, made a concerted bid for the chocky doughnut with a season-best 29 points at 62 per cent, with eight rebounds and a couple of assists in the redeem win over Brisbane. Bullets import Torrey Craig also drew attention for his game which featured a 22-point, 14-rebound double-double.
Hawk Harris added 19 points for Illawarra in its home loss to Cairns for a fairly decent round. Trice was hurt in the same game so could not advance his claims. And while Wortho led the Taipans in scoring, it was such a thorough team effort, to single him out would be unreasonable.
So with all the evidence in and the votes counted, I'm guessing the picture was a giveaway, Penney's performance blowing Adelaide off the floor and putting it into a night of chasey.
Yes, Kirk is the man for Round 4.
NBL PotW
Rd1 Torrey Craig
Rd2 Jerome Randle
Rd3 Brad Newley
Rd4 Kirk Penney
THE WNBL threw up no shortage of applicants for the jam dougnut (it can be warm if you get to the B.O.T.I. Warehouse and Shoelace Repository by Thursday morning, before the microwave is disconnected.)
Mikaela Ruef hauled down 22 rebounds to go with her 12 points as Canberra KO'd Melbourne. Ruef's boards included 11 offensive rebounds, which, considering she was 6-of-18 from the floor, suggests she was precise in going after her own misses.
Lauren Mansfield dished seven assists with her 13 points but this wasn't a game for a PotW.
At Dandenong, Bendigo returned to form and Nayo Raincock-Ekunwe was dominant with 19 points at 58 per cent and 11 rebounds. Steph Cumming was a lone Ranger with 24 points.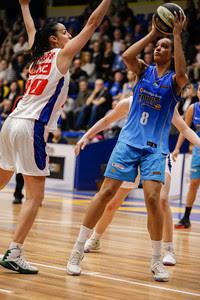 Raincock-Ekunwe had a 14-11 double-double as the Spirit rattled Townsville in Townsville, the Fire left screaming: "Hold the Nayo!"
In Perth, Sami Whitcomb put on a show with 29 points at 63 per cent, six rebounds, nine assists and two steals in 25 minutes against Adelaide. It as an outstanding performance but against an overwhelmed opponent.
Sara Blicavs had a super game in last night's Cup eve clash for Dandenong against Melbourne, scoring 28 points at 57 per cent, with six rebounds. Sadly, she didn't do enough in the loss to Bendigo, and Steph Cumming not quite enough against Melbourne, for me to be able to ship the doughnut pack to "family".
Nayo! Come on down! (Psst. That's her, pictured, courtesy of Akuna Photography).
WNBL PotW
Rd1 Suzy Batkovic
Rd2 Marianna Tolo
Rd3 Sami Whitcomb
Rd4 Nayo Raincock-Ekunwe