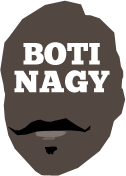 ---
Advertising opportunities available.
Please contact me.
---
B.O.T.I. Players of the Week, 8
Tweet
WHAT a week! What a cracker round of NBL and WNBL basketball. It just doesn't get much better, although we should all be sad to see Steve Blake and Chante Black departing.
Blake, the Kings' NBA backup guard, played his final match last night against the 36ers while Black was let go by Melbourne Boomers after falling short of the WNBL club's expectations.
The quest for B.O.T.I. Player of the Week honours could not be tighter either so, fortunately, unlike the NBL Games Review Panel, we have a couple of consistent rules we follow here.
The first is if a player scores a winning basket - unless someone else has gone for 45 points, 15 rebounds, 12 assists or something comparable - that player starts as odds-on to get the nod.
So while Travis Trice had a career-best 31 points in a stand-out game in leading Cairns to victory over New Zealand, it wasn't quite enough. (He shot at 70 percent and hit 4-of-5 threes so yes, Travis was very close, and a winner in any other week.)
Jerome Randle had 42 points and Daniel Johnson 40 in two tough road wins by Adelaide which were worthy of consideration.
Rotnei Clarke leading Illawarra to victory in Perth also was a game full of merit.
But the winner of the Balfours sausage roll and Farmer's Union Iced Coffee this week in the NBL is none other than Casper (B)Ware of Melbourne United.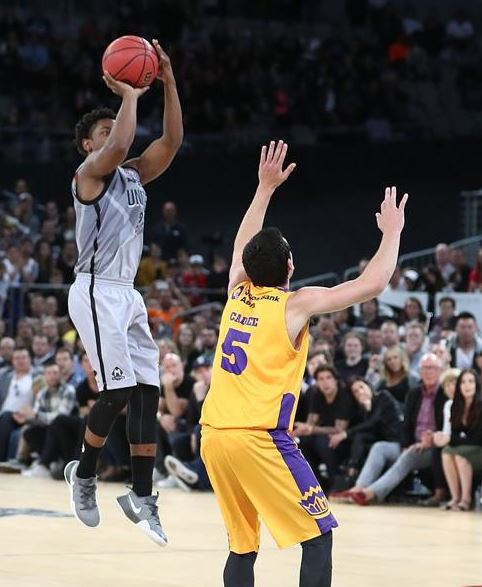 BEWARE! Casper Ware with the game-winner. Picture courtesy GETTY IMAGES.
Casper not only scored 28 points, with four rebounds, four assists - one an absolute zinger to Tai Wesley in traffic on the break - and two steals, but he also came up with the match-winning 3-pointer over Sydney Kings at Hisense Arena.
It was THE most talked-about shot of the round. Yes, we concede shooting for the win when scores are tied is not quite as difficult as when trailing by one, or by two, but it still had to be executed and Ware absolutely did that to perfection. He wins Player of the Week.
NBL PotW
Rd1 Torrey Craig
Rd2 Jerome Randle
Rd3 Brad Newley
Rd4 Kirk Penney
Rd5 Jerome Randle (2)
Rd6 Kevin Lisch
Rd7 Torrey Craig (2)
Rd8 Casper Ware
THE other consistent policy here at the B.O.T.I. Offices and Specialised Kite Tours of Europe regarding Player of the Week is we don't care who wins it. Or how often.
We are not bound by any requirement to "share the PotW" around or to look preferentially on one player over another.
Not suggesting the WNBL or BA does have that requirement. Just saying WE don't.
So if Suzy wins it four weeks running, or Marianna, or Sami, we don't really care. For us, and this includes our hardy team of cleaners - that stain was definitely red wine by the way - if Carly Wilson claimed it for 19 straight weeks, for example, we wouldn't waiver. We wouldn't think at Week 5, "maybe we should overlook her great game and give it to someone different".
So while the WNBL has doffed its hat to Marianna Tolo's great game - can't wait for her to win it here again, we'll have an ice-cold can of Solo for sure as prize - she didn't get the B.O.T.I. chocolates.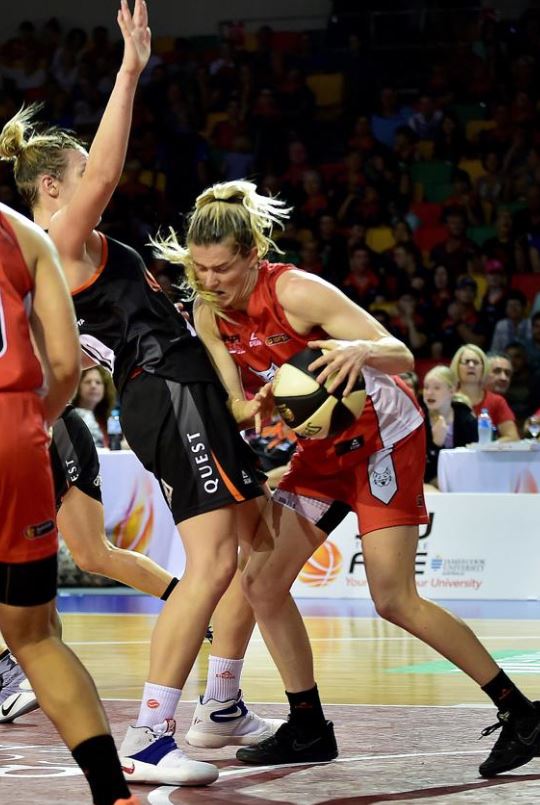 That's not to say 25 points on 9-of-11 shooting, 8 rebounds, 7 assists and two steals in a home win for Canberra over Perth isn't a worthy win.
It absolutely is.
There were other great individual efforts too. Leilani Mitchell with an 18-point, 11-assist double as Sydney beat Bendigo, or Kelsey Griffin's 27-and-10 in that one. (Of course, that was negated somewhat by her 8 points, 4 boards against Adelaide).
But our winner here, for the third time and second straight round, is Perth superstar Sami Whitcomb. Sami knocked down 22 points with six boards and five assists to underpin a Perth win over the Fire in Townsville.
She then backed up with 36 points, five rebounds, four assists in a tough loss to Canberra.
For the round, that gave her averages of 29.0ppg at 54%, 5.5 rebounds and 4.5 assists.
Yes, that's a PotW performance for us, a sausage roll (sauce optional) and can of Fanta ready for collection.
WNBL PotW
Rd1 Suzy Batkovic
Rd2 Marianna Tolo
Rd3 Sami Whitcomb
Rd4 Nayo Raincock-Ekunwe
Rd5 Suzy Batkovic (2)
Rd6 Suzy Batkovic (3)
Rd7 Sami Whitcomb (2)
Rd8 Sami Whitcomb (3)
(*All prizes must be collected by Thursday 5pm, two indigestion tablets included.)