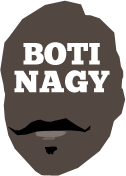 ---
Advertising opportunities available.
Please contact me.
---
Taipans flay Wildcats to level semi final
Tweet
IF there's a more fun team to watch in these (so far) epic NBL semi finals than Cairns, they will have to step up soon because today the Taipans pantsed Perth and gave them a thorough 85-74 bite on the butt.
Whether the bite was sufficiently venomous to carry over into the deciding Game 3 on Thursday remains to be seen after Bryce Cotton, in Game 1 becoming the first player in NBL history to make 10 threes in a semi or grand final game, was shut down by DJ Newbill.
Cotton showed in Game 1's 108-107 overtime win in Perth why he is the league MVP again while today, Newbill showed why he won the league's Best Defensive Player award.
Cairns came into Game 2 feeling as if it had let Game 1 escape, having shot at 60.9 per cent from the floor, the highest by any losing team in an NBL playoff game.
And it was time for some defensive focus, the two clubs comnnecting on a combined 35 3-point makes in Game 1, the most ever in a finals match - Perth 20-of-43, Cairns 15-of-27 - since Adelaide 36ers' Game 3 championship win over West Sydney in 2002.
It didn't start well for the Taipans in front of an Orange Army sell-out, Terrico White scoring from the tip and Miles Plumlee throwing down dunks as Perth sped 11-5 clear.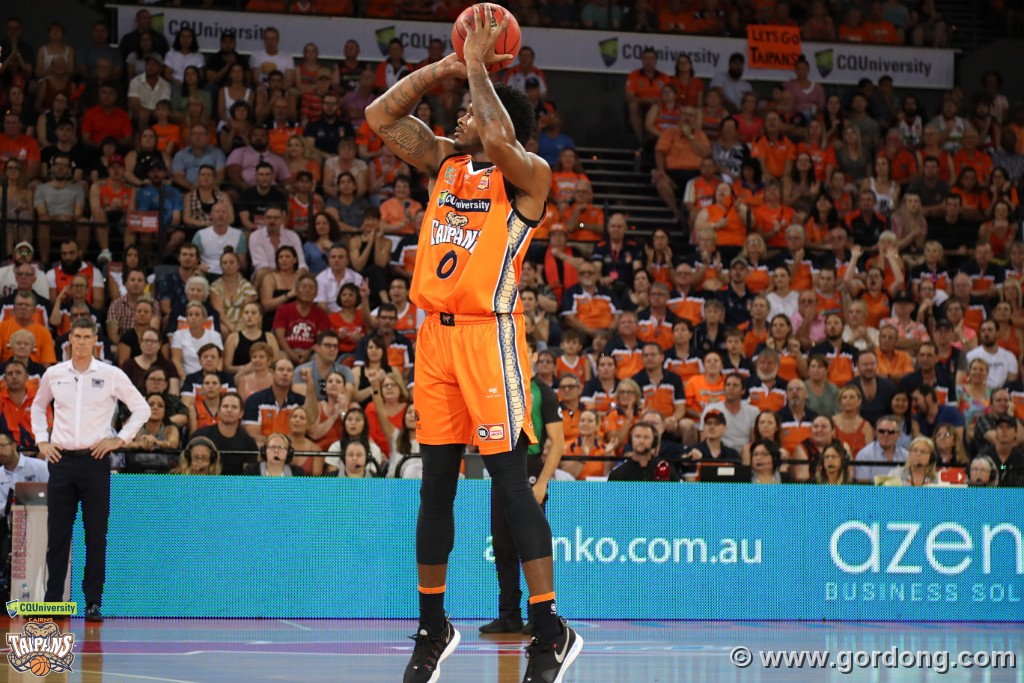 But then it began, and boy did it, Cam Oliver (above) at the heart of everything. He followed his three-point play with a 3-pointer and the game suddenly was tied 11-11.
Then he scored a drive before another 3-pointer for 16-11 and timeout Wildcats at 4:07.
Now it was Newbill's turn for a three-point play and 19-11, then Nate Jawai swished two free throws for 21-11, a double-digit lead on a 16-0 explosion.
Clint Steindl (18 points) ended the drought with a drive but there was still an unselfish pass from Jarrod Kenny to Jawai for the slam (below) and a Scott Machado 3-point killer at the buzzer to give Cairns a 30-16 lead.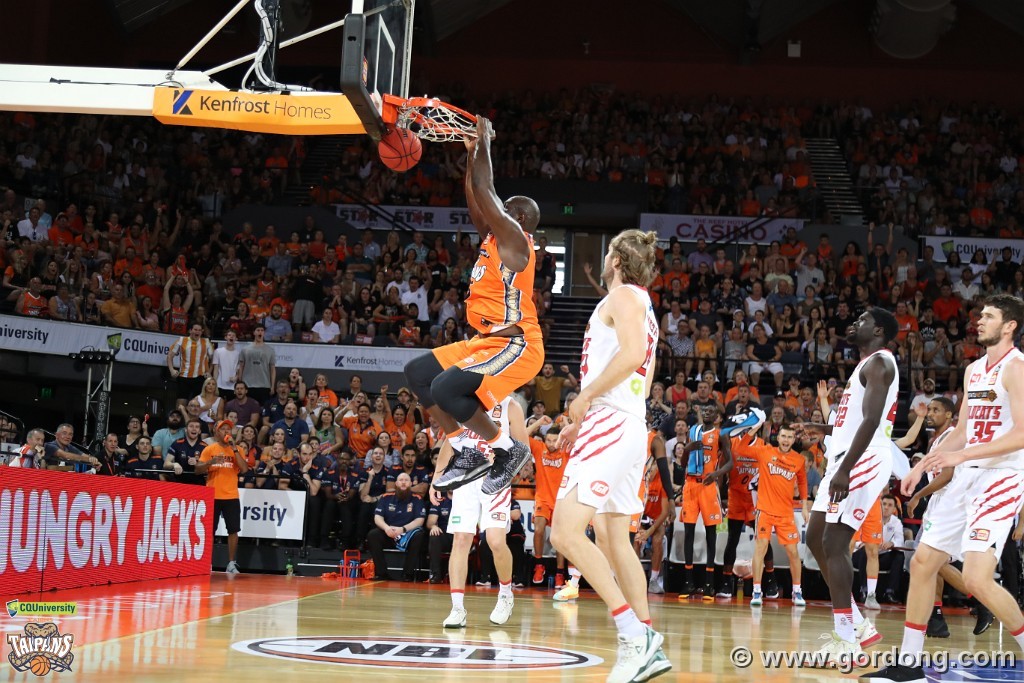 By halftime the lead was 16 points as Cotton struggled to find any room and the record low for a finals match of three turnovers Perth produced in Game 1 was done by quarter-time, with four, and 14 for the contest.
Perth dragged the deficit back to 10 by the last break and even closed within seven at 66-73 after threes by White and Steindl.
Machado then restored order and when Mitch Norton gave up an uncharacteristic unsportsmanlike foul after flubbing a reverse, the lead was quickly back out to 10, then 12 courtesy of Oliver.
The match star continued on his way to game highs in points (22 at 57 per cent) and rebounds (another whopping 19) but it was three plays in succession from Newbill which put this on ice.
First he stuck a long three for 81-68, then he blew by the defence for a layup and next he drove again, this time lobbing to Oliver for the dunk and 85-68.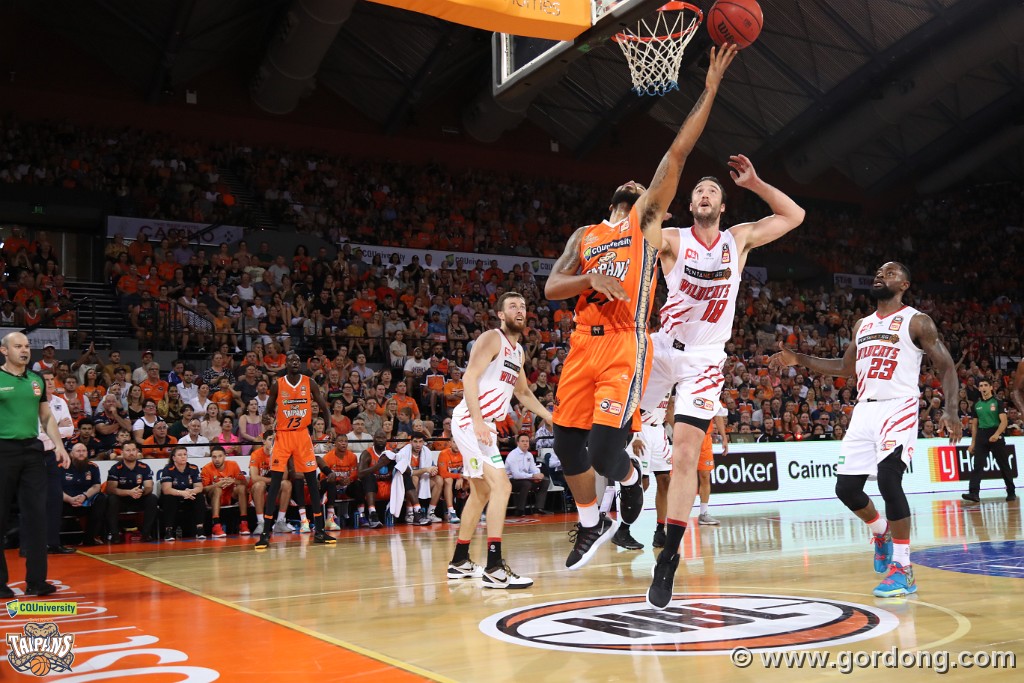 Threes by Steindl and White late gave the final score a more respectable look and Perth will be much better at home in Game 3.
Cotton is unlikely to go for 11 points on 5-of-12 shooting, with 1-of-6 threes in front of his adoring home fans, but the truth is, the Wildcats have a lot of work to do because these Taipans guys are having fun. And that's a dangerous component in the mix.
NBL SEMI FINALS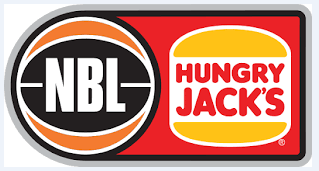 2 v 3:
PERTH WILDCATS v CAIRNS TAIPANS
Game 1: PERTH WILDCATS 108 (Cotton 42, Kay 23, Norton 12, Wagstaff 10; Kay 9 rebs; Kay, Cotton 6 assts) d CAIRNS TAIPANS 107 (Machado 31, Newbill 25, Oliver 19, Jawai 10; Oliver 18 rebs; Machado 9 assts) in overtime {93-93} at The Jungle, RAC Arena. Crowd: 10,858
Game 2: CAIRNS TAIPANS 85 (Oliver 22, Newbill 16, Machado 13, Jawai 12, Deng 11; Oliver 19 rebs; Machado 4 assts) d PERTH WILDCATS 74 (Steindl 18, White 13, Cotton 11, Kay 10; Kay 10 rebs; Kay 4 assts) at The Sssnakepit, Cairns Convention Centre. Crowd: 5,188
Series tied 1-1
Game 3: Thursday, March 5 - RAC Arena, 9:30pm AEDT / 6:30pm local
1 v 4:
SYDNEY KINGS v MELBOURNE UNITED
Game 1: SYDNEY KINGS 86 (Tate 23, Newley 17, Cooks 13; Bogut 10 rebs; Ware 5 assts) d MELBOURNE UNITED 80 (Trimble 34, Long 23; Long 11 rebs; Trimble 5 assts) at The Kingdome, Qudos Bank Arena. Crowd: 13,103
Kings lead series 1-0
Game 2: Monday, March 2 – Melbourne Arena, 7:30pm AEDT / 7:30pm local
Game 3 (If Req): Thursday, March 5 – Qudos Bank Arena, 7:30pm AEDT / 7:30pm local