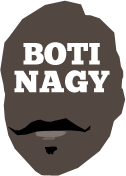 ---
Advertising opportunities available.
Please contact me.
---
Capitals V Lightning for WNBL crown
Tweet
THE 2019 WNBL champion will come from Canberra Capitals and Adelaide Lightning, two of the three most successful clubs in the league's 39-year history, after both dismissed semi final challengers in "straight sets".
The regular season champion University of Canberra Capitals swept Perth Lynx, winning 95-76 at home and 91-75 on the road in their best-of-three semi final, Kia Nurse, Leilani Mitchell and Kelsey Griffin the standouts.
MAC Adelaide Lightning stunned by finishing third but first beating the second-placed Boomers 76-60 in Melbourne, before completing the sweep 100-92 in Adelaide, Nia Coffey and Nicole Seekamp leading the upset but all of Chris Lucas' hardy rotation playing their roles.
The best-of-three Chemist Warehouse Championship Series tips off in Canberra on Saturday, shifts to Adelaide on Wednesday, then back to a decider in Canberra on Saturday-week, if one is required.
The Capitals won championships in both the 2005-06 and 2006-07 seasons, Adelaide won its last championship by interrupting Canberra's run in 2007-08, and the Caps were back at the pinnacle in 2008-09 and 2009-10.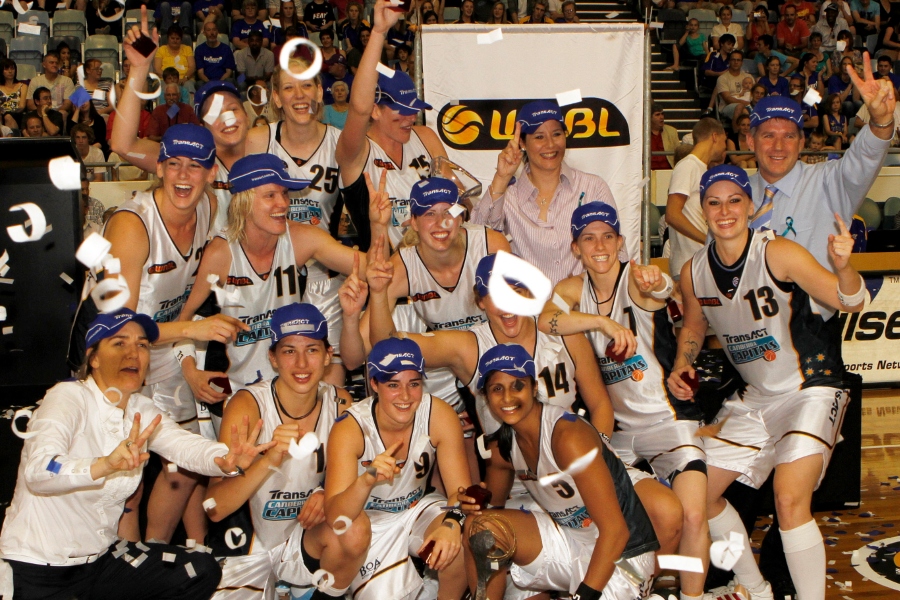 Canberra's last Grand Final was in 2011 when it was denied a threepeat by Bulleen (now Melbourne) Boomers.
Adelaide has returned to the playoffs for the first time in six years and to the grand final for the first time since its 2008 crown.
The clubs previously met to decide the championship in 2000, with Canberra winning the single match final, 67-50.
Canberra is the WNBL's most successful club with seven championships, Adelaide is third with five. (The late, great Nunawading Spectres won six.)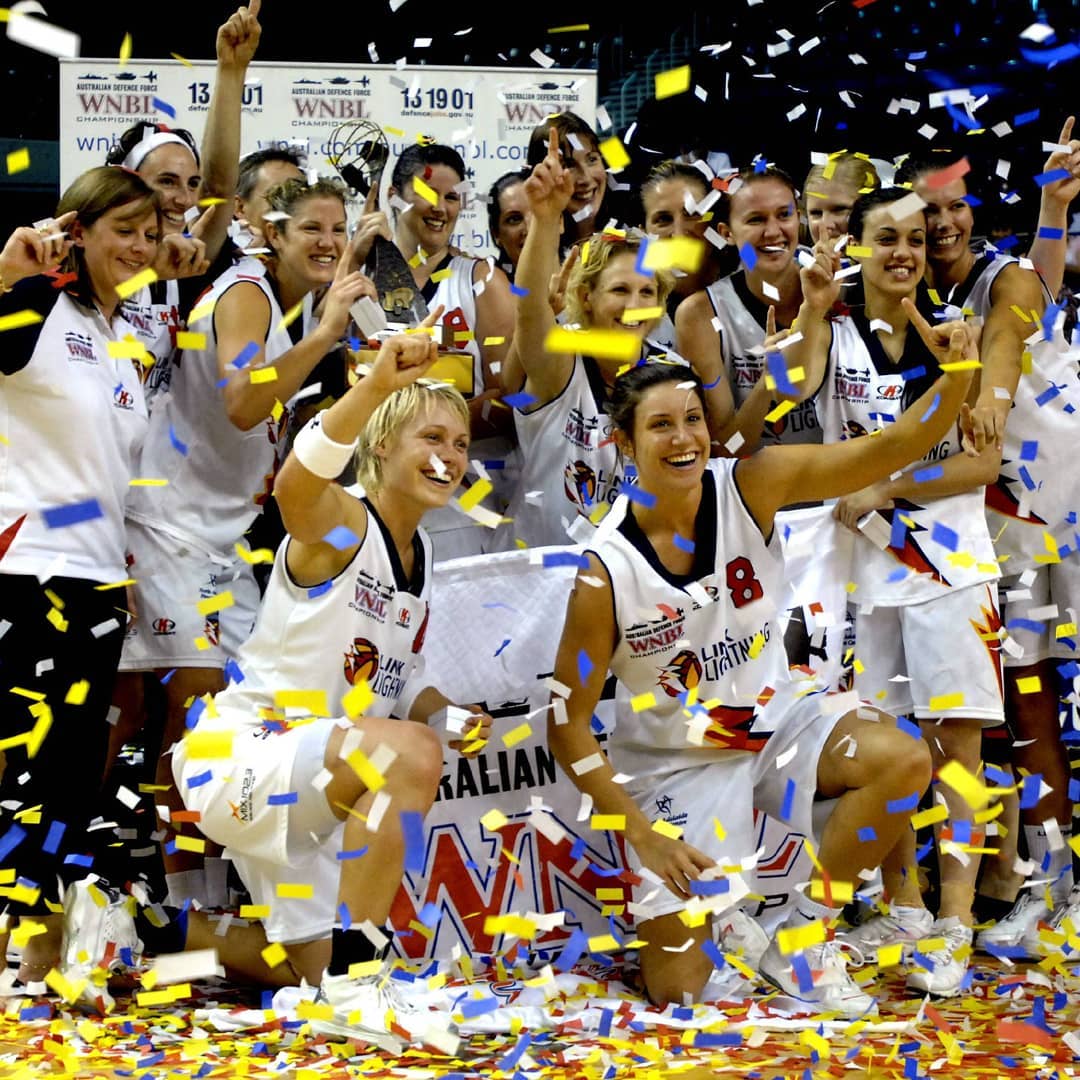 * * *
ADELAIDE Lightning turned its Cinderella story into more than just a fairytale when it sent second-placed WNBL championship favourite Melbourne crashing out of the semi finals in a staggering 2-0 elimination sweep.
With more than 1,000 paying customers at Titanium Security Arena for the first time this year, it was a Light Show for all seasons as Adelaide backed up its 76-60 Game 1 road win with a thoroughly glaring 100-92 Game 2 victory.
Melbourne battled gamely to the final siren but do not let the final scoreline fool you, Adelaide was never going to lose this and whenever the Boomers did something brilliant - which was often – Lightning virtually immediately struck back.
Nia Coffey was exceptional with 30 points at 60 percent, plus nine rebounds, Lauren Nicholson's 23 points at an even more sizzling 90 percent, with 2-of-2 threes and 3-of-3 frees.
Nicole Seekamp distributed the ball with pizzazz for 12 assists on top of her nine points and when it mattered, Steph Blicavs and Aimie Clydesdale both had the team's back.
Kayla Alexander's 20 points came at 64 percent and were accompanied by nine boards, two assists, two steals and a block.
And what a block it was too, the spectacular Canadian import stealing the ball in the fourth quarter, striding out but missing her open-court layup. Not to be dismayed or deterred, Alexander turned, sprinting the length of the court to arrive perfectly in time to swat a shot by Cayla George at the other end.
It was a moment reflective of how hard Lightning was prepared to go to end this series early.
George enjoyed a big game with 24 points at 52 percent for Melbourne, plus nine rebounds, three assists and a block.
And she ably was supported by dazzling import playmaker Lindsay Allen's 29 points at 57 percent, six assists and possibly a nasty case of whiplash for the amount of times she threw back her head trying to con foul calls.
Playing 37-plus minutes, Opals captain Jenna O'Hea probably needed to be a more dominant factor to send this series back to Melbourne, Steph Talbot and Maddie Garrick underwhelming and Ezi Magbegor hardly utilised.
As Melbourne's best player in the Game 1 loss, most expected her to start ahead of Kalani Purcell, but instead she played less than 10 minutes for two points.
Adelaide opened with intent, Nicholson and Alexander bumping the lead to 20-11 before 3-pointers by Talbot and O'Hea tightened it up, Coffey's offensive rebound basket beating the siren for a 25-22 Lightning lead after one.
Coffey was tough to start the second, Seekamp's 3-pointer pushing the lead back out to eight before Nicholson's jumpshot at 7:40 made it 36-26 to Adelaide.
An offensive rebound putback by Alexander meant Lightning led 38-26, and Boomers coach Guy Molloy had seen enough.
From his timeout, Melbourne produced an 8-0 run which included a big George three, now forcing Chris Lucas to call a halt.
A massive defensive breakdown allowed O'Hea to throw an inbounds three-quarter-court pass to a naked George under the basket, and Allen's drive tied the game up at 42-42.
Blicavs' 3-pointer made it 45-42, George's three in response again tying it before Allen nudged Melbourne ahead 48-47 by halftime.
Who knew that would be Melbourne's biggest lead of the match!?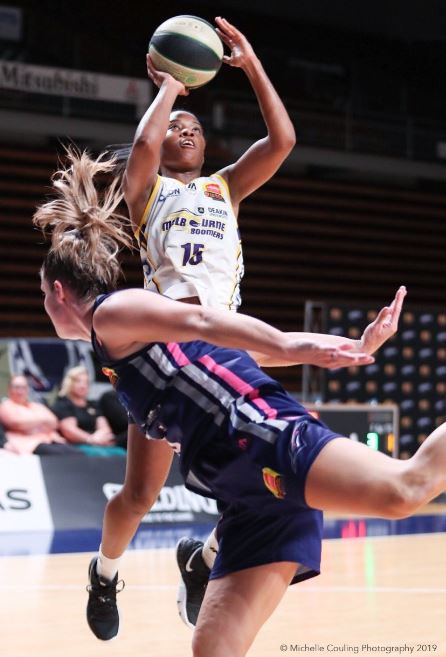 Nicholson's three-point play attacking Allen, then a jumpshot by the league's leading 3-point shooter meant Adelaide again was ahead by 10, 60-50.
Once more it was George and Allen dragging the Boomers back into the contest, closing it to 60-62.
Magbegor tied it at 64-64, before Colleen Planeta swished her only 3-point attempt of the game for 67-64 to Adelaide.
O'Hea tied it again at 67-67 before a Coffey attack and three-point play again pushed Lightning 70-67 clear.
Adelaide had the answers, Coffey's free throws in the last extending the buffer to 80-69. With 7:45 left, George fouled out, Coffey's free throws making it 82-69 and the task now looking beyond the Boomers.
Credit to them, they continued to claw, O'Hea and Nicholson trading triples before Allen's three-point play drew them to within six at 90-96.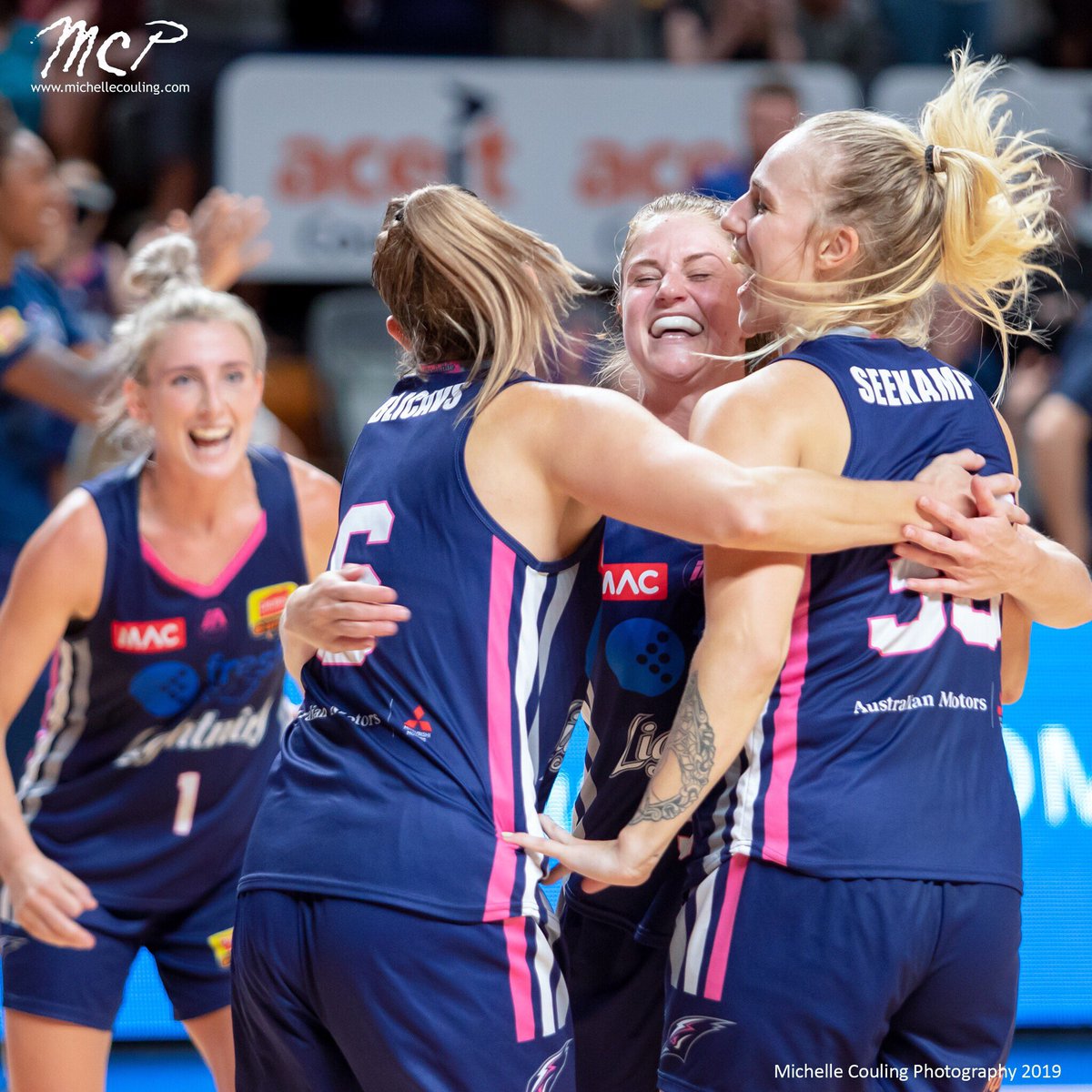 They were still there at 92-98 before Talbot aborted a running triple attempt, Blicavs sealing the deal from the free throw line, joyous celebrations breaking out all over the court and in the crowd, delivering a justified and well-deserved standing ovation.
* * *
PERTH gave its home crowd hope for much of its ultimate Game 2 elimination by Canberra, opening with a 23-14 first quarter.
A 28-12 second period by the Capitals, with Kia Nurse en route to a game-high 27 points at 58 percent, including a mind-blowing 7-of-11 threes, put the regular season champs back on top, and the Lynx on notice.
Perth responded with a tough third quarter and with a period to play, Canberra was ahead 59-58 and the match up for grabs.
Leilani Mitchell, with 19 points and 5-of-7 threes alongside seven assists, promptly helped Canberra grab it, the 32-17 final period leaving the Lynx gasping after a courageous crack at it, Asia Taylor playing just 15:55 before suffering an injury.
Katie-Rae Ebzery and Alison Schwagmeyer both scored 17 for Perth, Brittany McPhee with 10 points and a playoffs-high 19 rebounds in a lost cause.
Kelsey Griffin had a 12-point, 13-rebound double-double for Canberra and Kelly Wilson also had a double-double, her 15 points good but her 12 assists even better.
Canberra stroked 14-of-23 threes at 60 percent, Perth also nailing 3-point bombs at 50 percent, with 10-of-20, Lauren Mansfield leading the way with 4-of-7 as the Lynx's season headed into mothballs.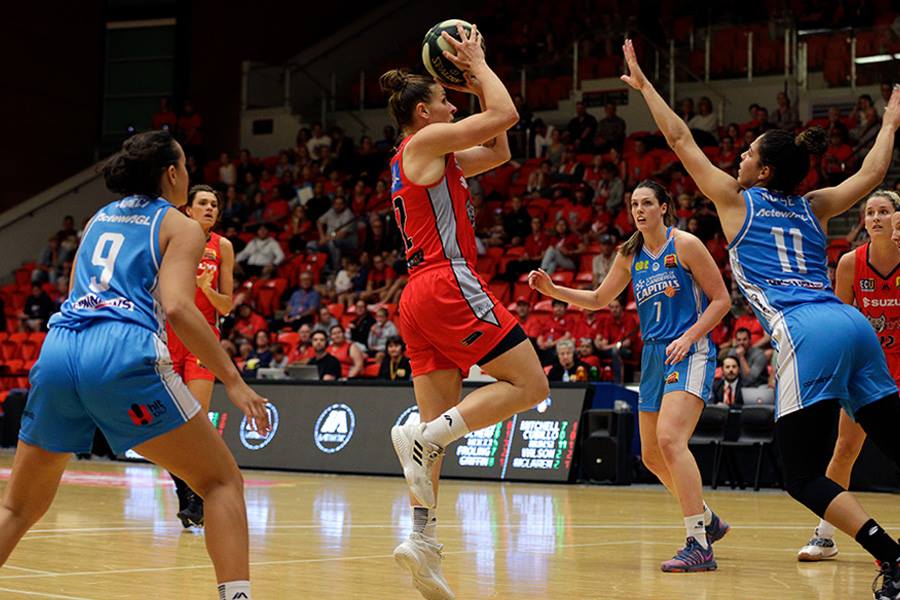 * * *
WNBL SEMI FINALS
CANBERRA v PERTH (1 v 4)
GAME 1: UNIVERSITY of CANBERRA CAPITALS 95 (Nurse 31, Mitchell 24, Griffin 18; Griffin 12 rebs; Wilson, Griffin, Mitchell 7 assts) d PERTH LYNX 76 (McPhee 25, Schwagmeyer 13, Steindl 10; McPhee 8 rebs; Farnworth 4 assts) at The Soup Kitchen, AIS Arena.
GAME 2: UNIVERSITY of CANBERRA CAPITALS 91 (Nurse 27, Mitchell 19, Wilson 15, Griffin 12; Griffin 13 rebs; Wilson 12 assts) d PERTH LYNX 75 (Schwagmeyer, Ebzery 17, Mansfield 12, Taylor 11, McPhee 10; McPhee 19 rebs; Allen, Ebzery 4 assts) at The Enclosure, Bendat Stadium. Capitals win Series 2-0
MELBOURNE v ADELAIDE (2 v 3)
GAME 1: MAC ADELAIDE LIGHTNING 76(Seekamp 18, Coffey 16, Nicholson 10; Alexander 11 rebs; Seekamp 6 assts) d DEAKIN MELBOURNE BOOMERS 60 (Magbegor 14, Allen 12; George 12 rebs; Allen 5 assts) at The Boomerang, State Basketball Centre.
GAME 2: MAC ADELAIDE LIGHTNING 100 (Coffey 30, Nicholson 23, Alexander 20, Blicavs 11; Alexander, Coffey 9 rebs; Seekamp 12 assts) d DEAKIN MELBOURNE BOOMERS 92 (Allen 29, George 24, O'Hea 13; George 9 rebs; Allen 6 assts) at The Lighthouse, Titanium Security Arena. Lightning win Series 2-0
GRAND FINAL (BEST-OF-THREE) SCHEDULE - CANBERRA v ADELAIDE
GAME 1: Saturday, February 9, 5.30pm (local) at AIS Arena, Canberra
GAME 2: Wednesday, February 13, 6.30pm (local), at The Lighthouse, Titanium Security Arena, Adelaide.
GAME 3 (If Required): Saturday, February 16, 5pm (local) at AIS Arena, Canberra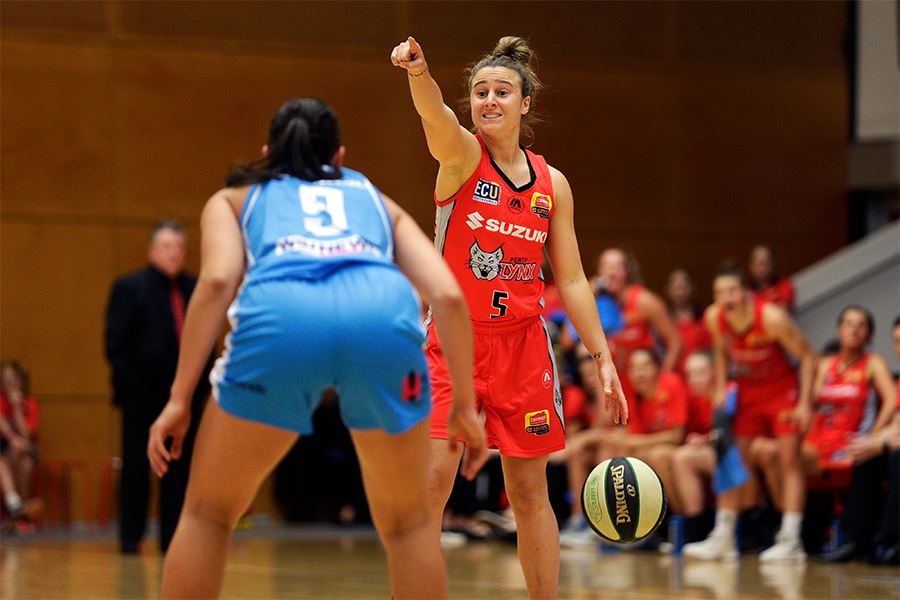 "CALL an Uber to the side door. Our season is over." Perth Lynx bow out of the 2019 Playoffs.