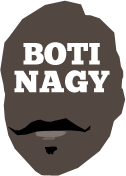 ---
Advertising opportunities available.
Please contact me.
---
CG43 'can't hear 36ers crowd anymore'
Tweet
MELBOURNE United captain Chris Goulding, who 36ers fans reduced to a shell of himself in the 2014 semi finals in Adelaide, claims he can't hear the Titanium Security Arena crowd anymore.
Goulding made the comment after the 36ers won Game 2 in Adelaide last Sunday 110-95 and he scored 19 points.
"I think I'm getting older because I can't hear it as much anymore," he said.
"Everyone here knows it's a great environment to play in.
"It's the grand final, it goes up a notch. Our crowd's fantastic as well. You wouldn't have it any other way."
Now whether that means Chris is
a) Getting older so his hearing is no longer as sharp; or
b) Getting wiser so he can dismiss the crowd; or
c) The crowd didn't get after him; or
d) All of the above,
the fact is he has thrown down the gauntlet for the sell-out stands tomorrow at The Fortress to blow the roof off.
He won no Adelaide admirers in Game 3 last night with his antics involving Anthony Drmic in the third quarter when he ran at the 36ers swingman downcourt, then threw himself to the floor as Drmic made a meagre motion with his right arm to ward him off.
It was Goulding, back to his finest flopping, reclaiming his crown from the retired Shawn Redhage and, as usual, bluffing one of the grand final refs into seeing it his way.
Drmic should have been smarter on their second clash though, especially considering one of last night's refs – and tomorrow's – last year threw him out of the deciding Game 3 of the semi finals against Illawarra for allegedly flopping. On that occasion, he actually had not.
Last night, his arms entangled with Goulding behind the play, Drmic needed to quickly extricate himself and get on with it. Instead he chose to play the "who's entangled with whom" game, eventually lifting Goulding off the floor and copping an unsportsmanlike foul.
Just like Nathan Sobey in the unprovoked Casey Prather halftime incident after Sobey (below) copped a headbutt in the game's opening minutes from United's Tai Wesley – in front of said referee for a no-call – Drmic needed to be smarter that second time having been outsmarted (and outflopped?) by Goulding the first time.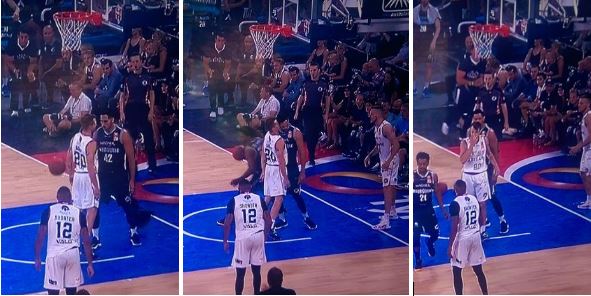 Who knows? Maybe tomorrow the United captain might hear the fans.
* * *
SPEAKING of the fans, the new sell-out crowds at Titanium don't seem to realise that stomping their feet on the wooden floor of the venue also makes a loud, loud noise.
The first time the referees tomorrow call a clanger against the 36ers, it will be time for an avalanche of raucous rage to pick up from some of the crap the Sixers were forced to negotiate and endure in Melbourne last night.
* * *
SOMEONE at Adelaide 36ers headquarters probably needed to bunker down Shannon Shorter and tell him that instead of allowing FOX commentator Corey Williams to fire up United's superstar playmaker Casper Ware with Shorter's "We got this" BS, he should simply have shut up and let his game do the talking.
And if his game CAN'T do the talking, then shut the hell up and play your role in helping the 36ers' pursuit of a championship.
Last year Jerome Randle saw fit to have a crack at the Illawarra Hawks after Adelaide had taken Game 1 of their semi final. And how'd that work out?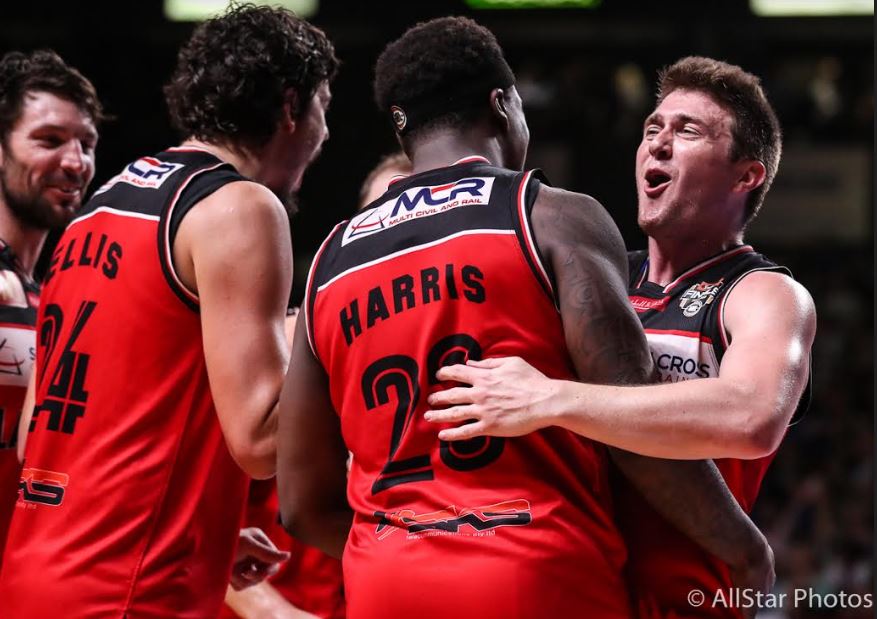 Oh yeah. That's right (above).
Shorter is too busy spoiling for trouble and talking the talk at precisely the time "walking the walk" is what truly matters.
As everyone on the FOXSPORTS commentary team continually repeated throughout Ware's sizzling first quarter, Shorter should not have "poked the bear".
Ware is a star and gets on with it.
Shorter is looking for an opportunity to flex when he should be trying to win.
* * *
QUICK note to FOX anchor Matt Russell. It's the Adelaide 36ers. Not the 76ers.
* * *
WHAT a grand final it has been so far, even if the 36ers aren't supposed to be doing this well.
The scores – 107-96, 110-95, 101-98 – have reflected some uncanny basketball but here's a fact to put the play into context.
In the NBL's previous 39 seasons, there have been 101 grand final matches. The lowest score – that's the LOWEST – in this 2017-18 series has been Melbourne's 95-point losing tally in Game 2.
That 95 points would have been good enough to win 77 of the 101 grand final games played before this series.
That's the 95-point LOSING score would have won all but 24 grand final matches played since the NBL launched in 1979.
Enjoy what you're seeing. It's pretty special. (Even if it does seem to be running to a preordained script.)
* * *
QUALITY work at the league's official website this week, quoting Adelaide 36ers icon Brett Maher on the championship series.
But in a day and age where accuracy seems to count for little, belated congratulations appear to be due to the Brettster for his 2001 league MVP win:

Just wait til Rob Rose finds out!!
* * *
THIS just in.
Our crack new officiating team is ready to progress from training (below) to step in for the current trio on the Melbourne-Adelaide series: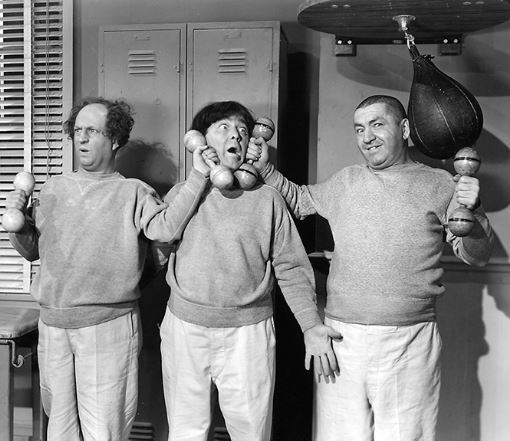 TOMORROW AM: V for Vendetta
TOMORROW PM: Grand Final Game 4