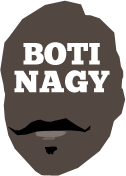 ---
Advertising opportunities available.
Please contact me.
---
Childress a man on a mission
Tweet
NEW Adelaide 36ers signing Josh Childress - arguably the biggest player signing in the club's 36-year NBL history - is more than just a superstar basketball player.
Ahead of his first visit to Adelaide as a member of the Sydney Kings three years ago on November 29, 2014, I had the chance to talk to him and discovered there was much more to this 203cm athlete.
It is worth the revisit:
THERE were 507 violent crimes reported in Compton, an area of Los Angeles, in the past six months but Josh Childress sees hope where others see despair.
The Sydney Kings' former NBA star set up a foundation to offer alternatives for the children of Compton, children for whom a life of crime is a viable option.
"I was holding a basketball camp in Compton and I doing a Q-and-A with the kids afterwards," the 203cm veteran of 398 NBA games said.
"Every single one wanted to be a professional athlete or an entertainer of some sort.
"It struck me as an issue. There are many more ways to make a living but they see that on TV."
And even though Childress made it out of Compton and its inner city poverty to become a professional athlete, his contemporaries are light on the ground.
"There's a definite situation where you can go in the wrong direction, join a gang, get into crime," he said. "I wanted to make a difference."
Childress' not-for-profit foundation uses sport and educational programs to help "develop the whole child" and set them on a path to an education.
He has earned $40 million playing basketball, graduated from storied Stanford University with a sociology degree, was the No.6 NBA draft pick in 2004 and still is earning $7 million from his last deal at Phoenix Suns.
Having also played in Greece during the height of his fame, it quickly becomes clear Childress is less about the money and more about the life experience.
When his agent received the call from the Kings, the chance to come Down Under was too good to refuse.
"For me it was an opportunity to play in a great city and play a prominent role in a team that wants and appreciates your services," he said.
Childress will run onto Adelaide Arena today, leading the Kings against the 36ers and boasting a 36-point, 19-rebound, seven-assist, five-blocks stat line from their first meeting, a 107-100 Sydney win.
"It's been a tough few years with injuries and getting released," he said.
"I came here to improve myself generally. We all have opportunities to grow and become better.
"I not only play basketball but I wanted to start looking at the next phase of my life."
Childress, 31, sees his future in a business setting and part of his relationship with the Kings has involved the club mentoring him in that direction.
A laid-back character subjected to criticism for that across his career, his brothers Jamal and Onye had to goad him to "fire up".
While that may seem at odds now, considering he was suspended for an NBL game for a decent whack on Perth's Jesse Wagstaff, it was out of character.
"My brothers are in their 40s," he said. "They played and had a real passion for the game and they passed that down to me.
"I'm not a fiery-type person. That's not me."
If it had been, Childress may never have made it out from the streets of Compton.

JOSH CHILDRESS - JUST THE FACTS
Born: June 20, 1983, Harbor City, California
Height: 203cm
Early career: McDonald's High School All-American; Stanford University - Pac-10 Conference Player of the Year and Pac-10 Conference Tournament MVP in 2004.
Pro Career: Atlanta Hawks, NBA 2004-08; Olympiacos Piraeus, Greece 2008-2010; Phoenix Suns, NBA 2010-2012; Brooklyn Nets, NBA 2012; New Orleans Pelicans 2013.
Pro milestones: No.6 draft pick 2004; NBA All Rookie (Second) Team 2004-05; All Euroleague Second Team 2010; Greek Cup champion 2010; Greek League topscorer 2010; Greek League Best Five 2010; Greek League All-Star 2010; 398 NBA games, averaging in double figures in four of eight NBA seasons; 2016-17, played with SAN-EN NeoPhoenix of the Japanese B-League, averaging 18.9 points, 9.5 rebounds, 1.8 assists and 1.2 blocks per game.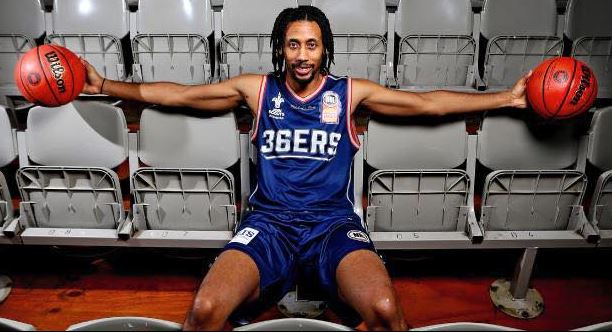 CHILLIN' - Josh Childress arrives in Adelaide. Pic courtesy of The Advertiser
So this is some measure of the man the 36ers signed last Tuesday, now 34 and with another taste of the NBA under his belt after his recent release by the Denver Nuggets.
Yesterday as he lobbed in Adelaide, Childress said he was excited to be here, 36ers coach Joey Wright in solid talks with him mid-year.
"I spoke with Joey a bit this summer about coming in and I just expressed to him I was probably going to stay home a bit longer," he said.
"Then I dropped out of the Nuggets' training camp and you guys had another import who went down so he reached out and the rest is history.
"I've watched some of the games and I know that the 36ers are playing at a very high, fast pace, so I have to get used to that.
"But (it) generally takes me a week or two to kind of get into my swing and then I feel pretty good.
"The biggest thing too is I don't want to disrupt the rhythm that they have now.
"They're playing well. I wanna just kind of be able to ease in and transition in well and not disrupt that because each win is obviously very important."
Asked what he will bring to the Sixers' table, Childress said: "High energy, I like to slash, I like to get out and run, rebound, defend, I do a little bit of everything.
"I've had some pretty fun battles here in Adelaide against the 36ers and now it will be fun to be teammates with them."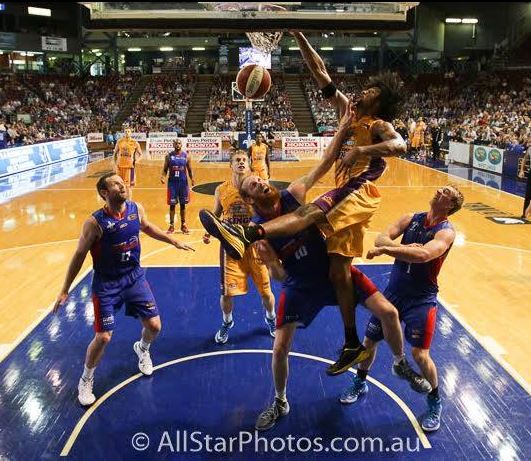 YEP, HERE IT IS AGAIN: Josh Childress having a fun battle with Adelaide.
Childress debuts on Friday for the 36ers against the Taipans in Cairns. Watch it live on FOX SPORTS. Or maybe later on ABC-TV.