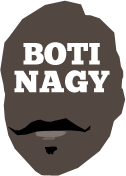 ---
Advertising opportunities available.
Please contact me.
---
Aussies make a meal of Chinese Taipei
Tweet
THE Harlem Globetrotters put on a halftime show to follow Australia's first-half show as the Boomers laid the foundation today for their 88-68 win over Chinese Taipei.
Victory at Melbourne's Margaret Court Arena closed the Boomers' second FIBA World Cup Asian Zone qualifying window with Australia unbeaten atop Group B with a 4-0 win-loss record – and now 10-0 in the region, following its 6-0 rout of the 2017 FIBA Asia Cup.
Mitch Creek was magnificent with the perfect game - a team-leading 18 points on a perfect 9-of-9 shooting, 9 rebounds, 3 assists in a mere 15:45. That's right. Just 45 seconds over one-and-a-half quarters.
With 14 points in the first half and opening the second with a dunk and a sweet reverse – the score 56-29 in the Boomers' favour - coach Andrej Lemanis sat him down for the duration, his work already done.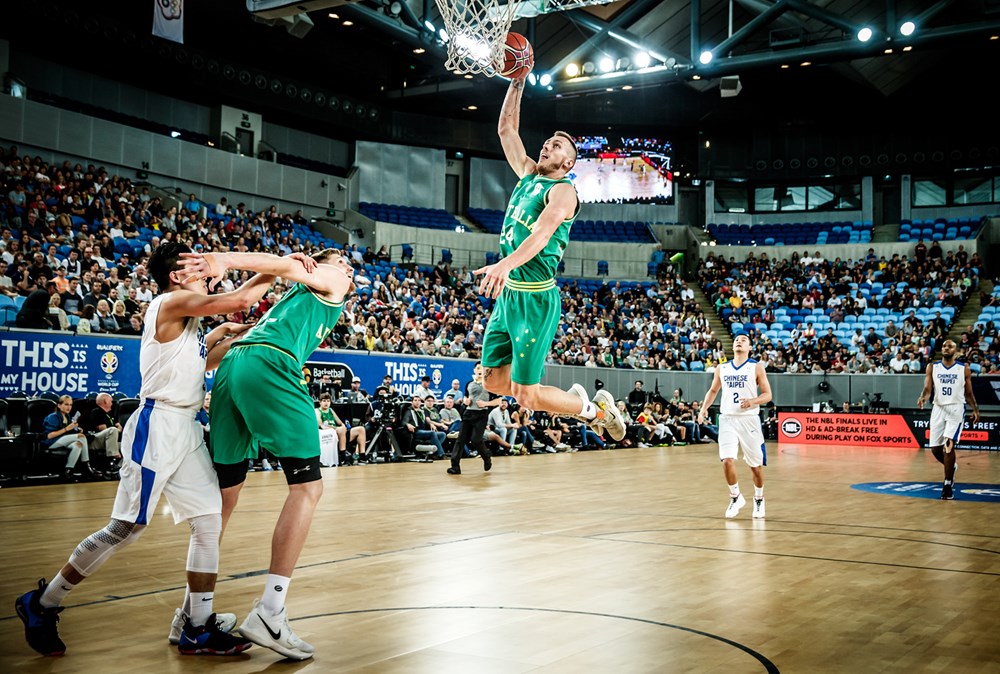 FIT CREEK: Mitch Creek, easily Australia's best player, about to throw it down.
Creek's Adelaide 36ers' teammates Matt Hodgson and Nathan Sobey joined the party with their involvement in the game's two most spectacular plays. One was a two-handed Hodgy reverse dunk after Mitch Norton created and dished for the Sixers' seven-footer to throw it down, two minutes from the three quarter-time break.
Then early in the last, Hodgson picked off a pass from Chinese Taipei's naturalised star Quincy Davis, passed it to Jesse Wagstaff who whipped it behind his back to Kevin Lisch. Lisch's lob was perfect for Sobey soaring to the rim for the one-handed jam.
That was the play of the game – those Globetrotters would have been thinking thank goodness these guys aren't on the Washington Generals – but they were just two of many.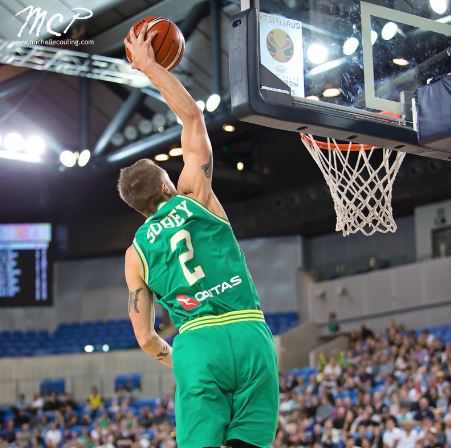 PLAY OF THE DAY: Nathan Sobey slams Kevin Lisch's lob to complete a great fullcourt play.
After Yi-Hsiang Chou opened the game by swishing a 3-pointer, the Boomers quickly were reminded they were in a ball game against a willing opponent, Daniel Kickert immediately cancelling that bucket with a three of his own.
Then Creek put the ball behind his back to penetrate the Chinese Taipei defence for a strong lay-up.
Jason Cadee knocked down a runner, adding a bonus free throw before Hodgson came up with a superlative bounce pass to a cutting Cadee for a 10-0 run and 10-3 lead.
Long-Mao Hu knocked down a pair of threes before a Creek baseline cut for a dunk restored order.
Mitch McCarron hit the hardwood and put together a personal 6-0 outburst, two made free throws sandwiched between a pair of strong cuts to the bucket.
Norton to Hodgson for their first "Dellavedova-to-Baynes-for-the-slam" impersonation, gave Australia a 26-15 lead after one.
Halfway through the second period, Hu stuck another 3-pointer which brought Chinese Taipei to 22-30 and raised Lemanis' ire.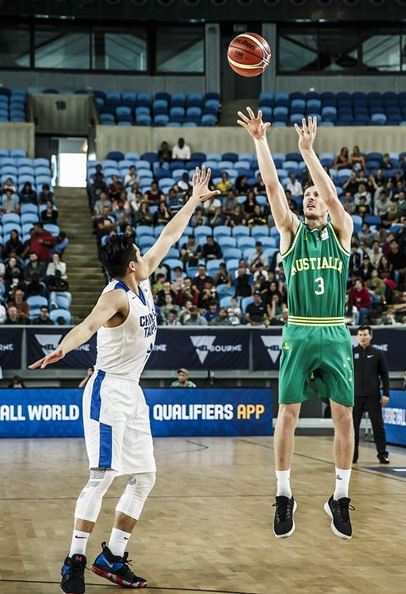 From his timeout, Australia's defensive resolve hardened and it consequently peeled off the next 12 points without interruption, some exceptional ball movement against CT's zone opening up 3-balls for Cam Gliddon (right) and Cadee, the latter also feeding a great pass for a Creek bucket.
Nick Kay started the run off a Creek feed and also had a basket in the middle when he simply drove the lane and laid it in.
Sobey's 3-pointer sent Australia into the interval ahead 47-25 and this effectively was over.
No-one told Taipei though as Ying-Chun Chen uncorked a 13-point third quarter and Davis offered resistance in the paint, the Boomers outscored 24-21.
Chen still was getting excited as he wildly threw himself on the floor after a shot attempt in the game's dying seconds in one of the match's more comical moments.
"Man, that's not how you flop," Gliddon allegedly remarked as Chen desperately attempted to make something out of nothing.
Lemanis did well to ensure every player hit double-figure minutes, with only one – Cadee – playing more than 20.
He finished with a game-high six assists, McCarron again also efficient with his 11 points at 67 per cent, with four boards, two assists and a game-high five steals.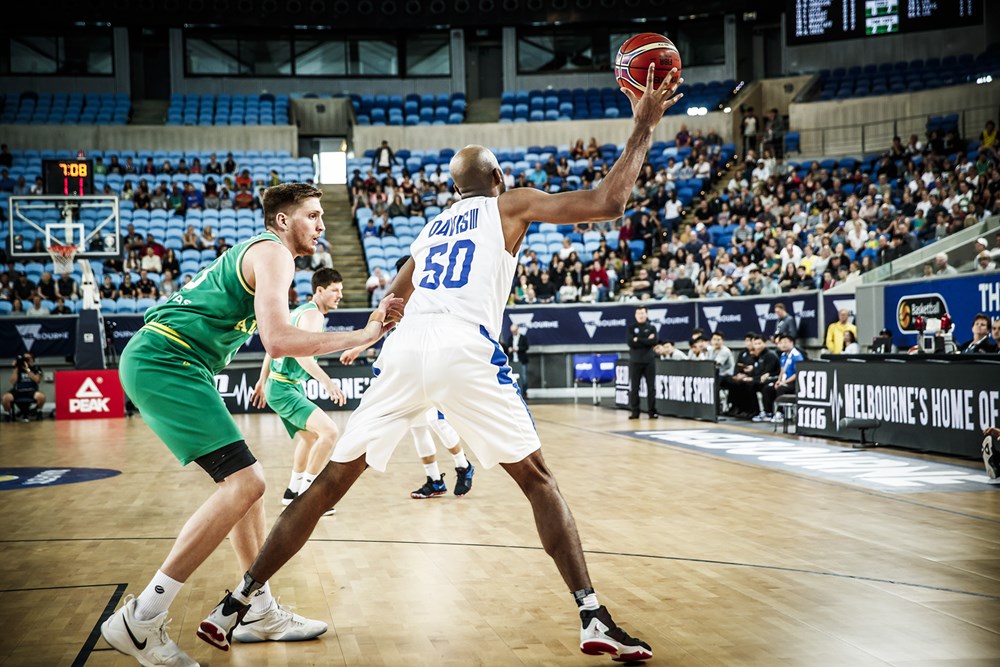 NO TRESPASSERS: Quincy Davis going to work against Boomers keyway guardian Matt Hodgson.
Australia handsomely won the boards 55-35 and now can look past its June-July qualifiers in Japan and the Philippines, to the second FIBA window in September.
There the Boomers will be pitted against the top three teams from Group D, which comprises Iran, Qatar, Kazakhstan and Iraq.
That will be in the newly-formed Group F, with two other teams from Group B also advancing to make it a six-team pool.
Its top three will qualify for the 2019 FIBA World Cup in China.
AUSTRALIA 88 (Creek 18, McCarron 11, Hodgson 10; Creek, Brandt 9 rebs; Cadee 6 assts) d CHINESE TAIPEI 68 (Chen 22, Davis 18, Hu 15; Davis 11 rebs; Chou, Davis 4 assts) at Margaret Court Arena, Melbourne.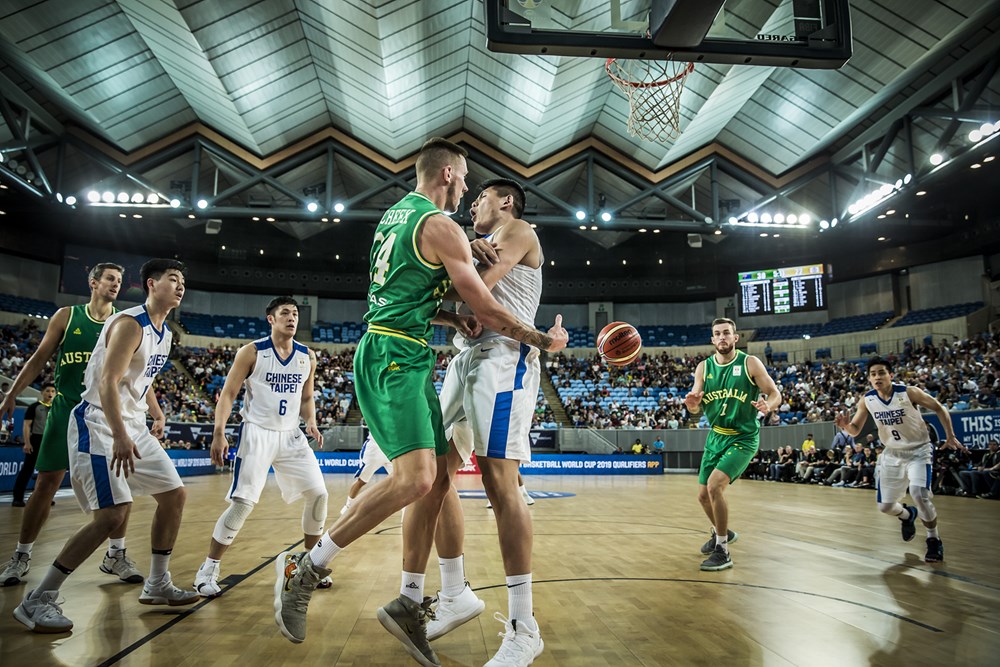 DELICIOUS DISHES: Mitch Creek feeds this assist to Nick Kay.