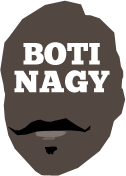 ---
Advertising opportunities available.
Please contact me.
---
Chris strikes Gold, Nigeria strikes out
Tweet
CHRIS Goulding struck gold today with a magnificent 7-of-7 threes, helping the Boomers sink burgeoning Nigeria 108-69 in an exhibition match, rocking Las Vegas bookies and further exciting prospects of a maiden Olympic medal in Tokyo.
With satisfying wins over Argentina and the USA already under their belts, the Boomers chose to rest their "Four Horsemen of the Apocalypse" - namely Patty Mills, Joe Ingles, Aron Baynes and Matthew Dellavedova - instead letting their colts run wild and they did, seizing the initiative and never relenting.
Bear in mind, this Nigerian team, with seven of its own NBA players and coached by highly-respected NBA coach Mike Brown, came into the match also owning the scalps of the USA and Argentina, beating the Argies by 23.
They're also in our Group B in Tokyo so this game presented the perfect opportunity NOT to reveal too much strategically, although Australia's defensive brilliance again was on show, containing Nigeria to a 29-point first half as the Boomers swept 20 clear.
Jock Landale (14 points, 5 rebounds) was joined in the starting five by Nathan Sobey (15 points, 4 rebounds, 5 assists), Dante Exum (6 points, 3 rebounds, 5 assists and a highlights package drive to the hoop), Matisse Thybulle and Nick Kay.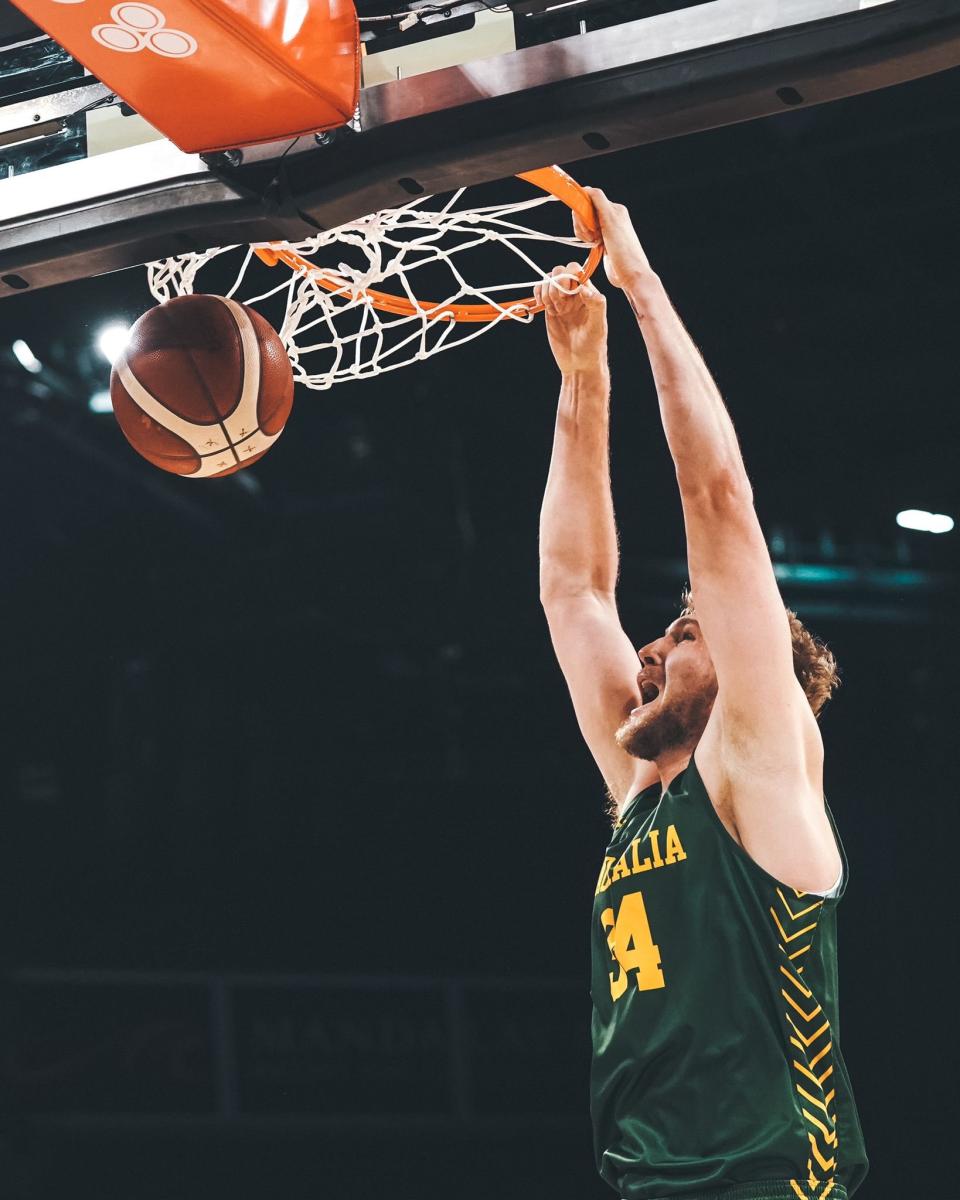 The insertion of peripheral pair Josh Giddey and Xavier Cooks, not to mention Josh Green (11 points), along with the continued emergence of Duop Reath (17 points, 3 rebounds, 2 assist) meant Boomers fans had the opportunity to look into Australia's international future.
And it looks very bright.
En route to 14 points, four rebounds and three assists, Giddey successfully quarterbacked the team but it was Goulding who shot out the lights, leaving no-one in any doubt about his role in this team.
(Keeping him on the floor when his shot was going also was a throwback strategy Melbourne United might seek to employ in its NBL title defence.)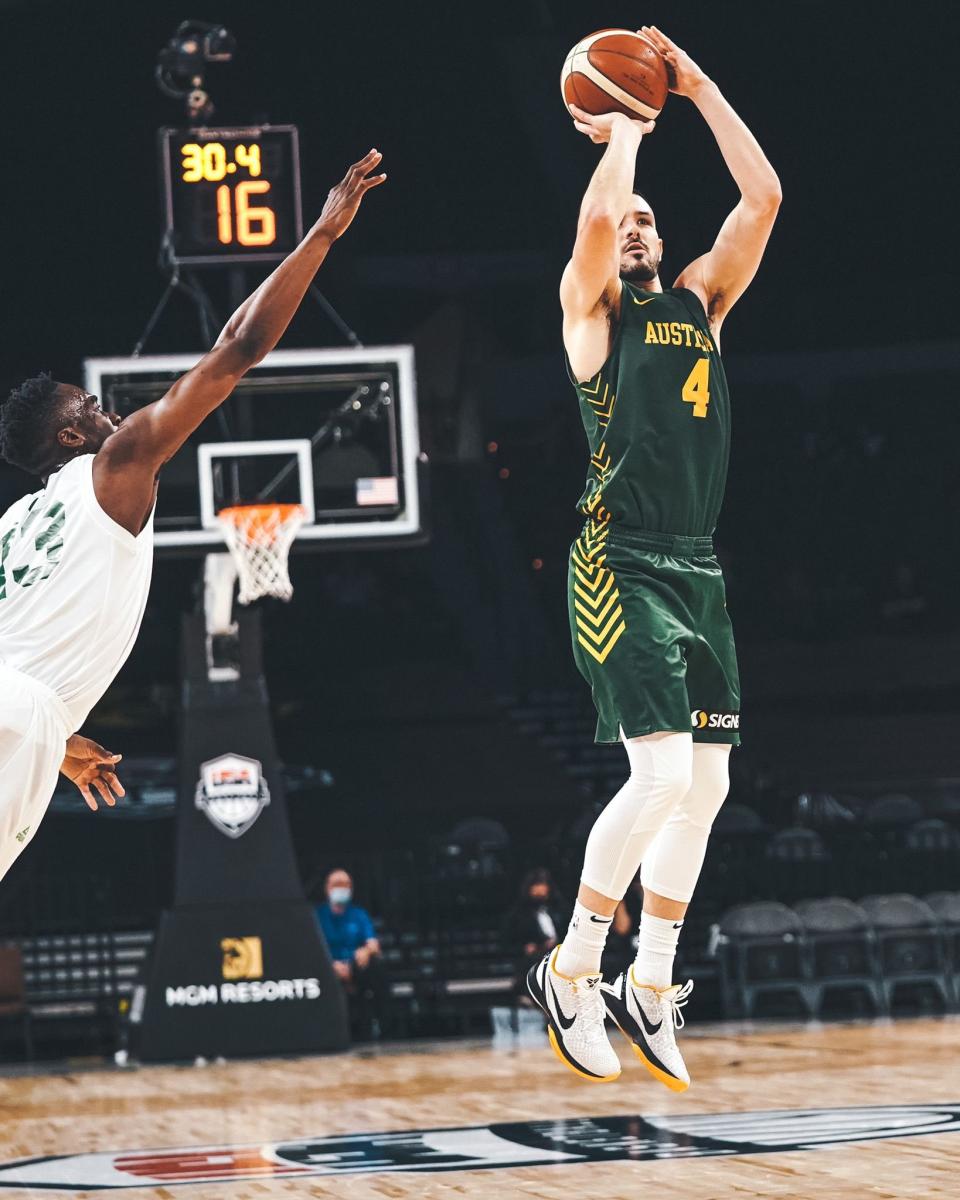 The Boomers bamboozled Nigeria and absolutely were a delight to watch from go-to-whoa, connecting on 18-of-29 threes. Their commitment to defence was through the roof - Nigeria scored 90 and 94 in its previous games before being stifled to 69 by the Aussies - and their unselfish offensive play a pure joy to behold.
But just as Aussie fans knew coach Brian Goorjian was keeping some cards close to his chest and not showing his full hand, let's not believe Nigeria was.
Let's just enjoy how exceptionally well this team is bonding and playing as it prepares for what may be the most competitive yet of Olympic Games.
PS
WANT to know why beating the USA was so big for Australia yesterday?
Then check out Australia's all-time record against the Americans:
Australia V USA matches
1964 Olympics, Tokyo, Japan
USA 78, Boomers 45
1970 FIBA World C'ship, Ljubljana, Yugoslavia
USA 99, Boomers 62
1972 Olympics, Munich, West Germany
USA 81, Boomers 55
1978 "International 7-Test Basketball Challenge", Sept.20-27
USA 99, Boomers 81 in Newcastle
USA 98, Boomers 84 in Wollongong
USA 91, Boomers 73 in Canberra
USA 74, Boomers 70 in Melbourne
USA 81, Boomers 80 in Melbourne
USA 91, Boomers 72 in Adelaide
USA 87, Boomers 69 in Adelaide
1978 FIBA World C'ship, Manila, Philippines
USA 77, Boomers 75
1982 FIBA World C'ship, Bogota, Colombia
USA 110, Boomers 86
1988 Olympics, Seoul, South Korea
USA 78, Boomers 49
1990 FIBA World C'ship, Buenos Aires, Argentina
USA 79, Boomers 78
1994 FIBA World C'ship, Toronto, Canada
USA 130, Boomers 74
1996 Pre-Olympic "Friendly", Salt Lake City, USA
USA 118, Boomers 77
1996 Olympics, Atlanta, USA
USA 101, Boomers 73
1998 Goodwill Games, New York, USA
USA 93, Boomers 85
1998 FIBA World C'ship, Athens, Greece
USA 96, Boomers 78
2000 Pre-Olympic "Friendly", Melbourne, Australia
USA 89, Boomers 64
2004 Olympics, Athens, Greece
USA 89, Boomers 79
2006 FIBA World C'ship, Hamamatsu, Japan
USA 113, Boomers 73
2008 Olympics, Beijing, China
USA 116, Boomers 85
2012 Olympics, London, England
USA 119, Boomers 86
2016 Olympics, Rio, Brazil
USA 98, Boomers 88
2019 Pre-FIBA World Cup "Friendly", Melbourne, Australia
USA 102, Boomers 86
*Boomers 98, USA 94
2021 Pre-Olympic "Friendly", Las Vegas, USA
*Boomers 91, USA 83
(Prior to Australia's win at Marvel Stadium in 2019, it was 0-8 in Olympic competition; 0-7 in FIBA World Championships/World Cups; 0-11 in "exhibitions" or "friendlies"; 0-26 overall. That is now 2-26.)