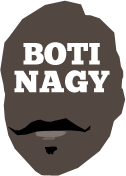 ---
Advertising opportunities available.
Please contact me.
---
Creek joins 36ers' immortals
Tweet
MITCH Creek was the blueprint for the "wide-eyed country kid" when he first walked onto the practice court as an NBL player for the Adelaide 36ers in 2010.
"I looked at guys like Adam Ballinger and Jacob Holmes and they were these giants, it was like I was in Space Jam," he recalled tonight as he joined other 36ers giants as the club's 2017-18 Most Valuable Player.
At the time Creek, 25, still was growing into the athletic 196cm swingman who would become a starter and a force for Australia as it won the FIBA Asia Cup last year and in its current World Cup qualifiers.
Impossibly gifted physically, his game and maturity had catching up to do but few who saw him earlier in 2010 guide Victoria to the Australian Under-20 championship's Gold doubted they would.
Trailing by 20-plus against South Australia in the Final at Starplex in Gawler, Creek, Josh Wilcher and Chris Patton staged a roaring comeback that saw Victoria eventually overhaul and beat the dumbfounded hosts 79-76.
He never stopped believing.
A year later, Creek would average 19 points, 7.6 rebounds and three assists per game as Victoria went back-to-back as Australian Under-20 champions, his 36ers teammate Anthony Drmic scoring 20 points in the 77-70 victory over Queensland in the Final. (The Maroons were paced by his current Boomers teammates Mitch Norton and Mitch McCarron who joined him in the "All-Mitch" team.)
Creek won the Bob Staunton Medal as the Under-20 tournament MVP, putting his name alongside our sport's greats such as Damian Martin, Brad Newley, Patty Mills and Ryan Broekhoff – all ultimately Olympians as Boomers.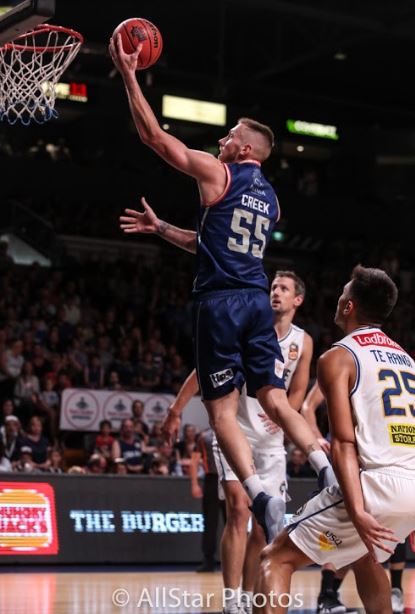 That's his goal too, to be one of the chosen few NBL-based players - who can mix it alongside the likes of NBAers Mills, Joe Ingles, Matty Dellavedova, Ben Simmons, Andrew Bogut, Aron Baynes, Thon Maker, Dante Exum, Mangok Mathiang and Euro stars such as Broekhoff and Brock Motum – in Australia's medal-chasing Tokyo Olympic Games team.
If it seems a long way removed from growing up and repping Vic Country as one of Horsham's finest, attending the AIS, averaging 14.4ppg, 6.6 rpg, 1.4apg and 1.3spg for the Institute in SEABL or dominating for Australia's Emus at the Albert Schweitzer Tournament - where he was named MVP as the Emus won gold – it's because it is.
Creek is 25 but it seems he's been around for years. Lured to the 36ers by former coach Marty Clarke, his progress to the upper tiers of NBL stardom intermittently has been stalled by a succession of injuries, many the indirect result of the amazing pace at which he plays.
His game and the rigours he pushes his body through best were summed up last night by Boomers coach Andrej Lemanis after Creek had produced a 12-point, 11-rebound double-double in Australia's 84-68 win over the Philippines in Melbourne.
"It's impressive. His skillset is tough for anyone to match up on. He always plays his heart out," Lemanis said.
Indeed.
He's endured a torn Achilles, back surgery, a foot stress fracture, a hand injury which almost jeopardised his NBA Summer League progress last year and even a hamstring earlier this season. Those are just the ones we know about.
"Imports here like to think they have it over the local players," 36ers coach Joey Wright observed. "Then they play (against) Mitch.
"He blows by them, he goes over them, he lets them know he's there."
Wright has had more to do with the "Coming of Creek" than his predecessor who, if anything, held him back somewhat in Stevie Weigh's shadow.
Under Wright, the manic excitement and occasionally out-of-control nature of Creek's athletic endeavours have been harnessed and focused. His perimeter game is better than even he realises, his defensive abilities see him nominated among the NBL's best in that category and he knows when to go, when to outsmart.
Most importantly, he is a leader now, captain of last season's regular season champs and still the team's spiritual focus and on-court general.
Averaging 14.5ppg, 5.4rpg and 2.4apg, his success in winning the Mark Davis Perpetual Trophy as club MVP was forecast a little by his mere presence at the awards dinner at the Stamford Grand Hotel.
Having played for the Boomers last night and a key man again for Sunday's clash with Chinese Taipei in Melbourne, he was given the OK to zap home to Adelaide to collect his first MVP award.
When he stunningly was not named Best Defensive – that one went to Nathan Sobey and may still prove embarrassing if Creek wins the league award as he well could – you had to know he wasn't there to collect "Most Improved".
That rightly went to Majok Deng and when the attention turned to the "Coaches Award", import Ramone Moore turned from his table to mouth "Brendan Teys" at coach Joey Wright, sitting with club legends Brett Maher and Mark Davis, and club owner Grant Kelley.
Wright smiled back and slightly shook his head, Moore then genuinely startled when his name was called out as the player who had been inspirational on and off the floor with his calm and selfless nature. It was a particularly nice moment.
Three out of four correct wasn't a bad effort, though it was evident from each winner the focus is on the greater prize and one which has eluded Adelaide since Phil Smyth held the reins in 2002 and Willie Farley joined Maher in one of the 36ers' most potent backcourts.
But it was Creek's night, the champion speaking with eloquence and emotion as he revisited his trip from Horsham to what may conclude with him holding aloft the Dr John Raschke Trophy.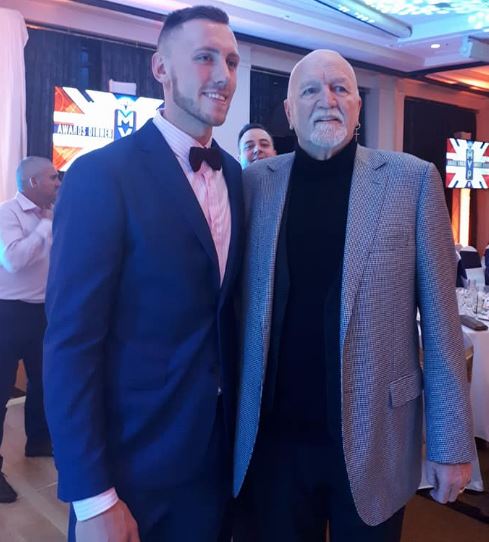 "Is Mitch an NBA talent? Yes, absolutely he is," 36ers' coaching legend and Hall of Famer Ken Cole (above with Creek tonight) said 16 months ago.
"He has the body for it, the power for it and the work ethic for it.
"The way he is going, he could get to a stage here by later this season where he understands no-one can stop him."
Yes. He very much understands that now.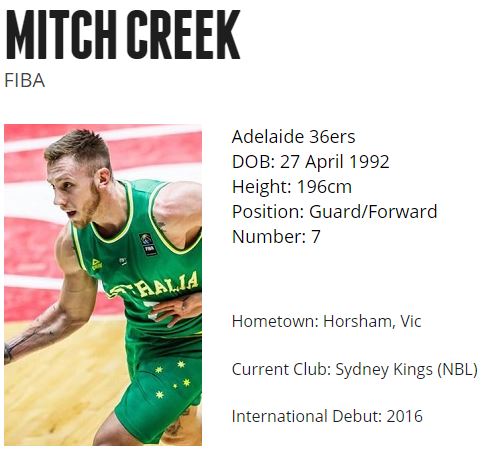 FROM THE OFFICIAL BA WEBSITE: Can someone just check that 'current club' reference again?