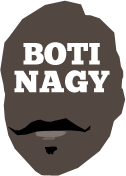 ---
Advertising opportunities available.
Please contact me.
---
DJ, the under-rated All Star
Tweet
DANIEL Johnson does not receive the respect his career and consistent performances deserve, according to retiring NBL power forward Anthony Petrie.
Having just seen the man he had as a teammate for four years at Adelaide (before Petrie moved to the Brisbane Bullets for the final two years of his career) score the Game 4-clinching 3-pointer inside the last minute, Petrie took to Twitter to compliment the 211cm stretch forward.
"That's typical of DJ to say there was no pressure on that shot because the shot-clock was running down, but it was a huge shot," Petrie said, Johnson's triple giving Adelaide an eight-point buffer and virtually sealing Game 4 of the best-of-five Grand Final Series against United, tying it at 2-2 to send it back to Melbourne on Saturday for the decider.
"That's typical of him though, he loves to take big shots.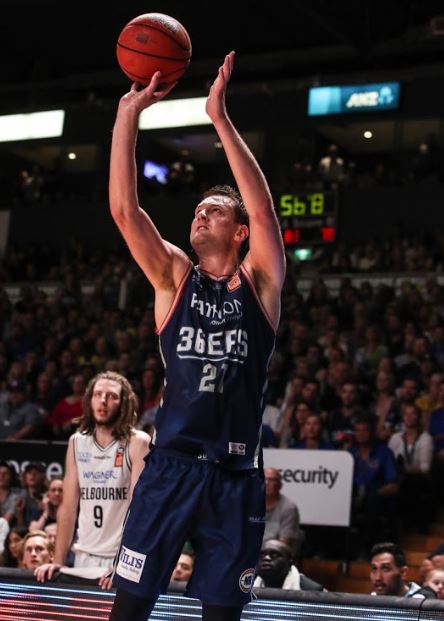 CLUTCH: DJ's monster three inside the final minute, perfectly caught by ALLSTAR PHOTOS
"There was a game up here (in Brisbane) when it went to overtime and he was doing great defensively."
But he stood up at the offensive end in no uncertain terms.
The 36ers trailed 77-79 with 12 seconds left when Johnson was fouled. From the time of the call until he took the free throws, more than four minutes (4:09) of actual real time elapsed as referee Vaughan Mayberry tried to have the Bullets scorebench get the time precisely correct. (A little home gamesmanship there at all?)
"That was my first game back and I was on the bench, yelling at Gibbo (Adam Gibson) to get DJ's attention," Petrie recalled.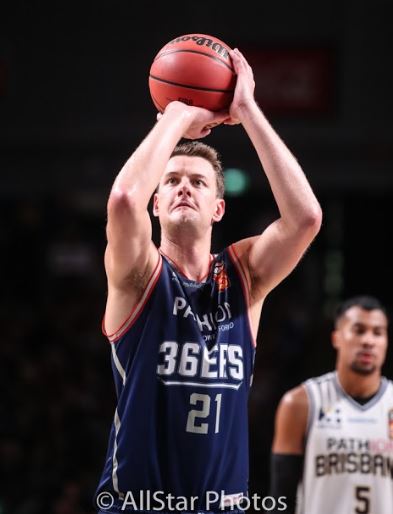 "When DJ looked over, I said: 'You're going to miss one, you're going to miss one'.
"He just looked back at me and said: 'We going for a beer afterwards?'
"I thought shit, he's going to make both.
"He loves those situations. He loves pressure."
By the time DJ got to shoot his penalties, he easily could have been forgiven for cooling off, being caught up in the (extended) moment and aborting one of those shots.
Instead he calmly fulfilled Petrie's prophecy, comfortably swishing both to send the game into the extension.
Once there, he hit back-to-back top-of-the-key 3-pointers to seal Brisbane's fate and turn a 79-79 deadlock into a 95-84 rout.
"He took those two free throws with confidence, he squared up and knocked down those two threes," 36ers coach Joey Wright said at the time.
"He is showing why in my opinion he is one of the best big men in the league. It would be great if he gets noticed as that."
But, as Petrie said after he tweeted the following on Sunday, he hasn't been.

"He's a perennial MVP of a great club every year and when he doesn't win it, he's second," Petrie said. "And Adelaide always has some great players. So I don't know what it is. He just plays.
"If you watch Sobes (Nathan Sobey), he's aggressive, he's going after it – you can see it on him.
"But with DJ, he just plays. Whether you're up 20 or down 20, his expression doesn't change."
Petrie suspects Johnson's lack of outward on-court emotion makes many think he does not care. Although that way of thinking should have been cured by Luc Longley's laconic approach during his successful NBA run with the Chicago Bulls, or, closer to home, NBL championship-winner Dusty Rychart.
"I played with Dusty and walking into the stadium or walking out, you never could tell if he'd just had his best game or his worst," Petrie said.
"You wouldn't know and it's the same for DJ.
"But being within the inner sanctum and with him for four years, you don't put that much effort and time into being a great basketballer if you don't care."
Petrie said he "hadn't tweeted in a while" so when he hit social media on Sunday: "The reaction was amazing."
"It was as if a lot of people had been waiting for someone to say it and the fact is people will look back on his career one day and say he has been one of the best big men in our game.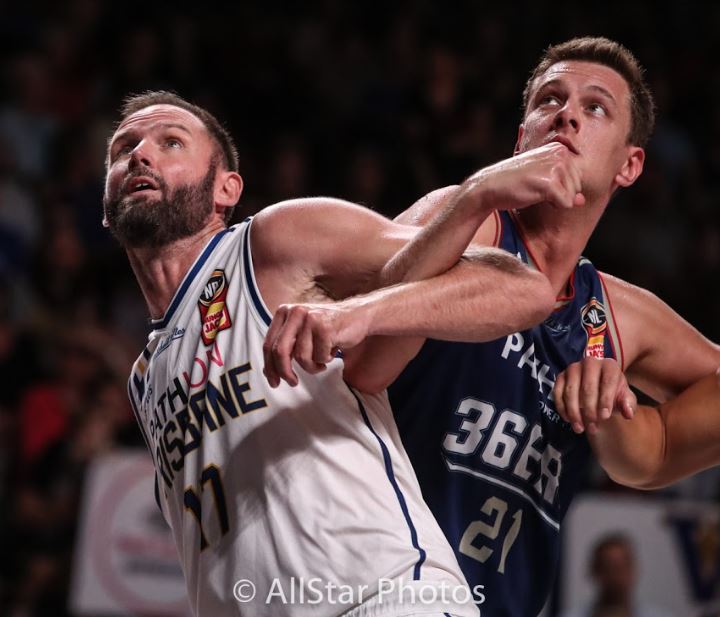 GREATS: Anthony Petrie locks up with Daniel Johnson in his farewell NBL game.
"He continually impacts games. He's a great offensive player and he's learned to be a great defensive player.
"He never gets tired, he never subs out of practice and he has a terrific motor. People don't credit him for his motor but he's still running at the end of the game.
"He draws fouls because of his work rate. He can play down on the block and he can come outside where a lot of bigs don't want to follow him. And then he's agile.
"He's a tough match-up."
One of the big mysteries - less so in the past when Johnson's attention to defensive detail may have been lacking, but certainly not so anymore – has been his continued absence from not only Australian teams but even Boomers squads.
Petrie's coach at Brisbane, Andrej Lemanis, is also head coach of the Boomers.
"I've never really spoken to Drej about DJ," Petrie admitted. "I'd like to see him with the (Boomers) opportunity but it's a tough, intimidating environment when you first get out there.
"The first time, the Boomers environment is dog-eat-dog but DJ has matured greatly and I know he loves those experiences.
"Again, he's not outwardly spoken so maybe that's hurt him. But I know he'd love to play for Australia.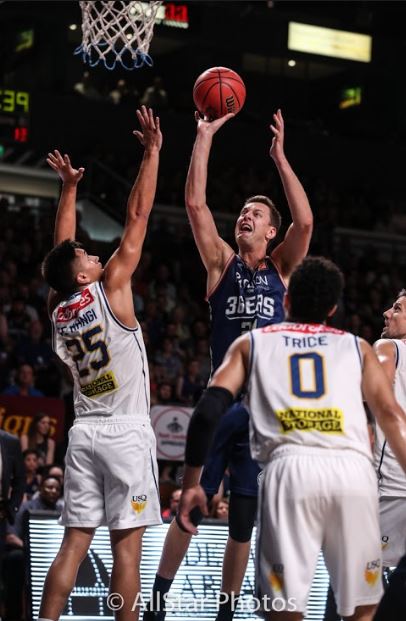 "I've seen some emotion from him in the Grand Final."
Petrie's Bullets teammate Daniel Kickert, who many believe is the player ahead of Johnson in the national team, rates him highly.
"Kicks reckons he is a very tough match-up," Petrie said.
"I'm sure every team does the same – a lot of energy goes to DJ in your scout.
"Because there is a night he could be 2-of-11 or something like that from the floor and he ends up with 18 points because he shoots free throws at such a high clip.
"He keeps working and he draws fouls and they ARE fouls.
"Heaps of time goes into DJ (in the scout) and just when you think you've got him, it's whack! whack! and he's hit two threes."
Johnson stroked 11-of-11 from the stripe in Sunday's 90-81 win by the 36ers over Melbourne, forcing Game 5. He finished with 21 points and a game-high nine rebounds.
"He is a top professional," Petrie said. "I had the privilege of playing with him and he is a great human being.
"I love him as a bloke and I love him as a teammate."
Once Petrie tweeted his support, it quickly became evident he is not alone in his assessment.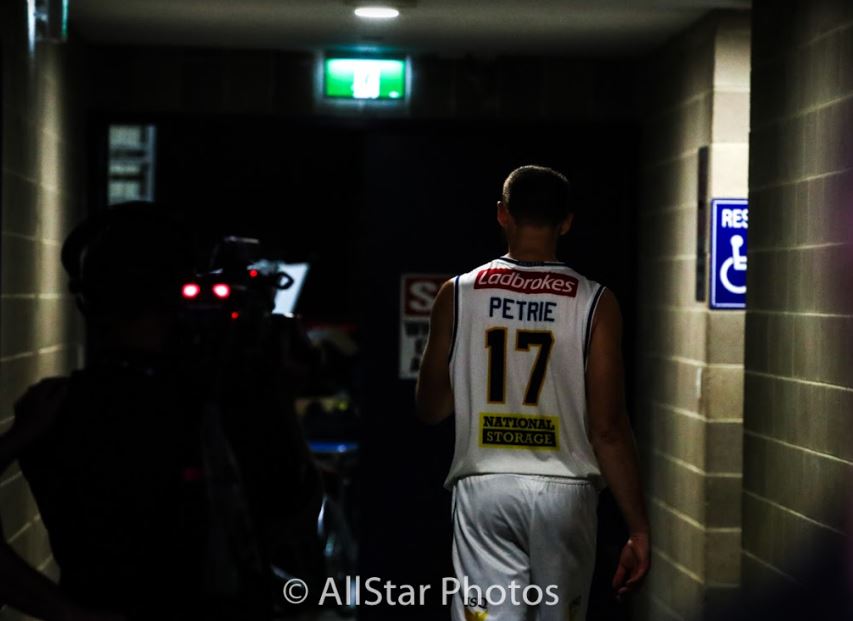 FAREWELL TO A LEGEND: Anthony Petrie heads for the Exit one last time in Adelaide.