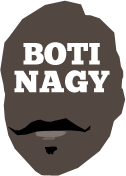 ---
Advertising opportunities available.
Please contact me.
---
FFT: Farewell to two icons
Tweet
FOOD FOR THOUGHT (Main Course): There's a certain symmetry in the WNBL regular season and the careers of superstars Suzy Batkovic and Belinda Snell ending on the same floor on Saturday.
Although there always will remain a level of sadness too that Batkovic, the most successful player in WNBL history, never quite received the international send-off she deserved from Basketball Australia.
The omission of the six-time league MVP, five-time WNBL champion and triple Olympian from our 2016 Rio Olympic Games team remains a blemish on BA, its high performance department and basketball's credibility in general.
But at least her beloved Townsville Fire will send her off in style after a final season cruelled by injury and for which she will make it onto the floor one last time against her old mate Snelly.
The duo started out together and were members of the greatest AIS women's team in history (below), the 1999 WNBL champion which additionally listed players such as Lauren Jackson, Penny Taylor, Kristen Veal, Desiree Glaubitz, Deanna Smith. It was a team of superstars of the future, now the stuff of our favourite memories.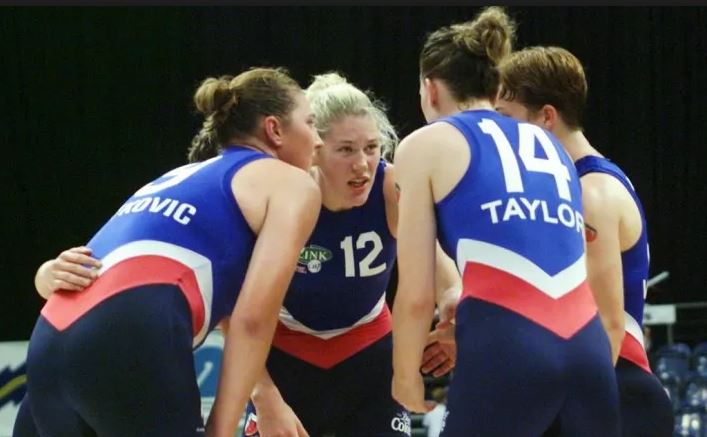 Batkovic and Snell were teammates again briefly at Sydney Uni in the WNBL before the latter also arrived at Seattle Storm in the WNBA in 2011. Batkovic was there in 2005 and again in 2009.
As Opals, they won Silver Medals at Olympics in Athens and Beijing, then Bronze in London, Snell also prematurely pensioned off when she still had a Silver Medal Asia Cup turn and a Gold Medal Commonwealth Games left in her champion body.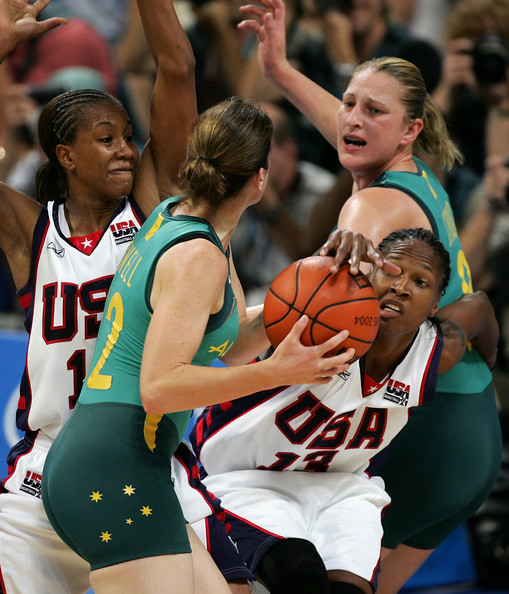 POLISHED OPALS: Belinda Snell looks for Suzy Batkovic in the Gold Medal game in Athens.
That these two 38-year-old legends and icons of the sport should bow out together on the same night, on the same court is a glorious once-in-a-lifetime happenstance.
The visions and memories of their many amazing deeds on the basketball hardwood will live on long beyond the final siren, the speeches, the flowers and the tears.
They gave us so much pleasure they deserve the greatest possible departure. But for what they have given the game, only a Grand Final finale would have been more fitting.
* * *
HORS D'OEUVRES
THE Kings have signed US power forward Ray Turner to their NBL roster because, you know, you can't have enough imports or power forwards.
Turner, 28 and 204cm, played SEABL with Bendigo Braves in 2018, averaging 22.6 points and 11 rebounds per game, and had previous pro contracts in Cyprus, Japan and Hungary.
Deng Acuoth makes way for Turner to join David Wear and Daniel Kickert competing for minutes at the four spot.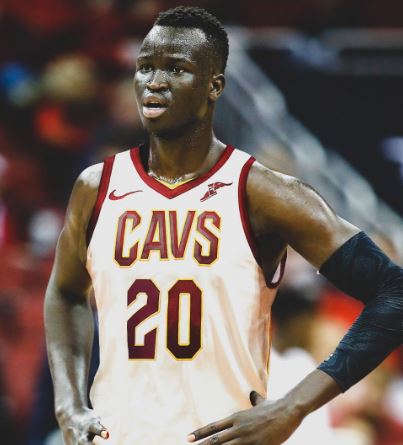 MEANWHILE in the US, Sudanese Aussie Deng Adel of the G-League's Raptors 905, has won a two-way NBA contract, joining Matthew Dellavedova at Cleveland Cavaliers.
Deng (right) turns 23 on February 1 and is an exciting 201cm forward.
BACK in the NBL and the 36ers are hastily looking for a replacement for combo guard import Ramone Moore who strained his left calf against Brisbane last round and now is expected to miss the remainder of the season.
He could be back for playoffs if the Sixers make them but it's more likely Adelaide hastily will pursue a potential point guard.
Trouble is, at 10-10 and with eight games left in the regular season, the club needs a replacement player by Saturday's match with Sydney to collate the required number of games to be eligible for finals.
And even Adris DeLeon is unavailable due to Dominican Republic national duties.
IN better news for the 36ers and the last of our Deng pieces, Majok Deng, who it was feared suffered broken ribs against the Bullets, actually suffered a costochondral joint strain and will be able to play on Thursday against Perth Wildcats. Those costochondral joint strains can be quite deceptive.
JENNA O'Hea, recently beset with her own personal tragedy when her uncle took his life, is the driving force behind the WNBL's "Lifeline Round" this weekend.
"Over 300 people attended his funeral and to see so much love in the room for him warmed my heart, but it also made me much sadder because I wish he knew how many people cared for him and adored him," the Melbourne Boomers' captain said.
"I'm very proud that Round 15 will be 'Lifeline Round.' So many people suffer alone and in silence, but this round will help make people aware that it is a strength, not a weakness, to ask for help."
GREAT work by Sydney Uni Flames to sub out veteran star Belinda Snell after 39 minutes against Canberra, allowing the Qudos Bank Arena fans to give her a much-deserved standing ovation home farewell.
* * *
BEEF of the WEEK
OK. "Video Vaughan" gets a pass this week for all the kerfuffle in Wollongong as the WIN Entertainment Centre's 24-second shot-clock cacked itself during the first half of the Illawarra-Adelaide NBL game.
And while most of us can agree it is wonderful to have technology to check key elements in games, "Make-up Chair Mayberry" has been known to take it to extremes.
So while that forever remains a "Beef", in Wollongong, it wasn't his fault he had so much screen time.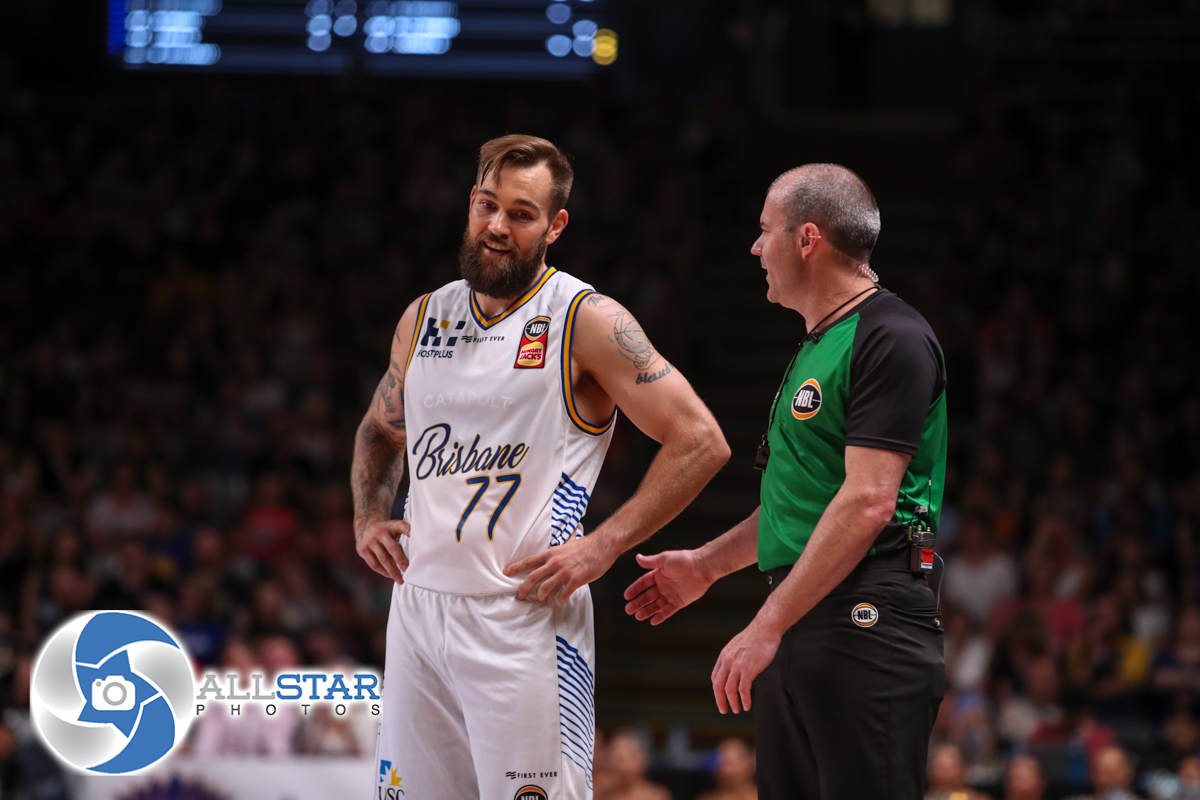 "PSST. You wanna know why this game is running on time?" "I dunno. Why?" "Cause Vaughan isn't here checking the video..."
* * *
MEATBALLS (Formerly "Yeah, No Kidding")
THAT was a particularly good week for commentary teams calling NBL and WNBL games.
Yes, I must confess I enjoyed the work of Nathan Strempel, Steve Carfino and Brad Rosen on the Hawks-36ers game and Carfino again on the Kings-Hawks game.
There was far less of the goofiness and just the solid understanding of what needs to be said and saying it in an uncompromising manner - without trying to set Twitter alight, like some.
So yeah, no kidding. I really enjoyed Carfino's work. He was sharp, and entertaining too.
And anywhere Matt Russell or John Casey go, professionalism follows. So the Casey, Cam Tragardh, Mark Worthington team on the Taipans-United game were on the ball and had plenty to say in a fixture which had plenty worth saying.
And you know anytime Perth is struggling in Perth, for the rest of Australia it is a joy to feel the commentary pain.
QUICK tip for FOXSPORTS' WNBL coverage.
Maybe don't have Hannah Hollis outside the venue doing the pregame intros ahead of Lightning V Boomers while fans from the 36ers-Bullets game - and more than 7,000 attended - are streaming out?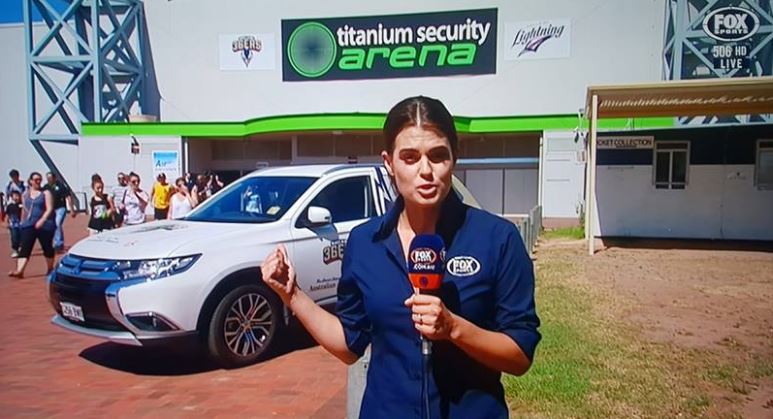 This was the kindest scene throughout Hannah's preamble. Maybe Fox should have shot it in reverse?
Jenni Screen playing "investigative reporter" interviewing Lightning coach and new WNBL life member Chris Lucas also was entertaining, if only to watch how Lucas avoided answering the questions.
A political career post-basketball must surely be on the cards.
BASKETBALL icon Lindsay Gaze was at the Kings-Hawks game with wife Margaret and quizzed about the match in progress near three quarter time.

"I thought the game started poorly and it's gone downhill ever since," he candidly observed in true inimitable Lindsay style.
* * *
CHEESE & CRACKERS
HAPPY birthday this week to NBL ref Toni Caldwell, one of the game's most under-rated quality officials.
But far be it for us to blow the whistle on how many candles adorned her cake.
Just always happy to see her out there, giving her best and continuing to be an outstanding role model, a la Carolyn Tsakalos and others, for female referees.
* * *
DESSERT (Formerly "Biggest Winners/Losers)
PUNCH-drunk, on the ropes, lurching for answers, Melbourne found them to come back from an 18-point deficit, even producing a 21-0 onslaught through the end of regulation and into a stunning overtime road win over surging Cairns. Yes, United were the biggest winners although Brisbane rates an "honourable mention" after turning around a double-digit deficit to claim Adelaide's scalp in Adelaide (for the second time).
AT home, at full strength, in front of a Red Army of supportive maniacs, Perth could not reach into the well of self-belief and was beaten at home by the last-placed Taipans. The margin flattered the Wildcats who were the round's biggest losers.
BY beating Melbourne in Perth, the Lynx were the biggest winners of the WNBL round, ensuring this week's match with Adelaide would determine third place and also helping Canberra to the regular season championship in the process. So it wasn't all bad in the West.
HOW debilitating must it be to lead at home into the final three seconds of a game and not once, not twice but THREE times get taken to overtime and soundly beaten? That's the sad story for Bendigo Spirit who saw it happen again last round, making them the biggest losers.
* * *
AFTER DINNER MINT
UTAH Jazz's laconic Aussie star Joe Ingles after scoring the match-clinching 3-pointer to beat Detroit Pistons, blew a kiss to that NBA team's travelling fans, the perfect response to a night of heckling.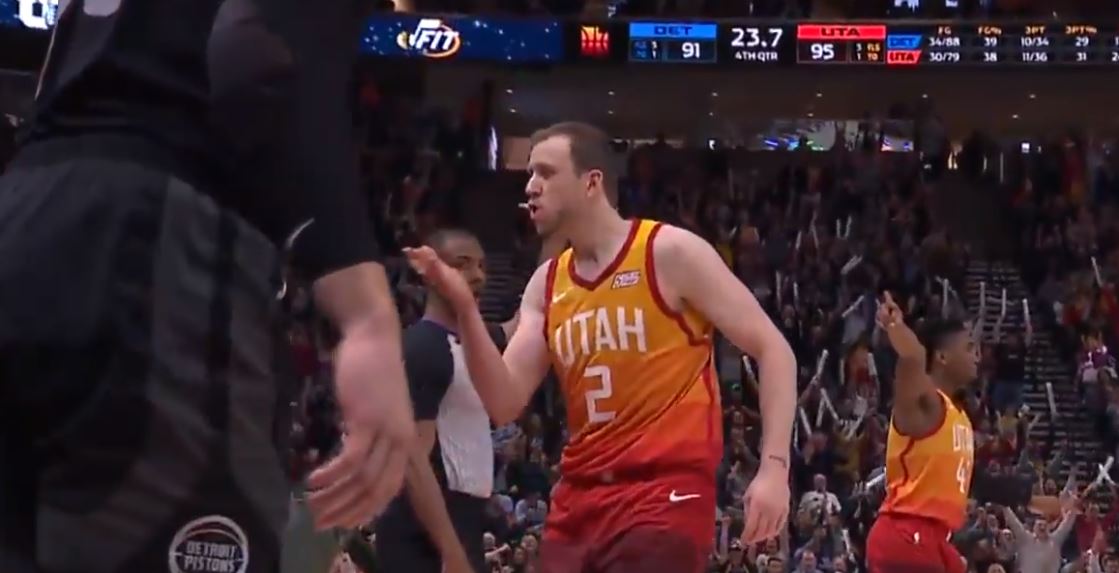 You just have to love Jingles.
* * *
DON'T SPEAK WITH YOUR MOUTH FULL (Formerly "Quote of the Week)
ADELAIDE 36ers coach Joey Wright, was asked by a cliche-seeking media post-Bullets game if the next (few) games were his team's "moment of truth"?
"I wish sometimes you guys could hear y'all self cause every game y'all go 'This is the big one!' 'This next game – this is a big game!' ... They're all big games guys.
"If we lose this one and win every one of them, we're fine. All right?
"If we don't win any of them, we're not fine.
"They're all big games. They're ALL big games. Every single one of them. The first game the second game, the third game, the fourth game … they're all big games. I promise you."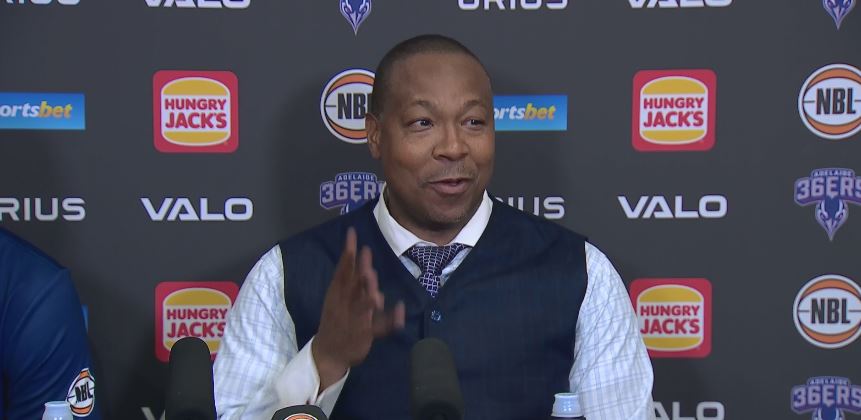 I promise YOU, very few in the press conference will take that on board.